May 10, 2023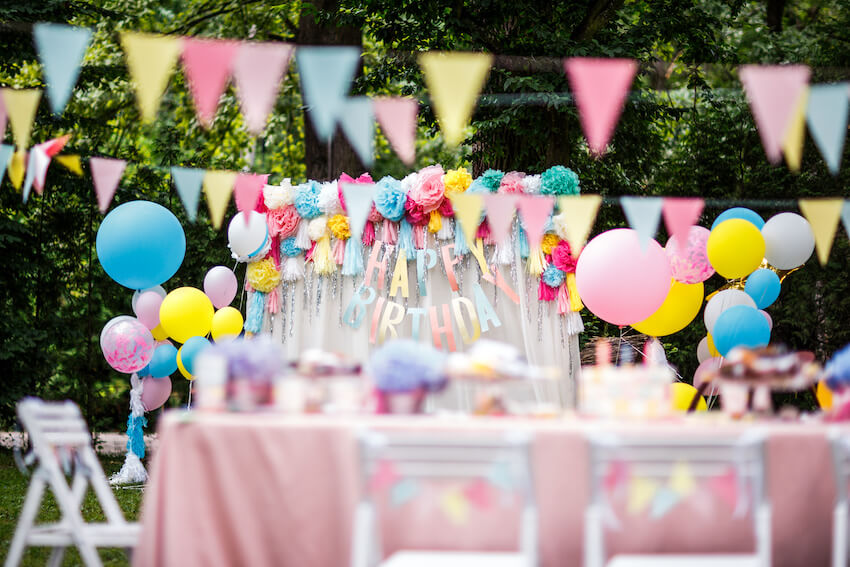 The weather outside is glorious and you're thinking about hosting a summer party for all your favorite people. What you really need to help the event shine is some incredible outdoor party decor.
To plan a memorable bash, take a look at these outdoor party decor ideas — from styling your tables to choosing festive decorations that suit the occasion.

14 Outdoor Party Decoration Ideas to Celebrate in Style
Outdoor parties benefit from beautiful al fresco scenery. With such a fantastic backdrop, you don't have to go overboard on party supplies and decorations. Use these outdoor party decor tips to create an impressive atmosphere without too much fuss.
1. Light the Trees
Invitation Inspiration: Rustic Scene Invitation
Light up the trees and greenery around you with the help of string lighting to create a cozy glow for an outdoor evening soiree. Wrap twinkle lights around the trees for a boho-chic bridal shower or a festive backyard party. For a whimsical wonderland, festoon the trees with something more unusual — like LED floating candles or steampunk-themed lanterns.
2. Add a Balloon Arch
Balloon arches are a favored birthday party decoration as they're a great way to let your guests know they've arrived at the right spot. It's always fun to walk through an archway to get to where the party's happening.
Put together a balloon garland arch that matches your party theme and colors. Include colorful, metallic, and confetti balloons to give a nice mix of textures and styles. If you don't want to go the DIY route, order a balloon arch from a party supply company or choose a reusable floral or driftwood arch instead.
3. Create a Cozy Seating Area
Invitation Inspiration: Starlight Cinema Invitation
Your guests are going to want somewhere comfortable to rest while they enjoy a drink and appetizers. Create a cozy seating area and use outdoor party decor to make the space feel intentional.
Choose seating options that match your event's theme and level of formality. For instance, add colorful cushions to your outdoor patio chairs and decorate picnic benches with cushy seating for a BBQ party. To create the ultimate backyard picnic space, you could lay out blankets and set out oversized floor cushions and poufs for guests.
4. Style Your Fence
At an indoor party you can make use of the structure to showcase wall decor but you don't always have that option with a backyard get-together. Instead, attach decor to your fencing to create a similar effect.
Use your fence as a backdrop to a seating or party area. Hang lanterns, bunting, string lighting, paper fans, ceramic plates, or any decor that you think will either "pop" against the backdrop or create a seamless look and feel.
5. Include Reusable Accessories
Invitation Inspiration: Beach Essentials Invitation
Themed table decorations and accessories are an easy and affordable way to amp up your party style. You can pull these from your personal home decor collection, making them ideal eco-friendly party decorations.
Use indoor potted plants to style a pathway, fill your favorite vases to showcase beautiful blooms, or use your colorful figurine collection to decorate your tables. Even if you're not hosting a pool party, you could also bring out those oversized inflatables as part of your decor.
6. Hang Bunting
Bunting is a go-to for adding a sense of theming, color, or style to your celebration — without leaning too heavily on outdoor party decor. Plus, it's quick and easy to hang so you can spend more time on other party planning tasks.
If you're feeling crafty, make your own bunting with this DIY bunting tutorial. Or you could simply head to your favorite craft or party supply store to pick up ready-made bunting to display.
7. Style a Bar Cart
Invitation Inspiration: Sips and Sweets Invitation
When you're serving drinks to guests at an outdoor party, a bar cart isn't just practical, it's pretty! Load it up with bottled drinks or beverage dispensers filled with juices, mocktails, and cocktails for guests to help themselves.
Give your bar cart some style with a few finishing touches. Add a floral garland, some colorful paper straws in a mini vase, and handmade signs to describe the drinks. These little touches turn your bar cart from a convenient drinks station into a decor piece itself.
8. Use Colorful Tableware and Glassware
Your outdoor dinner party is an ideal time to bring out a mix of glassware and dinnerware — especially if you've planned a Hawaiian-theme celebration or al fresco tea party.
Brightly colored wine glasses, pastel-hued plates, and gold-toned cutlery are all great options if you want to add some color to your tabletops. Decide what works best with your theme and outdoor space, then use your dining area as a place to experiment with color.
9. Create a Photo Backdrop Area
Invitation Inspiration: Trendy Balloon Arch Invitation
If you're hosting a big event, it's always lovely to have a designated space styled for photos. We love the idea of creating a photo backdrop area for a bridal shower, outdoor baby shower, or backyard graduation party, but it would work well for any occasion.
Use the nature around you as the focus of the photo area, or style your own with a flower wall, balloon backdrop, or giant fabric sign. Place some props nearby and encourage your party guests to snap plenty of photos.
10. Set the Mood with Lanterns or Candles
Want the ultimate atmospheric lighting for your evening get-together? Bring out the lanterns and candles. These tried-and-true favorites not only light your space in a gentle way, but they also create a relaxing mood for your outdoor gathering.
Tall candles and tealights in glass holders work well on dining tables, while oversized lanterns make a quirky yet practical decor piece. LED versions help you avoid any potential fire hazards without sacrificing style or ambiance.
11. Use Umbrellas to Create Shade
Invitation Inspiration: Palm Springs Pool Invitation
Give your guests somewhere to escape from an unexpected shower or shelter from the sun with an umbrella, tent, or gazebo. These structures give your guests a place to rest, but they can also be a great backdrop for your outdoor party decor.
Choose an umbrella to match your event — whether it's a beachy straw parasol for a tropical party or a vintage pastel umbrella for a tea party baby shower. For larger spaces, your event tent can double as a place to hang lighting, garlands of greenery, or event signage.
12. Let Your Tablescapes Shine
When you keep most of your outdoor party decor simple, it gives your tablescapes a chance to really shine. Choose tablecloths, place settings, and napkins to match your party theme. For instance, if you're hosting an outdoor birthday party with a "paint and sip" theme, you can use easels as centerpieces to feature pretty pieces of art or a "Happy birthday" canvas.
13. Use Flowers as Decor
Invitation Inspiration: Garden Fest Invitation
Whether you're in a beautifully manicured garden or a somewhat overgrown backyard, take inspiration from the flowers and greenery surrounding you.
Both artificial and fresh flowers work perfectly as garden party decor. Create floral centerpieces, display delicate stems in tall vases, or use edible flowers throughout your party drinks or desserts.
14. Add an Outdoor Rug
Interior stylists use rugs to help tie a space together and make it feel grounded. You can achieve a similar effect by adding an outdoor rug to your backyard party space.
Look for a rug that's the right size for your patio or deck area, then use it to inspire the rest of your styling. Pick colors and patterns from the rug and mimic them in your table decor or other party supplies to make the space feel intentional and put-together.
Transform Your Event with Outdoor Party Decor
You don't need many outdoor party decor pieces to bring your event to life. The right lighting, table decor, and textiles can help you create the perfect party atmosphere, whatever your theme or occasion.
For another way to make your outdoor get-together feel special, send customized party invitations. Our collection of outdoor party invitations has something for every outdoor celebration — and each can be customized to feel beautifully bespoke.