April 24, 2022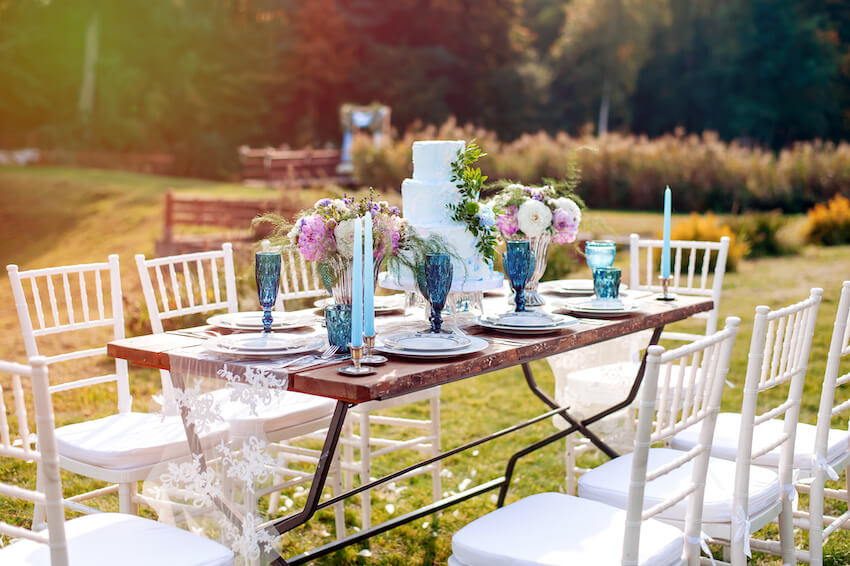 Hosting an eco-friendly party doesn't mean throwing out your decorating ideas. You can style a show-stopping event using eco-friendly party decorations. 
Make the switch to more eco-friendly party decorations with some of our all-time favorite party decor items. Your guests will be amazed at how fun and festive environmentally friendly decor can be. 

How to Choose Eco-Friendly Party Decorations
It's not always easy to work out which eco-friendly alternatives are actually better for the environment, especially when it comes to party supplies and decor. Here's how to make the move towards using more eco-friendly party decorations in a few simple steps. 
Avoid Disposable Products
One major way you can be more eco-friendly is to avoid disposable products. Look for eco-friendly party supplies that you don't need to throw away after your event. Zero waste might not be completely possible, but a step in the right direction is always good. 
When it comes to tableware, you can easily replace your disposable plastic items with something more environmentally friendly. Invest in reusable eco-friendly tableware and dinnerware made from china, glass, or bamboo instead. For napkins, use pretty cloth squares that you can wash and reuse. You don't need disposable cutlery either — bring your own, or borrow from friends and family so that you have enough items for the party. 
If disposable is a must-have, switch to more eco-friendly products that are compostable or biodegradable. Swap plastic straws for biodegradable paper straws and opt for paper cups instead of plastic. 
Think About Reusing What You Already Have
Along with purchasing biodegradable party supplies, we can also look at what we already have and reuse it in the best way possible. You may have party decorations lying around the house or stored with friends and family members that could be perfect for your next event. 
Not all party decorations start out that way. Think about how you can upcycle tea sets for an authentic centerpiece at a tea party-themed celebration, or take your safari birthday party to the next level with an indoor jungle made with potted plants from family members. There are lots of ways you can reuse things from around your home as party decorations — so you don't need to worry about investing in expensive single-use items again. 
Shop in Your Local Area
Sometimes it's not always practical to reuse what you have or shop for the most eco-friendly party decorations. If you need to buy new, try shopping in your local area first to pick out your party supplies.
This is a great way to be more environmentally conscious by cutting down on your carbon footprint and by supporting local makers, designers, and farmers. Look for fresh flowers you can feature in vases, local treats that you can style as centerpieces and table decor, and fresh produce to give away as party favors. 
12 Eco-Friendly Party Decorations We Love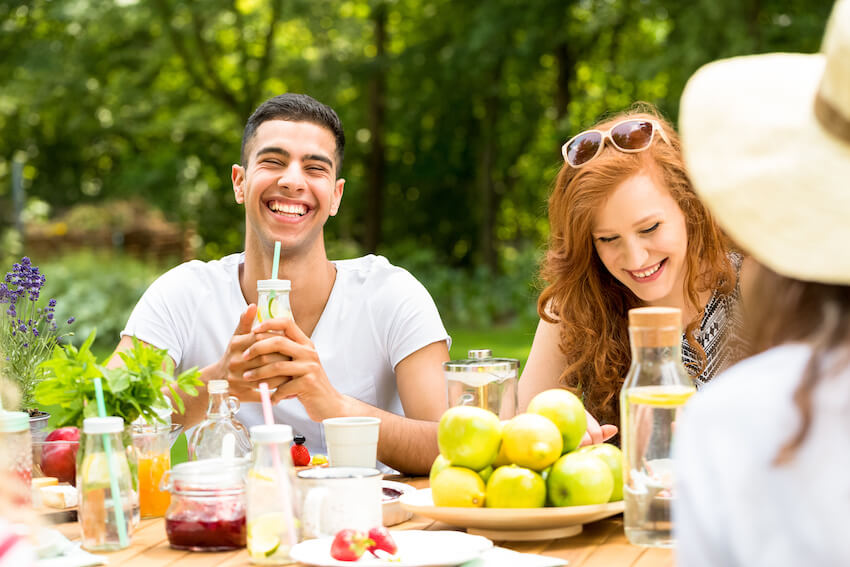 Switching to more environmentally friendly products doesn't mean you have to compromise on style and theme. In fact, we think it's a wonderful way to express your creativity and talent as a party planner or host.
To help you get inspired, here's a handful of our favorite eco-friendly party decorations. They're perfect for all kinds of celebrations — from engagement parties and bridal showers to birthday parties and cocktail parties. 
1. Biodegradable Confetti
Swap your regular confetti for an eco-friendly option. Look for biodegradable confetti that can break down with exposure to moisture or air. Be sure to look into the ingredients and consider your local ecosystem and your guests' allergies to be on the safe side. Flower petals are another lovely alternative — especially for a wedding or baby shower. 
2. Fresh Flowers
For a tried-and-true way to add color to your event, bring in some vibrant fresh blooms. Flowers are a wonderful way to show off your event colors and bring your theme to life. Work with a local florist or use flowers from your own backyard for an even more eco-friendly approach. You can also incorporate potted plants and send them home with guests as memorable souvenirs.
3. Chalkboard Signs
Chalkboard signs are a great party decor item — they're interactive, erasable, and versatile. You can reuse these signs for lots of different events. Add a trendy vibe to your event or bring a touch of charm to your dinner party with a chalkboard menu. Simply wipe them down after you're finished and they're good as new for your next party. Here's how to create your own DIY chalkboard signs in no time.
4. Homemade Party Crackers
Party crackers are always a hit for a New Year's party, and they're a hit at a kids' birthday party, too. Here's how to make your own DIY party crackers using simple materials like card stock and ribbon — swap out the gift wrap for an eco-friendly alternative made of recycled paper, and reuse the ribbon for future projects. You can also customize these, from the exterior to the filling, to fit your event. 
5. Solar-Powered Lighting
For outdoor parties, you can't go wrong with some cozy lighting. Opting for solar-powered lights adds charm to your backyard celebration without using more electricity or buying extra batteries. Plus, you can keep them up year-round in your yard or repurpose them for holiday decorations. 
6. Fresh Fruit
For a delicious pop of color in your tablescapes, fresh fruit makes an ideal party decoration — and it's naturally eco-friendly. Create a rainbow centerpiece with fresh fruit pieces, or place pineapples on the table for a tropical-themed party. Step up your eco-friendly efforts by shopping for local produce or growing your own.
7. Rice Paper Decorations
Instead of buying plastic decorations that you might throw away afterward, switch to rice paper decorations. Garlands, pom-poms, and streamers have a unique look in this material. So do rice paper lanterns, which can decorate an indoor or outdoor event. Best of all, party decorations made of rice paper can last for years if stored correctly. 
8. Potted Plants
For a fun outdoor or jungle-themed party, don't reach for faux plants to bring your theme to life. Reusing potted plants you already have at home, or asking friends and family to bring a plant as a plus-one, is a quirky way to set the perfect scene for a themed get-together.
9. Homemade Piñata
A piñata is a highlight for many kids on their birthdays. Luckily, this is one birthday party decoration that's simple to make eco-friendly using things you already have at home. The papier-mache, frame, and colorful exterior can all be made with recycled materials. These mini homemade piñatas are adorable, environmentally friendly, and easy to put together for any celebration. 
10. Twigs and Branches
If want to add some interest to a rustic centerpiece or dazzle your guests with some overhead decorations at a dinner party, twigs and branches can create the impression you're going for. Use twigs to accent a tablescape or create seasonal wreaths. For a striking display, suspend branches from the ceiling and let your guests admire their outdoorsy feeling. You can add warmth and whimsy with string lights. The best part is you'll only need your hands and feet to collect these party supplies! Gather them from your yard or ask others to drop them off at your home, where you can transform them into a stunning eco-friendly party decoration. 
11. Reusable Bunting
Bunting is one of those classic party decor items, but the plastic varieties are seldom built-to-last. If you need something fresh for an eco-friendly picnic or birthday party, try making your own with fabric instead of buying a new set. Not only is it a fun DIY project, but you can keep and reuse it for future events, making it a handy eco-friendly party decoration.
12. Seed Bombs
At the end of your party, you may want to send your guests home with a party favor or memento. Instead of filling a plastic gift bag with toys and disposable items, give out wildflower seed bombs. You can make your own to be sure that you include the best seeds for your local wildlife. This is a lovely way to help your guests add some color to their garden and create a thriving environment for bunnies and bees to enjoy. 
Make the Switch to Eco-Friendly Party Invitations
Once you've selected your party decorations, continue your eco-friendly party theme with online invitations. Sending digital invites is a wonderful way to share the news about your event while minimizing your environmental impact. Digital invitations are a simple way to support the environment by not using paper or relying on mail delivery, and Greenvelope furthers that mission through partnerships with organizations like the National Forest Foundation. Plus, the whole invitation process is easier thanks to Greenvelope's central guest list and one-click RSVPs. 
Mailing and receiving party invitations are always fun experiences, and sending off a simple email doesn't capture that magic. With Greenvelope, your guests are treated to a digital opening experience with their email or SMS invite. So you can share the joy and anticipation of a fancy invitation while doing right by the environment, too. 
Greenvelope has a huge collection of digital invitations to choose from. Browse through our party invitations to find a design you love, then select your color options and customize the layout, wording, and fonts. Finally, add your guest list and send your eco-friendly invites on their way. 
Host a Green Gathering with These Eco-Friendly Party Decorations
Get inspired by these party ideas and see how easy it is to make the switch to eco-friendly party decorations, supplies, and invitations. 
With your party theme decided and everything planned, use our digital invitations to let your guests know what's happening. With hundreds of designs to choose from, there's something to suit every theme and occasion.