April 28, 2023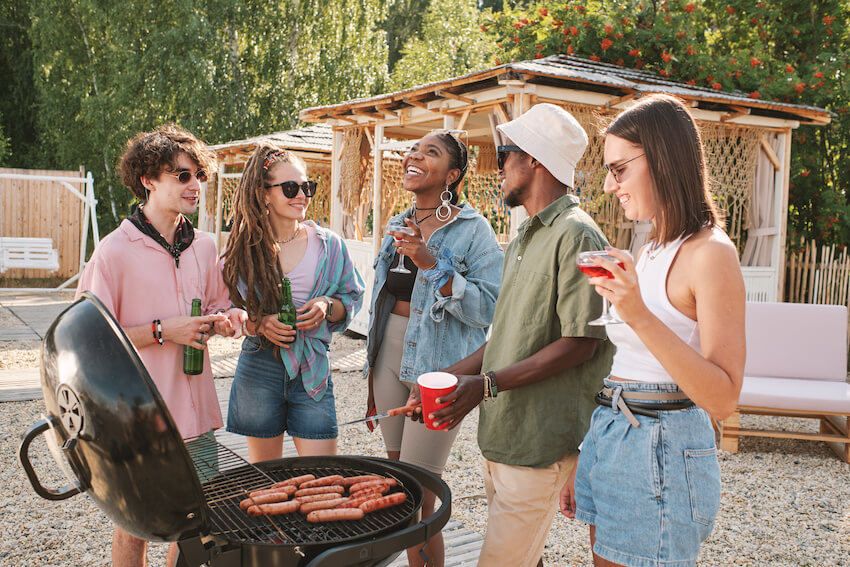 BBQ parties are perfect for all types of warm-weather events. Kick off the summer with a big Memorial Day shindig or celebrate America's birthday — also National Barbecue Day — with a backyard BBQ. You can even plan a baby-q to celebrate your bestie's little one or host a barbecue gathering for a birthday party. Here, we'll show you fun BBQ party ideas so you can plan a fun day in the sun no matter what special moment you're celebrating.

How to Host the Best BBQ Party in 6 Steps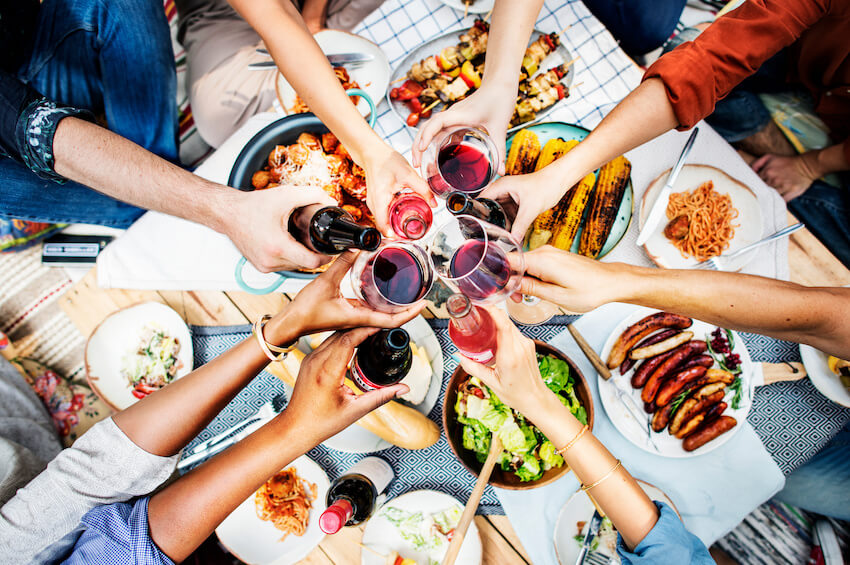 The best thing about BBQ parties is that they aren't complicated. That means you can put a lot of planning and thought into your event, but you can also pull one together at the last minute and still have a blast. Read on for an easy step-by-step guide to planning the ideal BBQ party for any celebration.
1. Choose a Location
Every memorable BBQ party starts with a great location. You can choose to host a backyard barbecue party at your own home, borrow a friend's sprawling garden, or find a local event space to host the celebration. 
Some public venues you can consider include parks, lakeside pavilions, and local beaches. You can combine the BBQ event with a pool party or go for more of a picnic vibe, depending on the mood of the event. You can even host a BBQ at a national or state park if you're looking for jaw-dropping views.
You might be able to host a BBQ party at a restaurant or local brewery. Be sure to contact them ahead of time to discuss menu ideas, event spaces, and dates and times for the party.
2. Decorate the Space
Once you know where you're hosting the party, it's time to think about decorations. Classic party decor like balloons and streamers are a great way to set the scene for a fun gathering. For a fancier dinner party, you can dress up the tablescape by adding summery floral centerpieces. Cheerful blooms like sunflowers, daisies, and gladiolas add an instant pop of color.
If you're planning a casual BBQ party, drape gingham fabric over the tables as tablecloths. Set out small picnic baskets with condiments and silverware to complement the look.
Lighting also makes great outdoor party decorations. Hang string lights in the trees or drape fairy lights on the tables for a soft ambiance. Lanterns and candles are sure to keep the space cozy and bright even as the party stretches into the evening hours.
3. Plan Games
Keep your guests entertained with fun backyard games like giant Jenga, cornhole, and wiffle ball. You can also cozy up around a firepit, roast s'mores, and tell ghost stories once it gets dark. If you have some musically gifted guests, invite them to bring their instruments and lead a fun sing-along.
You can create a DIY scavenger hunt and have guests look for items they can easily find in nature. For a baby shower BBQ party, hide themed objects like bottles and diapers for the scavenger hunt.
4. Send Out Invitations
Get your guests ready for the fun by sending out digital invitations. At Greenvelope, you'll find dozens of invitation designs for BBQ parties and summertime celebrations. Customize the invite by changing up the color scheme and adding elements like music to make it impossible for guests not to RSVP.
In your invite, be sure to include the date, time, and location of the event. If it's a potluck, ask guests to bring along a side dish or main dish. Set up a website or spreadsheet where guests can sign up to bring a specific item and include the link in your invitation — this way, you'll know you have all your bases covered, and guests won't bring the same items.
5. Create a Mouthwatering Spread
A BBQ party is all about the food. From popular side dishes like potato salad, coleslaw, and pasta salad to mains, including hot dogs, burgers, and veggie skewers, there are tons of options when it comes to grilling up tasty foods. Don't forget the accompaniments: buns, condiments, and toppings. 
For easy appetizers, set out slices of watermelon, chips and guacamole, and crispy chicken wings. Help guests wash the delicious meal down with refreshments, including sangria, lemonade, and punch.
No summer BBQ is complete without a summer dessert. Set up an ice cream bar where guests can scoop their own frozen treat and add toppings like chocolate sauce, caramel, and crushed nuts.
6. Send Guests Home With Memorable Gifts
Wrap up the evening and send guests home with a party favor as a token of your appreciation. For a baby shower BBQ party, send guests home with a monogrammed hot sauce bottle or a s'mores kit. For a birthday party, a small bag packed with snack foods and candy is a great option. Use things like burlap, twine, and gingham fabric to match the BBQ theme.
Discover Summer-Ready BBQ Party Invitations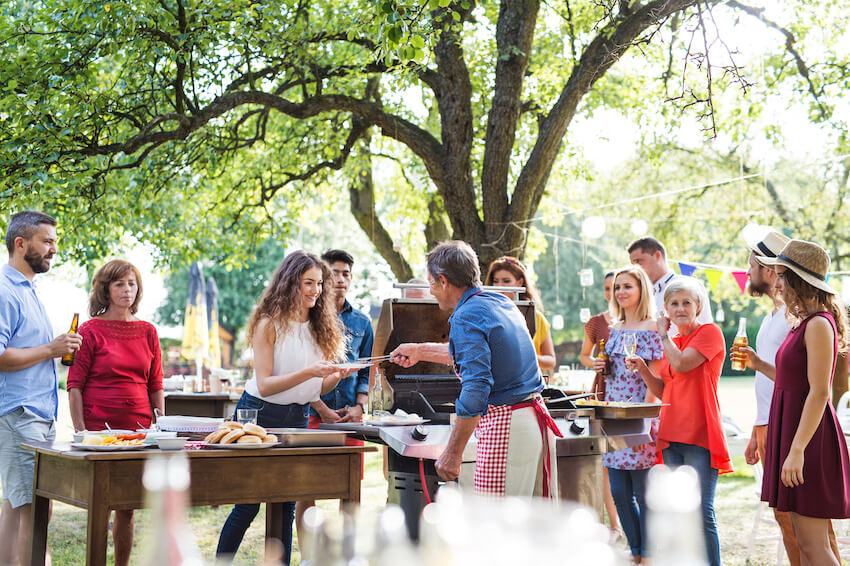 Ready to invite guests to your BBQ party? Check out our collection of BBQ party invitations. From festive and fun to sweet and subtle, there's a downright delightful design for every type of BBQ event.
1. Gingham BBQ Invitation
Invite guests to your engagement party or wedding celebration with this BBQ invite. It features a gingham border and a cute pig, making it ideal for casual celebrations.
2. Backyard BBQ Grill Invitation
Get guests excited for your upcoming summer party with this colorful invitation. The design features a grill roasting cookout favorites, including hot dogs, veggies, and burger patties. 
3. Red White BBQ Invitation
This backyard barbeque invite will take your America-themed event to the next level. It's perfect for the 4th of July, Labor Day, and Memorial Day, thanks to its red, white, and blue color palette. The bold typography stands out and is eye-catching, just like the decor at your backyard BBQ party.
4. Plaid Picnic Blanket Invitation
This sweet invite design is ideal for BBQ celebrations honoring a baby shower or a young child's birthday party. It comes in four hand-curated colorways, or you can customize the color scheme to make it truly unique. 
5. Classic Cornhole Invitation
Vibrant and fun — just like a summer cookout. This festive invite gets guests ready for a day of yard games. It's casual yet fun, making it a great option for birthday parties as well as corporate gatherings.
6. Pool Party! Invitation
Cool off on a hot summer day with a pool BBQ celebration. This punchy invitation is the ideal way to ask guests to partake in some splish-splashing fun. Ask them to bring along their favorite side dish and make sure they don't forget their floaties and sunnies. 
Plan the Perfect BBQ Party
Whether you choose to throw a BBQ party for a summer holiday like the 4th of July and Labor Day weekend or a birthday or bridal shower, you'll pull off the perfect bash with this step-by-step planning guide. 
Need more help planning the perfect BBQ party? Continue browsing our Stationers blog for more party planning tips, from summer theme ideas to what to say in your invites.