January 4, 2021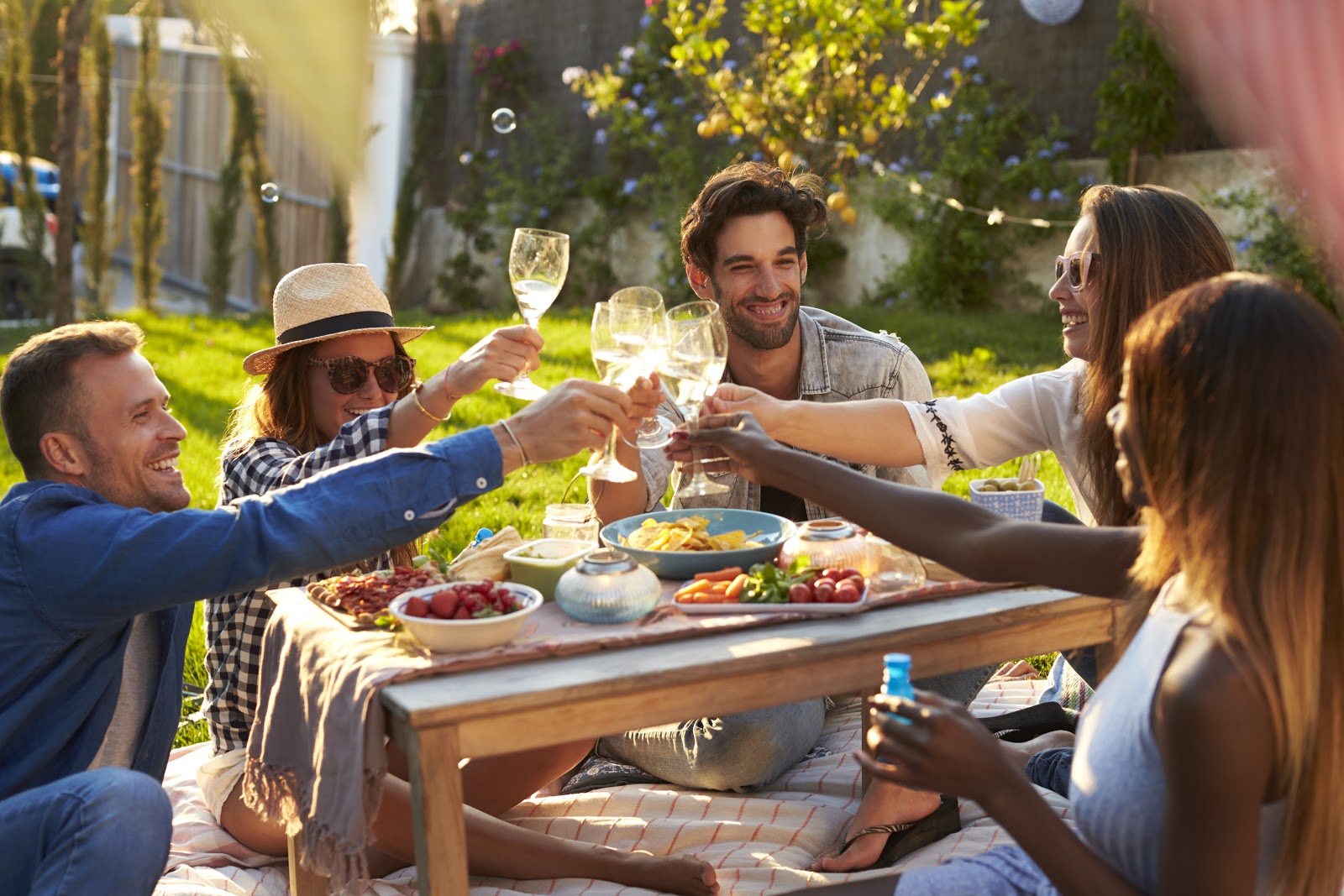 A backyard picnic is an adventure waiting just outside your backdoor. And with a little bit of preparation (and these backyard picnic ideas), picnicking in your own backyard can be just as fun as picnicking in a park or at the beach. In fact, it can be even better because if you forget anything — guess what! — you only have to walk to the kitchen to get it.
Backyard picnics are also a great way to stay social and safe during the pandemic. The outdoor setting means germs will spread less and guests can spread out more. We've rounded up our favorite backyard picnic ideas from planning to decorating to picking out your picnic menu. Your backyard will be gingham-clad and ready to go in no time.

Planning Your Picnic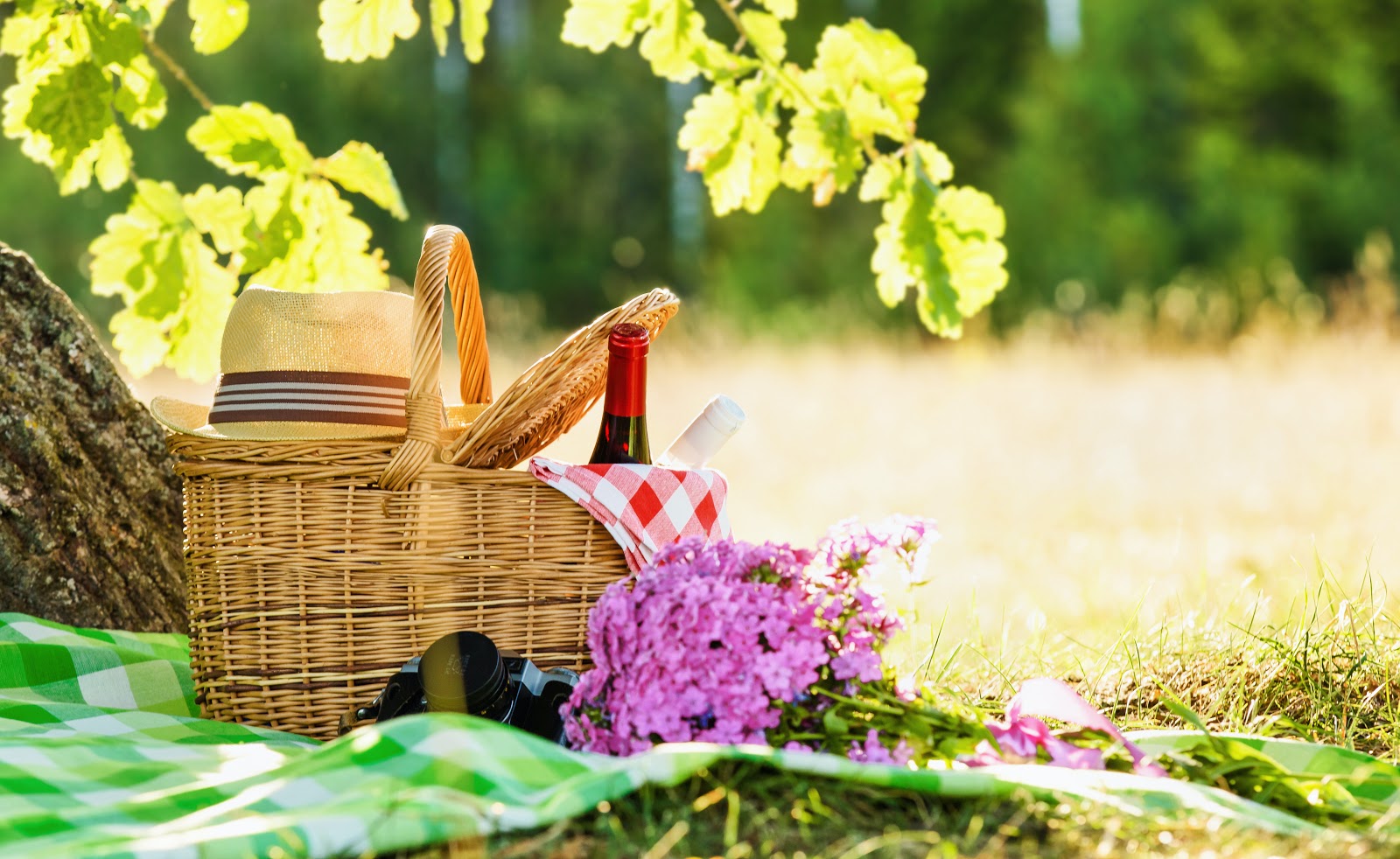 Even if you're picnicking at home, you'll need supplies. You may be able to forgo the classic tote or picnic basket — after all, you can just carry your food and drinks out from the kitchen — but a picnic basket will still make for adorable decor. We'll put it in the "optional" supplies category. Having a comfy place to eat is less optional.
Seating Arrangements
For picnic seating, you'll need to decide between a picnic blanket and a picnic table. A picnic blanket will feel more festive, which can help make your backyard feel even more like a picnic destination. But a picnic table can be more practical. If any furry friends will be attending your picnic, you may want to keep your food off the ground (unless you have perfectly trained pups).
Still torn between a picnic blanket and a picnic table? There is a third option, and it's one of our favorite backyard picnic ideas. Place a coffee table in the middle of your picnic blankets. That way, you'll keep the food off the grass, but guests will still be able to sit on the ground like at a classic picnic.
Guest List
As you plan your seating, consider how many guests you'll have at your outdoor picnic. If you're having a backyard picnic in the time of coronavirus, make sure your yard has enough room for everyone to stay six feet apart. Provide hand sanitizer and ask guests to wear masks. To make food service safer, consider having one person serve everyone so that guests don't have to touch the same set of servingware.
Invitations
Once you've decided on how many guests your backyard can accommodate, think about how you'll invite them. If your backyard picnic is more than a family affair, you can invite friends and neighbors with online invitations.
Online picnic invitations not only announce your event but they also allow you to collect RSVPs so you know exactly how much food to prepare. You can even include survey questions for your guests. Surveys can help you keep track of guests' food allergies or organize a potluck. This brings us to the next thing you'll need to plan: food.
Types of Picnic Food
Think about the food you'll serve at your picnic. You don't need an exact menu yet — we'll give you plenty of picnic food ideas below! But consider whether you want to stick with cold picnic food (advantage: you can make it ahead and simply set it out at picnic time) or have a picnic BBQ (advantage: hot food is often heartier). You should also decide if you'll provide all the food or if you'd prefer each guest bring something.
Pest Control
Whenever you're dining al fresco, you should expect to attract some uninvited insect friends. Many bug repellents shouldn't be used near food. (It's actually safer to eat the ants!) But you can create natural bug repellents by placing sliced citrus on your table or setting up a diversion, like a dish of sugar water, to attract flies to a different area in your backyard.
Yard Games
Decide if you want to make backyard games part of the fun. There are lots of outdoor party games from croquet to corn hole that will keep your guests entertained before and after the food. An easy game that allows everyone to keep their distance is a hula hoop contest. Give everyone a hula hoop and see who can go the longest without their hoop falling. Don't forget prizes for the winners!
Weather
One final thing to consider before you begin your backyard makeover is the weather. For a 4th of July BBQ or a summer backyard picnic, you may want to create shady spots where guests can escape the sun. For a fall or winter picnic, you may need a fire pit to stay warm.
Decorating Your Backyard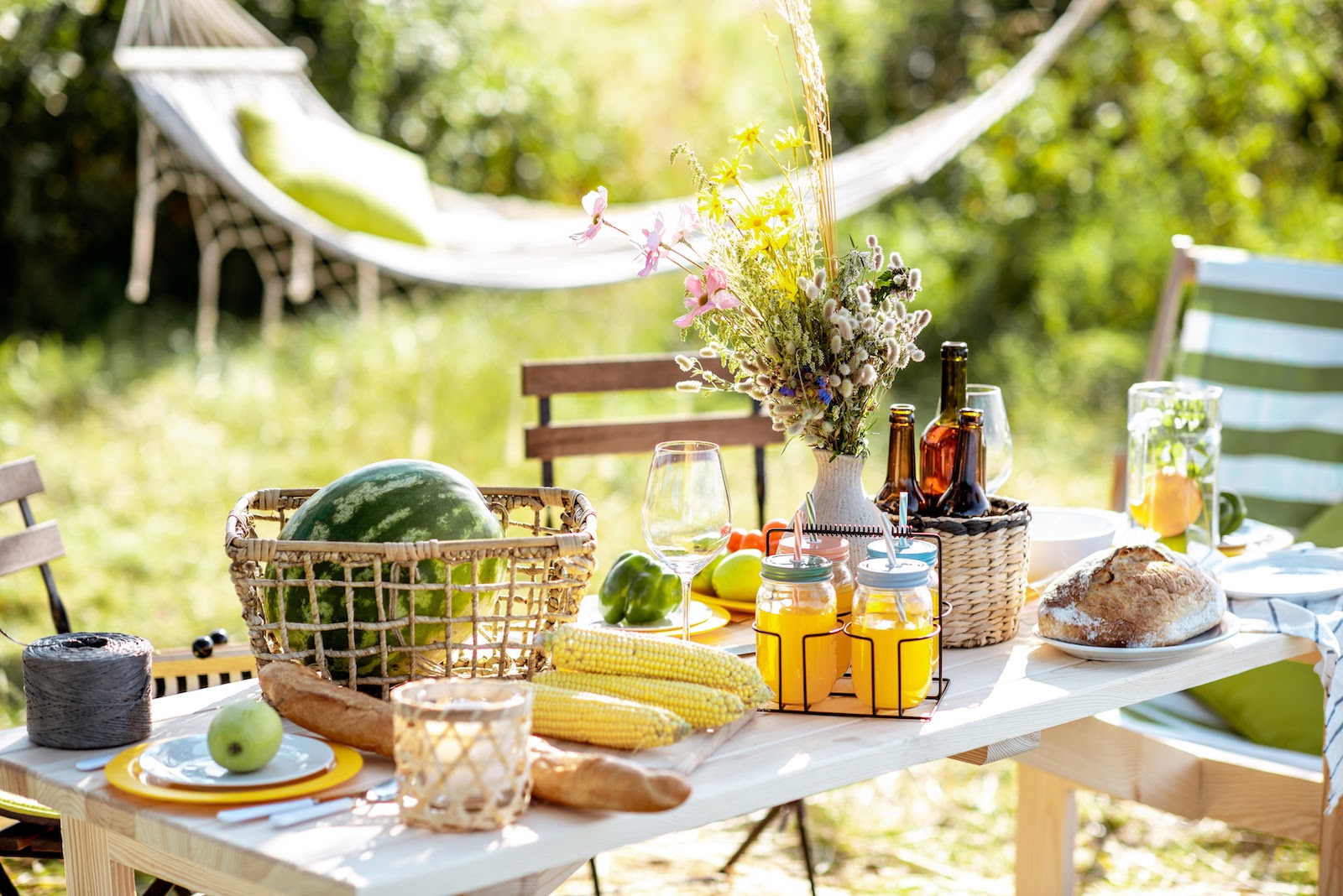 The picnic table or picnic blankets will provide a lot of your decor. If you're using a picnic table, you can cover it in a cute gingham tablecloth, but beware of the wind! Consider clamping down your tablecloth on a windy day. For the same reason, think about adding weights to the corners of your picnic blankets or staking the corners into the ground.
At a picnic table, you can create beautiful table settings with plates, silverware, and folded napkins. For picnic blankets, display the food in pretty servingware in the center of the blanket and give everyone paper or plastic plates that are light enough to hold while eating.
The food is usually the centerpiece of any picnic, but if you want to decorate a bit more, put some wildflowers in mason jars and display them on the center of your picnic table. Or, create a practical DIY centerpiece by filling vases or crates with citrus. Not only does this look beautiful, but it also helps keep bugs away. Placing mint or rosemary in vases will also help deter those wily insects.
A backyard picnic will put your whole yard on display, not just the picnic area, so this is a great time to turn an eye toward your landscaping. Mow your lawn before the big event and think about whether you'd like to plant fresh flowers or hang potted plants or other decorations on your fence.
If you want to add shade to your backyard, a simple sun umbrella can help everyone stay cool. For boho backyard picnic ideas, add some tassels to the edges of your umbrella, hang bunting flags across your yard, and have floor pillows for everyone to sit on in addition to blankets.
Choosing Your Picnic Foods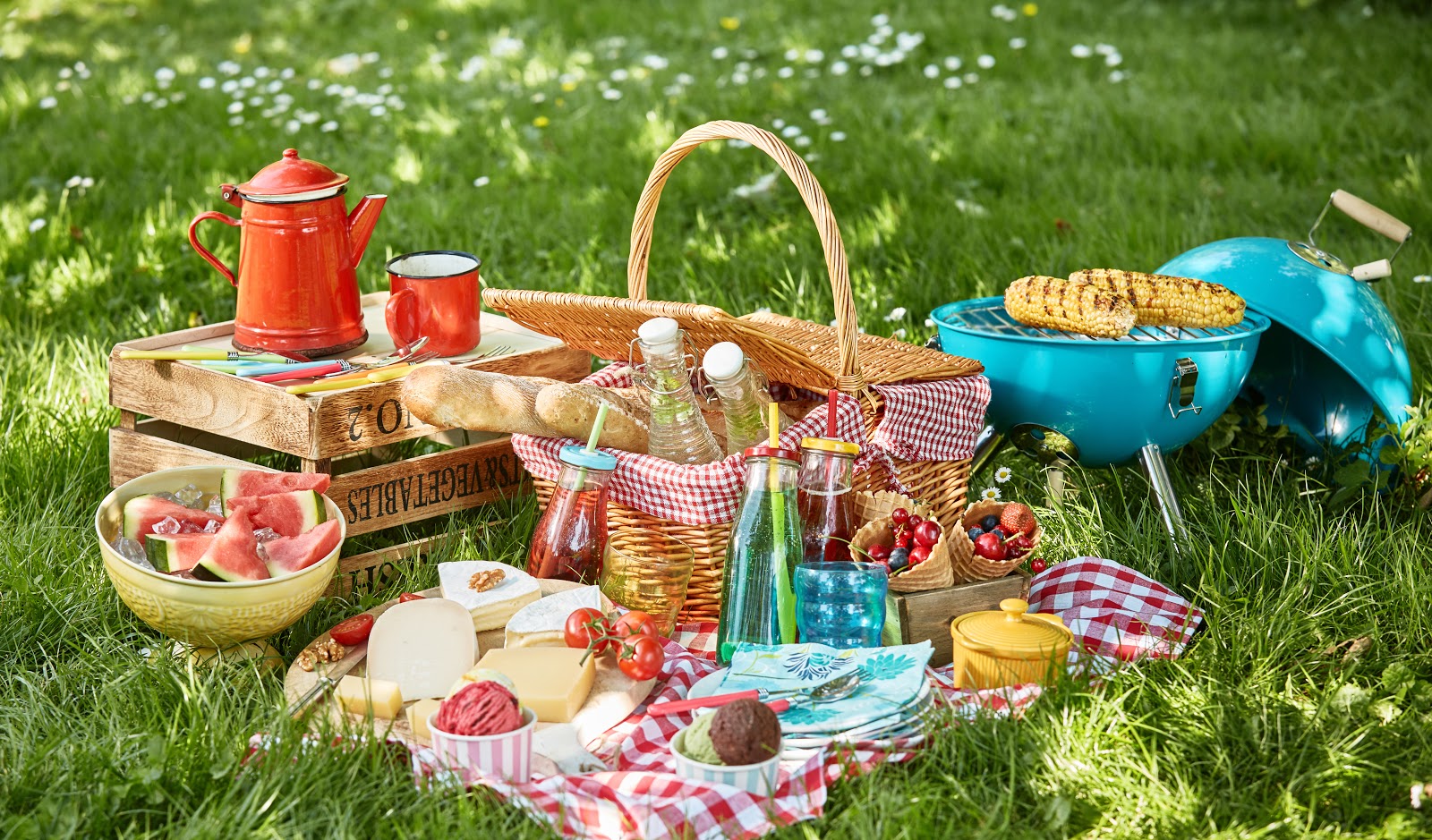 Finally the most important (and most delicious!) of all our party ideas — the food. Here are our favorite picnic food ideas for the different courses of your outdoor meal.
Appetizers 
From the true classics to the new classics, these appetizers will look beautiful on your picnic blanket:
Side Dishes
We firmly believe that picnic side dishes should be easy to make and served cold. Come party time, you'll have enough going on without worrying about warming up your sides.
Cold Main Courses
These main courses go straight from the fridge to the table and leave everyone feeling satisfied:
Grilled Main Courses
You'll be in your own backyard, so grilling is an easy option. Here are our favorite foods for a BBQ picnic:
Desserts
Handheld desserts are perfect for picnics. These goodies will encourage even the most strong-willed adults to pick up a treat at the end of the meal.
Pick Your Favorite Backyard Picnic Ideas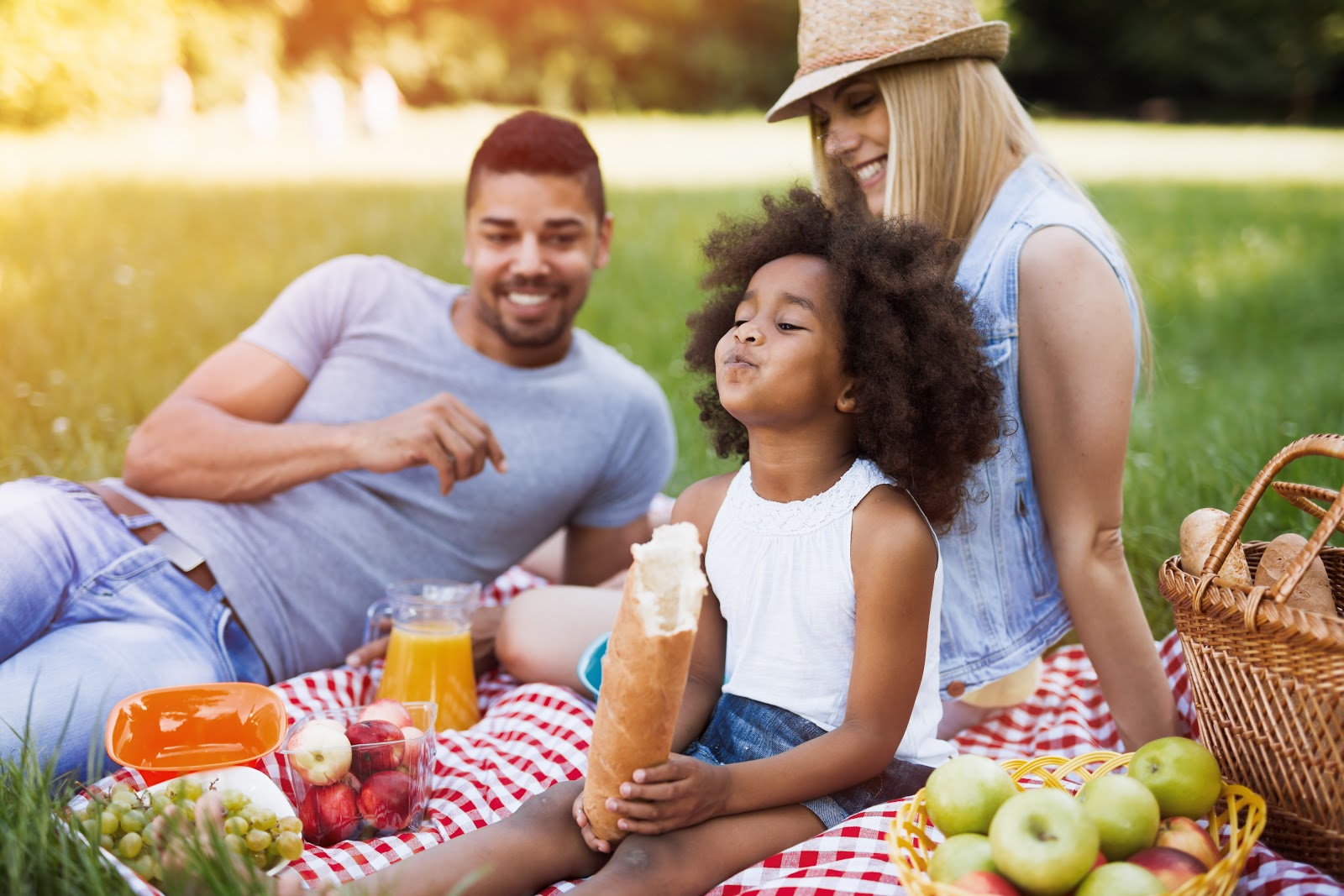 Picnics are all about gathering with your friends and family, getting some fresh air, and enjoying some fresh food. The chance to decorate your backyard is just a bonus. By the time you finish turning your favorite backyard picnic ideas into your backyard picnic reality, your outdoor space will be transformed, and you'll feel like you're spending the day somewhere far, far away.
From that adorable picnic blanket you've been dying to use to the easy recipes you're ready to make, we hope you have the perfect picnic.