January 4, 2023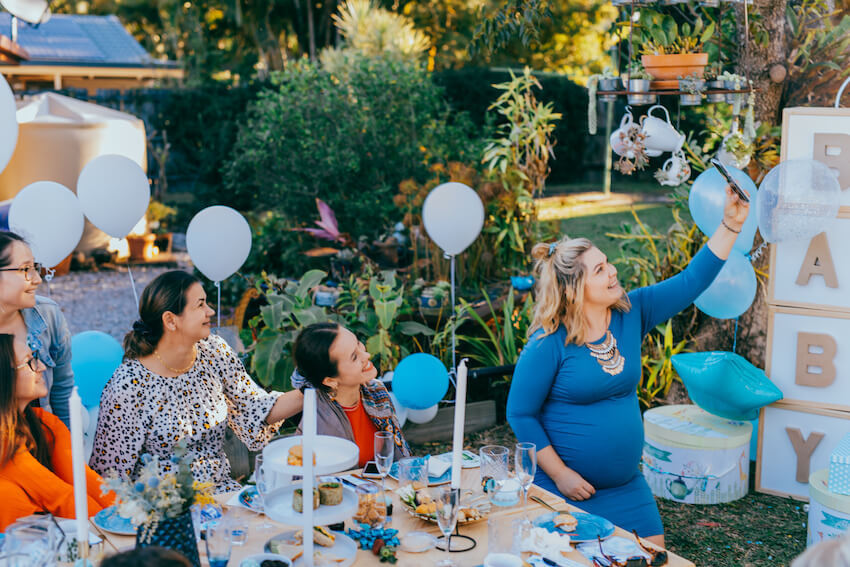 Oh, baby! You've got a big life change coming up, which is something to celebrate. And since your little one is sure to be one of nature's most beautiful creations, it feels so right to celebrate surrounded by nature.
An outdoor baby shower allows everyone, including the baby-to-be, to get some fresh air and sunlight — or starlight! Plus, it opens the door to ideas that you just couldn't do inside.
From nature-inspired themes to unique venues to outdoor party decor, going outside allows you to think outside the box. You can create a one-of-a-kind outdoor baby shower by embracing all things nature. Here are 30 outdoor baby shower ideas to get you started.

11 Outdoor Baby Shower Themes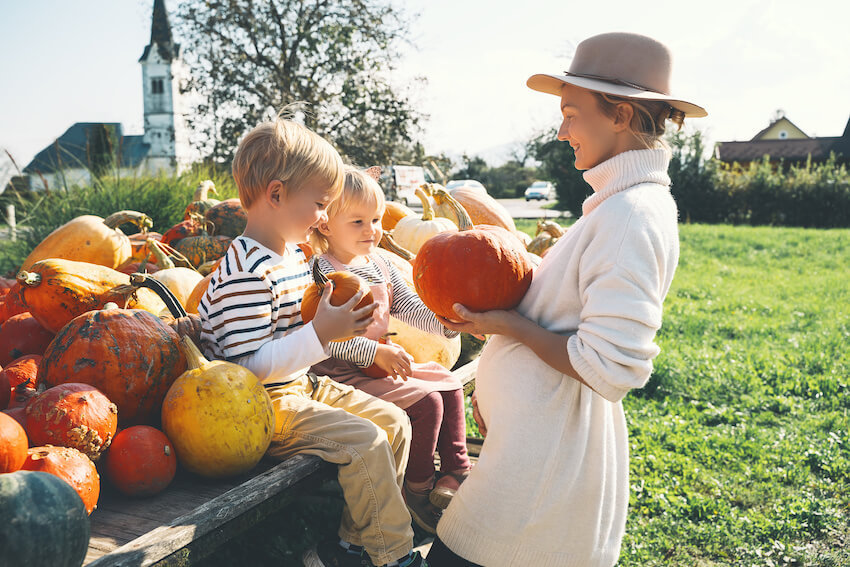 Whenever you're planning a party, we recommend you start by choosing a theme. A theme — even if it's something as simple as a color scheme — simplifies your entire event planning process. Once you have your theme in place, it's easy to choose matching invites, decor, and party favors.
Here are 11 adorable themes to help you start planning your outdoor baby shower:
Woodland Animals:

A

 woodland baby shower

works just as well for welcoming a

baby boy

as it does for a

baby girl

. (It's also perfect for a

gender-neutral baby shower

.) You can incorporate plenty of adorable animals or even make it a

 teddy bear baby shower

to represent all the mama and baby bears in the woods.

Garden Tea Party:

Afternoon tea is an elegant party theme for

birthday parties

,

bridal showers

, and baby showers. Incorporate

tea party ideas

ranging from on-theme activities to matching menu items.

Growing Family:

The abundant

greenery

of the great outdoors is a beautiful metaphor for your growing family. Emphasize this concept by making plants a central part of your

baby shower theme

.

Sun Shower:

Have a shower-themed shower with decor featuring sunshine, clouds, rain drops, and umbrellas. Or welcome the

new baby

with a "you are my sunshine" theme that's sure to make your party shine.

Little Pumpkin:

If you're hosting your

outdoor baby shower

in the autumn, this is a sweet

fall baby shower theme

. You can host your event at a pumpkin patch or simply decorate with some gorgeous gourds.

Winter Wonderland:

Winter is a great time for an

outdoor baby shower

since the

mom-to-be

often feels warm throughout her pregnancy. Make your party extra cool with a winter wonderland, little snowflake, or other

winter baby shower theme

.

Stars and Moon:

You would give that little baby the stars and the moon, so why not make that your

baby shower theme

? Host your

outdoor baby shower

in the evening for a little star gazing, and pair it with a "Twinkle, Twinkle Little Star," "Over the Moon," or

boho

moon child theme.

Bonfire:

For an

outdoor baby shower

that takes place on a chilly evening, keep everyone warm with a bonfire. You can also make it part of the evening's entertainment with s'mores and campfire stories.

Baby-to-Bee:

A

 bee-themed baby shower

is a sweet way to welcome your little honey. It will look extra sweet hosted in an outdoor garden.

Building Our Nest:

We all know about the nesting phase that comes before you welcome your

new baby

. If you make this your party theme, you can include lots of beautiful bird decor and request

baby shower gifts

that help you get your nursery ready.

Backyard Baby-Q:

A

BBQ

is a fun, casual theme for a

backyard baby shower

. It's a great choice for co-ed showers and makes it easy to figure out your menu.
7 Outdoor Baby Shower Venues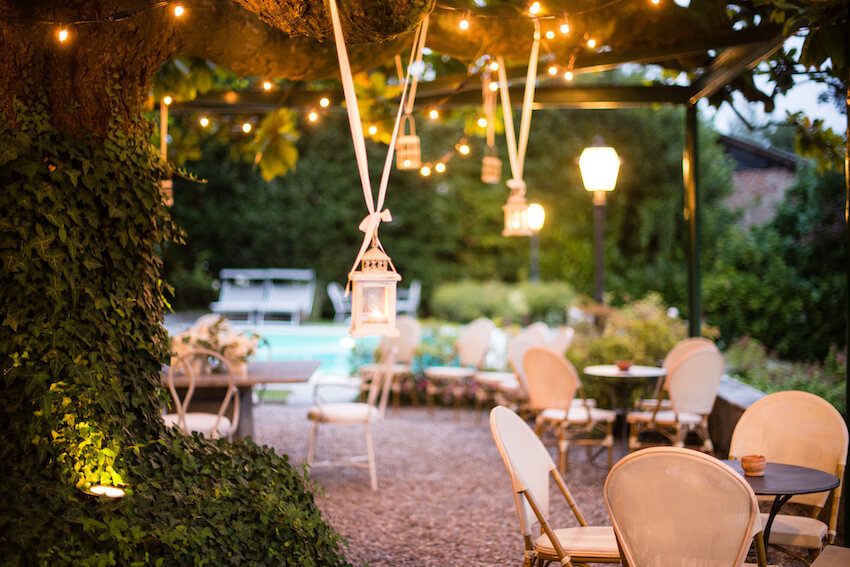 When you're ready to nail down your party details, you'll need to start by picking a venue. Your own backyard, the backyard of a friend or family member, or a public park are all lovely locales for your outdoor fête — and they have the added advantage of being free.
But if you have a bigger baby shower budget, there are a variety of interesting outdoor venues that can help you host a one-of-a-kind shower. Check out some of these locations to see if they can accommodate your new baby bash.
A patio restaurant

An outdoor brewery

A zoo

A botanical garden

A public pool

A nature preserve

An orchard or you-pick farm
7 Outdoor Baby Shower Invites
Whichever theme you've chosen for your outdoor event, you can find a baby shower invitation to match. These seven designs are all digital invitations that you can customize and send out in a matter of minutes.
1. Lovely Pumpkin Duo Invitation
For your autumn outdoor shower, this sweet design features a couple of adorable gourds surrounded by fall foliage.
2. Watercolor Jungle Invitation
If you're hosting an outdoor baby shower at the zoo, this jungle-themed invitation shows the wild animals who will help you welcome your wild child.
3. Delicate Greenery Invitation
This elegant baby shower invite features a frame of delicate greenery around your party details. The simple design is ideal for any outdoor party.
4. Woodland Charm Invitation
For a woodland-themed outdoor shower, this adorable watercolor invitation features pine trees, wild mushrooms, and a few of our favorite forest friends.
5. Handlettered Snowflake Invitation
This beautiful design with hand-drawn snowflakes and elegant calligraphy is a perfect match for a winter shower.
6. Watercolor Anemone Invitation
If you're hosting your outdoor baby shower in a garden, this floral invitation features beautiful blooms to let everyone know that your baby is blossoming.
7. Starlit Invitation
For an evening event, this lovely invitation features gold foil stars that appear to twinkle like the night sky. Use it to let everyone know that your little star is on its way.
5 Ideas for Outdoor Decor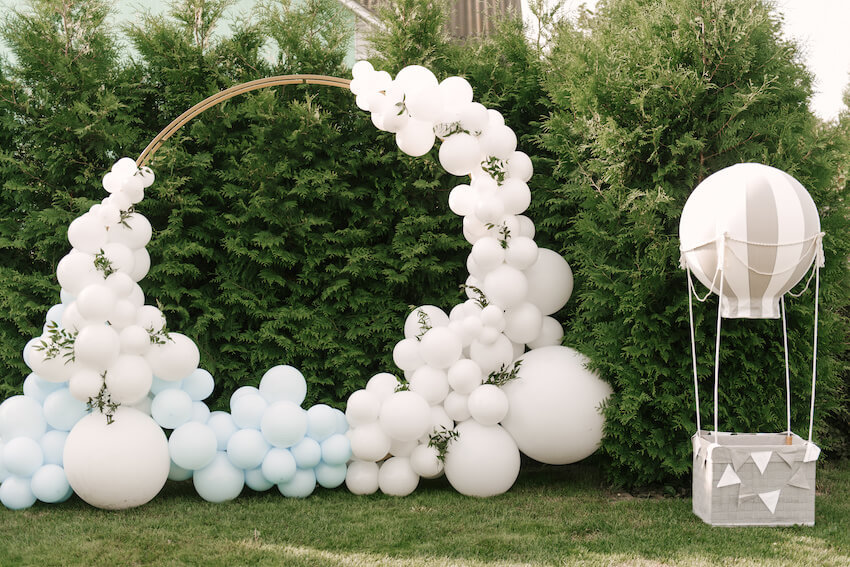 One of our favorite parts of party planning is picking out party decor. No matter what type of outdoor venue you've chosen, you can make it look extra special by adding a few baby shower decorations. Here's a handful of decor ideas to amplify your outdoor space.
Tulle table runners:

An elegant alternative to a

tablecloth

,

decorating with table runners

allows you to show off the rustic wood grain of your table, which adds more outdoor appeal.

Succulent place cards:

For your outdoor affair, you can use a mini succulent to display guest place cards. It will add to your

boho

party decor

, and when the event is over, guests can take home the succulents as

baby shower party favors

.

Hand-cut greenery:

For natural-looking

table decorations

, use

greenery

from your own garden to make

DIY centerpieces

.

Balloon garland:

Consider using

balloon decorations

to

make an elegant archway

. Not only is it a dramatic piece of

baby shower decor

but it can also serve as a

DIY

photo booth

backdrop.

Yard sign:

An inexpensive

DIY yard sign

will give you another place for photo ops, and it can be a dramatic way to announce the

gender reveal

, share the baby's name, or simply help guests find the party.
Take It Outside
The great outdoors is a great space for any event. And when you're planning a baby shower, taking it outside can make your baby's first party even more memorable. A little fresh air will give you a fresh perspective on party planning and help you pick a unique theme, venue, invitation, and more.
When it comes to picking out that invitation, Greenvelope is here with hundreds of online invites to choose from. And one of the best things about online invitations is that no trees were harmed to make them — it's a true celebration of the great outdoors.
For more outdoor baby shower inspiration, check out these outdoor party games that are way more fun than your typical baby shower games, and explore more baby shower ideas that work indoors and out.