August 8, 2022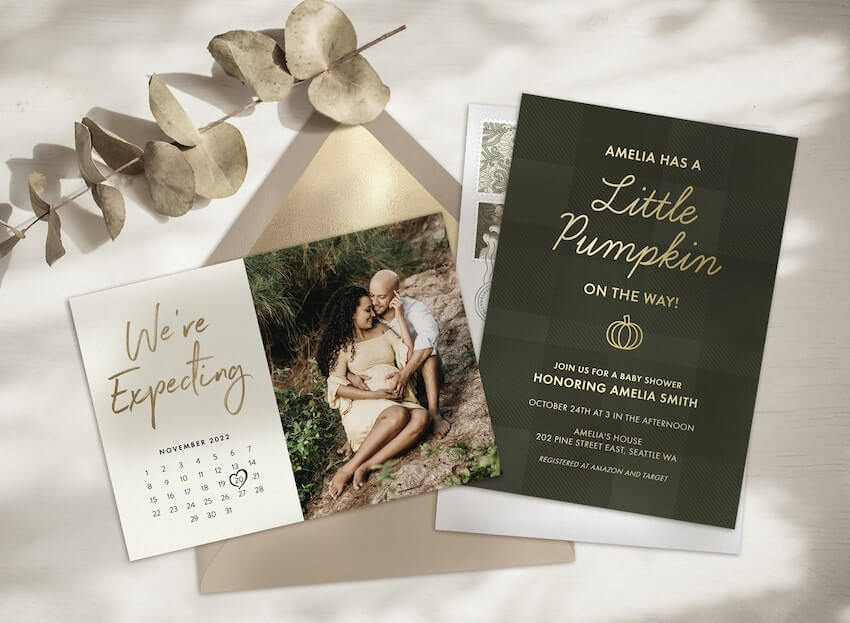 Celebrating the arrival of a new little pumpkin this fall? With these fall-themed baby shower ideas, you're sure to have a festive fete. From parties that feature seasonal favorites like pumpkins and gourds to (dare we say) Halloween-inspired themes, there's something for just about every type of celebration. 
Discover fun autumn baby shower ideas with this guide to themes, decor, food, and activities. Whether you want a chic and upscale soiree or a laid-back and casual gathering, you'll find a fall baby shower idea to match your style. Plus, each party idea is paired with a stunning baby shower invitation design to make the party planning process that much easier.

Fall-Themed Baby Shower Ideas: 8 Ways to Welcome the New Arrival
Fall is one of our favorite times of year. The summer heat begins to fade and autumn leaves begin to take on their red, orange, and yellow hues. Farmers begin their harvests of apples and gourds, plus hayrides and pumpkin patches start popping up. The sweater-weather season is also synonymous with gratitude — a feeling that's shared when expecting a new little one.
To help you celebrate the joy and excitement of a new baby, we've put together this list of fall-themed baby shower ideas. Along with party tips, you'll find matching fall baby shower invitations that are perfect for celebrating the arrival of a baby girl or baby boy. They're also ideal for gender-neutral baby showers.
1. Happy Halloween Baby Shower
Invitation inspiration: Marigolds & Sugar Skulls Invitation
When it comes to baby shower themes, many people opt for motifs that are sweet, familiar, and traditional — like florals, tea parties, and adorable baby animals. But if you fancy yourself a bit unconventional, there's nothing more eye-catching than a Halloween baby shower.
Rather than focusing on the spooky elements of the holiday, host a festive Halloween event featuring cheerful ghosts and dancing skeletons as part of the baby shower decorations. Opt for a color palette filled with bright oranges, greens, purples, and black.
For food, have fun with Halloween-inspired party food like pumpkin hummus, spidery deviled eggs, and cheesy breadstick "bones." Don't forget candy corn caramel apples and eerily delicious "eyeball" crispies for the dessert table. 
2. Little Pumpkin Baby Party
Invitation inspiration: Plaid Pumpkin Invitation
Prefer a sweeter route for your fall-themed baby shower? Go for a little pumpkin-themed party. Even if you're not a skilled DIY-er, it's easy to find pumpkin party decorations. Choose white pumpkins and a subdued color palette for a glamorous look or go for orange pumpkins for a traditional take. This fall-themed baby shower theme is perfect for hosting at home, but you can also check with your local pumpkin patch to see about renting space. (Plus, they might have hayrides, corn mazes, and other fun activities.)
If you're hosting in the early afternoon, serve pumpkin spice beverages like lattes and tea. You can also offer apple cider and pumpkin pies for dessert time. A baby shower cake featuring pumpkins or autumn leaves will also fit the bill.
3. Sunny Sunflower Baby Shower
Invitation inspiration: Sunflower Trio Invitation
Looking for a cheerful way to celebrate your new addition? Host a sunflower shower. For baby shower centerpieces, add large sunflowers to glass jars or tall vases for dramatic effect. Pair the sunflowers with other fall decor items like pinecones and leafy bows on the table. A fall leaf tablecloth or jewel-tone runner pulls the look together.
At the entryway, greet guests with a large yellow balloon arch. You can order one from your local party planner or create a DIY balloon garland. This also works great as a backdrop for a photo wall. Rustic decor pairs well with the sunflower theme so set out handmade wooden place cards and hang string lights for a country-inspired design. Play baby shower games like bingo and trivia with sunflower-themed stationery.
4. Woodland Baby Shower
Invitation inspiration: Woodland Charm Invitation
A woodland baby shower sets the scene for an enchanting and whimsical celebration. The color scheme for this fall-themed baby shower is all about natural hues like green, brown, and red. Choose rustic wood pieces for entryway signs and table decor. Large wood rounds make excellent charger plates and metallic silverware adds a hint of sophistication. Decorate the space with adorable figurines of squirrels, raccoons, owls, and other woodland creatures. For a cake topper, bright red mushrooms and fondant foxes are a natural selection. 
In terms of activities, it's easy to craft a DIY scavenger hunt at your local park or in your backyard. You can also play themed diaper games — like speed diapering and guessing what's in mystery diapers. For party favors, consider mini terrariums and mushroom-growing kits.
5. Football Baby Shower
Invitation inspiration: Bouncing Balls Invitation
Touchdown! Fall is football season so why not run with this theme and use it for your own little champion? This fall baby shower idea is easy to plan for and it also makes for an unforgettable birthday party theme or bridal shower. Much like a Super Bowl party, you can incorporate the colors of your favorite football team or stick to classic football paraphernalia. A football cake looks great on a dessert table adorned with a green tablecloth and white yard lines. Decorate the space with football jerseys or deck out the rooms with green and brown balloons, garland, and confetti.
For food, serve all the traditional fare. Wings, hot dogs, burgers, and finger foods are right at home with this theme. Snacks like chips and dip, pretzels, and potato skins are also sure to be a big hit. 
6. On the Farm Shindig
Invitation inspiration: Farm Life Card
Host a farm-themed baby shower to celebrate the joys of fall and harvest season. Decorate your backyard with farm-inspired decor like hay bales and tables with gingham tablecloths. A large baby shower banner makes a great first impression and can serve as a backdrop for guest photos.
For food, serve up burgers and classic farm-to-table fare. Keep in mind any dietary restrictions and offer vegan-friendly options as well. Rice Krispies treats look just like hay bales when placed in the back of a toy tractor. Green and yellow cupcakes invoke visions of John Deere tractors and chocolate donuts look like large truck tires. Use toy trucks to display cutlery or to hold place cards for table seating arrangements.
7. Baby is Brewing Bash
Invitation inspiration: Baby is Brewing Invitation
This brew's for you! For a fun twist on a traditional baby shower, host a beer-themed party featuring craft beers from local breweries. Yellow, cream, and beige are the name of the game when it comes to this party color palette, making it perfect for a gender-neutral party. 
Hang balloons and garlands around the venue to set the mood for the event. White and yellow tablecloths create the backdrop for beer brewing while string lights add a rustic element. 
Serve beer-inspired foods like beer battered fish and chips or beer pretzels. For dessert, serve malted chocolate and stout layer cake.
8. Apple of My Eye Shower
Invitation inspiration: Wood You Join Us Invitation
Is your baby the apple of your eye? Celebrate with an apple-themed fall baby shower. Decorate the space with green and red decor and accent balloons and garland with rustic pieces like wood vases and fresh flowers. Metallic silverware and straws add a hint of luxury to the simple design. Add fresh apples to the table spread and serve treats like apple pie, apple cider, and caramel apples.
For baby shower games, you can't go wrong with tried-and-true favorites like bobbing for apples and pin the tail on the donkey. You can also have a competition to build the largest diaper pyramid or have guests "harvest" diapers from different spots around the venue. Share your gratitude by sending guests home with party favors like dried apple slices or apple-scented candles.
Choose Enchanting Fall Baby Shower Invitations for Your Celebration
At Greenvelope, you'll find baby shower invitations for every party theme including fall-inspired events. From cheery sunflower designs to football themes, there's an invite for every personality. Best of all, each invite is entirely customizable so you can make your dream design. Upload your own creation or personalize any template for an unforgettable invite.
All of our invitations are digital so you can send them out with just a few clicks. No running to the post office or keeping track of paper RSVPs. Just head to the online dashboard to see who's coming and send out updates in the days leading up to the event. 
For more help planning your fall-themed baby shower, continue browsing our Stationer's blog. Start with our baby shower checklist to ensure your party planning is seamless from start to finish.