May 17, 2022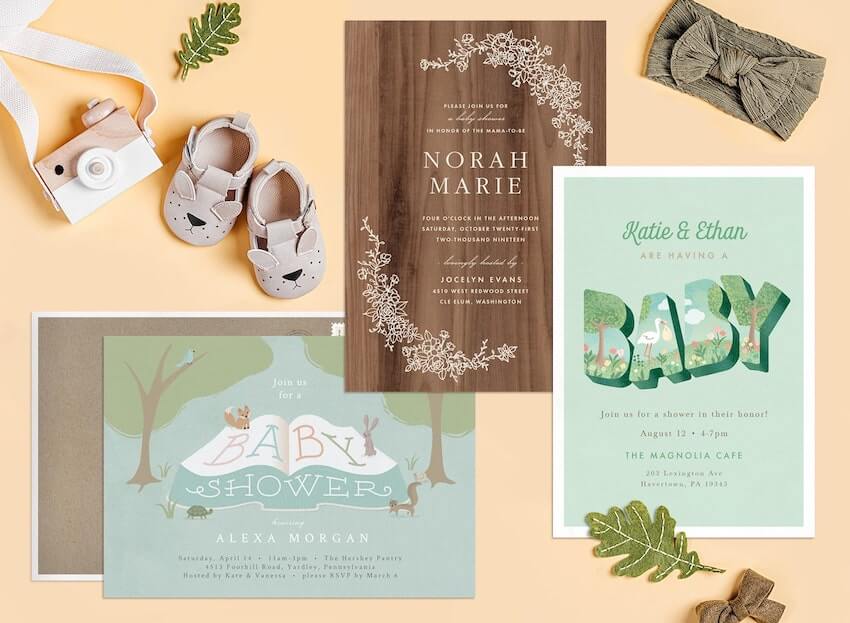 Looking for a baby shower theme that's sure to make your party a hoot? Look no further than a woodland baby shower. 
Woodland parties are perfect for welcoming a new baby to the family. With this party theme, you can get creative with curious critters — think adorable foxes and owls, raccoons and squirrels, rabbits and deer. Natural elements like colorful mushrooms, forests, and earthy florals complete the magical backdrop. Here are some of our favorite woodland baby shower ideas and invitations that guarantee a lovely (and lively) celebration.

Woodland Baby Shower Ideas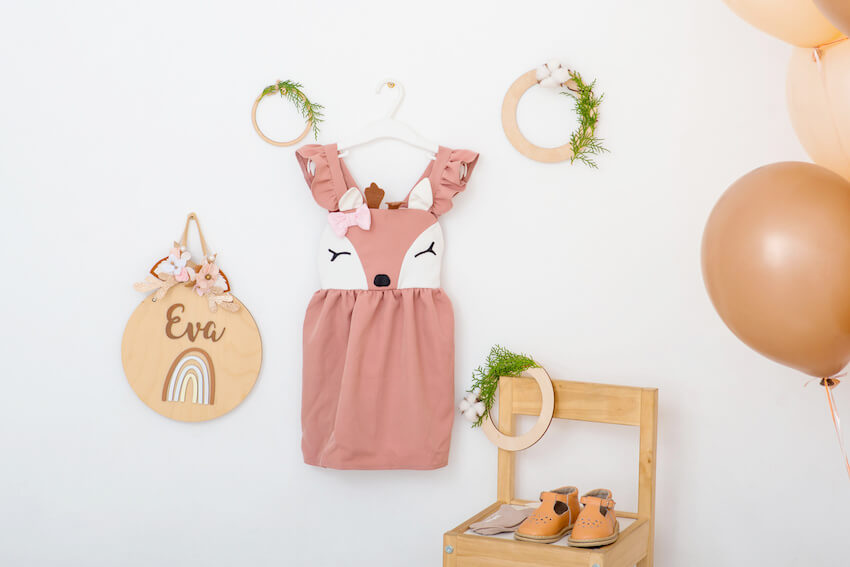 A woodland baby shower is one of the most delightful baby shower party themes to combine your love of nature with the excitement of welcoming a new member to your family. Woodland baby showers can be sweet and subdued or bold and wild — it really depends on the party decor you choose and how you want to celebrate.
Whether you're hosting a gender reveal shower for a baby boy or baby girl or considering a gender-neutral baby shower, these woodland-themed baby shower ideas are sure to help you pull off a memorable event that you and your guests will remember for years to come.
Woodland Baby Shower Decor
When planning a party, it's key to set the scene — especially when you're hosting a themed event. For a woodland baby shower, that means incorporating forest animals and woodland forest plants into your decor. One easy way to make an impression is to create a baby shower sign. You can use sticks and flowers to write out the name of the new baby and display the sign at the entrance of the venue or over the baby shower gift table.
Traditional party supplies like balloons, confetti, and streamers can also set the mood for your woodland baby shower. Look for animal-shaped balloons or create your own DIY animal cutouts to display around the room. Stick to woodland animals like raccoons, hedgehogs, foxes, and owls to stay on theme. While you're always free to make your own rules, you probably want to avoid jungle animals like tigers and animal prints to avoid the party morphing into a jungle theme baby shower. (Although those are certainly cute too!)
Have Fun with Tablescapes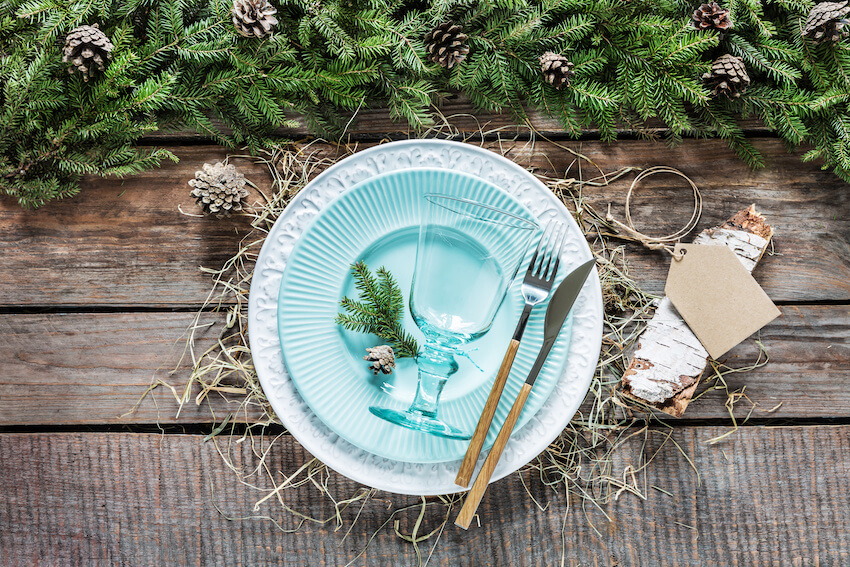 Another easy way to make your woodland party stand out is to incorporate the theme into your table decor. Visit your local party supplies store to buy napkins, dessert plates, and tableware that fits the woodland theme. You can find plates and straws that feature things like mushrooms, woodland forest scenes, or cute creatures like squirrels and birds. For a glamorous tablescape, you can opt for real glasses, plates, and serving ware rather than disposable versions.
Centerpieces can also take your woodland baby shower to the next level. For an elegant event, work with a florist to create natural centerpieces using woodsy florals like moss and dried branches. You can also create your own centerpieces using woodland-appropriate flowers like peonies, eucalyptus, and pine garland. Set the centerpieces on jute or burlap table runners to complete the look.
Woodsy-Inspired Food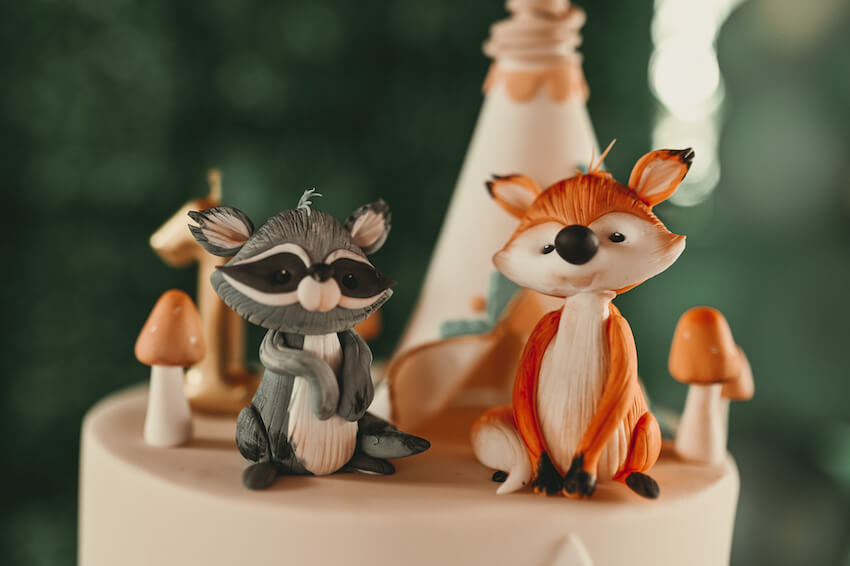 While woodland baby shower decorations set the scene for the party theme, your food can make the event more memorable. Order a custom-made woodland baby shower cake featuring a wide range of woodland creatures or a magical woodland scene. If you prefer, you can make your own cake and order animal cake toppers from sites like Etsy. Alternatively, you can skip the cake and go for individual cupcakes or cute cake pops for each guest. Whatever you choose, just make sure to include earthy hues and motifs to complement the party theme.
Depending on your preferences, you can serve snacks and appetizers at your woodland animal baby shower or you can opt for a complete meal. For appetizers, bake little woodland mushrooms by putting square pieces of cheese on a stick and topping them with half of a grape tomato. You can also make a pinecone cheeseball or a watermelon hedgehog! For a fancy, upscale meal, work with a caterer to create a menu using seasonal and fresh ingredients — just like you'd find in a woodland forest.
Woodland Activities
No baby shower is complete without a few games and activities. Popular baby shower games include bingo, mad libs, and baby name guessing games. For gender reveal parties, games can also center on whether it's a baby boy or a baby girl. To include your theme in the games, print critters and woodsy designs on any stationery you use for bingo cards, mad lib sheets, and the guest book where attendees can write the new baby a sweet note.
Another fun activity for a baby shower is a DIY decorating contest. You can choose to have a woodland art contest or a cupcake decorating contest. Give guests a decoration kit with tools (such as art supplies) or food toppings like sprinkles. You can include woodland stickers in the art kit or stick to watercolor supplies. Have guests make their best painting or decorate a cupcake and vote on who has the best design. The winner can earn a prize like a bottle of champagne or a special memento.
Natural Party Favors
Show your guests how much you appreciate them with themed baby shower favors. You can choose paper bags in the shape of forest creatures or fill a simple burlap sack with a few items — natural soap, candles, and seeds are great fillers. Add favor tags featuring a woodsy print and each guest's name for a personal touch.
Woodland Baby Shower Invitations
With these woodland party ideas, you're sure to have a magical event. Now it's time to get guests excited about the upcoming party. That means choosing baby shower invitations that reflect the theme and mood of your event. Along with choosing a design, you'll want to come up with the best baby shower invitation wording to match your theme. Here are some of our favorite woodland baby shower invitations to inspire your woodland theme.
1. Woodland Charm Invitation
This charming invite is the cutest way to invite guests to a woodland baby shower. The watercolor design features a raccoon and a bear as well as forest trees and mushrooms for a whimsical feel.
2. Sweet Woodland Theme Invitation
This hand-drawn invitation uses pastel hues and woodland animals to invite guests to a baby shower party. The design also makes it ideal for birthday parties and bridal showers.
3. Woodland Whimsy Invitation
This whimsical invitation features all the woodland creatures you need including bunnies, foxes, and hedgehogs. The word "baby" is surrounded by the critters and delicate greenery, putting the focus on your woodland theme and the new baby. Choose a pink color scheme to announce "it's a girl" or opt for blue hues if you want to let guests know that it's a boy.
4. Woodland Shower Invitation
For parents-to-be who love nature, this woodland-inspired invite is the perfect choice. It features a pattern of colorful twigs, acorns, and leaves. There's a large text box for all the event details, and it comes in four colorways to suit the theme of your baby shower party.
5. Woodland Animals Invitation
Welcome baby with this watercolor invitation featuring a sweet deer, birds, and other woodland animals. It comes in various colors, so you can use it for a gender-neutral, boy, or girl baby shower.
6. Woodland Storytime Invitation
Your guests will be saying "oh baby" and counting down the days to your woodland baby shower when they receive this lovely invite. The open storybook motif, with critters and greenery, is the perfect way to set the tone for your special event.
Host a Whimsical Woodland Baby Shower
Throwing a woodland baby shower is sure to be a hoot thanks to these party ideas. When you need baby shower invitations to match, look to Greenvelope for stunning, eco-friendly options. Since our invites are digital, you can enjoy gorgeous designs that are also better for the environment — and your beloved woodlands — compared to traditional paper or printable invites. 
For more help planning your celebration, don't miss our complete baby shower checklist to make sure you don't miss a thing, plus find cute baby shower ideas that you'll adore.