May 7, 2020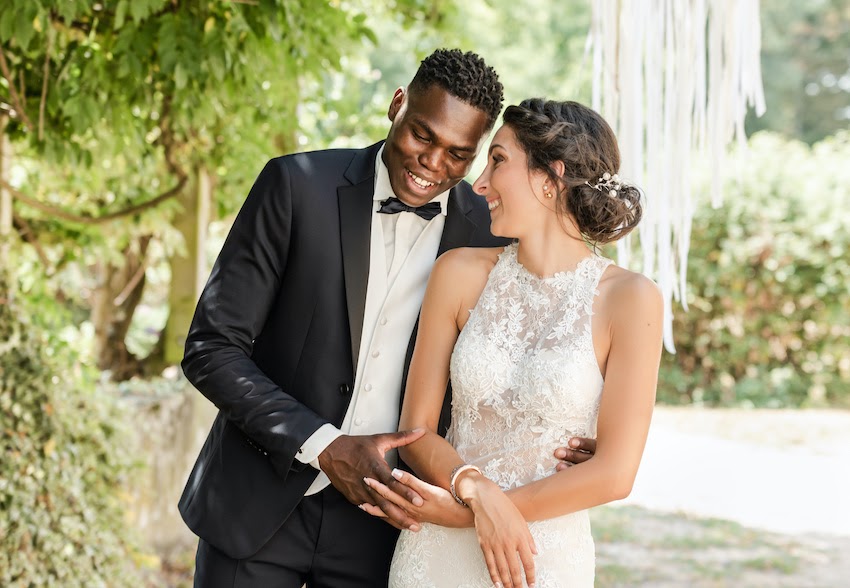 You found your forever person and figured out where and when the big day is. Now comes the challenge: Finding the perfect words to express the joy, excitement, and overall vibe of your wedding day.
Unless you're planning on sending save the date cards, your wedding invitation is the first impression you'll be making about your upcoming wedding celebration, so you want it to be just right.
But before you start putting too much pressure on yourself, we're here to help. If learning the ins-and-outs of wedding wording doesn't fit on your pre-nuptial to-do list, you can use our wedding invitation wording tool to plug in your information and get the words you need. Or, use this guide where we'll show you how to write a wedding invite. Then, we'll provide examples of different approaches to wedding invitation wording so you not only know what to say, but exactly how to say it.

What to Include in Wedding Invitation Wording
You don't have to be a wordsmith to craft the perfect wedding invitation. Before you get started, think about the theme and mood that you and your partner want to convey. You want the language to be clear and informative, but you also want it to have a sense of your personality as a couple.
With this in mind, it'll be easier to choose an invitation design¬†that complements the tone and style of your upcoming nuptials. Whether you're throwing a backyard BBQ-style soiree or an elegant rooftop celebration, here'Äôs a quick rundown of the basic information to include on a wedding invitation.
Host Line and Request Line
The host line is the first line of the invitation. It tells guests who's hosting the event (aka who's footing the bill). This might be the groom's parents, the bride's parents, both sets of parents, the couple themselves, or the couple along with the help of family members.
The request line is the second line on your invitation where you ask the invitee to attend your wedding celebration and participate in the merriment. Along with the host line, it might look something like this:
Mr. and Mrs. Gutierrez
request the pleasure of your company
—-
Mr. and Mrs. Kim together with Mr. and Mrs. Adjemian
request the honor of your presence
—-
Together with their families, Kendrick and Kayla
invite you to join them
—-
Frank and David
joyfully welcome you to attend
The Happy Couple's Names
If the couple's names aren't included in the host line or another line, be sure to include it somewhere prominent on the invite. (It's kind of impossible to have a wedding invitation without knowing who's getting married!) You can include full names although it's become common to use first names only, even for a formal invitation.
Date, Time, and Location
After the host line, request line, and couple's name, you'll want to include the date, time, and location of the wedding ceremony. Be sure to add information about the wedding reception on a separate line, even if it's something as simple as "Reception to follow."
Dress Code
Is your wedding celebration going to be a black-tie affair? Perhaps you prefer cocktail attire or a more casual-chic approach? Or maybe you'd like to encourage guests to wear certain colors or follow a particular theme, like the Great Gatsby. Whatever you decide, be sure to let guests know what to expect in terms of dress code.
RSVP Card or Link
For physical invitations, you'll need a separate RSVP card with a pre-stamped, pre-addressed envelope. Make it easy on yourself and create online wedding invitations that you can easily email and track in real time.
Wedding Invitation Wording Examples
You now know what to include, so it's time to get your creativity flowing and add your own flair. Here are some wedding invitation wording samples to inspire your linguistic style.
Traditional Wedding Invitation Wording
If you're having a traditional wedding ceremony in a fancy venue or house of worship, consider more formal wording that complements the style of your special day.
For example, using a phrase like "Mr. and Mrs. John Smith request the honor of your presence" in the host line and including the couple's first and last names are about as traditional as it gets. That said, feel free to change things up and put your own spin on what "formal" means to both of you.
Emily and Connor
This "Scripted" invitation is a classic that works beautifully for a formal affair. With its lovely floral envelope liner and timeless design, you can change the script to suit your partnership and personality.
Together we invite you
to celebrate the marriage of
Emily Sutton
and
Connor Bennet
Friday, the seventeenth of November
Two thousand twenty-two
Seven o'clock in the evening
Cheekwood Estate & Gardens
Nashville, Tennessee
Savita and Pradhi
This richly colored, majestic-looking "Exquisite Peacock" design features traditional wording that befits a more formal wedding. While there is no dress code indicated on the invitation, you can personalize this card or any card to include it if you want. And the language and style of this wedding invite do an excellent job of setting the tone for this more formal affair.
Divya & Abhisoka Rahaman
together with Vyshali & Madesh Katwaroo
joyfully request the honor of your presence
at the marriage of their children
Savita and Pradhi
Saturday 18 September
two-thousand twenty-two
beginning at half-past six in the evening
The Hotel Dhaka
Dhaka, Bangladesh
Kristie and Stephen
We love this "Botanical Ampersand" wedding invitation for its bold design and heartfelt language. Sophisticated yet versatile, it's a modern approach to formality.
Kristie and Stephen
with their families
joyfully invite you to their
wedding celebration
Valley Vineyard Inn
Napa Valley
California
on
September seventh
Twenty nineteen at
4:30 p.m.
Reception will follow
Formal attire requested
Fun and Playful Wedding Invitation Wording
Whether you're hosting a rustic wedding in a refurbished barn, a boho-chic beachside celebration, or a woodsy wedding in a glamping-style wedding venue, your invitation design and language help set the scene.
Meadow and Jackson
Having a winter wedding? Consider a color scheme and motif, such as evergreen branches, like those on this "Delicate Branches" invitation. Here, the couple kept the language simple, but you can always add your own twist with wording like "Our new adventure is about to begin!"
Kindly join us
for the wedding of
Meadow Wilson
and
Jackson Alder
Saturday, December 5th, 2021
5:30 in the evening
Hilltop Mountain Resort
Denver, CO
Ann and Thomas
With its hand-drawn illustrations of the moon, stars, and majestic landscape, the "Crater Lake" invitation is both an homage to the great outdoors and a nod to the love that nature can inspire. This couple chose a fun message for their wording, which lets their happy attitude shine.
Ann & Thomas
are tying the knot!
You are happily invited to
join us in celebration of their marriage
Saturday the twelfth of September 2020
4 o'clock in the afternoon
Crater Lake Lodge
Crater Lake National Park
565 Rim Dr. Klamath Falls, Oregon
Dinner & dancing to follow
Outside the Box Wedding Invitation Wording
If you and your partner are a bit unconventional, the words you choose 'ÄĒ or don't choose 'ÄĒ for your wedding invitation can keep that fresh perspective alive. Take a look at these two wedding invitation wording samples¬†for some out-of-the-box inspiration.
Clara and William
With its beautifully prismatic sheen, modern typography, and simple yet sophisticated design, this "Love and Light" wedding invitation is a blank canvas for your message. Choose whichever phrasing you like, but we love that this couple didn't even use the word "wedding," creating a voice and style all their own.
Clara and William
invite you to join their
celebration of love and friendship
August 25, 2020
at 6:00 in the evening
Terra Gallery & Events, San Francisco
Dinner and dancing to follow
Bailey and Craig
This "Mt. Rainier" invitation is perfect for the nature-loving duo planning a green wedding. The bronze, handwritten typeface with the "Meet us in the woods" greeting is simply stunning.
Meet us in the woods
Together with their families
Bailey and Craig
request the pleasure of
your company at their
wedding celebration
August twentieth
Two thousand twenty
Five in the evening
Mt. Rainier National Park
Reception to follow
Find the Words, Send the Invites, Celebrate Your Love
Greenvelope's easy online invitations allow you to fully customize the experience and track everything from address validations and RSVPs to what your wedding guests want to eat, and much more. With collections ranging from traditional and elegant to modern and fun, you can customize the perfect wedding invitation that expresses you and your partner's personal style.