April 25, 2023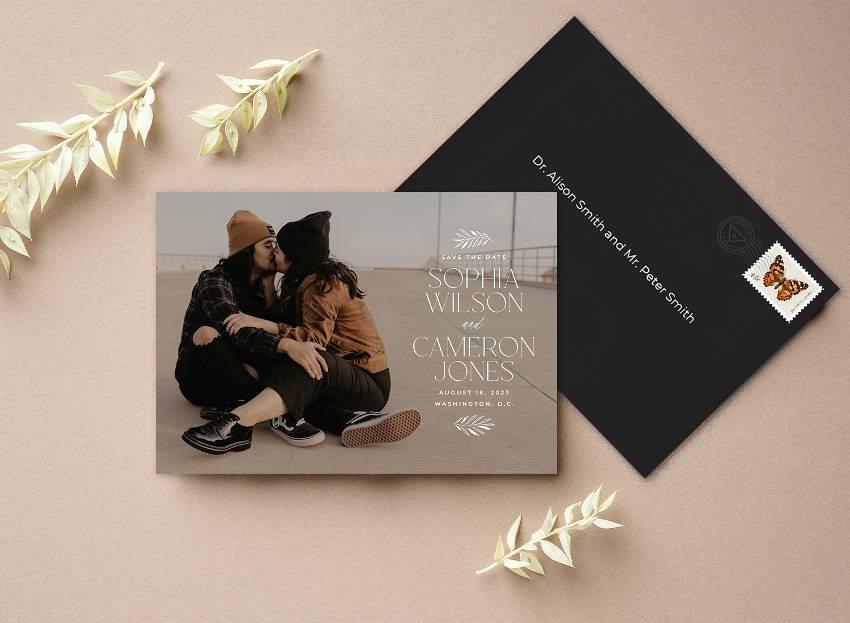 As you begin wedding planning, one of the first interactions you'll have with your guests is to prepare and send your save the dates. But before you do this, you'll want to know how to address save the dates so your messaging is clear.
If you're not sure where to start, we're here to help. Here's your go-to guide on how to address save the dates. We'll cover everything from what to include in your cards to how you should address different guests.

What to Include in Your Save the Dates
Your save the date cards are like a light version of your wedding invitations. They not only let your guests know about your wedding details but they also let recipients know that they're invited so they can "save the date" and make plans to attend.
To help you (and your guests), here's what you should include as you write your save the dates. You could even use a save the date card like this fun calendar design to get your message across. 
The Happy Couple's Names
Sure, this seems like an obvious reminder. But hey, sometimes the simplest things get overlooked — especially when planning a major event like a wedding! Make sure you include both your name and your partner's name on your save the dates. Not only does this clear up whose wedding it is, but it's also a great opportunity to let your guests know your full names and how to spell them.
Your Invited Guests' Names
Even if you're sending your save the date card to one recipient at an address, always include their name. Doing this is particularly important if you're inviting multiple people from one address. For instance, you might be inviting a guest with a plus one, an entire family, or only the parents but not the children. We'll share the best ways to address these situations in the sections below.
Wedding Date and Time
Next up, share some of the key wedding details. First, you'll want to tell your guests when your wedding date is. Without this, it's hard for them to keep the date free so consider it a must-have.
While it's not necessary at this stage, if you already have your time selected, it's helpful to share this information. This way, your guests have ample time to plan ahead and book time off work or make childcare arrangements.
With save the dates, we recommend sending these four to six months before the big day. If you're hosting a destination wedding, share the details much earlier if possible to give more time for guests to make travel plans.
Wedding Location
Your save the dates should also include your wedding location. This helps your guests plan ahead, and it's also a fun way to get them excited — especially if you've already selected a venue.
Mention the specific venue if you've already made arrangements. If you haven't, a city and state is perfectly acceptable. You can always share more details about your wedding day on your digital wedding invitations.
Other Details
We've covered all the essentials for your save the dates, but you might also want to include a few extras. Some couples choose to share a link to their wedding website so guests can stay up to date, see engagement photos, and learn more about the venue. You could also include a line about when to expect a formal invitation, or simply leave it as "invitation to follow."
Writing Tips for Your Save the Dates
When it comes to how to address save the dates, it's up to you on how formal or informal you'd like them to be. There are some traditions and save the date etiquette rules around titles and the order of names, but you can always set these aside in favor of what works best for you. Match your note to the tone of your invite, whether it's traditional and classic or more modern like this Colored Arch save the date.
To help you write confusion-free save the dates, here are some general rules to follow.
Be Clear About Who's Invited
Everyone has a different idea on rules and traditions when it comes to weddings, and that also includes invited guests. Save time and confusion by clearly listing out all invited guests on your save the date envelopes so your guest list is crystal clear.
Write out the names of invited guests, and don't leave things up to chance. Instead of "plus one" or "and family members," write the guests' names. Make it clear whether children are invited so guests can make suitable arrangements. It isn't always possible to avoid adding "and guest," but try to be as specific as possible where you can.
Decide If You're Using Titles
Formal titles are traditionally used on save the dates and wedding invitations. If you like the formal wedding approach, feel free to keep these elements. For a more informal wedding, you can choose not to use titles and instead address guests by their full names.
Whether or not you choose to use titles, keep this consistent. Address everyone as their chosen prefix, whether that's Mrs., Mr., Miss., Ms., Mx., Dr., or another title. If you aren't sure, it's best to remove these from your save the dates entirely. You don't have to use titles unless you wish to observe traditional etiquette.
Avoid Using Nicknames
Unless you're hosting a casual wedding or eloping and then hosting an elopement reception, it's best to avoid using nicknames on your save the dates or wedding invitations.
You don't have to opt for the most formal route with titles, but using your guests' full names is usually the most appropriate choice. For many people, weddings still feel like a formal moment, and using your guests' names adds some charm and honors that tradition.
Include a Return Address
While you won't necessarily start tracking RSVPs for your wedding day right away, it's helpful to include a return address on your save the date envelopes — or on your digital save the date cards.
Sometimes your guests might want to get in touch to ask a question, express their excitement, or share congratulations. Choose the method you'd prefer to receive these types of correspondence, then include a return address, email address, or phone number on your save the dates for your guests to use.
Follow Up with a Wedding Invitation
Your save the dates should only be sent to guests who you plan to invite to your wedding. Keep this in mind as you write them, and plan to send a formal invitation to everyone on your save the date card list.
Many of your guests will be obvious — like family members, bridesmaids, groomsmen, and close friends. Others may be new friends, or named partners of your friends and relatives. Finalize your wedding guest list before you write your save the dates so you don't cause any upset by not following up with a wedding invite.
When you're choosing your wedding invitations, consider a design that matches your save the date cards to maintain a cohesive style with your wedding colors and theme. Many of Greenvelope's save the dates have matching wedding invites so you can enjoy the same feeling throughout your wedding stationery.
How to Address Save the Dates
We've covered etiquette and what to feature on your save the dates. Now it's time to focus on how to address your save the dates to different guests. There's a slightly different way to write to single guests, couples, and families. As such, here are some save the date wording ideas to pair with your chosen invite — like this stunning rainbow design. 
How to Address Save the Dates to Single Guests
When you're sending save the dates, writing to a single guest is often the easiest. There's one name to include, along with the potential of a plus one or guest. You can choose to use titles or go without. If you know the name of your guest's plus one, include it or write "and guest" instead.
Here are some sample ways to address a save the date to a single guest:
Henry Small

Ms. Abigail Francisco

Mx. Sam Wickson and Guest

Yasmin West and Gabriel Martinez
How to Address Save the Dates to Couples
Writing to a couple is similar to addressing a save the date to one person, except you have two names to include. Some couples will have the same last name, while others have different last names.
Traditionally, you'd use prefixes and write to the male (if there is one) first, but you don't need to follow this tradition. These wording samples work for married couples, unmarried couples, same sex couples, non-binary, and different sex couples alike.
Here's how to address a save the date to a couple:
Jacqueline Mix and Hannah Smith

Karl and Krissi Moss

Mr. Peter Fox and Ms. Dani Garcia

Mrs. Ursula Jones and Mr. Frank Jones
How to Address Save the Dates to Families
Addressing save the dates to families can be the most challenging. It can be hard to balance the desire for minimalism and simplicity on your save the date cards or envelopes with the need to be clear about which family members are invited.
To save space and keep clarity, you could remove titles. If you're happy to include all the members of a family or are close enough to the guests to tell them they're all invited, you can stick with a "[Surname] Family" invite.
Here are a few different ways to address a save the date to a family:
The Robinson Family

Mr. and Mr. Gomez and Family

Lisa, Rob, and Hanni Quinn

Myles Thorpe and Family
Write Your Save the Dates with Confidence
There's no right or wrong way to write your save the dates. Whether you're sending online save the date postcards or formal save the dates by postal mail, as long as you cover the essentials and send them to the right guests, you're on the right track.
As you plan to send out your save the dates, consider using one of our digital save the date cards. We have a beautiful collection of designs, each of which can be customized to make it your own. Change the layout, wording, fonts, and colors to create your dream save the dates — with personalized wording to match. Plus, you can design a full suite of matching wedding stationery without ever having to pay for postage or worry about paper waste. Going digital is just one more reason to celebrate!