February 7, 2021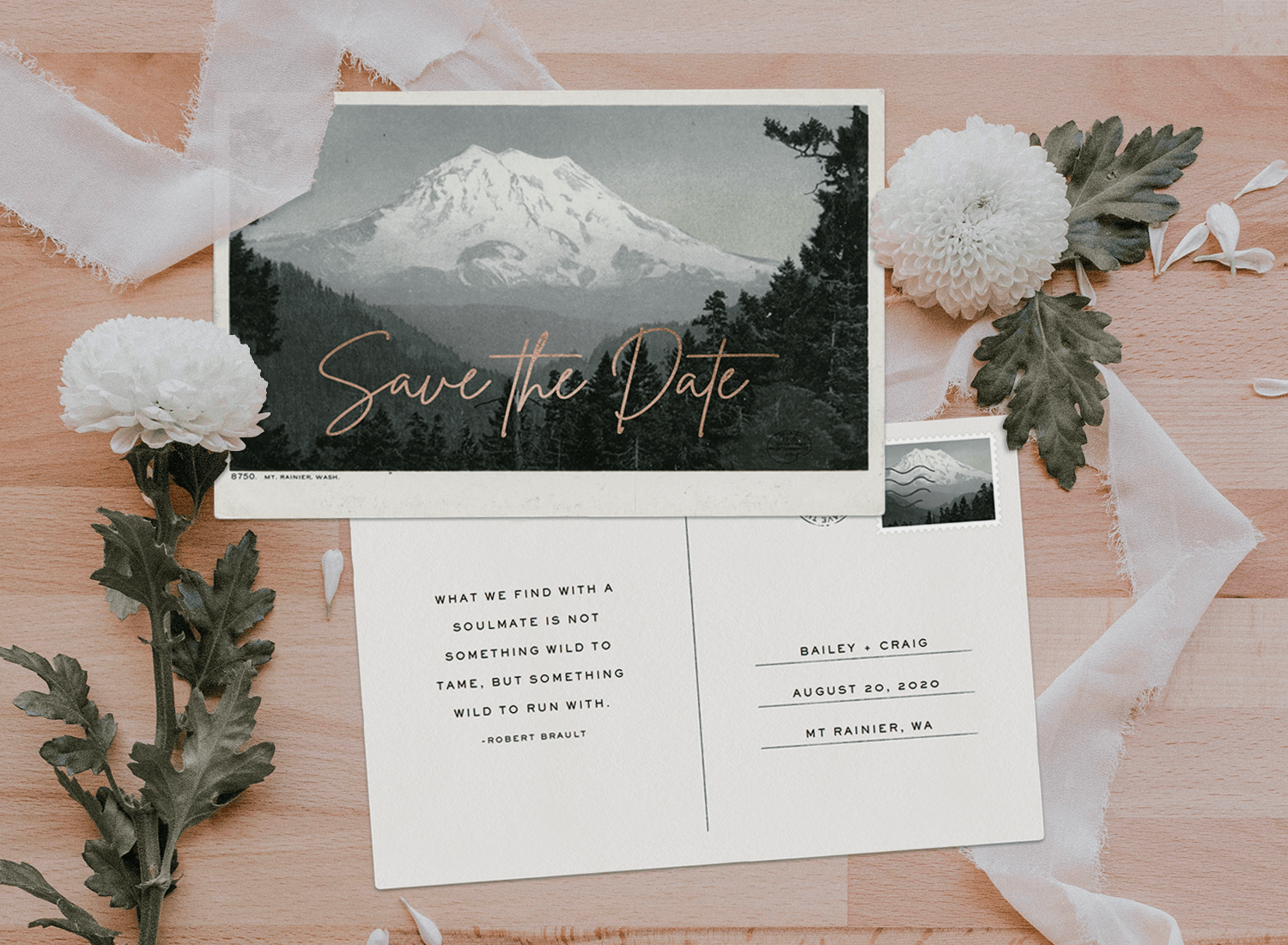 It's easy to get caught up in the endless tasks of throwing a dream wedding. From invitations and save the dates to RSVPs, securing venues, and working with caterers, it can seem overwhelming. Fortunately, you can simplify your wedding planning into easy-to-manage tasks. One of the first things to do is send out save the date postcards.
Save the dates are the first notification most wedding guests will receive about your upcoming nuptials. In fact, the entire purpose of these cards is to let guests know when and where you're getting married. From wording and address tips to design inspiration, this guide offers everything you need to know about crafting these wedding announcements.

What to Include on Save the Date Postcards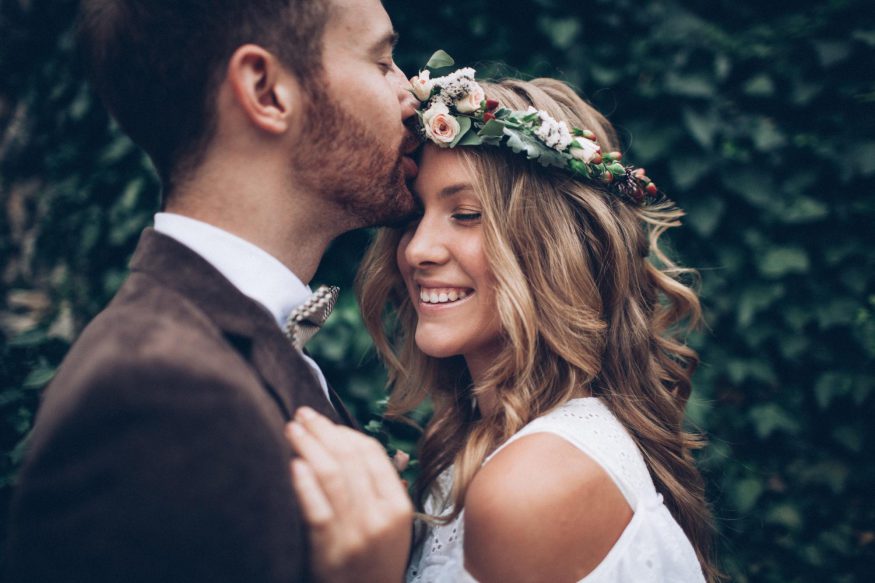 You've had a beautiful engagement and now it's time to begin planning your wedding day. You should send out save the date cards about six months to one year before the wedding. This gives guests plenty of time to clear their calendars and make arrangements. For destination weddings, it's also a good idea to send the cards early — between nine months to a year in advance — so everyone can book flights.
There are two things to finalize before sending your save the date cards: Your guest list and the wedding date. It's also helpful to know at least the general region or city where you'll be hosting the big day, even if you don't have the final venue picked out.
Here's what to include in your wedding save the date cards:
The words "save the date"

: Be very clear with your title that it's a save the date postcard. Since these cards are sent far in advance of the wedding day, details aren't set in stone. Plus, some guests may get confused after they receive the official wedding invitation later, so titles help to distinguish the two.

The name of the happy couple

: Traditionally the bride-to-be's name is listed first, but you can choose to present the names in whatever way you choose.

The wedding date

: The intention of save the date postcards is to announce the big day so wedding guests can make plans to attend. Only

send save the date cards

once you have a confirmed wedding date. 

The wedding location

: Many couples-to-be won't know the exact location of their wedding a year in advance and that's OK. It's enough to include the state, region, or country where the wedding will be held.

Your wedding website

: Include a link to your

wedding site

so guests can learn more about you and your fiance. It's a fun way to involve guests in your love story, and you can also include more information about the day of the event, such as the wedding program or your wedding registry.

A note about more details:

Add a quick line that a formal invitation with more details will be coming in the next few months. You can say something like "invitation to follow," so guests know to keep an eye out for the invite.
The best love story is the one you're writing, so don't be afraid to share a short anecdote or a brief phrase that symbolizes your union. Just remember to keep it short and sweet since you want the main focus to be on the date.
How to Address Save the Date Postcards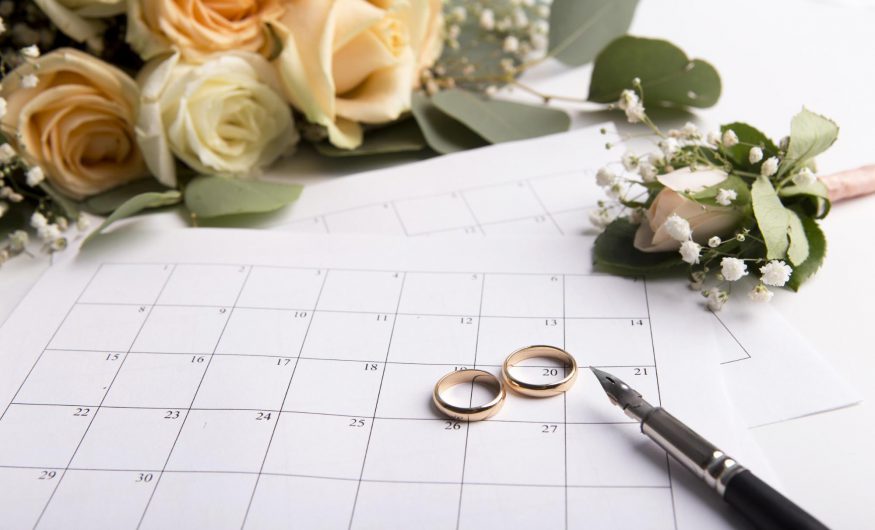 These days, weddings range from casual affairs to formal events fit for royalty. As such, navigating proper wedding etiquette can vary, but there are a few general rules to follow when addressing your save the date cards.
Use full names

: For formal invites, the customary style is to use both the first and last name of the guest. For a more casual wedding or a

small wedding

like a

minimony

, you can use nicknames if you want.

Use titles

: Address guests using the terms Mr. for guests that identify as male, Mrs. or Ms. for guests that identify as female, and Mx for guests who are gender fluid, non-binary, trans, or those that don't identify with a specific gender role. If you're not sure which pronoun to use, just ask! You can also simply choose not to use any titles at all. It's also nice to include professional or military titles whenever they apply. 

Account for children

: If you're inviting a child who is 18 or older, send them their own save the date card. For younger children, include the names of each child on a separate line below the parents' names. 

Don't use abbreviations for locations

: When listing the location of the wedding, make sure to write out the full name. For example, write "Los Angeles" rather than "LA" and "New York City" instead of "NYC" or a nickname like the "Big Apple."
Remember, this is your big day so you can celebrate however you like. These tips are simply here to make planning a little easier and offer some direction. You have the freedom to write and address your wedding invites and save the date cards as you wish.
Save the Date Postcards: Wording Advice
As with addressing the cards, the wording for your save the dates really comes down to your style and personality. For formal events, it's a good idea to stick with the traditional etiquette of spelling out full names and titles. If you're having a cozy wedding with your closest family members, feel free to be more casual and playful about your invites and save the date ideas.
Invite guests to eat, drink, and be married with cleverly crafted sentences or just keep things simple. Whatever you decide, stay true to yourselves. After all, everyone is coming to celebrate you! Check out our guide on how to phrase your save the dates where you'll find various styles and real-life examples to guide you along the way. 
Save the Date Design Inspiration
When it comes to wedding announcements, you can choose from a host of styles to put your love story on display. From save the date magnets and stickers to custom save the date postcards, there's a style for everyone. Plus, it's never been easier to choose gorgeous designs from sites like Greenvelope, whether you're looking for something minimalist and matte or an over-the-top glamorous save the date card.
Greenvelope offers a huge selection of beautiful save the date cards and wedding invitations. You can customize each design by changing the font and background color or you can upload your own unique creation. Here are some of our favorite save the date designs to inspire your special announcement.
1. Sweet Script Save the Date
This sweet save the date puts the happy couple front and center. Photo cards are a lovely way to share your unique love story. Use your favorite engagement photo or throw it back to a snap from when you first met. Customize the card by changing up the color scheme or typography.
2. Watercolor Geo Save the Date
This photo save the date features a soft watercolor background framed in by an art deco-inspired geometric layer. The gold foil accents add a touch of shimmer, making this card both personal and whimsical. 
3. Distinguished Monogram Save the Date
This monogram save the date card is perfectly suited for formal and sophisticated affairs. The hand-drawn wreath glitters in gold foil, gently cradling the couple's monogram. Choose a calligraphy font to make the design even more glamorous and play with the color scheme to match your wedding theme.
4. Cascading Faux Foil Save the Date
This glistening save the date is perfect for everything from destination weddings and formal events to minimonies. The design features a full photo of the couple while the dripping gold foil creates an exquisite frame.
5. Rustic Twinkle Save the Date
This rustic save the date features elements such as shimmering lights and rich wood grain, making it perfect for barn or outdoor weddings. It's ideal for both casual and more formal events.
6. Love and Light Save the Date
Rainbows symbolize hope, peace, and serenity. With this brilliant rainbow save the date, you can notify guests of your upcoming union and invite them to join you in a blissful celebration. The modern typography adds a bold touch and you can feature your favorite photo from your engagement or another special moment.
Design and Create Stunning Save the Dates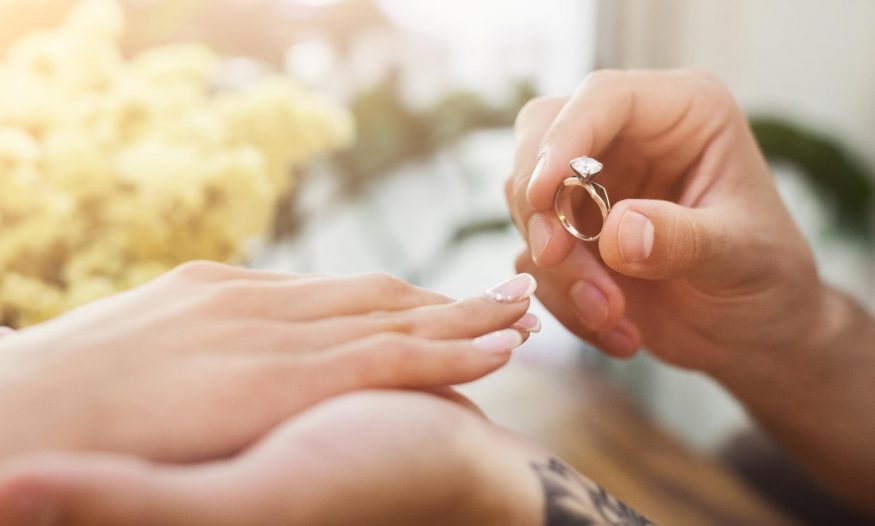 With digital designs from Greenvelope, you have your choice of stunning wedding stationery suites including wedding invitations, save the date postcards, RSVP cards, and thank you notes. By choosing digital invitations, you can save time, money, and even help the environment. You won't have to spend time standing in line at the post office or spend money on stamps. Plus, it's easier to track RSVPs with an online invite.
With a digital save the date card from Greenvelope, you can automatically add your wedding date to your guests' calendars. That means you won't have to worry about guests forgetting to write down the date or making a mistake. It's also easier to send updates or a new date if something comes up. 
Each design is fully customizable, so you can upload your own design or fine-tune hand-drawn designs available on the site. From cards inspired by greenery and nature to rustic designs and Art Deco styles, you're sure to find a save the date card you adore. Discover even more beautiful designs from engagement party invites and bridal shower invitations to rehearsal dinner invitations. It's time to start planning your dream wedding today.