November 21, 2019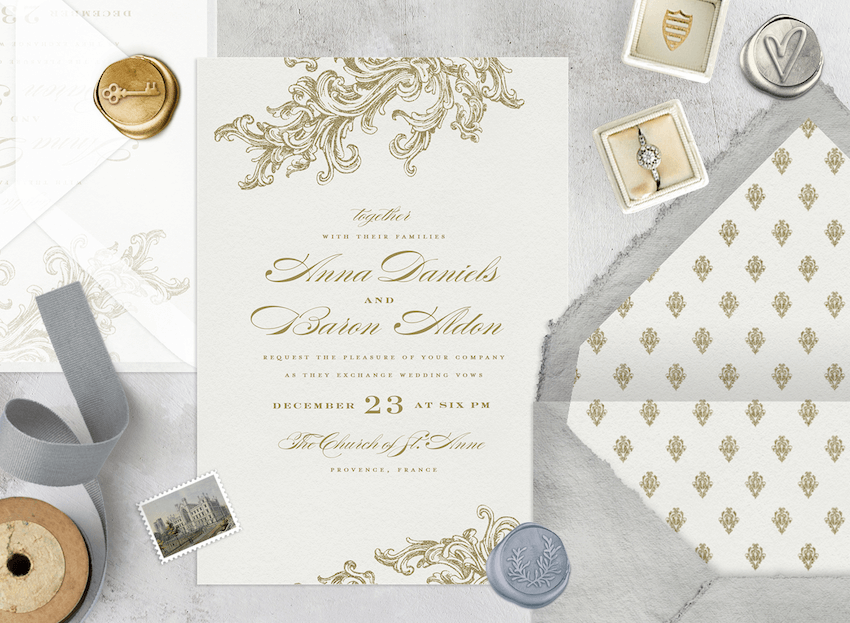 Your special day is fast-approaching, and you're deep in the white trenches of wedding planning. You set your sights early-on for an elegant affair — black ties, wedding cake tiers, and a live band. There are still plenty of decisions to be made, and deciding on a formal wedding invitation is at the top of your list.
You'll need to pick out your stationery, decide what to write, and finalize your invitation wording. And while this is your big day — and therefore you, and only you, make the rules — we have a few suggestions for formalizing all of the above. Below, you'll find wedding invitation etiquette, selected messages to include, and a few sample designs that make an excellent fit for a formal wedding.

What to Include on a Formal Wedding Invitation
As you start thinking about wedding invitations, there are a few details you might want to consider. First, consider your entire invitation suite when deciding on what to include on your formal invitation. Your save the date card and actual invite is your opportunity to inform guests about various arrangements — including proper attire, reception information, and the date and time of your special day.
For local weddings, customary etiquette suggests sending out save the date cards 4-6 months in advance, with the formal invitation arriving 6-8 weeks before the big day. For destination weddings, those time frames double — with save the dates going out a full year in advance and invitations being sent 3-4 months prior to your wedding.
A save the date card usually contains information on lodging, a wedding website, and the date of the event. On your actual invitation, consider including the following:
The full names of the happy couple
Who's hosting, such as the bride's parents or groom's parents
The names of each person in the household who is invited to the ceremony, including plus ones and children if welcome.
The date, time, and location of the ceremony
The dress code
Reception information, including the time and place, any details about a cocktail hour (if applicable), meal choices, after party information, and any other relevant items
A Quick Note on Formal Invitation Wording
For formal invitations, there are a few etiquette suggestions you might want to consider. Wedding invitation wording should always include full names to create a formal tone. List married guests' names on a single line on their invitation and list unmarried couples on separate lines on their invitations. Finally, be sure to list every single guest on the envelope, including "and guest" for plus ones and listing the first names of invited children.
For a guide to special titles (such as members of the armed forces and doctors) and more detailed examples of formal invitation addresses, be sure to review this complete guide to addressing wedding invitations.
Finally, always operate under the assumption that words should be spelled out on formal wedding invitations. For example, with addresses, always spell out each individual word, avoiding abbreviations like St., Rd., or Ave. Fortunately, with an online invitation, you can skip this step, listing just the guests' complete names on the outer envelope.
How Online Invitations Take the Stress Out of Formal Wedding Invites
A formal wedding invitation also typically comes with a separate RSVP card. However, if you're sending a virtual invitation, this can be handled without the extra paper (or hassle!).
With virtual invitations, RSVPs and responses to survey questions (like meal preferences) are tracked for you. There's no need to include a separate response card, tally those "yeses" and "nos" by hand, or worry that a response got lost in the mail. In fact, Greenvelope even tracks open rates so you know which of your guests read your invitation and when.
6 Beautiful Formal Wedding Invitation Suites
Now that you know what to include, it's time to select your invitation. Below are six gorgeous invitations that are the perfect complement to any formal wedding. For more ideas, browse through the 400+ designs in our complete wedding invitation collection.
1. Vintage Floral Frame Invitation
This whimsical design features bold print with the happy couple's names, surrounded by gold leaves and branches. The old-world feel has a slightly vintage, almost nostalgic pattern to it, making it the perfect invitation for a formal ceremony.
Choose from a blush, plum, seafoam, or black color palette, or create a color palette of your own design.The corresponding save the date card matches the invitation perfectly, while the thank you note features a photo of the couple.
2. Modern Beach Botanicals Invitation
You can still dip your toes in the sand while throwing a formal wedding. This beach-inspired invitation is ideal for destination or outdoor weddings, featuring letterpress botanicals and an almost nautical color palette. Rose gold accents give this wedding invitation an elegant flair, as do the midnight blue envelopes. A white save the date card captures a photo of the happy couple, while the thank you note matches the floral invitation.
3. Forever Script Invitation
This classic wedding invitation features a calligraphy script, transcribing the word "forever" across a photo of the couple. Below, you'll see the two names and the details of the ceremony.
The cursive typography is carried throughout the entire luxe invitation suite, from the save the date card to the thank you note. You could even use a similar font for the place settings at your wedding reception, keeping with the design theme throughout the evening.
4. Wildwood Invitation
Any bride or groom who has ever fallen in love with rustic-chic wedding decor will swoon over this elegant wedding invitation. A wooden palette serves as the background, while the details of the special day are written in cream overtop.
On two of the four corners, hand-drawn florals are delicately illustrated. Whether you choose to host your elegant wedding at a vineyard, country mansion, or high-end ski lodge, these invitations will pair with your rustic-chic theme beautifully.
5. Trailing Blooms Invitation
This romantic, yet traditional wedding invitation features large calligraphy and a subdued, watercolor palette. On the left side of the card, you'll see illustrated flowers, a design that's carried through the entire invitation suite. If you're hosting a spring or fall formal wedding, this beautiful invitation may be exactly what you had in mind.
6. Wedding Bands Invitation
Sometimes, the most simple things are the most elegant. With this effortless invitation suite, a plain, cream background is framed in gold, which matches the envelope and font. You can also choose gray, rose gold, or blue as your color scheme, or customize it to suit your tastes. On the front, interlocking rings take centerstage, symbolizing love that lasts forever.
From All of Us at Greenvelope, Have a Beautiful Wedding
Your wedding day will be one of the most special days of your lives. Each element, from the table setting to the wedding stationery to the wedding program should be able to carry out your vision. With over 400 designs to choose from, you can find and customize an invitation that does just that.
No matter how you choose to design your formal invitations (and other wedding details), be sure to make it your own. This is your day, and therefore, each element should represent your vision and personality. Now, have a wonderful day, and cheers to the happy couple.