January 25, 2017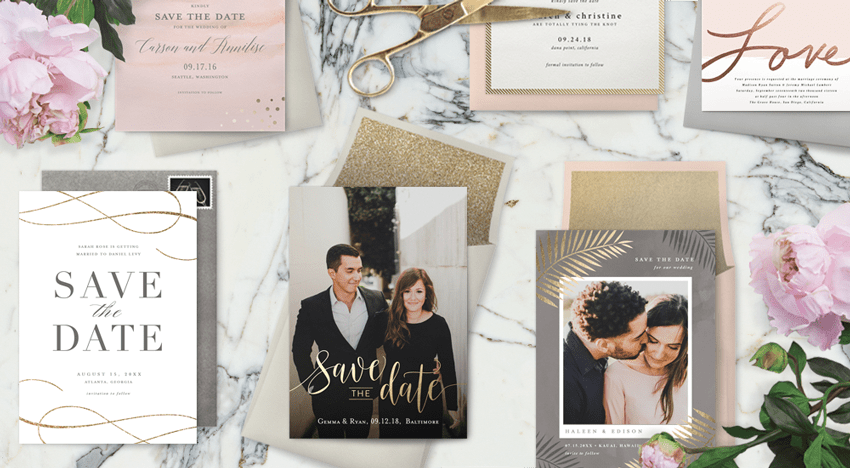 Newly engaged couples often have questions when it comes to their save the dates (and rightfully so—there's a lot to it!) With digital save the dates, you can make life a little easier. The best part? You don't have to sacrifice style in the process!
Below are some common questions that we hear about sending wedding save the dates, that will hopefully make the process that much smoother.
What information should I include on my save the date?
Your names

Your wedding date

The city and state of your wedding location (you can also include your venue if you wish)

A link to your wedding website

A brief mention that a formal invitation will follow
What information do I need before sending a Save the Date?
Your guest list is a great place to start. Spend some time deciding how many people you'll want to have at your wedding. Once you have a general number in mind, you can begin compiling a list. Make sure your final guest list includes the full name and email address of each guest. This is also an opportunity to be proactive and format all of your guest list information into an organized spreadsheet, which will come in handy when you're ready to easily upload all of your contacts. With all your contacts loaded into your Greenvelope address book, sending will be a breeze!  
You'll also want to have your wedding date finalized to ensure your guests know the exact timeframe to request time off from their jobs, if necessary. In addition, it's a good idea to provide a general location, especially for destination weddings. You don't necessarily have to list the specific venue, but the city and state is good information to include.    
Do I collect RSVPs with a save the date?
No, collecting RSVPs is not necessary (or common) with a Save the Date. The purpose of a save the date is to let guests know an invitation is to follow and allow them to mark their calendars or make travel arrangements as necessary. However, this does present an opportunity to plan ahead, especially if you have interest in sending physical, paper invitations in the future (whether it's to all or part of your guest list). Greenvelope has a feature that allows users to easily collect any physical addresses from their save the dates.
When should I send my save the date?
Typically, you'll want to send your save the dates around six months prior to your wedding ceremony. If you're having a destination wedding, or if it's over a holiday weekend, send them out at eight or nine months to allow plenty of time for your guests to make travel arrangements.
Do I have to send an invitation to everyone that I sent a save the date to?
Yes, you'll want to send an invitation to all of the guests that previously received a save the date.
Does my save the date have to match my invitation?
No, your save the date does not have to match your invitation; in fact, save the dates are generally less formal. You may consider a template design that shows off your gorgeous engagement photos (we're loving this trend!) Alternatively, some couples really enjoy matching wedding stationery, which is why many of our wedding templates come in full suites that include a save the date, invitation, and a thank you. Ultimately, there is no wrong answer when it comes to selecting a template. Incorporating any design that truly represents you as a couple is the perfect way to kick off your wedding celebration.
Should we include our wedding registry information on the save the date?
No, you should not include your wedding registry on your save the date. Instead, it's better to list that information on your wedding website.
We want a custom design made for us – what do we need to know?
If you have interest in creating a custom save the date, Greenvelope will pair you with a talented member from our design team. Together, you'll create the perfect save the date—one that truly reflects you as a couple. Here are some things to keep in mind when starting that process:
In addition to your wedding colors, it's a good idea to brainstorm any floral or graphic elements that you'll be incorporating into your overall theme. Similar detailing can be added to your design, which will set the stage for your event.

To get a sense of the look and feel you're going for, our designers would love to see any images of wedding invitations, stationery, patterns, or materials you love.

Do you want the verbiage in your invitation to be formal or casual?

If you have a wedding Pinterest board or something similar, please feel free to share it with your designer.
Below are templates to inspire your save the date wording:
Save the Date
For the wedding of
Rhett Butler & Scarlet O'Hara
Saturday 9.20.17
Atlanta, Georgia
The families of Rhett Butler & Scarlet O'Hara
Kindly request that you save the date
September 20th, 2017
Atlanta, Georgia
Formal invitation to follow
Save the Date
Rhett Butler & Scarlet O'Hara
Are tying the knot
9.20.17
Atlanta, Georgia
Kindly save the date
Rhett Butler & Scarlet O'Hara
Are getting married!
9.20.2017
Atlanta, Georgia
Formal invitation to follow
Please save the date
For the wedding celebration of
Rhett & Scarlet
September 20, 2017
Atlanta, Georgia
Formal invitation to follow
Ready to start designing your own save the dates? You can browse our full save the date collection here.