November 25, 2019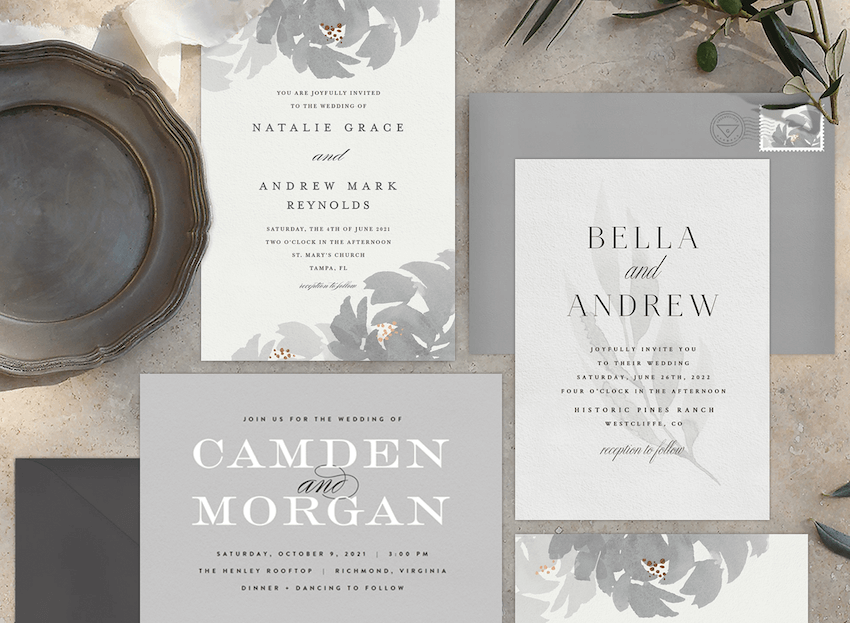 A wedding invitation isn't just an invitation, it's an introduction 'ÄĒ an introduction to the evening you've spent months, perhaps even years, planning. It sets the tone for your special day, laying the groundwork for all the intricate details you have in store. And if your heart is set on throwing the wedding event of the year, you're probably on the hunt for beautifully elegant wedding invitations.
Your invitations offer guests the first glimpse into your wedding details, so it's time to make a few decisions on how to proceed. Should you go with sans serif fonts or calligraphy? Will you select a photo card of the happy couple or a more minimalist background? And of course, will you opt for the rose gold or blush floral accents?
Selecting an elegant wedding invitation is no different from choosing the decor for your reception. As a good rule of thumb, trust your instincts, and follow the patterns and designs that speak to you. Whatever you choose will surely carry an air of sophistication (mixed with bits and pieces of your personality, of course).
But to help you out, we've collected a few of our favorite, elegant designs. Below, you'll find six show-stopping wedding invitations¬†that offer the perfect introduction to your formal wedding. But first …

A Few Notes on Formal Wedding Invitation Etiquette
When it comes down to it, this is your big day, and you make the rules on your wedding invitation wording, design, and timeline. That being said, if you plan to throw a formal ceremony, there are a few wedding invitation customs you may want to abide by.
How to Phrase Your Formal Invitations
First, always print full names on wedding invitations 'ÄĒ and this pertains to the names of the happy couple and the names of your guests. Second, when selecting your wedding invitation wording, try to avoid abbreviations, writing out full dates and addresses.
When to Send Your Elegant Wedding Invitations
Finally, when sending out your wedding announcement (usually in the form of a save the date card), it's customary to do so sooner rather than later. Try to send out your save the date notes 3-4 months before your big day. Your formal invitations will be sent next, roughly 6-8 weeks before your ceremony.
For destination weddings (particularly those requiring international travel), plan to send your save the dates a full year in advance, with your formal invitations landing in mailboxes three months before the ceremony. Bridal shower invitations and bachelorette party invitations can be sent roughly one month prior to the respective festivities.
Using an online invitation service, like Greenvelope, can help you stick to this timetable. With Greenvelope, there's no need to stand in line at the post office, hunt for current addresses, or pray your wedding invitations arrive in time. Simply upload an Excel file of your wedding guests' email addresses, and your gorgeous invite will land in their inboxes in minutes.
6 Elegant Wedding Invitation Designs
If you're planning a formal wedding ceremony, you'll want an invitation with a bit of stylishness and grace. Here are six beautiful wedding invitations that will make a jaw-dropping first impression.
1. Chic Minimalist Invitation
When we think "elegant," many times we think of exotic patterns and tapestries, or wide, cursive calligraphy. However, in recent years, minimalist designs slowly became the new chic, with white and gray color palettes, clean lines, and marble or stone patterns being equally tasteful.
With this elegant, laser cut wedding invitation, a stone background, thin, sans serif typography, and plenty of blank space set a stylish, minimalist tone for your ceremony. A corresponding save the date and thank you note feature a photo card of the happy couple, making the completed ensemble a bit more personal.
2. Whimsical Botanical Invitation
This floral wedding invitation ensemble communicates a formal tone to your guests. With botanical, gold foil artwork serving as a border, cursive fonts for emphasis, and bold, classic lettering, this invitation has a bit of an old world feel to it.
With an all black, gold-lined envelope, it would be ideal for a black tie affair. The save the date card and thank you note are just as luxurious, carrying the gold plated theme throughout the entire invitation suite.
3. Scripted Invitation
There is something about a black and white color palette that's breathtakingly timeless. The stark contrast between an all-black envelope and background, and all-white lettering makes this invitation stand out among the rest.
The elegant calligraphy and weaved lines add to the classic vibe, while switching to block fonts helps the couples' names create a beautiful design. The black on black feel is carried through the save the date and thank you note, creating a dark and daring wedding suite.
4. Faint Marble Invitation
Marble represented prestige as early as ancient greece, and continues to be used in elegant designs today. In this beautifully tasteful, letterpress wedding invitation, the happy couples' names are printed over a faint marble background, finished with a watercolor blush pink overlay. In the top left corner, a monogram design is included with the couple's first names. A thin, serif font leaves plenty of blank space, giving this invitation that minimalist vibe you may be going for.
5. Gold Bar Accents Invitation
Calligraphy may get all the attention when it comes to formal wedding invites, but there's something bold and powerful about all-caps, serif fonts. With this wedding stationery, an off-white, textured background offers a clean look, while a shimmer gold line adds a touch of elegance. The couples names' take up the majority of space on this laser cut invitation, while the wedding details are written in much smaller print to offer a nice contrast in the design.
6. Simple Foliage Invitation
Your guests will surely be delighted by the simplicity of this laser cut wedding invitation. This luxe design features illustrations of various florals, including greenery, peonies, and gingko leaves. The text, featuring a thin, cursive font, can be set in navy blue or black for a touch of elegance. The envelope carries a textured, almost weathered look, while the envelope liner contains a blush silver glitter, which captures your wedding color palette beautifully.
Greenvelope Makes Sending Elegant Wedding Invitations Easier
You've spent months planning each detail of your dream wedding. And we have no doubt it will be the most elegant affair of the year.
That being said, planning a formal wedding ceremony can be stressful. At Greenvelope, we want to take as much planning off your wedding plate as possible, so you have more time and energy to enjoy this once-in-a-lifetime process.
WIth Greenvelope, there's no need to track RSVP cards, answer last minute texts from guests, or call your loved ones asking if they'd prefer chicken or steak at the reception. Instead, we handle all of the above, tracking survey responses and open rates, and sorting your guests' last minute questions with ease.
From all of us at Greenvelope, congratulations. Sending your elegant wedding invitations marks the final countdown to your big day, and we're so happy to play a small part in it.