February 14, 2023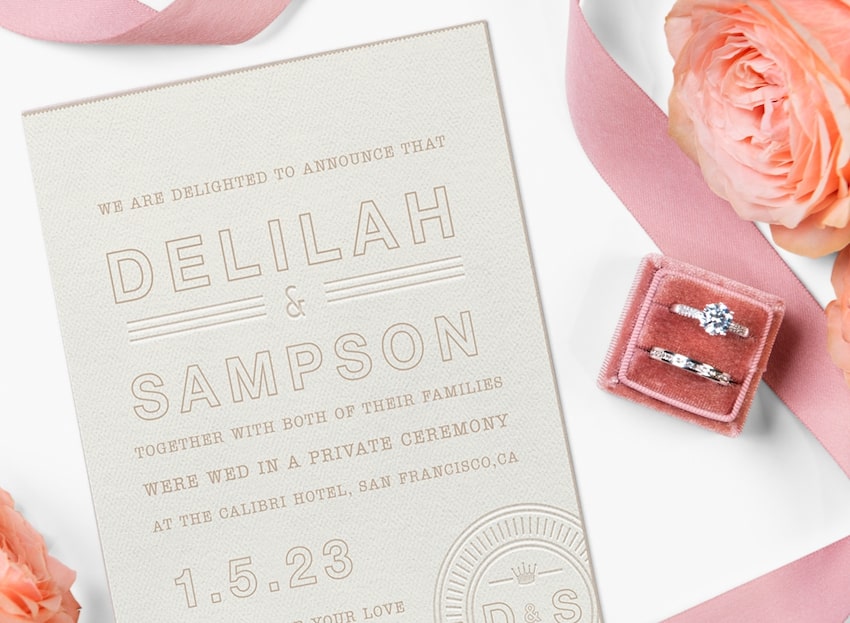 Your wedding planning adventure doesn't end with your honeymoon. Whether you've just tied the knot or you're planning ahead, sending wedding announcements after your big day is an ideal way to share the happy news far and wide.
Fortunately, you can create and send wedding announcements with ease. In this guide, we'll show you how to create your own beautifully customized wedding announcements alongside some of our favorite wording ideas and designs.

5 Steps to Creating Your Own Beautiful Wedding Announcements
Wedding announcements are a wonderful way to share the news about your nuptials with those who weren't able to attend your ceremony, whether it was because of budget, distance, or other circumstances. Here's how to plan, personalize, and send wedding announcements in just a few steps.
1. Choose a Format
Before you can write your ideal wedding announcements, you first need to decide how you'll share them. This will help you decide whether to create your own DIY announcements, choose an online wedding announcement, or create photos or videos to share your news.
Some couples like to handwrite notes and send them to loved ones alongside a wedding photo. Other couples may prefer to make an announcement post on social media with a link to their updated wedding website. One of the most popular ways to share the happy news is with an online wedding announcement that you can send via email or text.
2. Determine Your Style
With so many incredible wedding announcement designs out there, it can be hard to narrow down your choices. Think about whether you want something minimalist and sophisticated or bold and bright. Perhaps you have a penchant for florals or maybe you'd rather use a template that relates to your wedding theme or a favorite hobby — like retro, beachy, or vintage cars. 
If you're not sure where to start, take inspiration from your wedding stationery like your save the date cards, engagement announcements, wedding invitations, and thank you card designs for a cohesive look that complements your wedding invites.
3. Select the Perfect Wedding Announcement Card
At Greenvelope, we have a collection of stunning marriage announcements that you can customize and make your own. Our collection of wedding announcement greeting card templates features everything from cute and colorful to luxe designs that look like embossed cardstock. 
Look for photo wedding announcement cards with space for a number of photos — perfect if you have a few snaps you'd like to share from your big day. We also have elopement announcements — like this We Couldn't Wait announcement card — if that suits the occasion. 
4. Personalize Your Wedding Announcements
One of the best things about online wedding announcements is that you get to customize them all from the comfort of your own computer. You can get that custom wedding announcement look without investing so much of your wedding budget into printed stationery.
You can easily experiment with different fonts and text placements to make the design feel unique. Choose your favorite color scheme or work with our design team to include your favorite colors. Upload a photo from your nuptials to your photo card, or choose a template with space for a few if you just can't decide. Once you have the design all figured out, share your wedding date and details along with a sweet note about how thrilled you are to share the news even if the recipient couldn't be there in person.
5. Send Your Cards
With your wedding announcements perfectly personalized and ready to go, there's only one thing left on the list — share them with your loved ones. Gather the email addresses and/or phone numbers of everyone you want to reach and get ready to send those digital announcements on their way.
Sending your wedding announcements with Greenvelope is easy. Our platform walks you through the steps to get your recipient list in order. Simply choose whether to send by email, text, or both, and send now or schedule for a date in the future.
What to Say in Your Wedding Announcement
Your wedding day is an exciting moment, and so is sharing the news with your loved ones. If you're not sure what to say in your wedding announcement, here are a few of our favorite phrases and sayings. Use them as part of your wording or as the main text on your marriage announcement card — like this modern Just Married design.
Just married

! We made it official on [Date]. 

Love is patient … but we aren't! [Name] and [Name], married [Date].

We're delighted to be the new

Mr. and Mr

. [Name]!

[Name] and [Name] tied the knot in a beautiful

wedding ceremony

on [Date].

Introducing the new

Mr. and Mrs

. [Name]!

We got married! Sending you all our love.

So happy to announce that we're now Wife and Wife.

We tied the knot!

After a very

special day

in [Location], we're married!

We're

newlyweds

!

Introducing [Name] and [Name], the new Mrs. and Mrs.!

We're now Husband and Husband.

Say hello to your new favorite married couple.

We couldn't wait. [Name] and [Name], married on [Date].
5 Wedding Announcement Card Designs to Inspire You
Take a look at some of our favorite designs for marriage announcements that you can customize to share the wonderful news about your big day whether it was a surprise wedding, micro wedding, minimony, or elopement.
Did the Damn Thing Wedding Announcement
Let your loved ones know that you're already married with this did the damn thing wedding announcement card. It's perfect for a casual, straightforward, and modern announcement with a touch of humor.
Sweet and Minimal Wedding Announcement
Keep things beautiful and simple with this sweet and minimal wedding announcement card. We love the classic stripes and sophisticated feel — it's great if you're a laid-back couple fresh back from an elopement or small ceremony.
Love in Color Wedding Announcement
If you're looking for something that stands out, this photo wedding announcement card is the way to go. The fresh, bright color options are a colorful alternative to more traditional or minimalist designs — and there's space for four of your favorite wedding or couples photos too.
Perfect Paisley Border Wedding Announcement
Celebrate your newlywed status with this perfect paisley border wedding announcement card. The rich, gorgeous colors on the border and botanical elements make this a wonderful alternative to a photo card or ultra minimalist card.
Lovely Watercolor Laurel Announcement
If you love the artistic look, this lovely watercolor laurel wedding announcement card could be the perfect backdrop to share your news. The watercolor laurel adds a classic touch while the watercolor style makes the design feel fresh and contemporary.
Send Your Dream Wedding Announcements
Wedding announcements are a thoughtful way to involve all those who weren't able to be part of your wedding guest list. With this guide, creating and sending your "just married" announcements just might be the easiest part of the entire wedding planning process. Once you find the ideal design, you can customize the card and send it to your loved ones in a matter of minutes. And if you happened to elope for your nuptials, don't miss our guide on announcing an elopement so you send your message with love and care.