August 29, 2019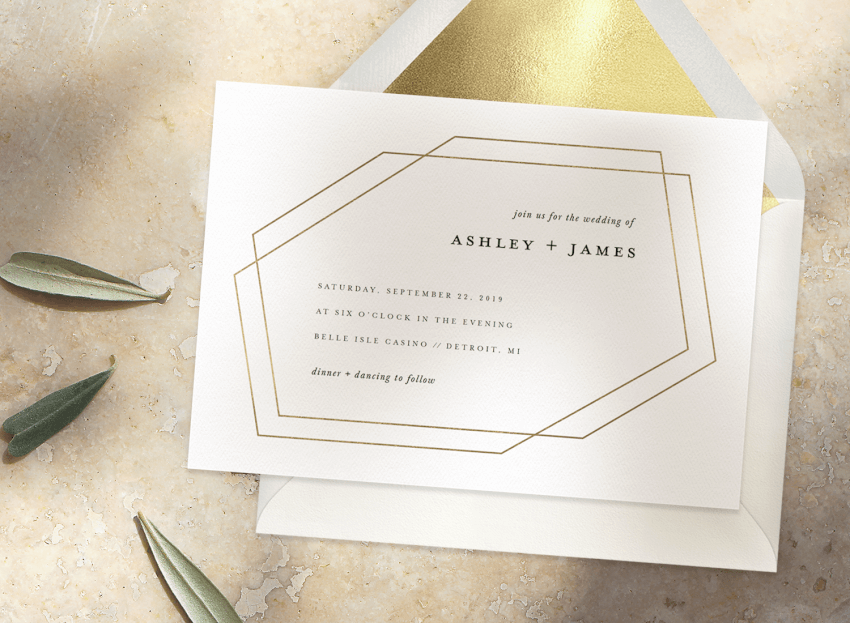 Wedding invitations should be a reflection of your personal style as a couple. If your dream home together involves sleek marble countertops, muted colors, and a minimal design scheme, chances are your big day will match with a minimalist wedding style — where contemporary designs marry clean lines and graphic styling. (See what we did there?)
Simple wedding invitations are the perfect way to set the tone for your classic and understated ceremony. If you're sending paper invitations, simple online invitations make a great counterpart. Thoughtfully designed evites are an ideal way to welcome guests on their own, or to track RSVPs as a supplement to traditional wedding invites. Your invitation may also inspire wedding programs or rehearsal dinner invitations in a similarly understated vibe. Get inspired with these minimal invitation ideas, designed for the thoroughly modern couple.

Just My Type
These simplistic word-only invitations aren't adorned with tons of scrolls or flowers. In this case, creative typography is the artwork in and of itself. Add contrasting patterns and textures with playful envelope liners and unique cardstock.
Man And Wife Invitation
This elegant wedding invitation is all class. Scrolling calligraphy and letterpress style lends itself to a black tie affair or formal church wedding. Plus, this chic wedding suite includes save the dates and thank you notes.
Color Division Invitation
Graphic design fans will love this less-is-more invitation. A color-blocked background holds all-caps text for the names of the bride and groom. Smaller type includes ceremony and reception details. Choose from mint, peach, beige, or yellow to complement your wedding colors.
We Tied the Knot Invitation
This simple, all-text design can serve an array of purposes. Change the script at the top to "We're tying the knot" and you have an understated invitation. Or use as-is and send out post-elopement wedding announcements. There's plenty of room for all your details — personalize to your heart's desire!
Modern Monograms
Get used to seeing your initials next to your fiancé's. By tying the knot, you're carving your monogram into a proverbial tree forever. But don't think monogram designs have to look like your parent's towels. These creative designs are more contemporary than country club.
Scandi Splatter Invitation
Initials of the guests of honor are positioned at the top of this bold invitation in a casual calligraphy. Overlaid modular text is positioned atop a striking splatter background for a trendy but chic result. A combination of bold and soft fonts makes it easy to separate all of your ceremony and reception details.
Simple Greenery Invitation
Simple greenery flanks an elegant monogram in this minimal invitation, which has a complementing custom envelope liner. The understated design leaves plenty of room for your details, including reception location and RSVP date.
Bauhaus Monogram Invitation
A graphic monogram emblem is front-and-center in this Bauhaus-inspired invitation. Choose from several retro muted color combinations, topped with clean white typography. Geometric style is perfect for a mid-century modern wedding aesthetic.
Picture Perfect
Photo cards are a great way to embrace minimal style while focusing on the guests of honor: you and your soon-to-be spouse. Use professional engagement photos or a favorite snapshot for these simple photo invites. Choose one standout shot or arrange a few favorites in a collage. Guests will love to see your smiling faces.
Full Photo Nuptials Invitation
An edge-to-edge photo feels powerful and contemporary in this rustic wedding invitation design. Quirky text displays the couple's names, paired with stylized type for all of the details. Since your wording will lay atop the photography, this design is best for a photo that isn't too busy. And the white type will be easiest to read over a darker background, so keep this in mind if you have a range of pictures to choose from.
Fancy Free Invitation
A modular layout makes it easy to use your favorite engagement photo without worrying about the text being legible over the top. A vertical shot will work best positioned next to all of your wedding invitation wording in a stylish combination of italic and all-caps text.
All The Photos Invitation
Can't choose just one? Opt for this contemporary photo collage, arranged in a geometric grid. Clean lines and minimal style keeps the modern couple in mind. Completely versatile, this design can also be used for engagement parties, rehearsal dinners, or bridal shower invitations.
Graphic Content
Nothing exudes modern wedding style like a graphic invitation. These geometric styles are at once contemporary and sophisticated — just like the happy couple!
Chic Marble Invitation
Ever since Alva Vanderbilt built her Marble House in the gilded age, marble has been a sign of decadence and sophistication. With its chic marbled background, this invitation is just that. Rose gold foil accents add to the luxurious effect. Choose the corresponding save the date and thank you note designs to keep the theme going.
Krafted Geometry Invitation
A kraft paper background adds a natural touch to this modern invitation for a shabby-chic effect. A web of triangles create a geodesic border around statement text with a pop of color for the names of the bride and groom.
Dakota Invitation
Tone-on-tone green triangles are layered for a subtle ombre effect on this graphic design. Salmon text offers retro contrast in several stylized fonts. The full wedding invitation suite has complementing save the dates and thank you notes.
Black and White and Chic All Over
If your special day is a black tie affair, what better way to communicate the dress code than with a black and white invitation? These understated designs complement your classic style.
Foil Elegance Invitation
White text against a black background spells sophistication when paired with metallic faux-foil accents. This elegant design puts the couple's names front and center in a combination of clean and classic typefaces. Underneath, your wedding day is featured in a stylish arrangement.
With These Rings Invitation
Horizontal orientation lets the type sing in this luxe wedding suite. White type is stylized in a combination of hand script and helvetica text for a look that is appealing and easy to read against a black background. In the center, simple rings in beautiful gold foil offer tasteful ornamentation.
Simple Foil Frame Invitation
A modern gold foil frame gives this elegant wedding invitation a contemporary edge. Classic text surrounds a stylized ampersand for a subtle but powerful effect. Choose from several paper options for matte or pebbled texture.
Less Really Can Be More with Simple Wedding Invitations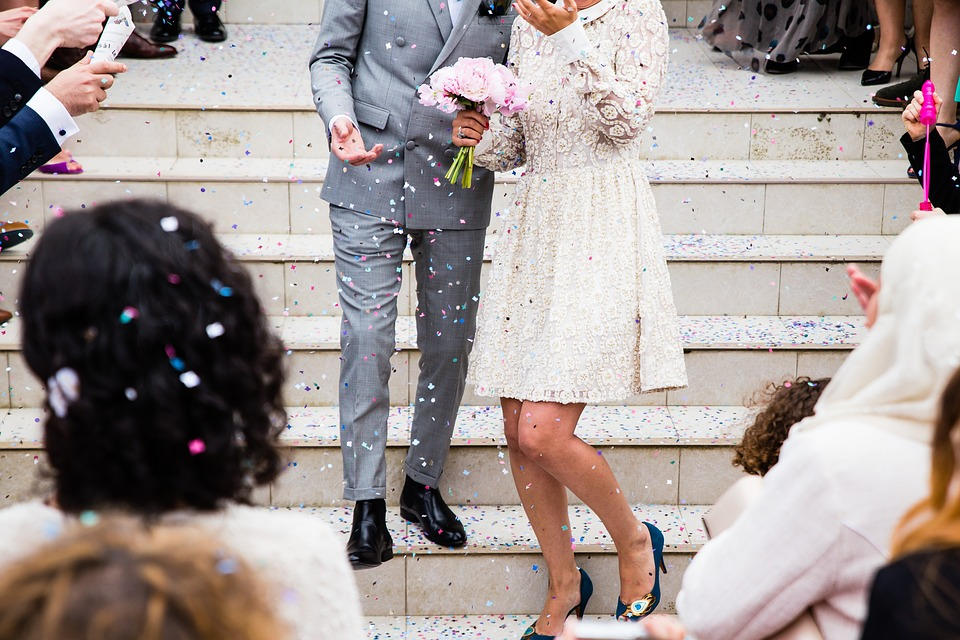 While bold floral invitations are always beautiful, understated modern wedding invitations can be equally powerful for minimal couples. Choose a simple photo invitation and put you and your fiancé front and center. Or opt for a contemporary monogram and a flourish of artful typography. Whatever you choose, a thoughtful wedding card will communicate your wedding style to loved ones. Pick a design that speaks to you and set the tone for your big day.