August 20, 2019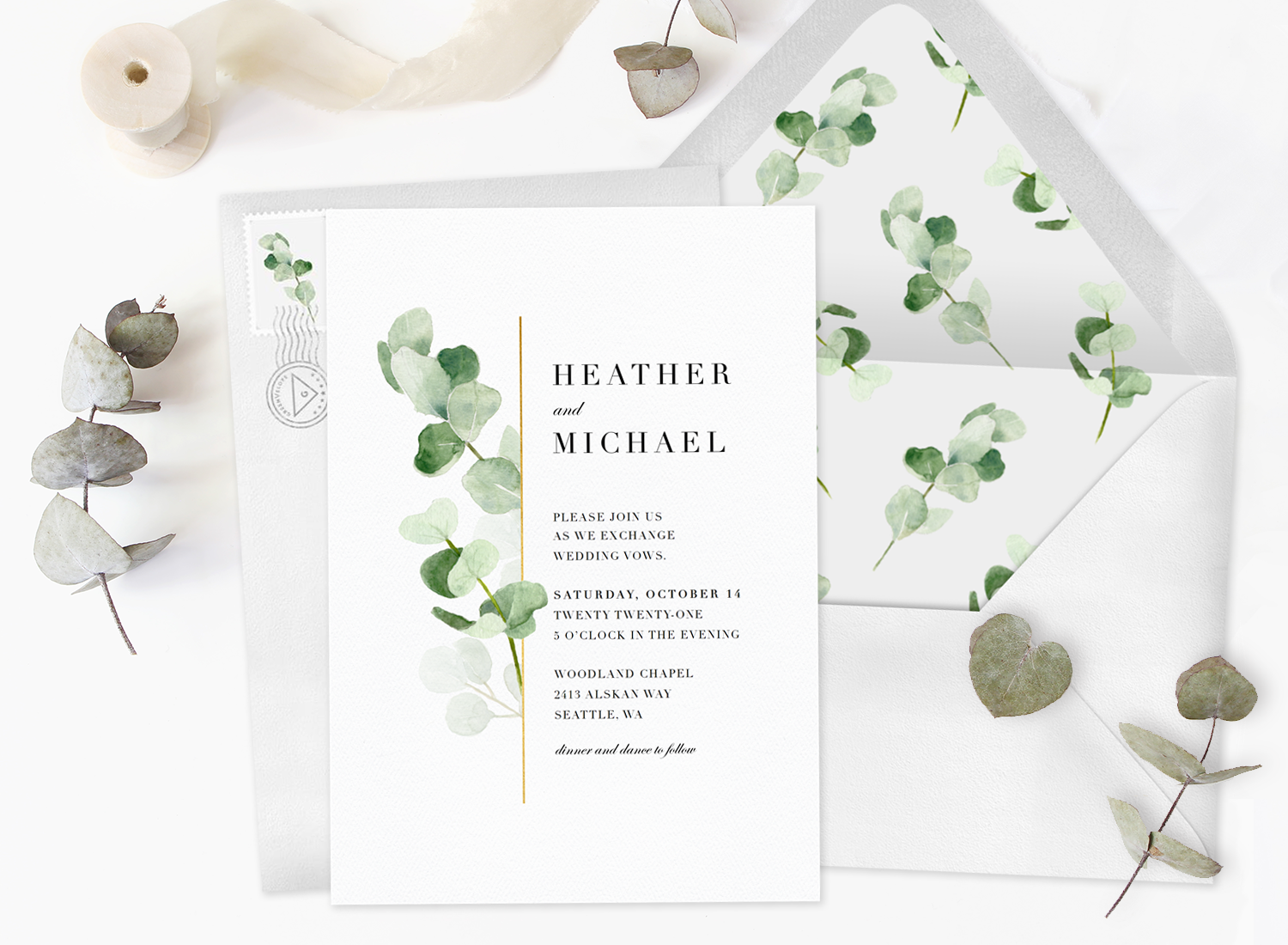 All-in-one wedding invitations are designed to make wedding planning easier. These cleverly designed invitations include the invite and RSVP all in one, uncomplicated package. You can find traditional paper all-in-one wedding invitations, but for the most convenience, digital all-in-ones reign supreme.
With digital wedding invitations, you don't have to keep track of dozens or hundreds of RSVP postcards. You'll save money on postage, and you don't have to worry about response cards going missing if guests make a mistake on the return address. (In fact, you don't even have to include a return address.)
With digital all-in-one wedding invitations, you get the benefits of both a wedding invitation and a wedding website. You have access to features like RSVP tracking and guest list management, so you can rest easy knowing that everything is taken care of. Your guests will be able to RSVP quickly and access all the information they need, and you'll be reducing paper waste from all those paper invitations you'd usually send.

Easy RSVP Tracking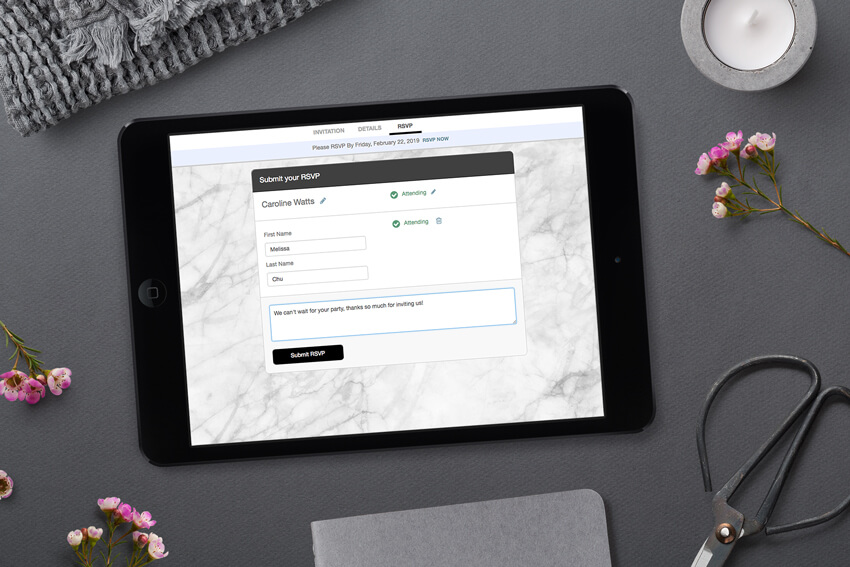 Collecting RSVP responses is so much easier with a digital all-in-one wedding invitation. Track guest responses in real-time, set up auto-reminders for RSVP deadlines, and receive daily updates on the activity that's important to you, including open rate summaries. You can even collect information like food preferences through handy survey questions that are included as part of your wedding invitation.
Guests don't have to worry about losing their RSVP card (or the invitation itself!) because all it takes is the click of a button to send their responses, and all the wedding details will be in their email inbox whenever they need it. The easy messaging feature allows you to stay connected with your wedding guests so you can send them info on any last-minute updates or changes.
Guest List Management
Managing your guest list can be a logistical nightmare 'ÄĒ all those physical addresses to track down and responses to stay on top of.¬†When you choose a digital wedding invite, all you need to do is import email addresses (which you probably already have in your contact list). Once the invites have been sent, you can keep track of who's opened it and what the status of the invite is, so you never have to wonder whether someone has received their invite¬†or not. With address validation, each email address is automatically checked, so there's less chance of bounce backs or lost emails.
Full Customization
Whether you choose a pre-designed template or upload a design of your own, you can fully customize the wedding invites to suit your tastes and preferences. Plus, you can add personal touches like photographs, work with a palette that matches your wedding colors, and choose your own wording for truly custom invitations.
You can even choose the look of the digital envelope, so every part of your wedding invitation is personalized and unique to you. From metallic to kraft to vellum, the options are high quality and designed to look like real paper. Pick an envelope lining design that complements the rest of your design, whether it's a solid color like shimmery gold or a fun pattern like tropical leaves or bold stripes. Add a stamp and a wax seal for a one-of-a-kind envelope.
Matching Cards
Wedding stationery¬†doesn't start or stop with the wedding invitation¬†'ÄĒ there are save the dates¬†and thank you cards¬†to send as well. Once you've settled on a theme and style for your invitation design, you can easily choose matching cards to accompany the main wedding invitation¬†for an elegant and cohesive invitation suite. With fully customizable text, you can even use the save the date template for reception cards¬†or other wedding-related party invitations, like a welcome dinner or post-wedding brunch.
After all the excitement of your big day, the last thing you want to do is worry about sending out thank you cards. By choosing an invitation that has matching cards, sending thank you notes is convenient and hassle-free. You can even personalize your thank you cards with a picture from the wedding day.
Beautiful Designs
Just because this isn't a paper invite doesn't mean you have to sacrifice on design. We work with artists, illustrators, calligraphers, and painters from around the world to create an exclusive selection of beautiful designs and online templates that work for every style and wedding theme. Whether you're into traditional and romantic or simple and modern, here are some of our favorite all-in-one wedding invitations to get you started.
Classic Meets Modern
The deckled edge paper and gorgeous calligraphy text give this invite an old-school, vintage feel, yet there's still something so refreshing and modern about it. Sometimes, you really don't need a lot of color or design elements to create an eye-catching and elegant invitation.
Everglades
Flamingos might not be the first pair of lovebirds that come to mind, but they're perfect for a tropical wedding. This invite takes inspiration from the Florida Everglades and brings to life the vibrant colors and tropical vibes. The flamingo theme continues on the matching components, and you can either stick with the custom geometric envelope lining or select a single matching color.
Luxurious Watercolor
Soft watercolor elements are a great way to add some color and dimension to the invite but still keep it minimal. Choose from pastel pink, soft lavender, or mesmerizing aqua green for the watercolor feature, and keep the envelope simple by sticking to the same color with a hint of gold peeking out from the inside.
Dandelion Breeze Invitation
This simple and whimsical design is giving us all the feels with breezy, floating dandelions. It's romantic but in an understated way that suits the modern couple. The rustic envelope keeps it from looking too prim and proper, and the matching save the date and thank you card are just as pretty.
Rustic Citrus
There's something so charming and sweet about the hand-drawn citrus blooms on this invite. The oversized text adds to the rustic, vintage vibe, and the palette is full of warm, welcoming colors. The save the date and thank you cards have similar orange and foliage illustrations but with slight variations, so each piece of the invitation suite is unique in its own way.
Floral Ampersand
The intricate, floral ampersand gives this invite a feminine touch. The rest of the invite is simple, so the ampersand is the focal point. The ampersand is also featured on the save the date, and the beautiful typography and golden highlights make this perfect for all your wedding events.
Let All-in-One Invitations Do the Heavy Lifting
Planning a wedding is no easy task, so we're all for anything that makes it more enjoyable and straightforward (for both the couple and the guests). By choosing an all-in-one wedding invitation, you can streamline the invite and RSVP¬†process and eliminate any extra work 'ÄĒ because we know how much you already have on your plate. Plus, your guests will thank you for making it convenient for them too. Check out our range of wedding invitations¬†and explore all the features that will help make sending invites and announcements¬†a whole lot easier.