September 14, 2021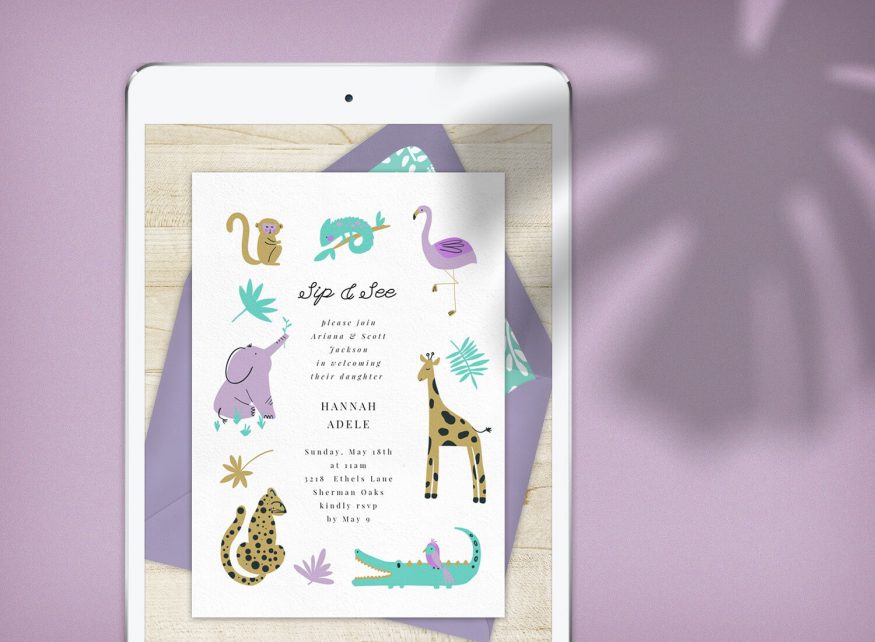 Looking for the perfect theme for a baby shower? Does the parent-to-be also happen to love tropical plants and animals? Well, you can't go wrong with a jungle theme baby shower.
Whether you're planning your own celebration or arranging all the details for someone you love, this guide offers top tips for creating a jungle baby shower. (Bonus: It's an adorable gender neutral theme!) Discover party theme ideas, games, activities, and delicious treats to add to your party menu — plus some gorgeous jungle baby shower invitations. 

Adorable Jungle Theme Baby Shower Ideas
There's lots you can do with a jungle theme. You can create a glam safari look or opt for a cute baby jungle animal theme. Here are some jungle theme baby shower themes to inspire you — with jungle baby shower decoration ideas to match. 
Transform Your Space Into a Tropical Jungle
For a truly immersive experience, create a space that's filled with bright, tropical jungle colors, exotic animals, lush greenery, vibrant party decorations, and the sounds of the rainforest. 
Hunt out party supplies that help you bring this idea to life — like a baby shower balloon garland or balloon arch featuring greens, oranges, and yellows, or a jungle-like fabric backdrop to help set the scene. 
Bring in a variety of animals like gorillas, giraffes, tigers, elephants, and multicolored birds, be it with small figurines, giant cutouts, or artwork. Create a playlist of jungle sounds to truly set the mood, and put together goodie bags with fun baby shower favors such as mini zoo animals, animal crackers, personalized lip balms, or other treats for your guests to take home. Sites like Etsy have cute jungle party favors.
Create a Sophisticated Safari Look
If bright greens and oranges aren't for you, tone down the look a little to create a glamorous safari baby shower instead. A safari theme is the perfect way to combine the playful nature of a jungle theme with a more sophisticated aesthetic. 
When it comes to safari baby shower decorations, contemporary and striking is the way to go. Fill your space with fresh or faux greenery, and borrow zebra stripes for your table linens, backdrops, and party favor bags. Spray paint toy animals in metallic hues to create standout table decorations, and serve up your own signature mocktails and canapés for a luxurious baby shower experience. 
Recreate a Jungle-Themed Movie
Everyone has a favorite movie, and if the parents-to-be love a certain family story set in a jungle, this is the perfect opportunity to turn that into a sweet baby shower theme. Take inspiration from the story of The Jungle Book and create an event that features all the key characters, visuals, and music. 
Host your very own jungle party with cutouts or artwork of the favorites like Mowgli, Kaa, Baloo, and Bagheera, against a jungle theme backdrop that feels like you're right in the movie. Invest in official stuffed animals and figurines to act as baby shower centerpieces, and queue up the movie's soundtrack as your party playlist. Host a movie themed trivia quiz and jungle dance party to continue the theme. 
Swap Bold Colors for Pastels
Just because you're hosting a jungle themed party, doesn't mean you can only use bold, bright colors, or dark greens and animal prints. Give your theme an adorable twist by hosting a pastel jungle theme baby shower. 
We love the idea of making jungle animals the center of your theme, set against the backdrop of sweet baby pinks, lilacs, yellows, and blues. Invest in or reuse your favorite pastel tableware, linens, and glassware, and add in plenty of jungle and safari stuffed animals and figurines. Swap your traditional party fare for delicious sweet treats like a DIY popcorn bar, ice cream or candy station, and download pretty printable party games to play together. 
Fun Games to Play at Your Jungle Theme Baby Shower Party
Hosting a baby shower is all about surrounding the guest (or guests) of honor with plenty of love, support, and good wishes before they welcome baby. It's also the perfect opportunity to have fun, play guessing games, and get creative. Try these jungle themed baby shower games for your upcoming celebration. 
Guess How Many Animals in the Jar
Take the traditional "guess how many" party game and put your own stamp on it by swapping balls or candy for toy jungle animals instead. Ask your party guests to guess how many animals are in the jar, with the closest guess winning a prize. 
Not only is this a fun game for everyone, but it makes for lovely great party decor too. Make a feature of it by hanging a sign above the table or adding a giant animal alongside, or go big and swap the jar for a giant canister filled with stuffed animals. 
Baby Animal Dough Challenge
You've heard of the baby shower game where you have to create a baby from dough, but this is a themed version of that fun, fast party game. Give your guests some salt dough, set a timer, and challenge them to make their best baby animal. 
What's great about this jungle theme baby shower game is that you can tailor it to your guests. If they love getting creative, give them more time and encourage people to make something exceptional. For more laughs, set the timer really to just 30 seconds and see what people come up with. This DIY party game is perfect for a safari animals baby shower or a more relaxed jungle party. 
Jungle Scavenger Hunt
Scavenger hunts work great for a kids' birthday party, but they're just as fun for baby showers. Hide toys or small objects around your party venue and task your guests to split into teams and recover the most items to win. 
You can make this a competitive game with prizes or keep it relaxed and simply ask guests to tick off their list throughout the event. You could even combine it with another party game and hide diaper bag essentials around for your guests to find and help you pack away. 
Animal Cookie Decorating 
For a relaxing, creative, and cozy activity, you can't go wrong with cookie decorating. And what better way to make it a wild one than with a jungle themed twist?
Before the party, bake some animal shaped cookies or order them from a local baker. Set up a decorating space with plenty of colored and flavored icing and other toppings. Sit down together and decorate your own cookies that guests can enjoy then and there or take home as delicious party favors. 
Tasty Jungle Themed Baby Shower Food and Drink
With so many fun games to play, your guests are going to want some delicious food and drink to help them stay energized. Here are some of our favorite jungle themed baby shower food and drink ideas to help you create an impressive menu. 
Get Your Grill Out
Give your guests a taste of the great outdoors by firing up your grill and hosting a BBQ for your jungle theme baby shower. This is a simple yet tasty option that doesn't require planning a full sit-down meal menu or bringing in a catering team. 
Try flavorful grilled fish or peri peri chicken, or make some BBQ jackfruit sandwiches using a skillet. Add some slaw, onion dip, guacamole, and other sides or dips to complete the meal. 
Serve Up Plenty of Tropical Fruits
Jungles aren't just home to some amazing animals — they're the perfect place to find mouth-watering fruits like bananas, mangoes, pineapples, and papayas. Feature some of these tropical flavors at your party in a few different ways.
Fruit kebabs are always a favorite, or you could cut your fruit into fun shapes if you have any younger kids at the baby shower. Mix the fruit into juices, or create frozen popsicles with fresh fruit. Not only is this a great way to bring some flavor to your party, but the colorful display works as party decor too. 
Hand Out Jungle-Themed Cupcakes
There's something almost every party needs — a delicious cake. Whether or not you're having a big baby shower cake, there's something sweet (literally) about handing out cupcakes to party guests. 
Bake or buy vanilla cupcakes and add cupcake toppers that feature animals or greenery, or try baking these jungle themed cupcakes with adorable jungle animal faces. Always make sure you have plenty of extras — sometimes one cupcake just isn't enough! 
Create Your Own Mocktails
With so much wonderful food to enjoy, you'll need some drinks that are just as fantastic. Bring some of those tropical fruit flavors to life by mixing your own mocktails. 
This baby shower idea works perfectly for a sophisticated jungle safari baby shower, or if you simply want a fun twist on standard fruit juice. Create your own signature mocktails with jungle-inspired names or set up a station where guests can make their own creations. 
Our Favorite Jungle Theme Baby Shower Invitations
Your jungle theme baby shower is turning out to be an event for the ages. Get your party guests excited right from the start with fun jungle or safari baby shower invitations.
Find a design you love, then personalize the colors and baby shower invitation wording to create a truly unique party invite. 
Jungle Friends Baby Shower Invitation
The contemporary illustrations and modern colors on this jungle friends invitation work perfectly together. This sweet invite is perfect for a relaxed baby shower, or a sophisticated soirée before the arrival of the new baby. 
Baby Sloths Baby Shower Invitation
Is there anything cuter than a sloth hanging from jungle vines? This baby sloths invitation is the most adorable way to spread the news about your upcoming baby shower party in honor of someone special. 
Palm Leaves Baby Shower Invitation
If you're looking for a baby shower invite that feels fresh and bright, this palm leaves invitation is a wonderful choice. It's great for a cozy gathering, family BBQ, or beachside baby shower to celebrate the moment. 
Host an Adventure With These Jungle Theme Baby Shower Ideas
You can have so much fun with a jungle theme baby shower. Transform your home or backyard into the ultimate tropical jungle experience, or wow your guests with a baby jungle animal themed adventure. Find a theme you love, plan your party, and choose an online invitation that matches your party theme. Whatever you decide, you're sure to celebrate this milestone moment in the most delightful way.