August 8, 2021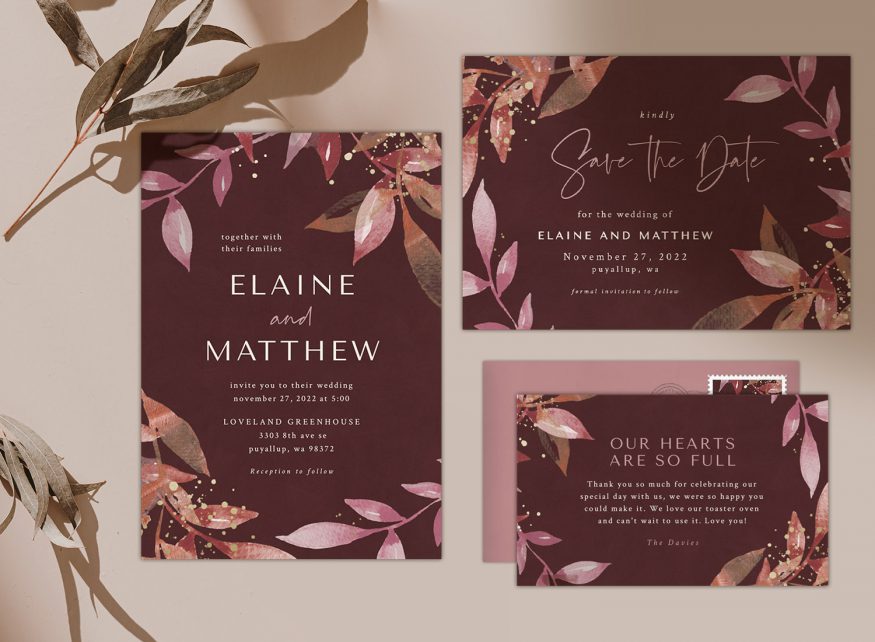 If you're struggling to figure out what to include in your wedding invitation set, you're not the only one. While you might want to focus on design first, it's important to stop and think about what information needs to be relayed to guests and how you'll provide it. Here, we'll show you everything you need to know about wedding invitation sets, from must-have details and nice-to-have options to beautiful design inspiration. 

What Are Wedding Invitation Sets?
A wedding invitation set — also known as a wedding invitation suite — consists of all the paper goods sent for weddings. It covers everything from the wedding invite itself to the envelopes and thank you cards. Here's a quick breakdown of all the items that make up a wedding invitation set.
Save the Date Card
A save the date card is the first card that's sent out to notify guests of the date and general location of the wedding. This card is designed to give guests ample notice so they can mark their calendars. It typically contains the wedding website and the actual date of the wedding, though it may not provide the exact location. 
If a specific venue isn't listed, the card will typically include a region — like Napa Valley — so that guests can plan accordingly. Although a save the date card is vital for all weddings, it's particularly important if you're having a destination wedding so that guests can make travel plans.
Wedding Invitation
The wedding invite has all the concrete details of the big day, from the exact time and location of the wedding to dress code and gift information. Wedding invitations can run the gamut from simple DIY white announcement cards and laser-cut wedding invitations to elaborate wedding boxes. Wedding invitations can be made of cardstock or sent as online invites. Here's a quick guide on what to include in a wedding invite to make sure you don't leave out anything important.
RSVP Card
Also known as a response card, RSVP cards are used to keep track of who is attending the wedding and who has declined. The RSVP card can include several reservations to various events — such as a welcome barbecue, rehearsal dinner, or post-wedding brunch. These cards make it easy to keep track of your wedding guest list. Plus, they enable you to send out additional invites if people from the first batch of invitations cannot make it to the wedding day festivities.
Digital or Mailing Envelope
If you're sending a digital wedding invite, the invitation will usually come with a digital envelope. The invite arrives in an online envelope that opens up to reveal the wedding invitation and RSVP card. If you're sending invites by mail, you'll also need to include postage and paper envelopes as part of your wedding invitation set. Don't forget to address the wedding invites correctly.
Thank You Card
After the wedding, it's proper etiquette to send a thank you card to all the guests who attended and include a small note mentioning their gift, if applicable. These cards are designed to match your wedding stationery, creating a cohesive look from start to finish.
Optional Add-Ons
The above items are standard elements that comprise wedding invitation sets. However, some wedding suites feature additional stationery. This can include an accommodation card that provides details on local lodging for guests. These are useful for destination weddings as well as weddings where nearby accommodations might be limited — such as weddings in National Parks. It can also include enclosure cards, which are cards that provide additional details. They may cover information about the attire and gifts or special details about the big day if something unique is planned.
Other wedding invitation sets may include a weekend card outlining the wedding program if the event spans multiple days. Some may also have a reception card that outlines the detail of the event that follows the wedding ceremony. Some suites also feature wedding stationery details like a belly band or invitation liner, such as vellum.
For some couples, sharing their love story starts with an engagement party invitation or a marriage announcement. These are considered part of the wedding invitation suite as well. Bachelor and bachelorette parties as well as bridal shower invitations can also be part of wedding invitation suites.
Fall In Love With These Wedding Invitation Sets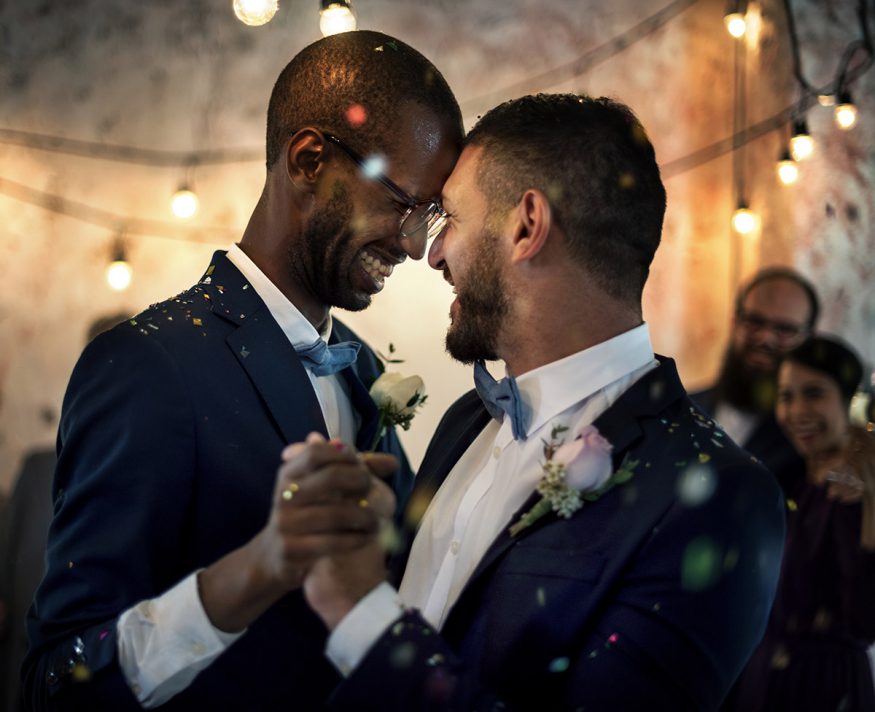 Greenvelope offers a stunning selection of wedding invitations and suites to match. From sending engagement announcements to wrapping things up with thank you cards, you'll find the perfect suite from start to finish. (You can also fully customize your own.) Here are some of our favorite wedding invitation suites to share your love story.
1. Rustic Twinkle Invitation
Farmhouse style and rustic design have been trending the last few years. This rustic wedding invitation features illustrations of bright orb lights on a wood grain background. It's ideal for celebrating a rustic affair or a fall wedding.
2. North Cascades Invitation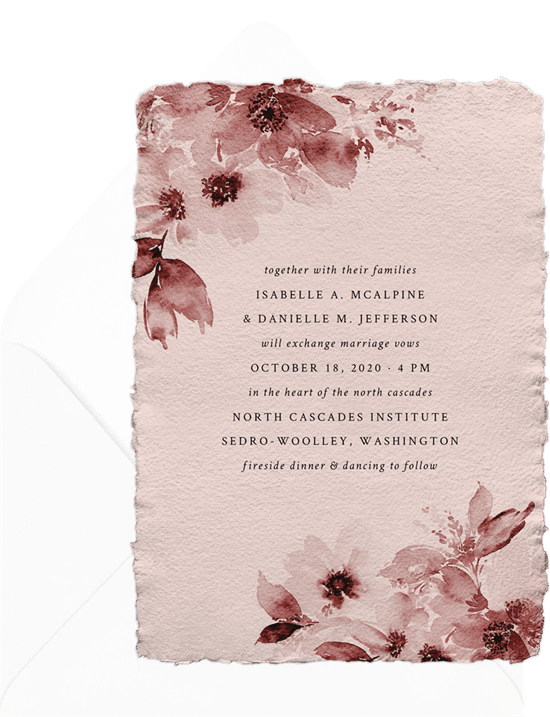 This elegant wedding invitation features watercolor illustrations of peony florals. The deckled edging adds a romantic air and the watercolor invitation design is entirely editable so you can change up the colors and font to match your wedding theme.
3. Elegant Overlay Invitation
This minimalist invitation card keeps the focus on the happy couple. Upload your favorite photo of you and your partner. You can even add a monogram to the image to make this card truly unique. The sparkling envelope makes this wedding invitation suite even more glamorous.
4. Lasting Love Invitation
This rose gold foil invite features two interlocked wedding bands that form an infinity symbol. It's a beautiful way to reflect the longevity of your nuptials and invite guests to a formal affair.
5. Trailing Blooms Invitation
This formal wedding invitation features whimsical greenery and hand-painted flowers. Personalize the wedding invitation template by choosing various calligraphy options as well as background colors.
6. Mehndi Invitation
This boho-inspired wedding invitation features bold hues that set the tone for a festive event. Choose from earthy background colors like emerald and burgundy or make it all your own by selecting a custom color to match your wedding theme. It's ideal for cultural weddings as well as other events like baby showers and birthday parties.
7. Eucalyptus Invitation
The hand-drawn eucalyptus frame on this elegant invitation draws the eye towards important event details and keeps the focus on the lucky duo. It's whimsical yet refined and is ideal for outdoor and destination weddings.
8. Fancy Free Invitation
This simple yet elegant invite says it all without a lot of detailing. (Although we can't help but fall in love with the glittery envelope liner.) Add a photo you love, and before you check out, make sure to personalize the card by exploring different fonts and colors.
Plan Your Perfect Wedding
We think wedding planning should be fun. After all, this is a time you'll look back on fondly. Whether you're planning the perfect wedding from top to bottom or simply looking for a gorgeous wedding invitation set, Greenvelope offers a large selection of wedding invitation sets and designs. For more ideas to create your dream wedding, be sure to browse more on the wedding page of our Stationers blog.