February 21, 2020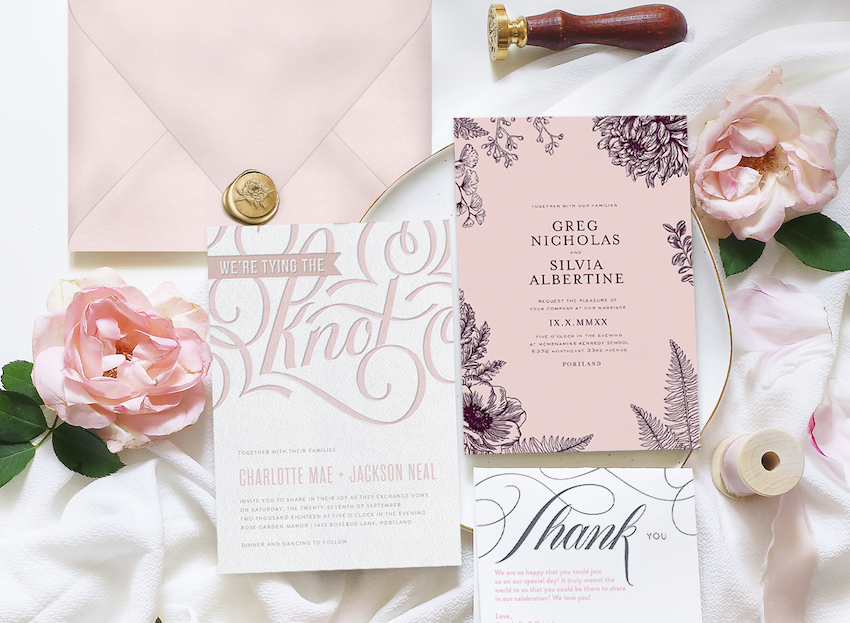 You're in the midst of planning your dream wedding, ready to select your invitations. You browsed through fonts, stationery, and designs, and ultimately set your heart on custom letterpress wedding invitations.
That is, until you saw the price.
A letterpress wedding invitation, while luxurious in both appearance and texture, is one of the more expensive options out there. And this limits your design options, as the price typically increases depending on the weight of the paper, how many colors you include, and your other chosen design elements.
Luckily for you, Greenvelope offers an affordable alternative to letterpress invitations. You still get the same, three-dimensional design without the hefty price tag. Plus, unlike most letterpress wedding invitations, you're not limited by colors or typefaces. Below, we're sharing some of our favorite letterpress wedding invitations, and going over why Greenvelope offers an affordable alternative for your dream design.

Why Online Invitations Makes Letterpress More Affordable
Letterpress printing¬†makes a physical indention with every letter, as the text is physically 'Äúpressed'ÄĚ into paper. Letterpress printing¬†dates back to the mid 1400s, where once upon a time, posters, invitations, and other printed materials were arranged one letter, then one sentence, at a time.
Invented by Johannes Gutenberg, a traditional letterpress used metal and wood letters dipped in ink. Individual letters were physically moved and arranged into words, which could be used to print newspapers and other projects requiring duplicate copies.
Many brides and grooms love letterpress wedding stationery for its texture and vintage feel. However, letterpress is extremely expensive because the cost rises with each color used. In fact, many wedding planners advise couples to select invitations with only one color to keep costs down. Plus, embossing a design requires expensive paper options, such as vellum or cotton paper.
Luckily for you, Greenvelope offers an environmentally friendly, affordable alternative to letterpress wedding invitations. With Greenvelope, you still get the same, elegant design as you would with traditional letterpress at a much lower price point. Therefore, you get your dream wedding invitation suite within your budget.
10 Letterpress Wedding Invitations to Fall in Love With
Who knew you could get such elegant letterpress invitations online? These virtual invitations offer the design you've had your eyes on at the budget you always hoped for.
1. Royal Monogram Invitation
You always envisioned a modern, simple ceremony, and this wedding invitation design suits your streamlined taste. The neutral suite contains clean lines, block fonts, and an illustration representing a wax seal. The outer envelope shimmers in a light cream color, while the envelope liner features a bronze background and crown illustration. With such a majestic yet minimalist design, it's sure to fit in with your dream wedding decor.
2. Rustic Pine Garlands Invitation
With an illustration of garlands, wreaths, and pinecones, this elegant invitation would work wonderfully at a winter wedding. Featuring five different color schemes fit for the holiday season, it speaks of a winter wonderland ceremony. The invitation wording is written in a mixture of sans serif fonts and calligraphy, creating a beautiful contrast.
3. Luxe Leaves Invitation
Starting with the gold, shimmer envelope, this invitation will certainly capture the attention of your guests. The design uses three different ink colors between the happy couples' names, the wedding day details, and a simple greenery illustration. The illustration is carried through the save the date card and the thank you note, creating a cohesive design for your wedding suite.
4. Rhythm Invitation
With geometric patterns and block, sans serif fonts, this art deco design is a stunning addition to any formal wedding ceremony. The all-black background is offset with a gleaming typeface, while the shimmering envelope adds another degree of luxury. The matching save the date and thank you card carry the same, modern design, helping to garner excitement for your wedding day.
5. Letterpress Botanical Invitation
This botanical design is the floral invitation you've been searching for, with each embellishment engraved in the card. Choose from dark green, blush pink, slate blue, or another color palette of your own design. The happy couples' names are written in all-caps, serif fonts in the center of the card while your wedding date is written in Roman numeral lettering. The envelope liner is set in a light, shimmering gold, adding a touch of elegance to the invitation.
6. Letterpress Love Flourish Invitation
Like the letterpress invitations of years past, this simple invitation design is set in neutral colors with an off-white background and cream fonts. The shimmer white envelope is enclosed with foil stamping, which adds a touch of sophistication to the card. The words, "We're tying the knot," are written in an elaborate cursive font across the top, a design element that's carried through the save the date and thank you note.
7. Modern Beach Botanicals Invitation
If you're throwing a destination wedding, this beachy design could be a wonderful prelude to the ceremony. With a bronze, navy blue, and white color palette, this simple design calls for warm weather and an ocean backdrop. Letterpress botanicals frame the card with rose gold foil adding to the timeless design. The enclosure card for the save the date features a black and white engagement photo, helping to build excitement for your wedding day (and your guests' weekend getaway!).
8. Minimal Moroccan Invitation
If you always imagined having a black and white ceremony, this lovely invitation could be the design you've been waiting for. An all-white background features a textured, letterpress frame, while simple black text writes your wedding day details across the center of the card. Within the invitation sample preview, you'll see the only color lies in the elegant, gold envelope liner. Send it out to all your guests, and remind them your wedding theme is a black-and-white-only affair.
9. Cascading Paisley Invitation
Who could possibly resist the vibrant hues of this intricate design? This ornate letterpress invitation would be a wonderful compliment to an Indian wedding, featuring a paisley patterned mandala down the side of the card. Set in gold-foil accents, it speaks of a luxurious ceremony. The thank you note and save the date come with the same ornate design, creating a beautiful wedding invitation suite.
10. Beautiful Forever Invitation
As you and your soon-to-be life partner prepare to promise forever to one another, this lovely invitation prepares your guests for your ceremony. The word "forever" is scribbled in cursive font across the top of the card, while your names are set in black calligraphy. A mixture of cream, bronze, black, and gold flows together in a luxurious, delicate color palette, while the letterpress wording creates a beautiful effect.
Greenvelope: The Affordable Alternative for Letterpress Invitations
If you have your heart set on a letterpress wedding invitation but your heart sank at the price, don't give up hope. By sending out your wedding invitations through an online service, like Greenvelope, you can get your dream invitation design at your dream price point.
Plus, with Greenvelope you aren't limited in the number of colors or fonts you use. Using our easy customization tool, pick your favorite design¬†from hundreds of gorgeous templates, customize the text with your wedding details, then send it to all your guests. You don't have to worry about hunting down physical addresses 'ÄĒ simply upload a .CSV file of your guests' email addresses, and your invite will land in their inboxes within a few minutes.
From all of us at Greenvelope, we hope your dream wedding comes to life. Now, with the money you saved on letterpress invitations, go pick out those floral arrangements you've had your eyes on.