April 18, 2021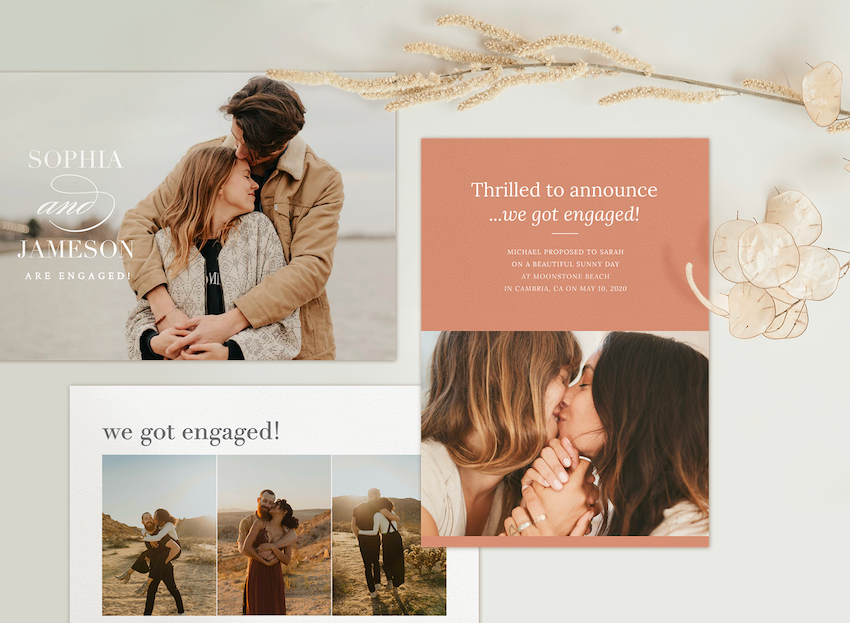 The day you get engaged will be one of the happiest days of your life (next to your wedding, of course). Now that you promised forever to your partner, you can't wait for your loved ones to know. To ensure your friends and family are just as excited as you are, we have a dozen creative engagement announcement ideas to share.
From ocean shots to shameless selfies, from photos with your fur babies to an evening with friends, these engagement ideas certainly make a statement. Below, we share a dozen creative ways to announce your happy news.

12 Engagement Announcement Ideas That Will Have Everyone Talking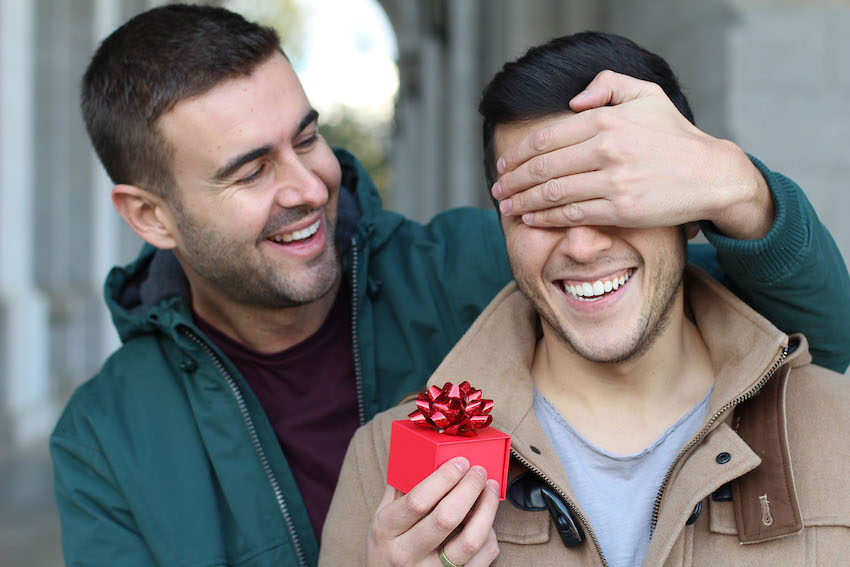 Congrats, you're engaged! We couldn't be happier for you, and we're sure your friends and family feel exactly the same. Below, we share some fun, DIY ways to announce your engagement that will have all your loved ones reveling in your happy news.
1. Scribble It on a Chalkboard 
To share your big announcement, buy a simple chalkboard at a craft store. Scribble the words, "I said yes!" on the board, then hold it for all to see (with your ring visible to the camera, of course). Have the camera zoom in on the chalkboard with the two of you blurred out in the background for extra artistic flair. 
2. Take a Walk on the Beach
Did your engagement take place at the beach? Have the photographer standing at the ready, because you have some oceanside views to capture.
Share your happy news by having your photographer take a photo of you as the happy couple, walking arm-in-arm by the sea. If you want to personalize the shot, write the words, "Forever has a nice ring to it," in the sand.
3. Snap a Pose With Your Fur Baby 
Do you and your forever love have a fur child you're completely obsessed with? Then why not include your furry companion in your grand announcement? 
Have your good boy (or girl) sit in front of the two of you, next to a sign that reads, "My parents are getting married!" If you can get your precious pet to sit still for the camera, you can also find a bandana printed with a similar announcement. 
4. Snuggle Up With a Cup of Coffee 
Since your morning cup of joe is a must-have start to your morning, why not use it as an opportunity to announce your engagement? Take a close-up of your hands wrapped around your morning mugs — you can even buy one that reads, "Does this ring make me look engaged?" on Etsy.
Feel like going out to announce your celebration? No problem. Grab two to-go cups from your favorite barista, then have them write something like "Future Wifey" and "Future Mrs." on each corresponding cup.
5. Share With a Game Night 
Would you rather play Solitaire than scroll through Instagram? Are you the reigning champ of chess and checkers in your household? Then why not celebrate your big news with some engagement party game night fun?
Have your close friends over and discreetly lay out a game of Scrabble. On the board, have the words "I said yes!" printed out with your alphabet squares. Once your friends realize your big news and share in all the hugs and tears, snap a photo of your Scrabble board to post on social media. 
6. Share Your City Sites 
Did the two of you begin building a life in a new city? Why not make your forever home part of your engagement photoshoot?
As a fun engagement announcement photo idea, make a collage sharing photos of the city you call home. Stroll through your favorite streets, sharing close-up and wide-angle views of the home (and person!) you love most.
7. Gone Fishing 
If you've always enjoyed hiking, camping, and fishing as a couple, you can easily incorporate it into your engagement announcement. Once you're reading to share your news, strike a pose with your hooks and fishing poles, and share a hug or kiss.
Between the two of you, hold up a rustic, painted wood sign that reads, "Two less fish in the sea." Your friends and family members will know that you are happily off the market. 
8. Take a Shameless Ring Selfie 
When it comes to engagement announcement ideas, it's hard to go wrong with a selfie.
To arrange this photo, you'll have a friend or family member actually take the photo. Either you or your partner will hold your phone — taking a selfie — with the front of your phone facing your photographer. (Preferably, whichever of you is wearing the ring should hold the phone, to show off your new bling.) The photographer will capture the shot of your ring, and a zoomed-in shot of your selfie. 
9. Do a Fist Bump 
Here's a fun way to share your exciting news — and you don't even need a photographer.
To snap this photo, stand roughly 10 feet away from your soon-to-be-forever wedding date. Whoever is wearing the engagement ring should extend their left arm, taking a ring-selfie with their right hand. In the background, have your partner (who proposed) doing a fist bump in the air. If you can time the shot just right, see if your partner can add a vertical jump, capturing them mid-air.
10. Sit By the Water 
If your proposal took place on the water, including a seaside pic is one of the best engagement announcement ideas.
For this cute engagement announcement, sit down by the docks with your partner. Make sure to get your new ring in the shot, sharing your exciting news. For your engagement caption, write some seaside puns such as, "We're tying the knot!" or "Happiness comes in waves."
11. Just Engaged
The "just married" banners are one of the most iconic scenes from a couple's wedding day. To announce your new relationship status as an engaged couple, you can put a unique spin on this classic photo.
For this engagement announcement idea, you'll need someone to position you both close together, with your backs facing toward the camera. You and your partner will hold a banner (facing the camera) that reads, "Just engaged," for all your loved ones to see. 
12. Light the Fireworks 
Does your future partner make you see fireworks? Then we have the cutest idea for announcing your engagement.
Throw an engagement party with your closest family and friends. Light some sparklers, and have each partygoer hold them, facing the happy couple. In the center, you'll stand with your partner, holding a sign that reads, "She said yes!" or "He said yes!"
Your Engagement Announcement Is Just the Beginning 
Now that you're an engaged couple, wedding planning season can officially begin. As you count down to your big day, you have a number of announcements to make — and Greenvelope is here to help you through all of it.
From your save the dates to your wedding invitations and thank you cards sent after the ceremony, Greenvelope has hundreds of gorgeous designs to fit your celebration. Sending out announcements and invitations has never been easier. That's because online invitations mean there's no need to head to the post office or deal with mailing delays. Plus, you can track RSVPs seamlessly and make updates with a few clicks of the mouse. And that's happy news to keep you feeling confident as you plan the rest of your special day.