December 15, 2020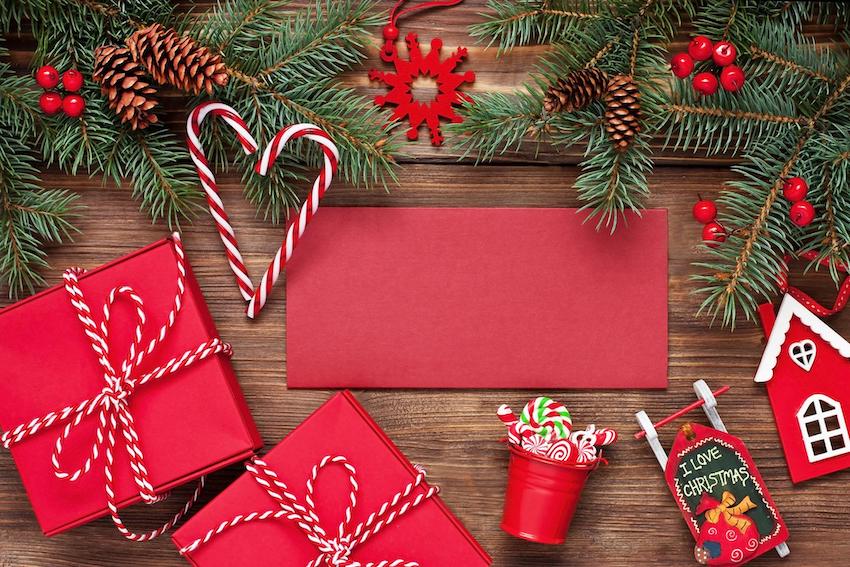 The holidays are coming, which means it's time to start thinking about Christmas gifts for loved ones. But before you jump into trying to find the perfect gift, consider sending Christmas gift cards this year. Not only are they convenient, but they can also be personalized. Use this guide to learn the best practices for sending Christmas gift cards, plus get some top tips on how to create a lovely experience for your recipients. 

Why Christmas Gift Cards Are a Wonderful Idea
The holiday season is full of things to organize, buy, and arrange. At the top of the list is often Christmas gifting, which adds a whole new layer of finding the perfect present, wrapping it, and mailing it to your loved one. However, Christmas gift cards make the entire gift-giving process a whole lot easier.
They Give Your Gift Recipient the Ultimate Choice
The beauty of gift cards is that your recipient gets to buy exactly what they want. They don't have to worry about giving you the perfect hint or asking outright, and you don't have to feel anxious about picking out the right gift.
Gift cards remove all the stress about gifting for you while ensuring your friends or family members end up with something they truly want. They also get the fun of post-Christmas sales to hunt out a bargain or saving up their gift cards to put towards an extra special treat. 
Your Loved One Can Go Guilt-Free Shopping
It's so easy to end up spending cash gifts on things like bills and groceries. But with a Christmas gift card, your loved one can treat themselves to something they might not have bought otherwise.
With a gift card in hand, they can spend some time browsing or researching what they'd like to buy. Then they can treat themselves to a new wallet, scarf, or meal subscription service without feeling guilty about it. 
You Don't Need to Worry About Mailing Gifts
Christmas is such a busy time for us all, and it's no surprise that cards or gifts get sent late. Packaging everything and meeting holiday shipping dates is tough — especially if your gift recipient lives on the opposite side of the country or the world! 
Gift cards are so small you can easily send them to loved ones alongside a card in the mail. You don't need to weigh parcels or figure out the best way to mail them. Even better, most gift cards are now available in a digital format — so you can be the most last-minute shopper ever and still get them there in time. 
You Can Buy Them at a Discount
Many retailers offer gift cards at some kind of discount. You might be able to score 20% off when you buy one compared to the value amount, or get a deal where you can buy two for a better price. 
This makes Christmas gift cards a great gift option if you're on a budget or want to make your Christmas funds go further. It's also perfect if you have a lot of people to buy for — like multiple clients, coworkers, or family members. 
Your Christmas Gift Card Recipient List
Gift cards are convenient, versatile, and customizable, so you can find the perfect gift card for your parents, relatives, friends, coworkers, neighbors, and more.
Family Members
We've all been there — you ask your parents or your sibling what they'd like for Christmas and they tell you they don't know. Instead of hunting around for a gift that you're not completely sure about, surprise them with a gift card instead. You know them well enough to choose a gift card to their favorite store, restaurant, or hotel chain, and they can then buy or book their perfect gift. 
On the flip side, gift cards are also great for family members who you don't know all that well. Have multiple cousins, grandchildren, or relatives overseas? Send them a gift card that can be used across a range of stores, so they can use it at their favorite place. 
Gift cards are also perfect stocking stuffer gifts. Pick out a gift card for a coffee shop, or streaming service like Netflix, and pop it in your family member's stocking as an extra gift. 
Friends
As with family members, it's often our friends who say they don't need anything from us. It's usually true — as adults if we need something, we tend to buy it ourselves. But when you still want to treat your friends to something special at Christmas, gift cards are a great way to go. 
Send a close friend a gift card to a restaurant you both love, and suggest you two make plans to catch up over some bubbly in the New Year. Have a friend who's an avid gamer? Load up a gift card with funds they can spend on new content for their favorite game. 
If you know a budding gardener, get them up with a gift card for a plant subscription service where they can learn and grow their own at the same time. Gift cards for DIY stores are a lovely idea if you have a friend who's renovating or loves a project. 
Coworkers
Gift giving for coworkers over the holidays can be challenging sometimes. Often there's a company-wide or team gifting activity, like a Secret Santa, where you have a set amount to buy a gift. At other companies, there's nothing formal but you might still want to buy someone a thank you gift. Either way, gift cards are the way to go. 
Christmas gift cards are ideal options for gifting to coworkers — especially if you don't know them that well. You don't need to worry about whether they'll "get" your joke gift, or if you've chosen the right type of wine. Instead, you can present them with an Amazon gift card so they can spend it on anything. Or opt for a gift certificate to a local restaurant and personalize it with a recommendation of your favorite dish to try there. 
Clients
Most companies send Christmas or holiday greeting cards to their clients, customers, and partners. Sometimes these are mailed out, other times they're eco-friendly online cards. Alongside this, you might want to send a small Christmas present to a client — or a larger holiday gift to one of your major customers. 
Gift cards are great options here as your client can use the funds to buy something for their workplace that everyone can enjoy. Worried your client won't be at their office over the holidays? Avoid this and stick to your eco-friendly credentials by sending a digital Christmas gift card. 
Neighbors
Surprise your neighbor and spread some holiday cheer by giving them a Christmas gift card. 
Gift cards for coffee shops are great for this, as you can often buy them in low dollar amounts like $5 or $10. Hand out a Starbucks gift card early and your neighbor can then treat themselves to a holiday beverage while they finish their Christmas shopping. Another great option is a marketplace site like Etsy, where they can pick up a small handmade gift they love.
Top Tips for Sending Christmas Gift Cards
To ace your Christmas gift card buying and sending this year, here are some of our top tips to help you create a fun, memorable experience. 
Choose an Interest- or Hobby-Based Gift Card
Store gift cards are great as you can use them to buy a variety of items, but a lovely alternative is a personalized gift card based on your recipient's interests or hobbies. 
Know someone who's starting a new career? Send them a gift voucher for an online learning platform where they can pick up some new skills. Is your best friend a beauty lover? Send them a gift card for a beauty school, where they can take a makeup class with an expert. 
Encourage Your Loved One to Treat Themselves 
Forget practicality and opt for a gift card option that lets your recipient really indulge themselves. This is the perfect option for people who have had a tough year, or don't usually treat themselves over other people. 
Gift cards for spas and hotel groups are ideal for this, as your friend or family member can choose a treatment and relax. Other great options include a gift card for a luxury chocolatier, wine merchants, high-end beauty retailer, or luxury bed linen company. 
Make Sure Your Gift Cards Arrive Before Christmas
After-Christmas sales are the ideal time to pick up a bargain, so make sure your gift cards arrive early enough that your loved ones can put them to good use. 
Give yourself plenty of time to choose, buy, and mail out your gift cards. Alternatively, go for the simpler option — send a digital Christmas gift card. That way you can even send them out even on Christmas Day. 
Include a Personalized Note
Sometimes people look at gift cards as an easy option and see them as a less personal gift. That isn't the case, but you can take your gift idea one step further and give your recipient a personalized note to read when they open up the envelope. 
Whether you're sending a physical gift card or a digital one, send a short but sweet note alongside it. Spread some festive cheer and let your recipient know you're thinking of them this holiday season. You could even include a note about why you chose this gift card and suggest some ideas on how they can treat themselves with it. 
Send a Christmas Gift Card the Simple Way With Greenvelope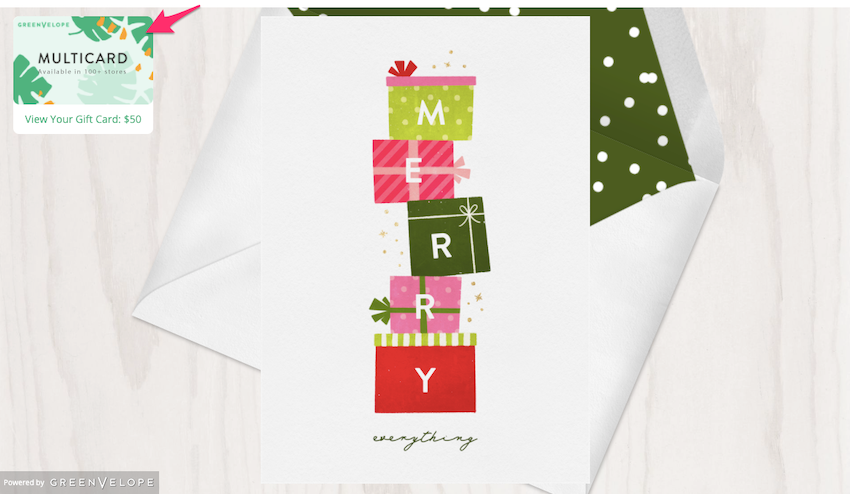 Ready to send someone a gift card they'll love this Christmas? You can now send a gift card directly through Greenvelope alongside an online Christmas card! 
Choose a Christmas card design that suits your gift recipient, then customize it. Once you reach the "send" step, you can purchase and add a gift card to your design. Your recipient will then see this on their screen when they open up their digital card. (How's that for a very Merry Christmas?!)
There are no additional fees associated with sending a gift card, so you can give your loved one a card they'll enjoy at no extra cost. 
Thoughtful Gifting With Christmas Gift Cards
Forget dashing around the stores last minute, trying to hunt down the perfect Christmas gift for someone. Swap the Christmas stress for Christmas cheer and send your loved ones Christmas gift cards you know they can use for a lovely treat. 
Pick out a gift card for a store or location you know they'll love. Customize your gift with a personalized digital card full of holiday wishes, then send it on its way. It's among the best ways to say, "happy holidays!"