November 10, 2020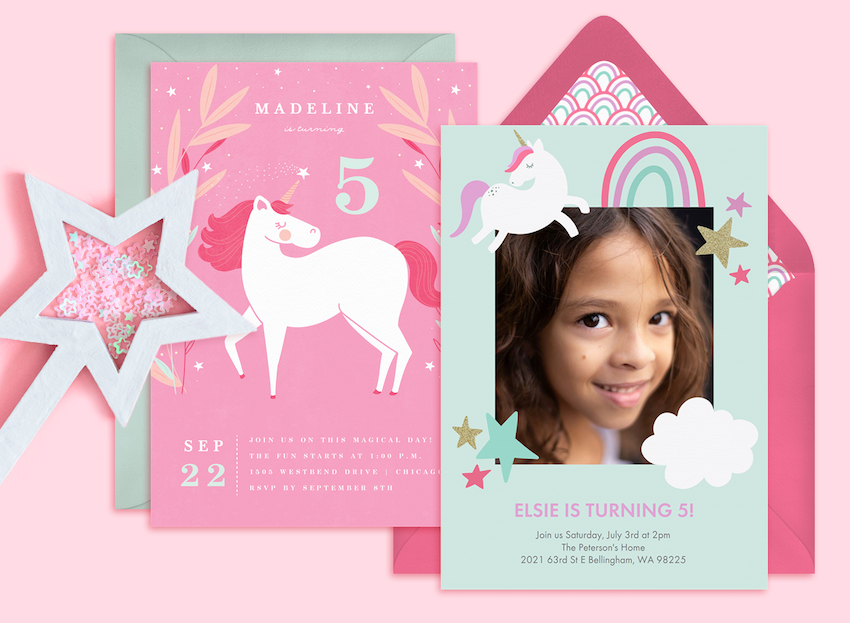 Unicorn parties are some of the most magical events around. Whether you're hosting for someone young or young at heart, they're a great way to celebrate all things mystical and wonderful. To help you throw the best bash ever, we've created this list of 15 unicorn party ideas for birthday celebrations, baby showers, sleepovers, and more. 

Tips for Throwing an Amazing Unicorn Party
Before we jump into decorating your party and planning your menu, there are a few basics to consider. Here's how to get started. 
Choose a Theme and Color Scheme
Not every unicorn party theme is the same. Some are filled with bold, bright colors and rainbow decorations. Others favor a more subdued aesthetic, with pastel colors and whimsical styling. Think about your guest of honor and what they'd love, then build your party visuals around that. 
Decide Whether You'll DIY or Buy
Hosting a party is fun, but it can be a lot of work. If you have time to create DIY party decor for your event, that's great. If not, you can find lots of great unicorn party supplies in-store or online. Once you've decided what your approach will be, you can buy DIY supplies or curate a collection of the best decor items from your favorite stores. You can also do a bit of mix-and-matching with DIY decorations and store-bought items. 
Consider Your Space and the Season
You might imagine a unicorn party taking place outside in a warm and sunny wonderland, but autumn and winter parties are just as magical. There's a lot you can do indoors to recreate a forest indoors using backdrops and greenery. If your guest of honor is celebrating in the winter months, transform your space into a fairytale winter wonderland instead. 
15 Favorite Unicorn Birthday Party Ideas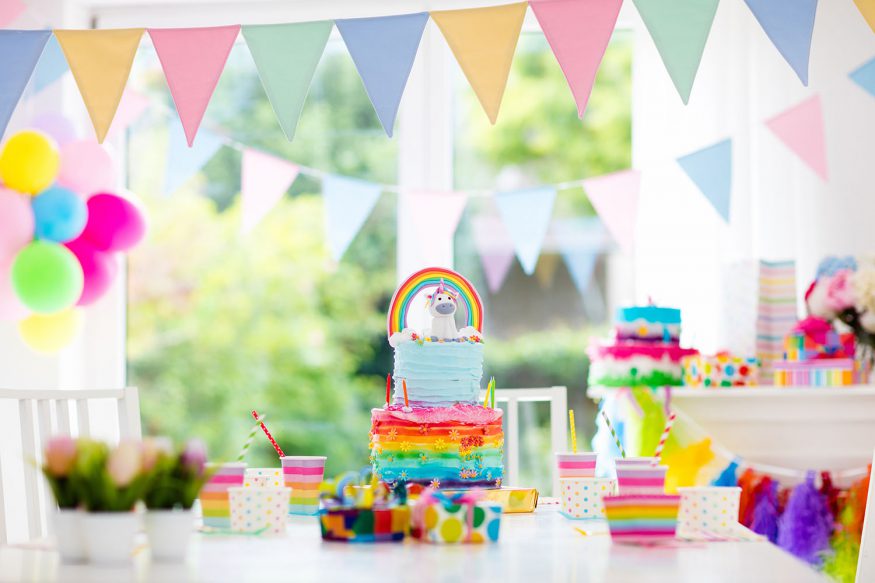 We love planning unicorn parties — they're so much fun! If you need some inspiration, you'll find it here. From delicious themed desserts to party games and decor, these ideas are sure to create a magical experience. 
1. Unicorn Cake
Create a real showpiece for your party with an impressive unicorn-themed cake. You can have a lot of fun here and create a multi-tier masterpiece, or keep it sweet and simple by adding a unicorn cake topper to a delicious homemade cake. Another idea is to offer guests matching unicorn cupcakes or cake pops to enjoy or take home with them. 
2. Pin the Horn on the Unicorn Game
Put a magical twist on the classic party game. Pin a large unicorn to hang on your wall, then hand party guests a blindfold and a horn to pin up. Draw your own game at home or use a free printable version to make things easier. 
3. Magical Unicorn Milkshakes
Shake things up and put a smile on your guests' faces with magical unicorn milkshakes. Simply take a classic strawberry milkshake and serve it up with a fun straw, or go for something more decadent using this unicorn milkshake recipe. Create a DIY toppings station (think mini marshmallows and candy sprinkles) for guests to decorate their own milkshake. 
4. Make Unicorn Headbands
For a lovely way to get your party guests crafting, this DIY unicorn headband activity is perfect. 
If you have little girls and boys crafting, they'll need some help from adults as there's a hot glue gun involved. You could also have some headbands semi-finished with the unicorn horns and let younger guests add easy decorations. 
5. Unicorn Play Dough
Challenge your party guests to see who can create the best unicorn, rainbow, and magical forest shapes with fun unicorn playdough. For this activity, you can use any playdough (or slime) in colors to match your party theme. If you want to make your own, here's a list of natural dyes to color your dough. 
6. Unicorn Balloon Arch
Create the ultimate entrance for your party guests with a fun unicorn themed balloon arch. Buy a mix of balloons in different sizes and colors, then use this easy guide to build your arch. Word of warning: this can take some time to do, so it's best to create it the day before. Don't have time to make your own? Speak to your local party supplies store to see what they can offer. 
7. Unicorn Memory Game
For a whimsical twist on a classic kid's party activity, use a free unicorn memory game printable. Print your cards out at home onto cardstock or ask your local printer for a quote. You could even laminate your cards and use them over and over again. 
8. Unicorn Dip
This is one of our favorite unicorn party food ideas. Serve your guests something extra magical to dip their crackers, pretzels, and veg sticks into with this unicorn cheesecake dip. All you need is some cream cheese (or a vegan alternative), yogurt, vanilla extract, sugar, and food coloring to create those gorgeous rainbow shades. 
9. Rainbow Garland
If you're going for a bright and bold unicorn themed party, you can't go wrong with adding a few rainbow accents. A great way to do this is with confetti, garland, stickers, and other wall decor. This rainbow fan garland DIY is dazzling. Keep it as it is or use it as the perfect base to accessorize with unicorn shapes, balloons, and glitter. 
10. Magical Photo Booth
Round up all your party guests and invite them to create some memorable photos in your magical party photo booth. Create your own photo station at home with a fun backdrop styled to look like a forest, or with golden streamers to create a stunning glitzy scene. Add in plenty of unicorn, rainbow, and whimsical props and you have everything you need for the most enchanting photos. Check out this DIY unicorn photo booth frame you can make with items from your local dollar store.
11. Unicorn Coloring Pages
We think all great parties need a space where guests can relax or engage in activities at their leisure. With this in mind, create a party table filled with unicorn coloring books, quizzes, and mini crafts. Make sure there are plenty of coloring pens, pencils, and glitter pens. If you're looking for some printable pages you can download, there are lots of great unicorn coloring pages. 
12. Unicorn Piñata
Swap a traditional piñata for one that truly honors the party theme. There are plenty of unicorn piñatas you can pick up at your local party supply store, or you can opt for homemade versions on sites like Etsy. (Mini unicorn piñatas also make an adorable party favor.) For a little extra surprise, match your candy to the party colors. This works great whether you've opted for rainbow brights or soft pastels. 
13. Stick Unicorns
Add another touch of magic to your party with some themed stick unicorns. If it's in your budget, buy a collection of stick horses for your guests to ride around and make up their own pretend play stories. You can easily transform stick horses into stick unicorns by adding a magical horn. These childhood favorites also make excellent party favors for little ones to take home after the party. 
14. Unicorn Bark
Give your guests a sweet unicorn treat that wouldn't look out of place in an enchanted forest with some eye-popping, easy-to-make unicorn bark. Grab some white chocolate, food coloring, and sprinkles and you're only a few minutes away from a delicious candy bar that'll be a dessert table hit.
15. Unicorn Party Favor Ideas
The fun doesn't have to end when the party does. Don't forget to send your guests home with some themed party favors in their goodie bags. You could send home gift bags with cake pops or an extra portion of that amazing unicorn bark. Other great options for your party favor bags include a rainbow keyring, colorful socks, or a cute unicorn charm bracelet. 
Spread the Word With These Magical Unicorn Party Invitations
Ready to get to work on those party invitations? Here are just a few of our most loved unicorn party invitations to let your guests know they're in for a fantastic time. 
Whimsical Unicorn Invitation
What do you get when you mix pastel watercolors and gold accents? This charming unicorn party invite. With its soothing hues and scintillating appeal, it's perfect for birthdays of all ages, as well as baby showers. 
Rainbows and Unicorns Invitation
We love the bold, bright, modern pops of color on this rainbows and unicorns invitation. The sweet yet contemporary styling makes it great for birthday parties, sleepovers, and even magical summer garden parties. Plus, there's space to feature a photo of the guest of honor. 
Llama Unicorn Invitation
Put a fun twist on the traditional unicorn party theme by throwing a llama unicorn party! This sweet llama unicorn invitation features an adorable illustration and plenty of space to share all the details about your party. 
For more inspiration, check out our guide to the best unicorn invitations.
Unicorn Party Ideas for a Wonderful Celebration
With the right theming, party decorations, and activities, your party venue can be transformed into a magical wonderland that everyone will love. Add in some fun party games and a delicious spread of treats and you're on to a winning combination for your kid's birthday party (or just someone young at heart). Keep browsing our Stationers blog for even more ideas on planning the perfect event for any occasion.