January 2, 2022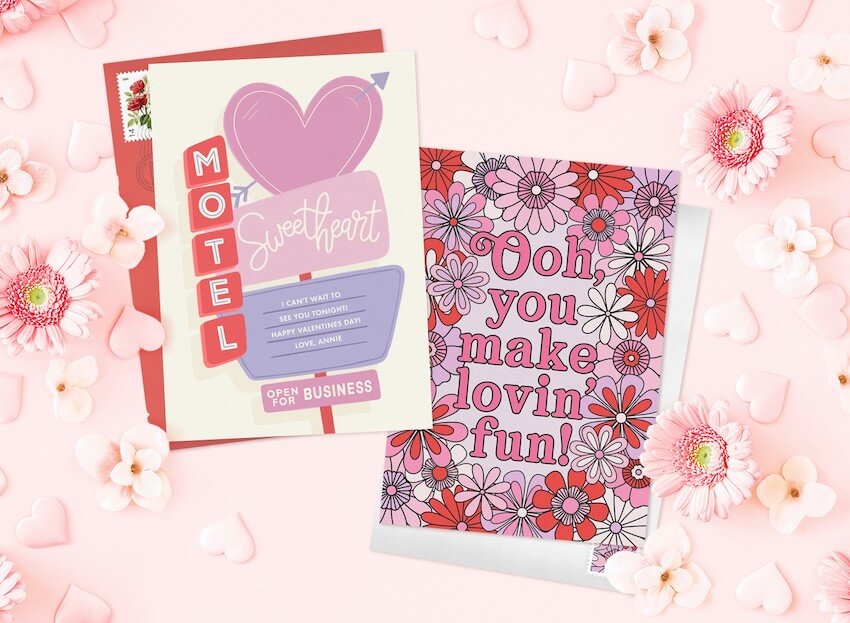 Valentine's Day is the perfect time to tell the people in your life how much they mean to you. Many of us try to do this every day, but having that one special day of the year to express our sentiments can be a good reminder to focus on the important things in life. Whether you're wishing a best friend a happy Valentine's Day, sending a card to your parents, or giving a romantic card to your significant other, it's a moment to reflect on all the love in your life.
While you could opt for a basic valentine card full of pink and red, consider something that brings a bit more whimsy and nostalgic flair. In this guide, you'll find some of our favorite vintage valentine cards to share your warm sentiments. There are options for all the loved ones who fill your life with love. Plus, you'll find tips and creative ideas for crafting your own personal message.

Wording Ideas for Vintage Valentine Cards
When it comes to Valentine's greeting cards, figuring out what to say can be challenging. You want to express something meaningful but sometimes the words don't always flow. It helps to start by deciding what type of card you want to send. Do you want to make the recipient laugh? Do you want them to feel romance and affection? By answering these questions, you can begin to come up with phrasing that meets your goals.
Also, keep in mind that you don't need to use old-fashioned language in a vintage valentine card. Simply choose a retro design and mix it up with modern language. For example, if you're sending a Galentine's Day card to your best friend and you want to make her giggle, think about using puns or jokes related to the romantic day. Here are a few ideas to get you started:
"You have a pizza my heart"

"I love you a latte"

"You're my favorite some-bunny"

"We go together like chocolate and peanut butter. Besties for life!"
If you're looking for a sweet and romantic card, you'll want the phrasing to be more sophisticated. Leave the jokes for another day and keep things more sentimental. You can express how much the person means to you, how much you admire them, or share a quick word on how important doing things together is. Here are a few things you can say in a romantic Valentine's postcard or greeting card.
"Our love is my favorite adventure"

"You're one-of-a-kind and I'm so lucky to have found you"

"Our love story is more magical than a Hallmark movie"

"I'd live this life with you a million times over"
No matter how you choose to say "Happy Valentine's Day," your recipient is sure to love the sentiment if you include a few personal words of your own. Remind them of a special moment you shared over the past year or share something you're looking forward to doing with them in the next few months. These moments make your Valentine's cards unique and memorable.
8 Vintage Valentine Cards to Show You Care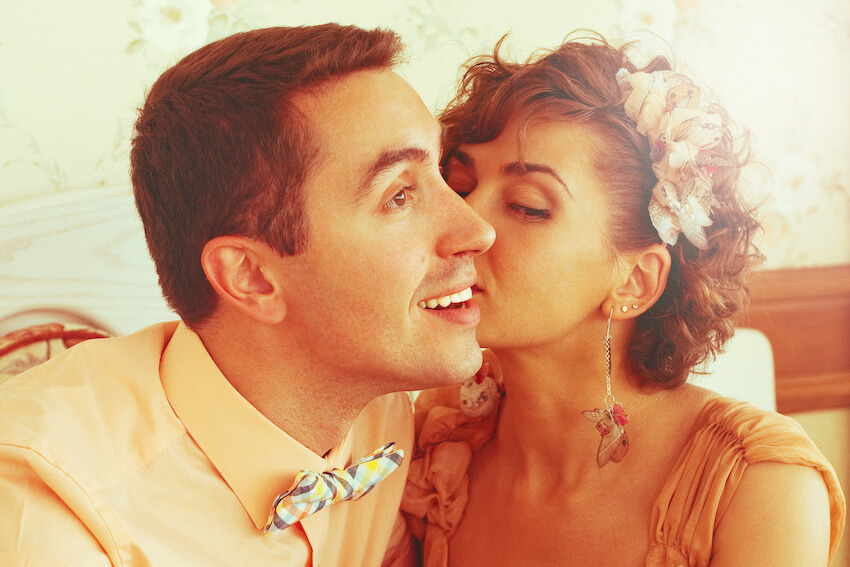 Valentine's cards got their start in America back in the mid-1800s thanks to Esther Howland — an artist who mass-produced paper cards adorned with lace and ribbon. Today, originals of her cards — and originals from other designers like Raphael Tuck — are collector's items and among the most prized vintage valentine cards.
Today, vintage valentine cards aren't just the ones created in the Victorian era. Retro designs include vintage 1950s elements like jukeboxes and 70s disco themes. In fact, you can find vintage designs for just about every decade in the 20th century. These antique Valentine's Day cards are a great way to share your love with some old-school vibes.
Best of all, you can send vintage Valentine's Day cards in the most modern way possible — via email. No need for wasted paper cards, postage stamps, or wondering if the card will arrive on time. From digital pop-up styles with metallic envelopes to vintage designs that are whimsical and cheery, you'll find something your recipient will love. Here are a few of our favorites.
1. Groovy Jukebox Card
This funky valentine's greeting card is the perfect option for friends and significant others who make you feel like tapping your toes. The retro jukebox is a throwback to a bygone era while the fun font keeps things lively. This design comes in several colorways to match your mood and you can add a sweet, personalized message to the back for a memorable card.
2. Letterboard Love Card
This sweet vintage valentine card features a vintage marquee where you can include sweet nothings or a funny phrase. Best of all, the right half of the card features a large photo box where you can share your favorite snap.
3. Outdoors Adventure Card
Have a special someone in your life who loves the great outdoors? This outdoorsy vintage valentine card is the perfect way to celebrate their personality and show you care. It features retro artwork including a vintage VW bus, classic camping gear, and hi-tops for a classic, old-school look.
4. Romantic Floral Border Card
This romantic Valentine's Day card features whimsical depictions of flowers and greenery. The typography is elegant, and there's plenty of space to share your neverending devotion to a significant other.
5. Fun Love Card
This 70s-inspired card puts a fun spin on vintage Valentine's Day cards. It features groovy flowers and comes in a variety of cheerful colors for a fun-loving greeting. It would be perfect for someone who can't get enough of the disco era. 
6. Sweet Friend Card
This floral card is perfect for a best friend who loves Victorian valentine's vibes. It features soft florals in various color palettes. Unlike paper lace ephemera, this digital invite can be saved and enjoyed for years to come.
7. Color Block Love Card
The bright colors of this bold card will catch the eye of any Valentine. While it may seem modern at first glance, the detailing creates a harmonious blend of vintage and modern styles. The typography of the word "love" is reminiscent of 1920s Art Deco style, making it a great vintage choice for lovers and friends who enjoy the Great Gatsby era.
8. Sweetheart Motel Card
Say "will you be my valentine" with this letterboard-inspired design. The retro style will bring you back to the days of drive-in movie theaters and fun evenings thanks to the classic detailing. Best of all, the letterboard is entirely customizable so you can make it a funny Valentine's card or share a romantic sentiment.
Fall in Love With Stationery
Whether you're sending a Valentine's Day card to your significant other, best friend, or family member, vintage valentine cards are a fun way to mash up different eras and create something that speaks to their personality (and your relationship). You can also customize other digital Valentine's Day cards to create the perfect look and feel for your message.
If you're looking for other ways to celebrate in vintage style, check out our guides on everything from vintage birthday ideas and vintage Christmas cards to vintage wedding invitations. You can enjoy all the nostalgia of the past while celebrating in a decidedly modern way.