November 29, 2021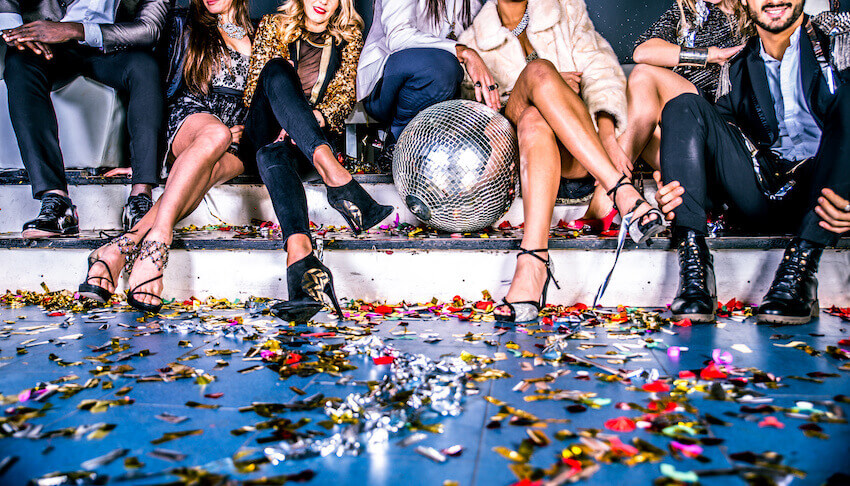 When it comes to planning a birthday party, one of the first steps is choosing a theme. And what better way to celebrate than by hosting a vintage birthday party? Vintage style is all about making something old new again, whether you choose a specific era like the disco '80s or concepts like Old Hollywood glamour.
Read on to discover our favorite vintage birthday party ideas including retro themes and decor tips. Plus, you'll find a handful of vintage birthday party invitations you can send to guests that match the mood of your event.

How to Host a Vintage Birthday Party
Hosting a birthday party doesn't have to be complicated. By breaking the process down into a few simple steps, you can plan a vintage birthday party you love in no time. Here's how to make it happen.
Pick an Era or Theme
The first thing to do is decide on a theme or era for your vintage birthday party. If you love classic Hollywood glamour, think about hosting a Great Gatsby party. This Roaring '20s theme incorporates flapper attire, geometric Art Deco shapes, and metallic accents. 
If you prefer mid-century style, think about hosting a 1950s party. You can play a black-and-white film in the background and set up a cozy seating and dining area featuring mid-century modern furniture and accent pieces.
For something still vintage but a touch more modern, you could host a totally '80s party or a '90s theme party. Grab your one-shoulder overalls and neon print T-shirts and get ready to party the night away. For these fun themes, you'll want vibrant decor including brightly-hued balloons, boom boxes, and high tops.
Choose a Venue
Once you've decided on an era or vintage theme, start searching for venues. Both outdoor and indoor venues work well for nostalgic events. Think about hosting your party at a museum, art gallery, or even space featuring pieces from your chosen era. You can also host the party at a movie theater if you're going for an Alfred Hitchcock 1950s-era bash. For a 1920s event, consider hosting the birthday party at a ballroom or in your backyard as an afternoon tea event.
Decorate the Space
Decor can really make or break a party theme. Once you know where you're hosting the party, start dressing up the space. If you're hosting a vintage birthday party celebrating a milestone — say a 60th birthday, 70th birthday, or 80th birthday party — choose the decade the guest of honor was born in. For the decor, you can incorporate vintage picture frames featuring throwback photos of the birthday boy or birthday girl. These nostalgic touches make a vintage party extra special.
Remember, your decor and birthday party supplies should match the era or theme you've chosen. That means picking glamorous elements like Art Deco centerpieces, feather boas, and fedoras if you're hosting a 1920s shindig. For a 1950s party, you might choose pinup-style decor and fashion including polka dot dresses and cigarette pants.
Feed the Masses
It's not a party without food, but you can decide if you want to set out hors d'oeuvres or go for a full meal spread. Again, the food should match the theme whenever possible. For a vintage birthday party celebrating the 1960s, global cuisines are a fabulous choice. A 1920s theme could feature cheese and olive platters or oysters Rockefeller.
Don't forget about the birthday dessert. Order a special vintage birthday cake from a local cakery or make your own cupcakes for a more affordable option. You can lean into the vintage theme by adding a cake topper featuring popular items from the era you've chosen — a record player, mini collectible classic car, and stamps all work well.
Your decor can also extend to your tableware such as napkins and tablecloths. For instance, a 1920s theme is perfect for golden cutlery and metallic runners while a '90s party will have bright colors and funky shapes incorporated into the design.
Vintage Birthday Invitations to Inspire You
You've selected a theme and you have all the vintage birthday party supplies you need. Now it's time to start sending out invites. Get guests excited for the big day by sending out an invitation that matches your party theme. 
At Greenvelope, we offer a huge selection of birthday greeting cards and birthday invitations — including vintage cards and retro birthday party invitations. Whether you're hosting a vintage party for a child or celebrating a 30th birthday or 50th birthday, you'll find an invitation to match. Here are some of our favorite vintage birthday invitations to consider.
1. Vintage Balloon Invitation
This whimsical invitation is perfect for hosting a vintage garden party or tea party. The sweet hot air balloon and bunny rabbit make it perfect for celebrating the birthday of younger children. It's also ideal for 1950s parties as well as older vintage events celebrating the 1800s.
2. Party Pattern Invitation
Party like it's 1999 and say happy birthday with this colorful birthday invitation. It's great for a teen who feels like they were born in the wrong decade or to revisit your glory days in high school when celebrating your next birthday bash. The squiggly lines and vibrant colors are right on theme for an '80s or '90s party.
3. That 70s Party Invitation
This '70s party invitation is a fun and funky way to celebrate a vintage birthday. The color scheme and typography can be customized to suit your preferences and there's plenty of room to include event details.
4. Strike Invitation
If you've settled on a 1960s birthday party theme, get ready to rock 'n' roll with friends and family using this bowl-tastic invitation. One of the era's favorite pastimes, this invitation features a bowling pin and sign in the style of 1960s bowling alleys. 
5. Record Player Invitation
This retro invitation features a record player and vintage detailing, making it perfect for most party themes that focus on any decade throughout the 1900s. Change up the color palette to match your party decor for a cohesive look.
6. Misbehave Invitation
Celebrate a vintage birthday party set in the Roaring '20s with this metallic invitation. The luxe Art Deco design and gold accents are right at home with the era's most popular elements.
7. Mis Quince Años Invitation
This vintage invitation is perfect for a retro-themed quinceanera. It features illustrations of vintage roses and you can upload your favorite birthday images to celebrate the honoree.
8. Groovy Flowers Invitation
This delicate invite features pastel florals that almost look like a watercolor painting. It's ideal for celebrating the birthday of a young flower child as well as for adult birthday parties.
Throw It Back With a Vintage Birthday Party
Whether you're hosting or attending the event, a vintage birthday party is a great way to get nostalgic and throw it back to the good ol' days. With these vintage birthday party ideas, you can host a huge range of events — from glamorous flapper parties to funky 70s events. 
At Greenvelope, you'll find everything you need to celebrate a vintage birthday. From vintage birthday cards to vintage birthday invitations, you'll find a design for every era. Don't forget to keep scrolling through our Stationers blog for more party ideas, planning tips, and theme inspiration for your next event.