December 21, 2021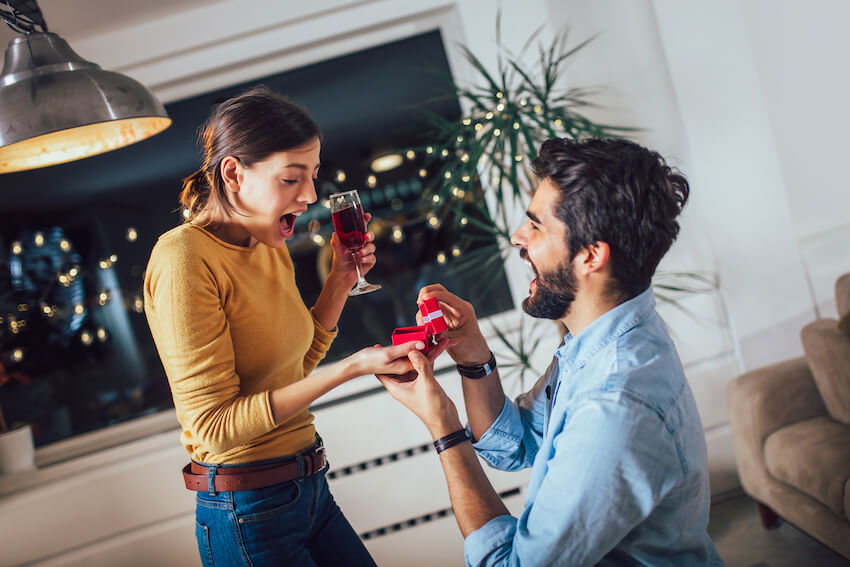 There's nothing better than the comfort of your own home. It's the place where you spend so much of your life and where you create countless memories. That's what makes it one of the sweetest places to stage an epic proposal.
Let's take a look at some of the best proposal ideas at home. From board games and puzzles to dinner dates and doggy snuggles, we've got everything you need to create the perfect setting for asking the big question. 

15 Romantic and Fun Proposal Ideas at Home
There are so many options when it comes to proposal ideas at home. Whether you want a cozy movie night or a glam surprise cocktail party, there are plenty of creative and thoughtful marriage proposal ideas to consider. 
If you're looking for a lovely way to pop the question, here are some of our favorite home proposal ideas. 
1. Romantic Dinner Date Night
Treat your significant other to their favorite meal, but this time make it extra special with a proposal. Whip up a delicious dinner or bring in a multi-course meal from your favorite restaurant. Dress the table with candles and your best glasses, and set the atmosphere with a chill playlist. Enjoy dinner together then pop the big question over dessert, or whenever the moment strikes. 
2. Relationship Slideshow
If you're super sentimental, this is one of those proposal ideas at home you'll love. Put together a slideshow or video montage featuring clips from your relationship and love story so far. Recall the moment you first met, your first date, and all the other milestones since. At the end of the slideshow or video, ask your beloved to marry you. 
3. Romantic Movie Night
Your home proposal doesn't have to be grandiose — it can be as simple as the two of you getting cozy on the sofa watching one of your favorite movies. Queue up a classic movie you both love or something new with a romantic theme, and be sure to have some of your favorite snacks on hand. As the credits roll, surprise your partner with a proposal — perhaps with a few lines or a favorite quote taken from the movie. 
4. Living Room Picnic Proposal
If a fancy meal isn't your style, how about a romantic picnic instead? Prepare some tasty picnic food in your kitchen or order in a platter from your favorite local deli to stage a picnic in your living room. Set up a cozy picnic blanket, put some fresh flowers in a vase, and pour a bottle of your favorite wine. Enjoy the food and drink together, then find the perfect moment to make the ask. 
5. Pop the Question With Your Pets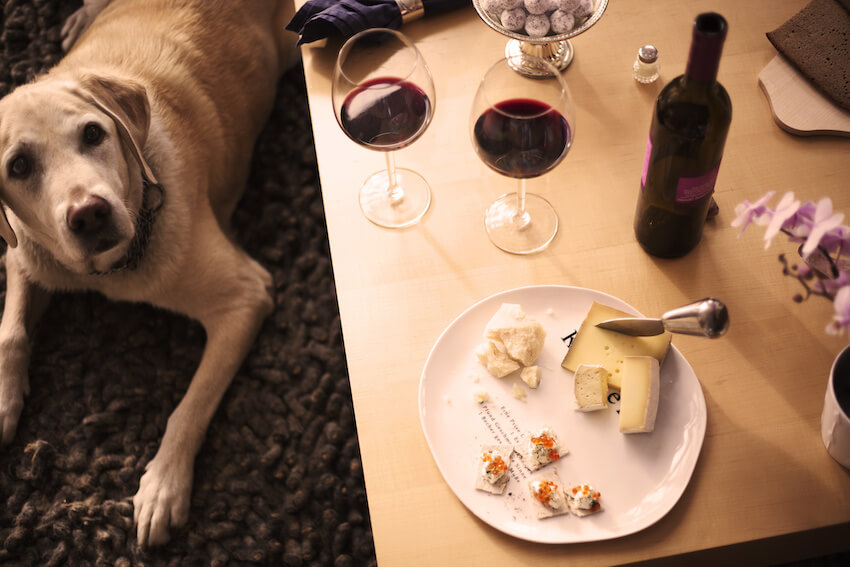 If you have animal friends in your home, get them involved in the act. After all, pets are truly a part of the family. Guide your beloved doggy into the room with a ring box, tie a note to your cat's collar, or place a ring next to your fish tank before you pop the question. No matter how you include your pet as part of your proposal, it's bound to be special and memorable. 
6. Recreate Your First Date
There's something so lovely and sentimental about reminiscing about your first date. Whether it was adventurous, intimate, or something in between, you can have fun trying to recreate the moment. For example, if you went bowling, buy a home bowling set, crank up some tunes, and serve no-frills fare like hot dogs and chips. Whether it's romantic or silly, recreating your first date is one of the most thoughtful proposal ideas at home. 
7. Romantic Treasure Hunt or Scavenger Hunt
Send your beloved on a treasure hunt or scavenger hunt around your home and backyard to uncover clues about exactly what's happening. If they haven't guessed it by the end, now's your moment to pop the question. This is one of those proposal ideas at home that works great if you love games — plus, it allows you to get really creative. 
8. ​Surrounded by the People You Love
Just because you're proposing at home doesn't mean it has to be a solo moment. Make it feel even more special by popping the question surrounded by the people you love most. This is a wonderful (and easy) way to involve close family members or friends who you'd like to witness the big reveal. 
9. Backyard Serenade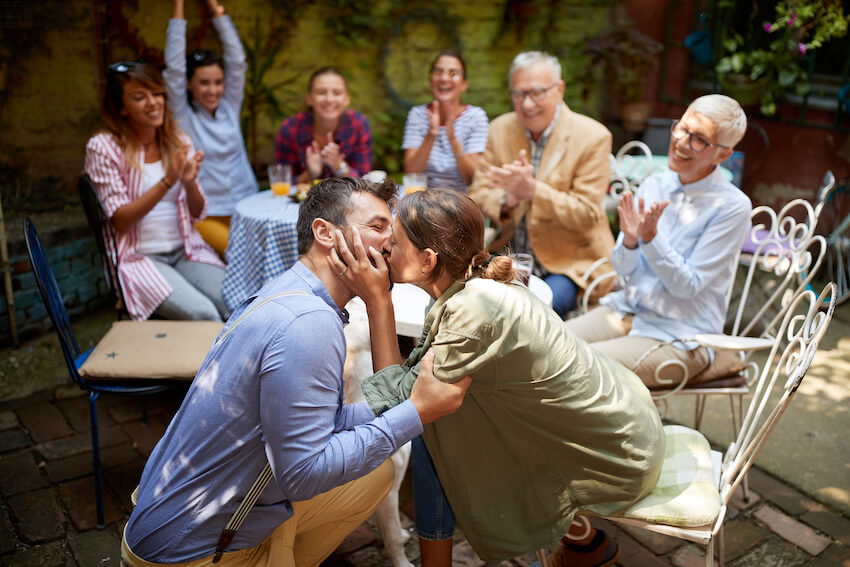 This is one of those proposal ideas at home that's perfect for those who are a bit more extroverted. Invite your loved one to join you in the backyard, against a backdrop of fairy lights and greenery, as you serenade your partner with a love song. As the tune ends, get down on one knee and ask them to marry you. This makes for an incredibly romantic proposal story — even more so if you can have someone record the moment. 
10. Breakfast in Bed
Enjoying breakfast in bed is one of those rare treats that people seem to truly enjoy. And what could be more joyful than popping the question before noon?! Fill a beautiful breakfast tray with plenty of delicious treats and spruce it up with rose petals (or their favorite flower) and a bottle of bubbly. For the engagement ring, place it in a silver food tray with a lid. Then, pop the question before the meal so you can toast the great news together.
11. In a Living Room Den
Forget camping — propose from the comfort of your own home by creating an indoor den instead. Get inspired by the great outdoors but combine it with your favorite create comforts — yummy food, cozy blankets, and your favorite book that you can read together. When the moment is right, dim the lights and ask the big question. 
12. With a Jigsaw Puzzle
If you love a little mystery and like doing activities together, have a custom jigsaw puzzle made that reveals the question right at the end. You can make it ultra-easy or create a masterpiece that'll take the two of you all night to tackle. What matters is their answer at the end of it! 
13. Playing Board Games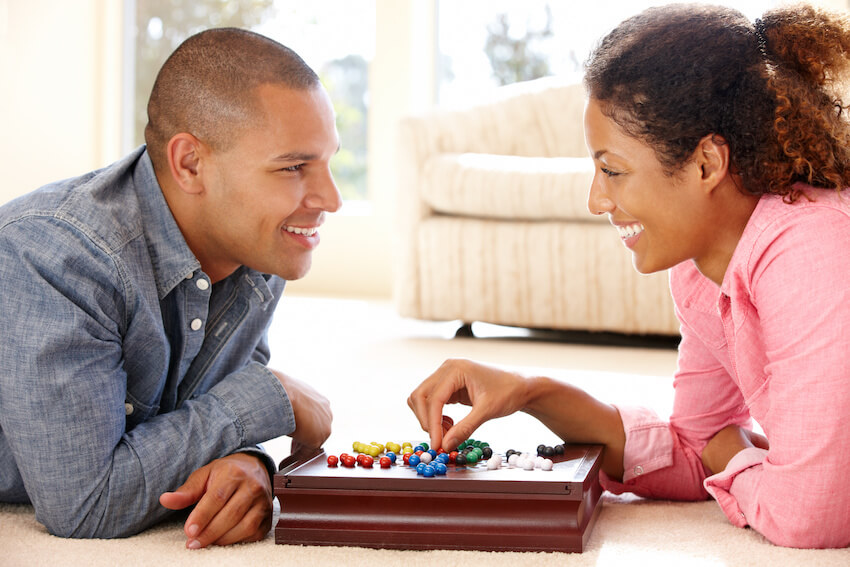 You don't have to spend a lot of money or redecorate your whole place to stage a thoughtful proposal. A low-key yet sweet way to pop the question is to use Scrabble tiles to spell out "Will you marry me?" or you could simply go in for a casual ask at the end of your favorite board game. 
14. With a Chalkboard Sign
Chalkboard signs are all the rage as wedding decor, but they can also present you with the ideal backdrop for a romantic proposal. Write "will you marry me?" in your best handwriting and set the scene for a cozy proposal at home for the person you love most in the whole world. 
15. Host a Surprise Party
While most of these moments are surprise proposals anyway, you can make your home proposal even more exciting by throwing a surprise party to go alongside it. Invite your loved ones over for a surprise party in honor of your partner, then unveil it as a proposal and immediate engagement party! 
Beautiful Engagement Announcements to Share the News 
Need a great way to share the news of your big moment with friends and family members? Sending a digital engagement announcement is a lovely way to let people know.
Share a happy photo of the two of you from your home proposal, or book an engagement photoshoot and show off your gorgeous new engagement ring. Whichever imagery you'd love to use, Greenvelope makes it easy. Choose one of our beautifully designed engagement announcements and customize it with your own colors and wording, then send it far and wide to everyone you love. 
To help inspire you, here are a handful of our most loved designs. Each one can be personalized to transform it from a template into your very own heartwarming engagement announcement card. 
Cupid Has Been Busy Engagement Announcement
How stunning is this stylish engagement announcement? We adore the mix of simplicity with the sweet, romantic color palette. It's available in five different options or you can personalize it with your favorite color instead.
Love and Light Engagement Announcement
The hint of rainbow colors against the soft gray makes this love and light engagement announcement feel really special. It's the perfect way to share your joyful news with everyone around you. 
Brushed Cut Out Announcement
There's something lovely about the rustic edges on this brushed cut-out announcement. We love how this design highlights the engagement photo and creates a truly impactful look. It's a sweet way to tell the world you're engaged. 
Create a Lovely Moment with These Perfect Proposal Ideas at Home
Your home could be the ideal place to ask your loved one to marry you. With the help of some flower petals, a romantic (or fun) playlist, and a glass of their favorite wine, you can transform your space into a romantic proposal paradise.
Take inspiration from these proposal ideas at home to help you create a moment you'll remember forever. Whether you stage an impressive recreation of your first date or get cozy under a blanket fort, you can stage the perfect proposal for your partner. Then, it's on to sending your engagement announcements before you start planning the big day. For more ideas, scroll through our wedding guides that will help you every step of the way.