February 12, 2020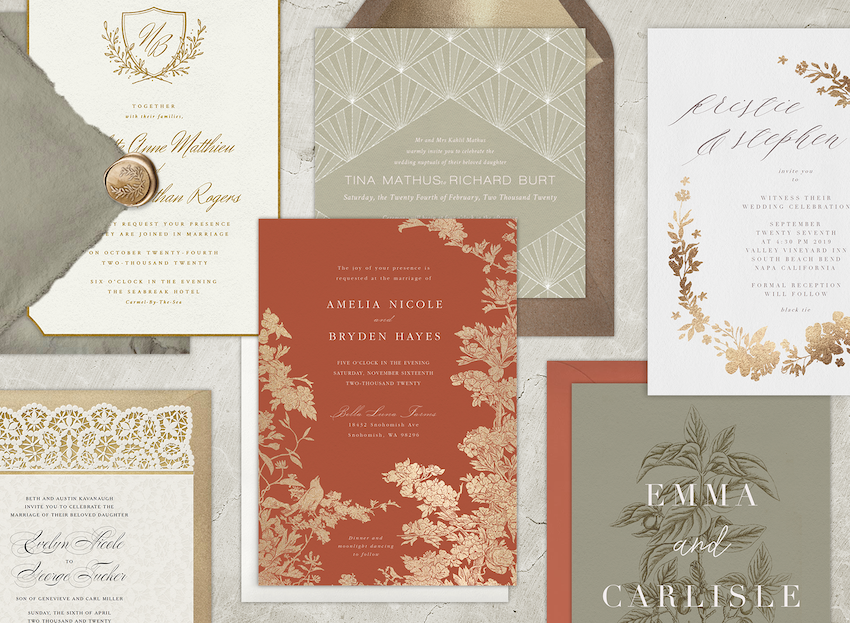 You never liked the word "old." To you, something only gains character, charm, or even wisdom with age. You utterly lose yourself in consignment shops, you decorated your home with antique finds, and you are currently in the midst of planning a vintage-chic wedding ceremony. To complete your what's-old-is-new wedding decor, you need vintage a wedding invitation that ages like a fine glass of wine.
So bring out the lace and burlap, the bowties and suspenders, and the weathered mason jars and wine glasses. Your special day will be filled with vintage finds, pulling off that antique-chic look you love so much.
To help carry out your vision, we've pulled together 13 of our favorite vintage wedding invitations. Decorated in old world calligraphy, exquisite lace, and worn textures, you're sure to find one that suits your refined tastes.

13 Vintage Wedding Invitations That Prove What's Old Is New
You always imagined your wedding would be one of show-stopping charm. You want to weave in family heirlooms and traditions, walk down the aisle with greenery and wildflowers rather than lilies and roses, and mix various antique pieces into the decor. To pull off your timeless, dream wedding, here are 13 vintage wedding invitations we can't stop thinking about.
1. Vintage Bouquet Invitation
For your traditional ceremony, you're thinking timeless aesthetics: overflowing bouquets, gold accents, and a not-your-grandma's-lace wedding dress. This elegant floral wedding invitation fits right into your vision, featuring a chalkboard etching of rose buds and greenery. Set your design in a white, blush, lavender, or green background, or customize it to fit your wedding colors.
2. Vintage Romance Invitation
You always dreamt of throwing a traditional wedding ceremony. Now that your special day is fast approaching, you love the planning process 'ÄĒ going over each delicate detail with poise and precision. You'll spare no expense (except the budget you save with online invitations, that is) on elegant place settings, floral centerpieces, and satin tablecloths. This romantic wedding invitation suite¬†is fit for your wedding nuptials, embellished with textured florals, a soft green background, and elegant calligraphy.
3. Rustic Lace Invitation
As a soon-to-be wed couple, you have opposite tastes: You have your heart set on an over-the-top reception, but your partner-to-be wants a bit more rugged charm. To blend your vintage style with their rustic, outdoor vibe, you're planning a beautiful garden wedding ceremony and reception.
As an ode to your first great compromise, send out these wood wedding invitations, set in a weathered background with a delicate lace design in each corner. Now, fingers crossed it doesn't rain on your beautiful day. (Although, on second thought, isn't that supposed to be good luck?)
4. Anemone Blossoms Invitation
Like an old, weathered book, this lovely wedding stationery is fit for your vintage wedding theme. Old world calligraphy captures the happy couples' names, while the invitation wording is set in block serif fonts.
The tattered feel is carried through the save the date card and thank you note, with all three enclosed in silver shimmer envelopes. With such a timeless design, this template lets your guests know your wedding is one for the ages.
5. Antique Florals Invitation
Who can possibly resist the faded, antique feel of this vintage invitation? With a deep green background and hand-drawn florals seeded in blush and brown, it's a lovely invitation suite for your big day. The save the date card has room for one of your engagement photos, helping increase excitement for this precious milestone.
6. Church Window Invitation
You always imagined a traditional ceremony, but your fun-loving side wants to mix modern tastes with vintage vibes. This retro invitation comes with an almost neon color palette, giving a complete overhaul to your church's stained glass windows. Choose from aqua, hot pink, or tangerine accents, carried through the text, illustrations, and envelope lining.
7. Letterpress Love Flourish Invitation
You can't deny the light, airy theme radiating from this invitation, ideal for any vintage ceremony. Each of the five color palettes are muted, and set in an off-white backdrop. The words "We're tying the knot" are scribbled across the top of the invite in elegant calligraphy, complimenting your refined wedding style.
8. Baroque Corners Invitation
With a stunning gold border, strong typography, and art deco corners, this vintage wedding invitation is utterly timeless. The grand calligraphy and baroque illustrations give it a renaissance feel, quintessential of old world origin. The glossy, gold envelope completes the elegant suite (and adds a little bling beyond what you're wearing on your ring finger).
9. Lovely Lace Invitation
Could this beautiful wedding invite be any more delicate? This rustic wedding invitation features a monogram of the happy couples' initials, wrapped in an intricately detailed lace border. The invitations' square shape adds a modern element to the design, while the all-white text adds to the vintage feel. Looking to complete the wedding ensemble? Add a black and white photograph to the save the date card for a timeless touch.
10. Once Upon a Time Invitation
You always imagined being whisked away by your knight in shining armor, and now that your wedding day is fast approaching you can't believe you found that person. This fairytale wedding invitation features ornate calligraphy, a pastel color palette, and a castle illustration. With such an enchanting suite, it will remind your guests that dreams really do come true.
11. Botanique Invitation
With tattered edges, this vintage floral invitation almost looks like it was torn from an old book. A single green wreath is the invitation's only illustration, balancing minimalism with luxury. The couples' names are written in thick, cursive font, a feature that's carried throughout the entire invitation suite. A shimmering, white envelope encloses each piece of the ensemble, a hint at your ornate wedding day.
12. Burlap and Lace Invitation
With rustic details and classic typography, this lace wedding invitation is the epitome of vintage chic. Burlap serves as the background, while delicate lace creates a top and bottom border. With a gold-foil-lined envelope and a modern, neutral color palette, this gorgeous invitation is far more chic than shabby.
13. Watercolor Botanicals Invitation
With a worn, textured look and tattered exterior, this vintage wedding invitation is an ideal fit for your ageless aesthetic. With a navy blue background, blush pink fonts, and a watercolor border decorated in wildflowers and peonies, it's suitable for an indoor or outdoor ceremony. Available in six different colorways, it could easily be customized to match your wedding day decor.
Add One Modern Touch to Your Vintage Ceremony
From all of us at Greenvelope, we hope you have a wonderful wedding day. We extend our utmost congratulations to you and your soon-to-be partner for life.
Greenvelope adds one modern touch to your vintage invitations. We send your invitations directly to your guests' inboxes. There's no licking envelopes, tracking RSVP cards, or asking your extended family for their updated physical addresses. Instead, simply upload a .CSV file of your guests' email addresses, and your beautiful invites will land in their inboxes.
We love vintage-chic style. But unlike wine, cheese, and your relationship, not all things get better with time 'ÄĒ and we believe that when it comes to invitations, it's time for a little update.