October 18, 2021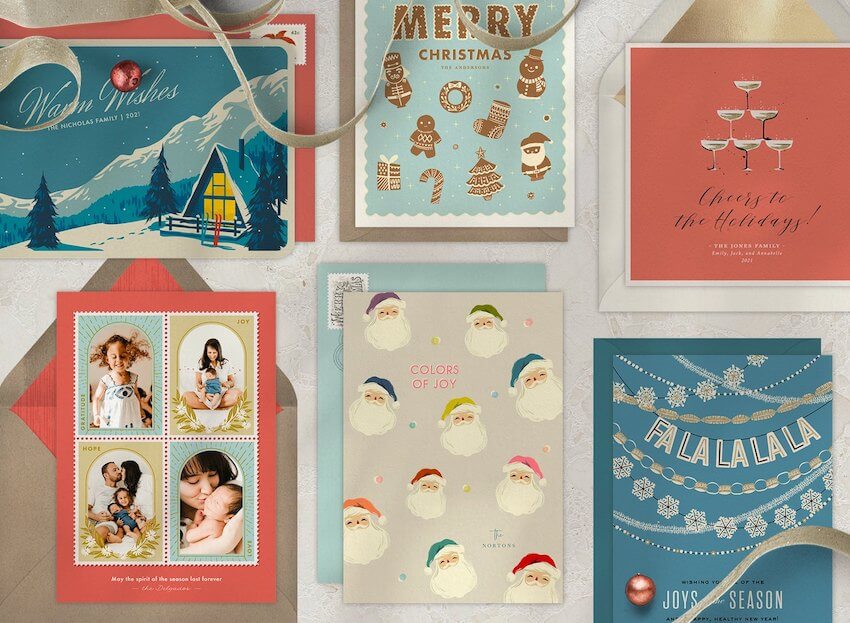 It's Christmas time, and there's something about this season that's got us feeling nostalgic. So, we've decided to celebrate in style — vintage style. 
Whether your idea of a vintage Christmas includes a retro car or a Victorian house and a holiday wreath, we've found a Christmas greeting card to match. 
Break out the eggnog, string some popcorn garland, and send season's greetings to all your loved ones. These 17 vintage Christmas cards will complete your classic (and classy!) celebration. 

17 Vintage Christmas Cards to Spread Some Cheer 
Each of these nostalgia-inspired designs is brimming with vintage Christmas charm. Pick your favorite or browse more vintage holiday cards. Then customize the text to create the perfect message for your loved ones. We're already feeling the joy. 
1. Retro Merry Card
This greeting card design features stylish block text in unconventional shades of red and green. The shape of a holiday ornament appears as a simple color block pattern, and at the center of that ornament is a snowflake design that mirrors a mid-century modern asterisk — a hallmark of that vintage style. 
2. Cozy Christmas Card
If decking the halls is your favorite part of the holiday season, then celebrate hearth and home with this Cozy Christmas Card. The illustrations make us feel like a kid again — flipping through the pages of a children's book as we wait for Santa to come. You can customize the text to read "Happy Holidays" or "Merry Christmas." 
3. Santa Claus Card
With its bell-shaped illustration of Ol' Saint Nick, this card has "classic Christmas" written all over it. OK, technically it has "Merry Christmas" written all over it, but you get what we're saying. The rich colors and scrolling cursive font look just as timeless today as they would have 50 or 100 years ago. 
4. Baby Manger Card
This sweet nativity scene is available in four different color schemes — all with muted palettes inspired by the 1970s. Baby Jesus is surrounded by baby animals, and the message will let your loved ones know: All is calm, all is bright. 
5. Festive Geo Magic Card
This card is a kaleidoscope of Christmas. The richly colored pattern features geometric shapes that alternate between Christmas trees, holly leaves, ornaments, and poinsettia flowers. At the center of the card, there's room for the most important part of the holiday season: your family. Customize it with your favorite family photo to show loved ones near and far how much everyone has grown.
6. Pumped Card
For something a little unexpected, this holiday greeting card features an illustration of a retro gas station pump. We love the juxtaposition of the vintage-inspired artwork and the modern slang, with text that reads "Pumped for the holidays."
7. Winter Scene Card
Anyone who's spent Christmas in the Northeast (or seen a TV Christmas movie) will recognize this small-town charm. From the snow-covered trees to the red brick buildings, the winter scene on this vintage Christmas greeting card has us dreaming of a white Christmas. The back of the card even features a little Christmas surprise — a photo of you and your family. 
8. Festive Mantle Card
This vintage Santa Christmas card adds a little humor to your holiday with an illustration of Father Christmas's legs dangling above the fireplace. The mantle is decked out with all the classic holiday decor, and the color palette is a peaceful pastel pink. 
9. The Most Wonderful Card
Celebrate all your favorite winter fun with this hand-illustrated winter scene. It features simple characters sledding, building a snowman, trimming a Christmas tree, making snow angels, and walking with a warm beverage in hand (our favorite form of winter fun). All these scenes surround playful scrolling text and appear under a flurry of snowflakes. 
10. Sleigh All Day Card
The illustration on this Christmas holiday card may be vintage, but the message is very now. With "Sleigh" scrolled out between Rudolph's antlers, this card features a sassy reindeer who is here to remind your friends and family to "Sleigh All Day." Add Happy New Year wishes below the text, and this card will be ready for Christmas and beyond. 
11. Little Red Bug Card
Featuring a vintage "Bug" with a Christmas tree tied to the roof, this watercolor holiday card brings a little slice of Americana to your holiday season. The car and tree contrast in those classic Christmas colors of red and green for a look that's somehow managing to be both cute and elegant at the same time. 
12. Very Merry Banner Card
Here to prove there's beauty in simplicity, this Very Merry Christmas greeting card features a hand-lettered cursive font, loosely adorned with holly berries and pine sprigs. It has the look of a vintage letter-pressed greeting card. 
13. Nordic Christmas Tree Card
This Scandinavian-inspired Christmas tree card has us feeling the holiday hygge. We want to send these Christmas wishes out to our friends and family, then light some candles, grab our coziest blanket, and curl up with warm apple cider. 
14. Gingerbread Cookies Card
Take your vintage inspo from one of the season's oldest desserts (although we certainly hope any gingerbread you eat this holiday season isn't literally the world's oldest dessert!). The illustrated frame on this Christmas card features scalloped edges, decorative gingerbread icons, and a neutral 1970s color palette. Add your own photo in the center to send love from you and your family. 
15. Navidad Card
Send season's greetings in two languages with this Feliz Navidad greeting card. The block letters feature a mid-century modern design with alternating argyle, asterisks, and diamond patterns, while the color scheme is reminiscent of a bright Mexican fiesta. This design is a great way to celebrate Latin heritage or your favorite Christmas song — add a Happy New Year message by including the lyrics "PrĂłspero año y Felicidad" in your message. 
16. Deco Lines Card
This understated vintage Christmas card is all about your holiday photo. The simple design frames the photo with a geometric Art Deco pattern so you're ready for a glamorous Gatsby-era holiday. Plus, the signature color of Art Deco design — gold — keeps things Christmasy.
17. Peace on Earth Ornaments Card
This holiday card features a vintage illustration and a timeless message. Three hands with different skin tones hold up vintage ornaments that, together, read "Peace on Earth." It's the perfect message to send to all the different people you love and care about. 
Send Old-Fashioned Greetings in a New-Fashioned Way
There's a lot we love about old-fashioned Christmas cards. The sentiment. The style. The spirit of the season. But there's one thing we don't love: the waste. 
Over 700,000 trees are cut down to make Christmas cards each year. And while we love the style of the past, we want to protect the future. Digital Christmas cards are a sweet and simple way to prevent holiday waste. 
Plus, digital cards are easy to customize and send. If you love writing a holiday letter, you can even add a link right on your card. Then, just upload your loved ones' email addresses, and hit send. Your vintage Christmas cards will be delivered faster than Rudolph can run. 
Browse over 400 digital Christmas cards to find the perfect match for your vintage holiday.