January 16, 2020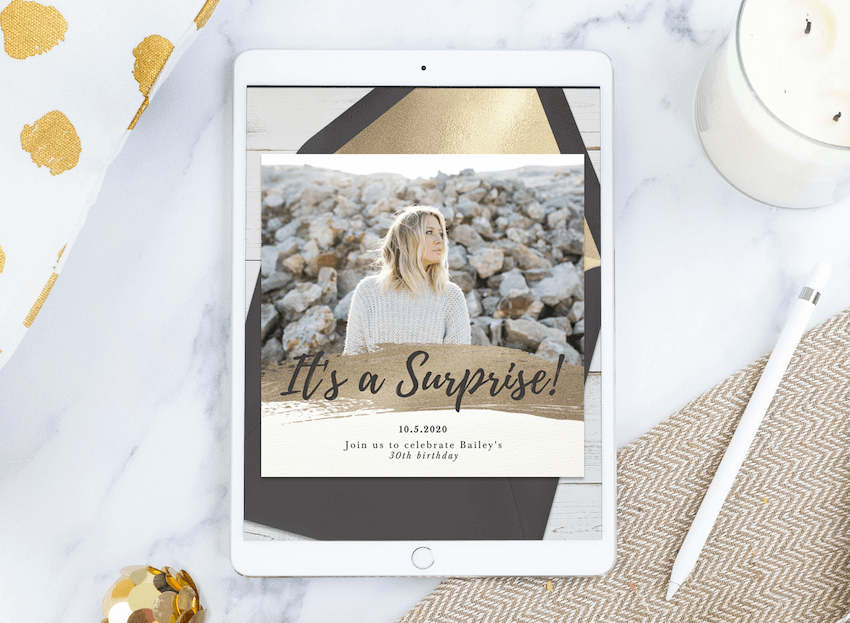 Not to toot our own, but — toot! toot! — we're sort of professional surprise party planners. Detectives envy our secrecy, our lips are always sealed, and our surprise party invitations — they don't leave a trace of evidence.
That's right. Your guest of honor can dust for fingerprints and search our (snail)mailboxes with a magnifying glass, but our surprise invites will go undetected. Why? Here's a bit of not-so-classified information for you: Our paperless invites don't use RSVP cards, address labels, or stamps. No paper, no evidence.
So put us under the microscope all you want. These surprise party invitations won't be found.

12 Surprise Party Invitations for Your Top-Secret Celebration
If you're trying to keep a certain surprise party under lock and key, we think we can offer our assistance. These paperless surprise party invitations will keep every party detail sealed as classified information.
1. Retro Surprise Invitation
Can you keep a secret? A big surprise party is in the works! This fun invitation contains a cheerful, coral background with the words, "Shhh" written in bubble lettering across the front. With a white, blush, and red color palette, this bright invitation is a bit louder than your guests will be prior to the party (at least, we would hope so). Hopefully, everyone you invite will be able to keep their lips sealed before the guest of honor arrives.
2. Modern Surprise Invitation
Planning a surprise birthday party for a special someone? This surprise party invitation will help keep everything under wraps. With a watercolor silhouette as a background, this design radiates top-secret information. Now, just be sure every guest is able to comply with your sneak-attack surprise party game plan.
3. Surprise Grid Invitation
Tread quietly now … you have a surprise party to plan. This simple invitation contains a clean, white background with sans serif fonts. In an all-blue color palette, it would be ideal for a surprise baby shower, bridal shower, or birthday party. Whatever the occasion, you can easily customize the text to reflect the celebration. Keeping the big secret, on the other hand, may prove much more difficult.
4. Starry Surprise Invitation
Star light, star bright, what secret shall we keep tonight? This gorgeous surprise party invitation is incredibly elegant, featuring a deep, navy blue background with gold foil lettering. The sophisticated detailing gives the effect of a starry night sky, the perfect theme for a milestone birthday. Customize this beautiful surprise invitation to unveil a 50th birthday invitation, 60th birthday invitation, or other momentous occasion.
5. Confetti Burst Invitation
Who's ready to party? Hide the balloons and stash a few extra bottles of champagne under the bar because this party is ready to get uncorked.
If you're planning a surprise party that includes popping bottles as much as it does pops of color, this fun, surprise birthday invitation might be a wonderful prelude to the party. Customize the text to say, "Classified: Jen's Surprise Party Mission" or "Party on Lockdown: Ben's 30th Surprise Party!" to let your collaborators in on the undercover operation.
6. Scrapbook Invitation
Whether you're throwing a surprise anniversary party for your parents, grandparents, or best friends, this photo invitation could be the heartfelt design you're looking for. Featuring a chalkboard background and a pale, blush script, this invitation features placeholders for two photos — one from their year of marriage and another from present day.
At the party, set out a collage of photos celebrating all their years of marriage. Now, how you're going to MacGyver all of those photos out of their scrapbooks and into the party … well, we'll leave that up to you.
7. It's a Surprise! Invitation
Shhh … it's a surprise party! This adult birthday invitation makes it clear that you're planning a secret celebration, with "It's a Surprise!" written in cursive across the front. Beneath the header, you'll find space to include the top-secret details of the celebration. With a flattering photo of the guest of honor serving as the background, this card is a wonderful prelude for anyone celebrating a 40th birthday all the way up to a 100th birthday.
8. Party Script Invitation
Trying to keep a surprise party a sneak-attack affair is complicated enough, so when it comes to party favors, decor, and the actual invitation, you're looking to keep things simple.
This surprise party invite is clean and simple, leaving plenty of space for you to write the details of the mission-impossible celebration. With a plain, white background and warm color palette, this invitation could easily be personalized for a surprise birthday party, retirement party, or anniversary celebration.
9. Birthday Sparklers Invitation
If you want to upgrade from birthday candles to a birthday cake lit with sparklers, be our guest (just make sure to keep those things hidden). This surprise birthday invite screams, "Big bash of the year," with a collection of fireworks scattered around the background.
So go on and have your fun, and plan an over-the-top, cloak-and-dagger celebration for your birthday honoree. Just remember, that every party detail (yes, even the flammable ones) has to stay hidden until every guest is ready to shout, "Surprise!"
10. Bold Surprise Invitation
Is a friend or loved one baking a little bun in the oven? While she's waiting to pop, are you bursting at the seams to throw her a first-class surprise baby shower?
This adorable card can easily be personalized to work as a surprise birthday or baby shower invitation. Featuring a baby blue, pink, or gender-neutral yellow color palette, it comes decorated in bold stripes and a lovely hand-written script. Your only hiccup? Making sure the party happens far enough ahead of the due date!
11. Surprise Party! Invitation
Let's face facts: Planning a surprise birthday party is fun. Sure, every time you're around the guest of honor, you find yourself second-guessing every word you say, but that only adds to the excitement.
With this bright and cheery surprise birthday party invitation, you're sure to get the other co-conspirators as pumped as you are. Great for birthdays of all ages, the playful letters and colorful polka dots will certainly help build the party anticipation.
12. Donut Secret Invitation
Are you trying to keep a surprise party under wraps? Well donut spoil the surprise! This fun and youthful design features a pale, seafoam green background with a donut illustration in the center. Ideal for a surprise birthday party, there's plenty of space to write the details of the event toward the bottom of the card. Be sure to tell your guests to keep the party a secret until the big day.
Greenvelope Can Keep a Secret 
Now, persuading each and every guest to keep their lips sealed? That's where we bow out.
While we can't ensure that one of your co-conspirators won't blurt out the big surprise, we can ensure that the honoree won't find evidence prior to the party. With Greenvelope, all invitations are sent directly to your guests' inboxes.
There's no secretly-stuffing envelopes, guarding mailboxes, or hiding address labels. Just quickly — and discreetly — customize one of our surprise party invitations according to your needs, upload your guests' email addresses, and walk away from the computer.
If your guest of honor is known for being quite the detective, we assure you that we won't leave evidence behind. But when it comes to face-to-face conversations, all we can advise is … try to avoid eye contact.