December 22, 2020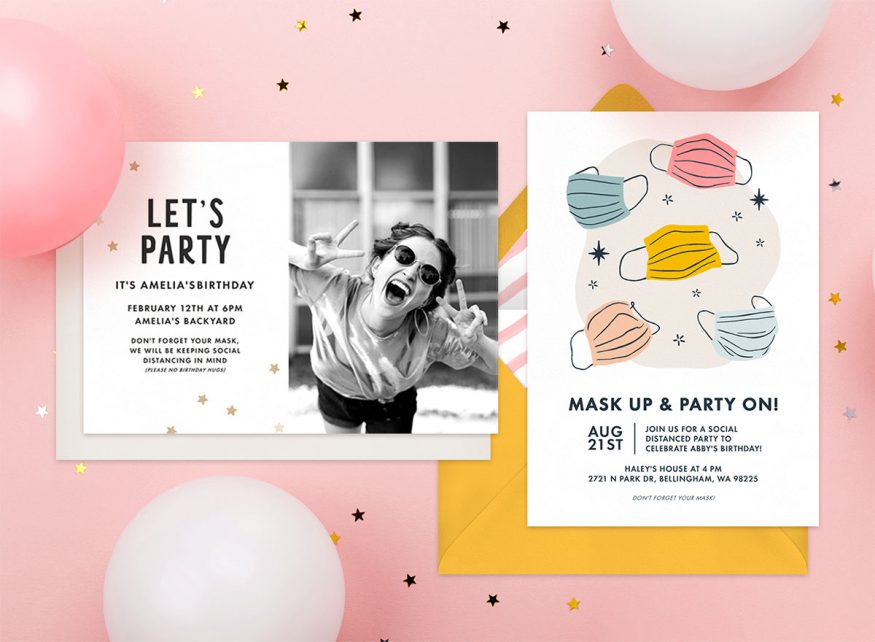 If there's one term we'd like to erase from our vocabulary, it's the "new normal." The coronavirus has brought a lot of new elements into our lives — new surges, new lockdowns, new social distancing guidelines — but there's nothing normal about living through a pandemic.
In fact, COVID-19 has made a lot of normal life events — from grabbing coffee with a friend to celebrating the birth of a new baby — increasingly abnormal. And yet, we persevere, finding new ways to celebrate with social distancing events. 
Hosting a social distancing event isn't just about revelry. It's about spreading joy (not germs), spending time with our loved ones and our community, and helping to raise spirits when we all need it most. 
With this guide, you can plan a safe, socially distanced event. We've put together tips for protecting your guests and for hosting three different kinds of events, ranked from safe to safest. 

How To Host Safe Social Distancing Events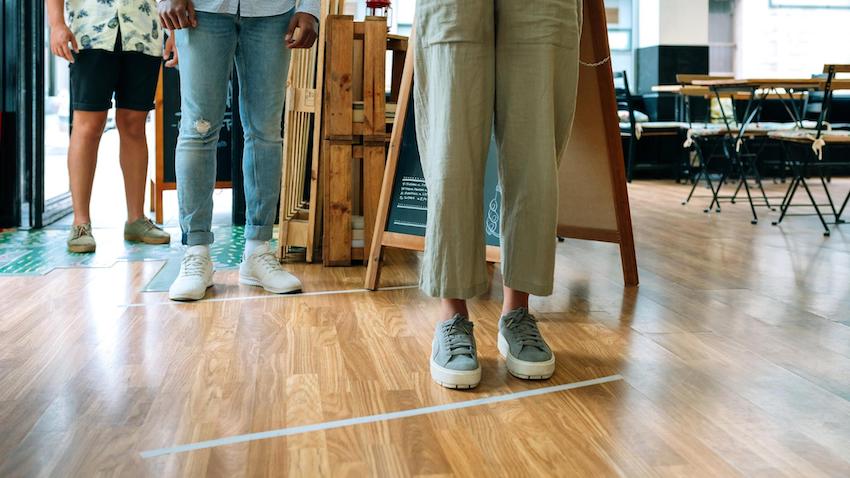 The safest way to host a socially distanced event is to go virtual. But even if you're hosting an in-person event, there are ways to decrease the risk of spreading coronavirus. 
Basic Safety Measures
Follow the CDC's guidelines for social distancing. Ask all your event attendees to wear masks and encourage them to use other protective equipment, like face shields and gloves. You can provide disposable face masks and set up hand sanitizer stations in case anyone arrives unprepared.
Physical Distancing Measures 
To encourage physical distancing, add markers every six feet so guests know where to stand. Avoid activities that encourage close contact like dancing, and opt instead for activities like yard games that allow for more social distance.
Design your event space to discourage attendees from crowding in one area. Look for outdoor spaces and reserve two to three times more space than you normally would for events of the same size. 
If your event includes a bar, set up multiple small bars instead of one central bar. If guests will sit at tables, opt for small tables that only seat a few guests each. Don't place any activities, food, or drink stations near the entrance of your event so that guests won't congregate where other attendees are entering. 
Additional Safety Measures for Corporate and Community Events
If you're hosting a corporate or community event, event ticketing can help you monitor the number of people attending. Ticketing also allows you to limit the number of people or create staggered start times. With staggered start times, you can host a larger event, but still keep the numbers small throughout the day. 
If you're worried about a large crowd, go invitation-only instead of advertising on social media, or host a last-minute popup. A popup is a great way to engage your community if you run a local business or restaurant. 
Announcing your popup at the last minute (think 24 hours in advance) means fewer people will be able to attend — you can reach out to your entire social media community and allow them to self-limit. 
No matter how many safety measures you put in place, high-risk individuals should not attend in-person events — consider live streaming your event so they can still feel like they're part of the fun.
3 Ways To Host Social Distancing Events
There are three ways to maintain social distancing while hosting an event: go outdoors, limit the number of people, or opt for a virtual event. Even though you won't be physically close to your guests, each of these options provides plenty of opportunity for fun. 
Here's what to consider when hosting each type of event, plus ideas for activities that will make your day feel just as exciting as a pre-COVID shindig.
Safe: Take Your Event Outside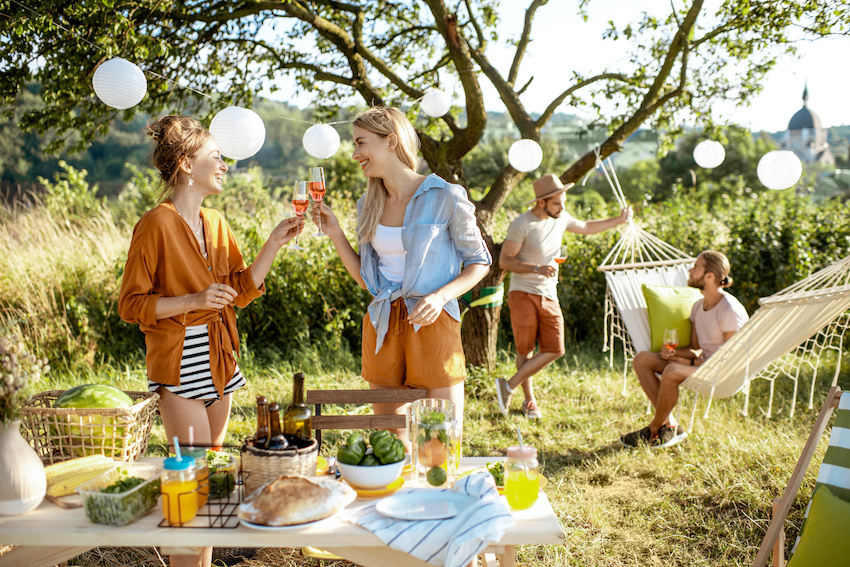 If you're hosting guests onsite, outdoor spaces are safer than indoor spaces. In a study of more than 20,000 coronavirus cases, only 6% were linked to outdoor events — and most of those were from very crowded outdoor spaces. So, going outside is significantly safer than staying in, but you should still make sure you have lots of space for each guest to spread out. 
To encourage guests to stay six feet apart, arrange some outdoor activities that promote social distancing. Here are some of our favorite outdoor event ideas that allow you to keep your distance and keep the fun rolling:Â 
Set up a fire pit:

Many events move indoors because it's too cold. Keep everyone outside with a cozy fire pit. It's a perfect excuse for fireside activities, like roasting hotdogs, making s'mores, and telling spooky stories. 

Have some yard games:

A hula hoop contest, a game of corn hole, or a croquet competition all have distance built in. But before you try one of our favorite

outdoor party games

, make sure you have separate gear for each guest or sanitizing wipes to clean equipment between rounds.

Go to a drive-in movie:

This

outdoor event

allows each guest to stick with the people in their

COVID

bubble. You can host your colleagues for a free night of family fun, or you can sell the movie tickets as part of a fundraising event. 

Throw a trunk sale:

This is a great fundraising event for churches, schools, and other nonprofits. Similar to a yard sale but hosted in a

parking lot

, people bring items they'd like to sell, then display and sell them from the trunk of their car. 

Host a sporting event:

Many sports — including golf, disc golf, tennis, pickleball, and frisbee — provide lots of outdoor distance. You can host a friendly game or a fundraiser tournament. 
Outdoor events are the safest way to host a larger number of people during coronavirus. But small events will be safer than large.
Safer: Limit the Number of People at Your Event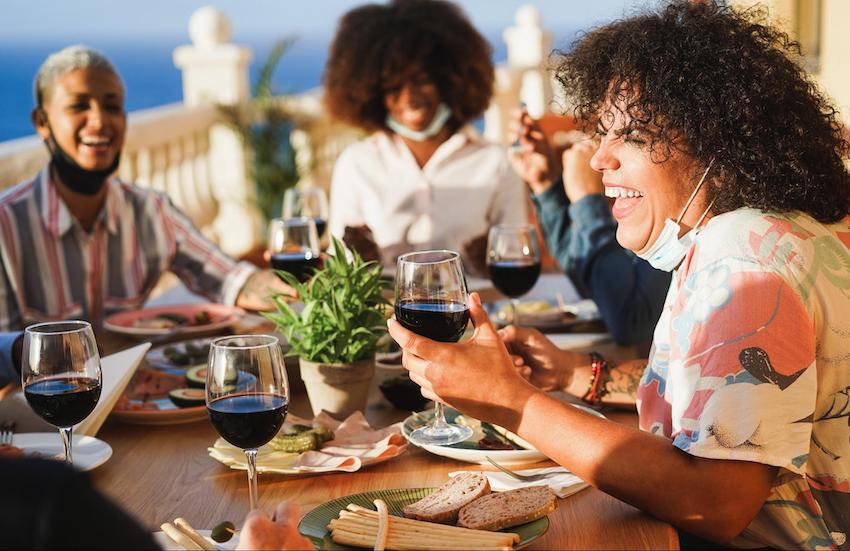 If you don't want your event to turn into a super spreader, consider limiting the number of guests in addition to keeping things outdoors. The CDC recommends you limit your gathering to a small group of 10 or fewer. 
To make the event even safer, consider not only the number of people, but also the number of COVID bubbles that will be merging at your event. If you share a home with your family and you ask the family who lives next door over for dinner, that's two COVID bubbles. If you also invite two more households from the neighborhood, you're up to four COVID bubbles. Two bubbles will be safer than three, three will be safer than four, and so on. It's up to you to decide what you're comfortable with. 
For a socially distanced event, each COVID bubble should maintain six feet of physical distancing from the other bubbles. So, consider having separate tables or seating areas for each group. 
Six feet of distance will still allow for plenty of interaction. Here are our ideas for making your small gathering feel intimate even with social distancing:
Host a garden party:

A

garden party

can include tea and crumpets, or lawn chairs and a piñata. The only requirement is that you host it in your garden or backyard. 

Have a BBQ:

Everyone loves a

backyard BBQ

! Grill up some hotdogs and hamburgers, or go healthy with vegetable skewers and grilled fish. Gather your

small group

around a communal table, or set up several smaller seating areas for each

COVID

bubble. 

Throw a vintage game night:

Encourage a bit of healthy competition with a fun

game night

. It's the perfect excuse to break out your favorite board games. Look for games where each player only has to handle their own game piece. Some of our favorites include Battleship, Guess Who, Clue, Monopoly, or Life. 
An outdoor event with a small group and social distancing is relatively safe, but for those who are high-risk or highly concerned, there's only one completely safe way to celebrate in the age of coronavirus: virtually.
Safest: Host a Virtual Event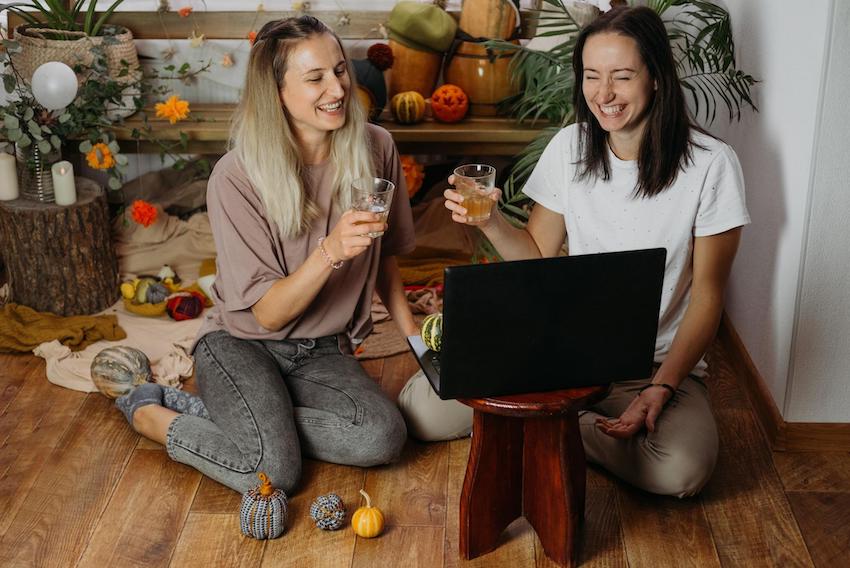 A lot of live events have gone online this year, including concerts, conferences, and even weddings. One of the major benefits of hosting a virtual event is that you won't have to cancel even if your state announces a new lockdown.
We've written a lot about our favorite virtual event ideas, including virtual party games, virtual game nights, virtual business events, and casual virtual gatherings. But here's a look at a few unexpected activities you can include in a virtual event:Â 
Throw a pajama party:

Have all your guests sport their favorite pair of PJs and take part in some of classic sleepover activities. See who can give themselves the best makeover with their eyes closed, or play a game of truth or dare.

Host a living room dance competition:

Create a

playlist

of your favorite songs, and encourage everyone to break it down in front of their webcam. Have one person serve as the judge for each song and choose their favorite dancer (the winning dancer can judge the next round). Or, pause the music occasionally and eliminate anyone who keeps dancing after the music stops. 

Take an online class:

From cooking lessons to paint-n-sips, lots of classes have gone virtual. Get your friends, family, or coworkers together to laugh and learn. 

Have a trivia night:

Trivia is an easy game to play virtually since you don't need any special equipment — just a pen and paper and a bit of knowledge. Have one person serve as the trivia master and provide the questions (you can

find some Qs online

or use the cards from a copy of Trivial Pursuit). The other guests will have to battle it out to see who's the biggest brainiac.
At this point in the pandemic, everyone is suffering from a bit of Zoom fatigue. But with a little creativity, you can reinvigorate your virtual events and keep your guests safe and happy. 
Stay Safe, Stay Social
Socializing is important for our mental health, but you shouldn't have to sacrifice your physical health to keep in touch with your community. Take your events outside, limit the number of people, and practice social distancing to stay safe during these scary times. For an even safer activity and even more social distance, turn to virtual events — going virtual allows even the most high-risk members of your group to join in. 
Whether you're hosting your social distancing event in-person or online, sending digital invitations can help your party feel official and your guests feel special. Browse invitations for virtual events, garden parties, BBQs, and more. Then send them off to all the people you want to see, safely.