March 15, 2023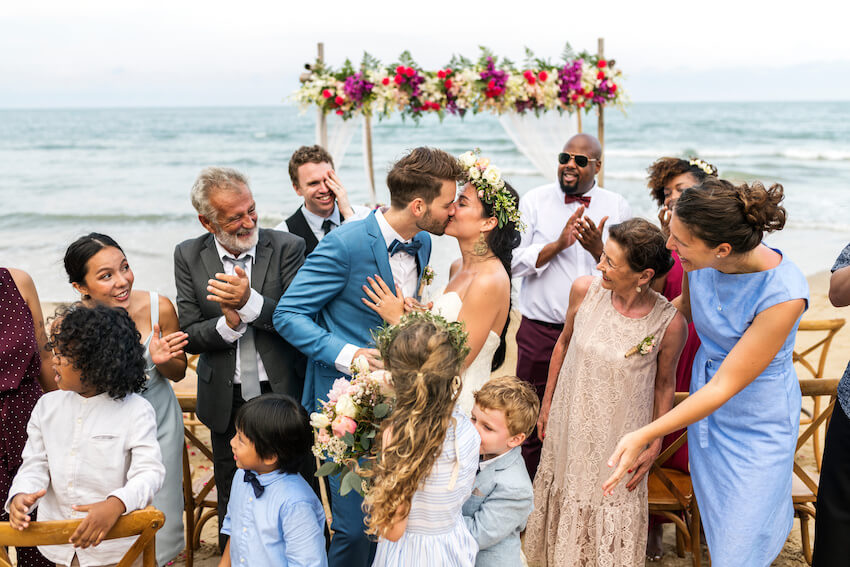 When it comes to planning a semi-formal wedding, knowing what level of formality and casualness is key for creating the tone you want. Here, we're sharing the basics of semi-formal wedding attire, plus we're offering advice for planning your big day around the semi-formal theme. From attire and venues to decor and invitations, you'll find what you need to celebrate in style.

What Is Semi-Formal Wedding Attire?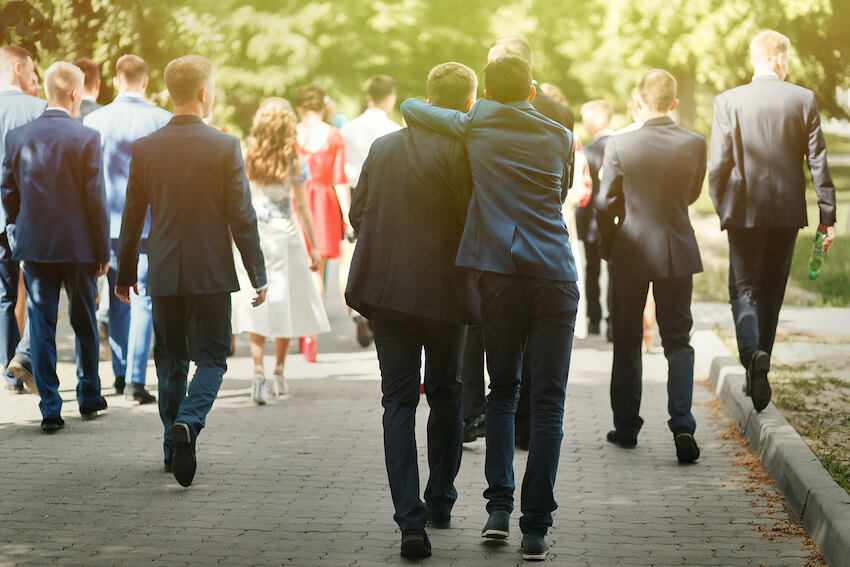 Like cocktail wedding attire, semi-formal wedding dress codes are ambiguous. Many couples choose these attire options because they aren't too fancy or formal, but they aren't strictly casual either. Semi-formal wedding attire lands between the more laid-back cocktail attire and dressier black-tie optional. Semi-formal attire is also called dressy casual or business casual. 
It's important to distinguish between semi-formal attire and cocktail attire. While the two are similar, they are not the same. Semi-formal is more muted or toned-down compared to cocktail attire. Instead of bright colors and eye-catching statement designs that are typical of cocktail dress codes, semi-formal tends toward darker colors and business-appropriate ensembles.
Guidelines for Semi-Formal Wedding Attire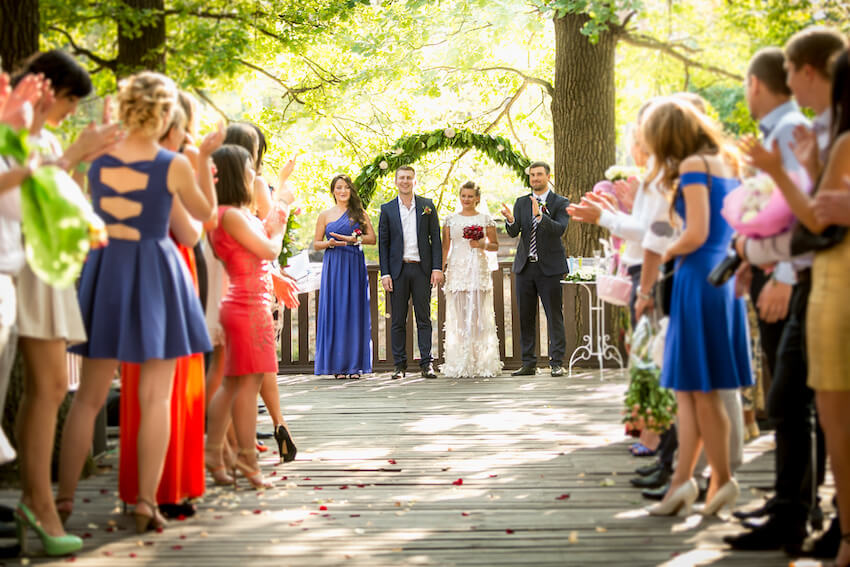 When sending out your wedding invitations, you'll likely want to share details about your wedding dress code. (And with digital invites from Greenvelope, you can easily update your guests with as many details as you like.) 
In general, semi-formal attire refers to clothing that's formal enough for a business event, but not too fancy. That means no floor-length gowns or ball gowns, which are better suited for black-tie weddings and formal weddings. Instead, a semi-formal wedding dress code strikes a balance between formal and fun without getting too casual. Here are some ideas for semi-formal wedding outfits that you may want to suggest for those on your guest list.
Dresses and Jumpsuits
Dresses and jumpsuits are both welcome at semi-formal events. Dress hemlines should hit between high-low and midi dress length. Jumpsuits should be formal but can play with elements like structural necklines or embellished long sleeves for a more modern take.
Consider the time of year you'll be hosting your nuptials and the venue. For instance, some guests might want to wear a strapless maxi dress in light fabrics like chiffon if you're having a beach wedding. For a fall wedding, gemstone hues like emerald and ruby or navy blue are ideal for creating an elegant look while fancy cowboy boots can tone down the formality. For spring weddings, a floral print jumpsuit with ruffles or a floral dress with a V-neck would offer a touch of whimsy to semi-formal attire. 
When in doubt, let guests know they can't go wrong with a little black dress or an A-line party dress in neutral shades. A one-shoulder dress, sleeveless pantsuit, or sequin-studded wrap dress are other great options.
For shoes, classic pumps, heeled boots, and dressy wedges work well for seasonal weddings while embellished flats or sandals are a good bet if dancing is in the cards after the ceremony.
Suits and Dress Pants
A suit with a button-down dress shirt and tie is always a winning combination when it comes to ambiguous dress codes like semi-formal wedding attire. (Guests can skip the tuxedo!) If you're OK with a slightly more casual tone, let guests know that dress pants or a nice pair of khakis paired with a shirt and blazer is a perfectly fine alternative to a suit. Guests can also accessorize with pocket squares, cufflinks, and dress shoes to elevate the look.
Tips for Planning a Semi-Formal Wedding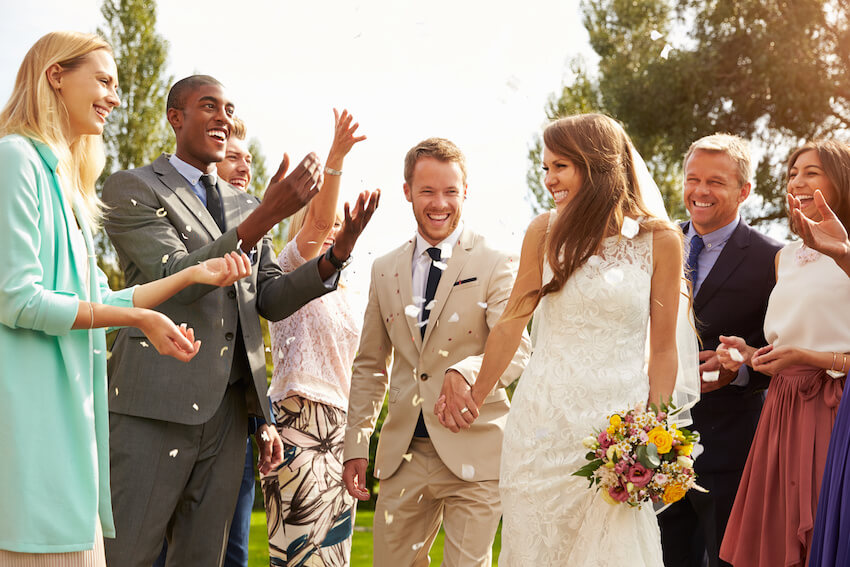 When planning a semi-formal wedding, you'll want to incorporate the look into every aspect of your event. From wedding venue ideas to decor and food tips, here are ways to add semi-formal vibes to your big day.
Choosing a Venue
Most semi-formal weddings take place mid-afternoon or in the evening. When choosing a venue, look for a space that can accommodate your guest list and that can deliver a formal yet comfortable experience. Some great semi-formal wedding venues include vineyards, gardens, hotels, and churches.
For a semi-formal outdoor wedding, consider sharing vows on a sandy beach or go for a winter wedding with a ceremony on the bluffs. You could even plan a National Park wedding. For a fancier affair, consider an evening wedding at a vineyard or art gallery.
Selecting Attire
Like the wedding guest attire tips above, planning a semi-formal dress code for your wedding party should focus on striking a balance between formal and casual. For bridesmaid dresses, look for knee-length gowns in dark hues or opt for elegant pantsuits for a modern take. Silky A-line gowns, mod pantsuits with geometric sleeves, and simple designs with lacy long sleeves are all good options. Other wedding party attire ideas include khaki and blazer combos for a daytime semi-formal wedding or matching suits and ties in navy blue or black for an evening event.
Planning the Decor
Minimalist and classic decor work well at semi-formal weddings where the focus is on some formality without being too rigid. For a semi-formal look, use string lights, romantic candles, and lanterns to create ambiance. Incorporate simple centerpieces by using floral arrangements in muted hues to set the tone.
Arranging the Food
Most semi-formal weddings feature a sit-down meal after the ceremony. Consider a buffet table where guests can serve themselves if you're leaning more to the casual side or opt for a plated menu instead for a more formal feel. For daytime events, you can get away with serving hors d'oeuvres or light cocktail snacks instead. For evening weddings, offer coffee and tea with dessert after the meal.
Select a Stunning Semi-Formal Wedding Invite
For your semi-formal wedding, choosing an invite that matches the mood of the event makes it easy for guests to know what to expect from the start. Here are some of our favorite semi-formal wedding invitations you can use for inspiration.
1. Royal Scallop Invitation
This stunning invite features a hand-drawn scallop design with foil accents making it elegant and regal. It's perfect for semi-formal weddings that are scheduled in the evening.
2. Double Laurels Invitation
Share your plans to say "I do" surrounded by loved ones with this gorgeous photo invitation. You can upload your favorite couple photo and the supported backside offers plenty of space for the event details including your request for semi-formal wedding attire.
3. Boho Butterflies Invitation
This boho wedding invite is ideal for semi-formal fall nuptials thanks to the autumnal color scheme and fluttering butterflies. Use it for a semi-formal wedding in an enchanted garden, at a mountain-top chapel, or countryside cottage.
4. Splotched Petals Invitation
This petal-themed invitation is ideal for semi-formal spring celebrations. It features watercolor florals that lend a casual vibe with metallic accents that elevate the look for a hint of formality. The calligraphy adds elegance and sophistication, making this invite suitable for both daytime and evening weddings.
5. Terrazzo Invitation
If you love contemporary design, you'll love this modern invite. Featuring bold typography and a striking terrazzo print, it's ideal for semi-formal weddings at art galleries and contemporary venues.
Discover More Top-Tier Wedding Tips
From setting expectations for your wedding guest attire to planning other essential elements, this semi-formal wedding guide can help you get the job done. When it comes time to invite your loved ones, Greenvelope can fulfill all your wedding invitation needs. You can choose from hundreds of designs (or create your own from scratch) and customize any template to suit your special day. You can also use our handy wedding invitation wording tool so no detail is forgotten. 
For more planning tips, continue browsing our Stationers blog, which features advice on everything from wedding etiquette and attire ideas to venues, themes, and more.