March 14, 2023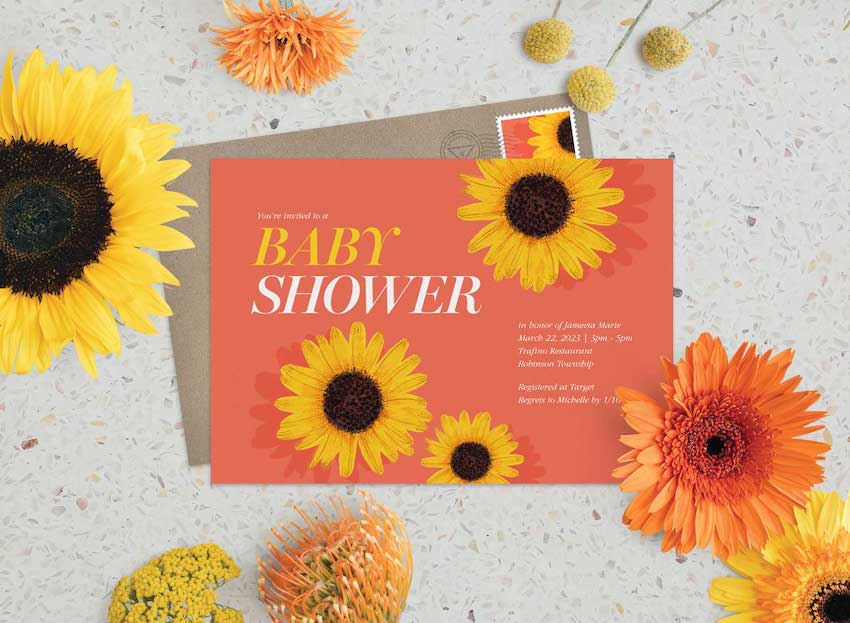 Sunflowers remind us of the end of summer and the beautiful transition into fall. A sunflower baby shower creates a sense of warmth, joy, and new beginnings — which is why it's become such a popular theme.
If you're looking to host a sunflower baby shower for someone special, you're in the right place. Explore our tips on how to plan, discover ideas for your baby shower, and get inspired with our favorite sunflower baby shower invites.

7 Steps to Plan Your Sunflower Baby Shower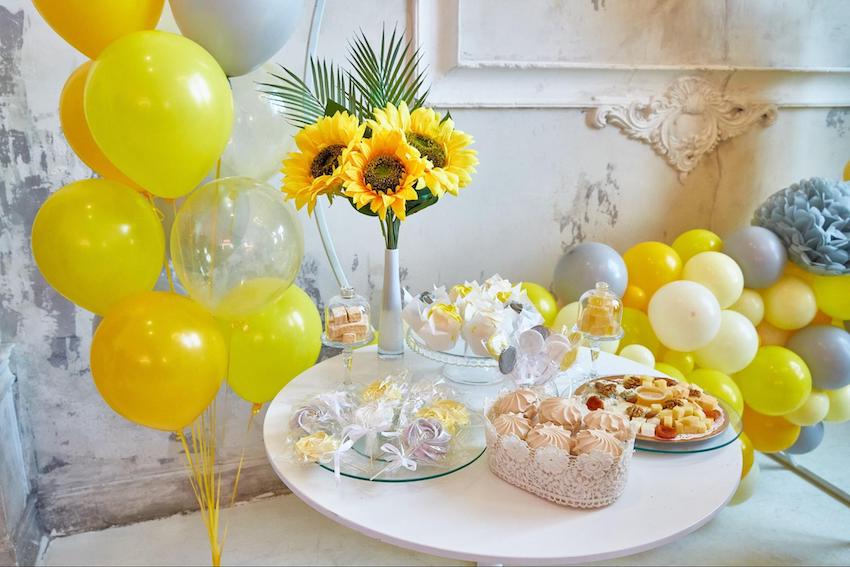 Hosting a sunflower-themed baby shower will spread the joy as you get to work with these big, gorgeous blooms as your main source of inspiration. Here's how to plan a baby shower for someone you care about.
1. Refine Your Theme
Sunflowers by themselves make a wonderful gender-neutral baby shower theme, but you can also narrow it even further to create a more refined theme. Embrace a boho baby shower theme with rustic sunflowers, add some soft details with a floral baby shower theme, or try an adorable bee theme with giant sunflowers as part of your decor.
2. Choose Your Color Scheme
These gorgeous blooms complement a neutral theme so well, so look to those warm oranges and soft beiges to inspire your party color palette and party supply choices. If you want to transform this into a more traditional baby shower, or you're planning a gender reveal party, you could add a soft baby blue or baby pink to the mix.
3. Plan the Event Details
This theme works perfectly for a summer baby shower, but it's also lovely all year round. Work with the parent-to-be to find the ideal date and time to host the baby shower. Find a venue where you can decorate the space — hosting at home or in someone's backyard gives you lots of space to be creative with an outdoor baby shower. Think about which games you want to play, what refreshments to serve, and how to schedule the day.
4. Send Out Sunflower-Themed Party Invites
When it comes to breaking the news about your sunflower-filled baby shower, there's no better way than with some themed baby shower invitations, like this Elegant Wildflowers invitation. We have a collection of stunning sunflower baby shower invites with something for everyone — whether your style leans toward delicate illustrations or bold and contemporary designs.
Each of our sunflower party designs can be customized, so you can make it your own by changing up the colors, layout, and wording. We've shared our most loved designs in the section below for some easy inspiration.
5. Gather Supplies
With all your details figured out, you can start gathering party supplies and preparing for the big celebration. Reuse bridal shower or birthday party decorations that match the theme, and borrow or buy new ones where you need to. Seek out tableware, linens, and napkins in your color scheme, and order fresh sunflowers or balloons ahead of the big day.
6. Make the Day Feel Special
When the baby shower day arrives, put all your focus on your guest(s) of honor. Shower the parents-to-be with all your love and attention. Check that they have everything they need, host games and activities, and be the go-to person for any questions or help.
7. Send Thank You Cards to Your Guests
Once the party is over, it's time to send out those thank you cards. Browse through our collection of thank you cards or use this beautiful Say It With Flowers card to continue the theme. You can also use any of our sunflower designs as a template and swap out the wording to create your own themed thank you card.
8 Sunflower Baby Shower Ideas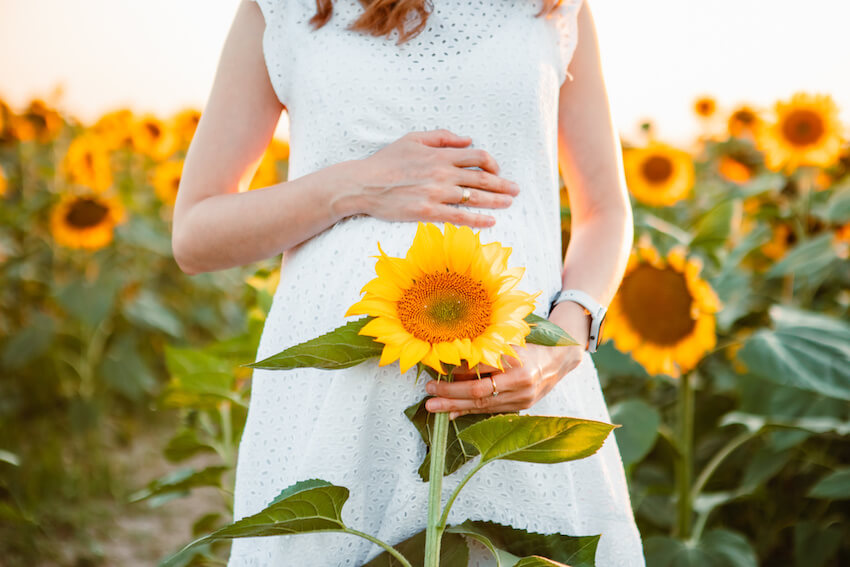 Planning a sunflower-themed baby shower is always fun — there's so much you can do with the cozy color scheme, bold flowers, and summer-inspired details. Enjoy some of our favorite ideas for your sunflower baby shower decorations, activities, refreshments, and party favors.
1. Sunflower-Themed Arch
Welcome your guests to the party or create an exciting photo prop with a sunflower balloon arch or welcome arch. Use a mix of orange, brown, and yellow balloons to get that sunflower-inspired look, or swap the balloons for faux greenery and make a sunflower garland arch.
2. Sunflower Banners
Decorate the space with some colorful sunflower-themed banners or bunting. Get your DIY skills ready and make your own fabric banners in your color scheme with a range of sweet sayings, like "You are my sunshine," "Welcome, baby," and "Ready to bloom."
3. Sunflower Baby Shower Games
Classic party games remain popular for baby showers, where your guests can make predictions and share their words of advice for the new parents. You can find a huge collection of printable sunflower baby shower games on Etsy — all you need to do is download, print, and get ready to play!
4. Sunflower Centerpieces
Celebrate the main focus of your theme with some stunning sunflower centerpieces. Order fresh sunflowers, or buy faux blooms from your local store. Reuse wedding decorations or home decor pieces to add interest, like vases, artificial greenery garlands, and ceramic decorations.
5. Homemade Lemonade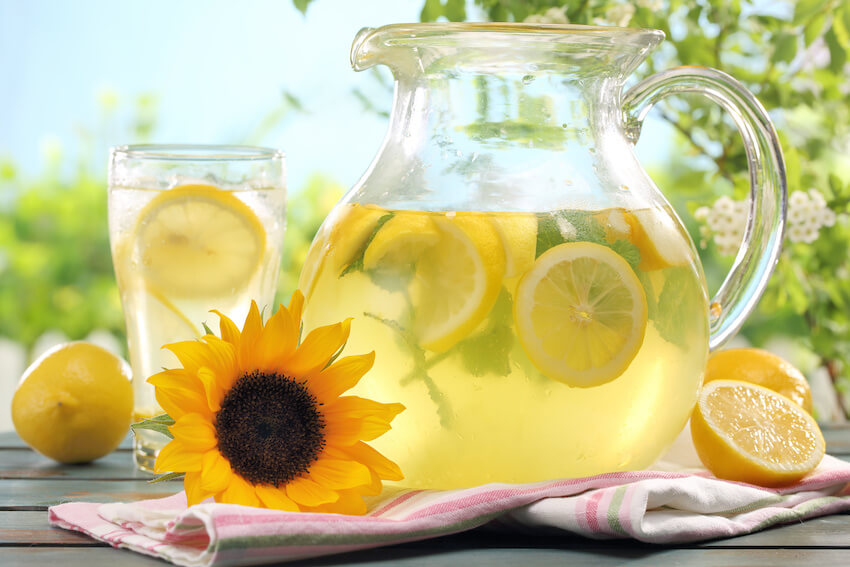 Keep your guests hydrated with a delicious homemade lemonade. This drink always brings to mind the hot summer months, so it works perfectly for a sunflower baby shower. Display a jug or dispenser of iced lemonade on a table decorated with a sunflower tablecloth, or create your own lemonade bar with a mix of flavor options.
6. Serve Brunch Favorites
The sunny and warm feelings of sunflower decor are a perfect complement to the playful energy of a brunch party. Serve up classics like waffles, pancakes, and eggs to your party guests for an easy and on-theme way to keep them happy.
7. Sunflower Cupcakes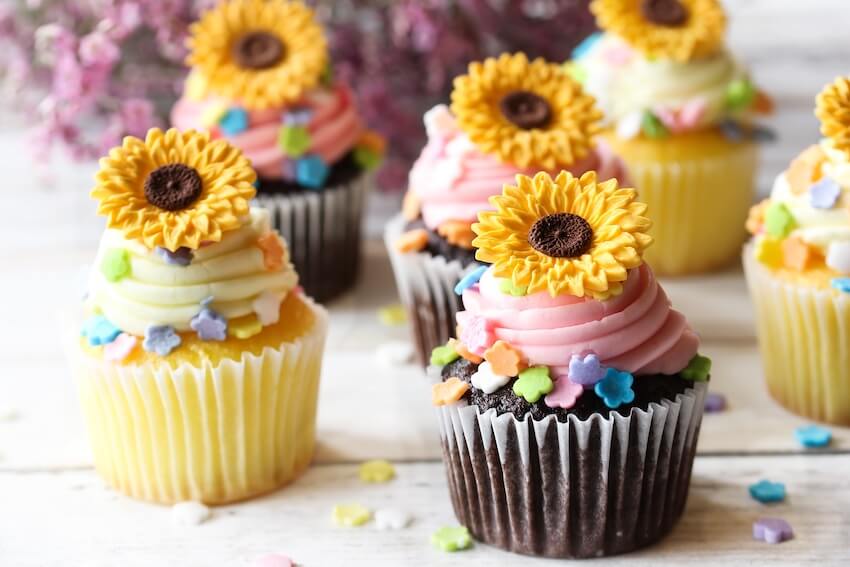 Give your dessert table some color with delicious sunflower-themed cupcakes. Bake a batch of vanilla or lemon cupcakes and add a cute sunflower topper or create an icing design to match your party theme.
8. Sunflower Baby Shower Favors
When it comes to party favors, it's easy to find ideas to match your sunflower theme. Send your guests home with a packet of sunflower seeds to plant when the season rolls around, or a mini sunflower plant of their own to keep and nurture. Other great options include sunflower keychains, bags of yellow and orange candy, and sunflower-themed soaps or wax melts.
7 Sunflower Baby Shower Invitations You'll Love
Get your guests' attention and capture their hearts from the start with a gorgeous sunflower-themed baby shower invitation. Take a look at some of our favorite online invitations to complement your theme — from baby shower party invites to sunflower birthday invites and even wedding invites that you can customize and make your own.
1. Hand-Drawn Sunflowers Invitation
Swap out the text on this Sunflowers invite to send an elegant and understated baby shower invitation. This invite is perfect for an intimate celebration of the parents-to-be, and it will pair nicely with an autumn-inspired event. 
2. Farm Life Invitation
If you're looking for sweet illustrations, this Farm Life invite is perfect. The adorable farmyard animals and tall sunflowers make this invite work well for a rustic or farm-themed sunflower baby shower.
3. Sunflower Trio Invitation
Share some sunny joy with this Sunflower Trio invitation. The charming illustrations are vibrant in both of the color ways available for this invite, so you can catch your guests' eyes and get them excited for a fun and fresh event. 
4. Elegant Sunflowers Invitation
For a more sophisticated and glamorous baby shower, try this Elegant Sunflowers invite. Swap the wedding wording out for your baby shower details, and you have a design that celebrates these classic summer blooms without being too bold or bright.
5. Trendy Balloon Arch Invitation
Celebrate those colors that remind you of sunflowers with this Trendy Balloon Arch invitation. Stick with this cozy boho color option, or work with our designers to weave in some more yellows and blacks for a true sunflower-themed version.
6. Festive Sunflowers Invitation
Take inspiration from retro prints with this Festive Sunflowers invite. While this example is made for a cocktail party, it's easy to swap out the wording to make this match a floral-packed sunflower baby shower.
7. Classic Autumn Wreath Invitation
If your sunflower baby shower takes place in the fall, this Classic Autumn Wreath invite has all the color, depth, and atmosphere of the season you could want. Switch out the Thanksgiving wording, and you have a dreamy backdrop for your baby shower invite.
Plan Your Dream Sunflower Baby Shower
A sunflower-themed baby shower has all the joy and warmth you want from a celebration of parents-to-be, with the added bonus of a feel-good summer vibe. Use these tips and ideas to help you plan, host, and enjoy a memorable baby shower for someone special.
Once you've got your details all planned out, turn to our sunflower baby shower invites to share the news with the guest-of-honor's loved ones. Find a design you love, personalize it, and invite your guests to a sunny celebration.