May 22, 2022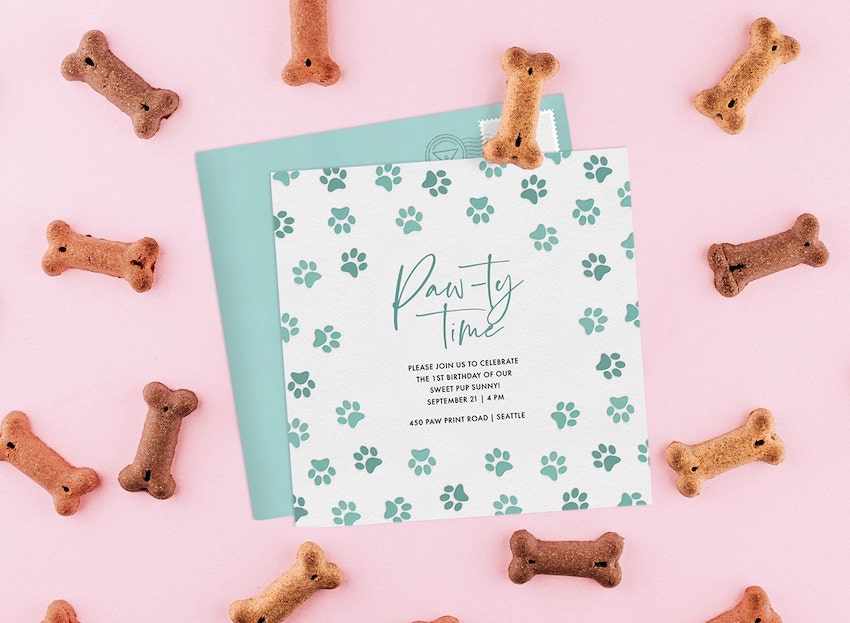 Hosting a dog birthday party is a lot like hosting a party for humans. First, you need to figure out a venue, choose a theme, and think about the decor. You also need to decide who you're inviting before sending out your dog birthday invitations. Whether you're hosting a puppy's first birthday party or a shindig for an older pooch, these dog birthday party ideas are sure to be a hit.

Dog Birthday Party Ideas to Unleash the Fun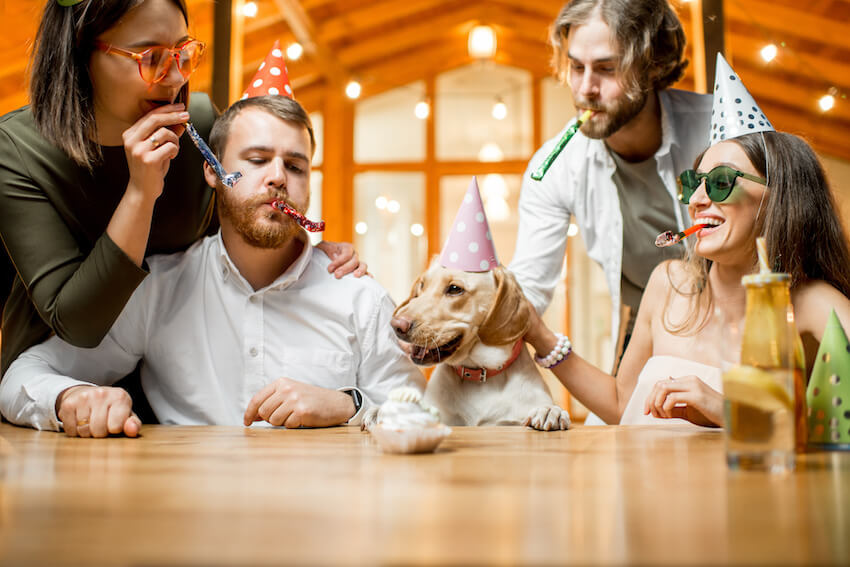 It's paw-ty time, and your fluff ball is ready to mingle and bark the day away! Before the festivities begin, you'll need to do a little planning. This includes decorating the venue, thinking about doggie-approved activities, and ordering dog treats to boot. And don't forget, you'll want to send out dog birthday invitations to your friends and family. Read on for top tips on hosting the ultimate dog birthday party.
Tail-Wagging Themes
When hosting a doggie birthday party, consider a theme. If your dog is named after someone famous (or a favorite TV/movie/book character), you might want to center your theme on that. For example, if your dog is named after Prince Harry or Prince Charles, you can have a royal-themed celebration. If your floofer is named after a famous scientist — like Einstein or Curie — you can throw a science-themed bash.
Another great theme is your doggy's breed. Popular dog-breed themes include dachshund, French bulldog, and Yorkie pup parties. You can also choose a theme based on your pup's interests. If your dog loves a particular elephant toy, you can adapt jungle-themed party ideas for pets. Likewise, if your dog is obsessed with a whale toy, it could be fun to host an under-the-sea party.
Dog-tastic Decor
When decorating for your pet party, you can DIY the decor or order items from a local pet or birthday party supplies store. Keep in mind that your dog-themed decorations should be safe for all the woofs attending the event. Use only helium-inflated balloons, or tie the decor to the ceiling to keep them away from the mouths of curious pooches. Also, be careful using confetti, streamers, and other decorative items that they might want to chew (or accidentally swallow).
No pup party is complete without a dog in a party hat. If your dog enjoys dressing up, you can purchase a full doggy birthday outfit. If they don't like clothes, coax them into taking at least one cute photo with a party hat using their favorite treats. Party collars and bandanas are also a great alternative for dogs who don't like hats but will tolerate something around their neck.
Greet guests with a large balloon banner featuring the words "paw-ty" or by using balloons with fun shapes like bones. You can also use balloons to spell out your dog's name or find balloons featuring their breed.
Furry Friend-Approved Food
It's your pup's party, and he definitely wants to have his cake and eat it too! Human cake is a no-no for dogs, but you can serve pupcakes to four-legged guests. These healthy cupcakes contain ingredients that dogs will love. Just make sure to double-check the ingredients with your vet before making any treats you find online. Your vet can ensure the ingredients are safe for your dog — especially if they have food sensitivities or allergies. 
Use fun toppers like photos of your pooch on popsicle sticks to accent the pupcakes or simply decorate the pupcakes with pooch-approved frosting in designs like polka dots or rainbows.
In addition to having a birthday cake on hand, you can also decorate the room with dog treats! Hide crunchy bones in toys or corners that the birthday dog and his friends can find. You can also serve pupsicles using bone-shaped ice trays and fill them with bone broth or other tasty ingredients like pumpkin and banana. Many pet stores also serve dog-safe bakery items like mini cookies and cakes. 
Fun and Affectionate Activities 
Make the day memorable with a photo booth for the doggies. Snap photos with the birthday pup, or let the dogs run wild and snap candid shots of them in funny costumes. 
For something a little more competitive, you can have a "best trick" competition. Have each dog parent show off their furry friend's best trick and then vote on the winner. The winning dog can take home a special pupcake or a brand-new chew toy.
If you're hosting an outdoor dog party, you can also incorporate kiddie pools or agility courses into the day's activities. Set up a wading pool where doggos can cool off in the summer heat. For active dogs, an agility course with hurdles, hoops, and pipe tunnels is a great option.
6 Dog Birthday Invitations to Bark Up Excitement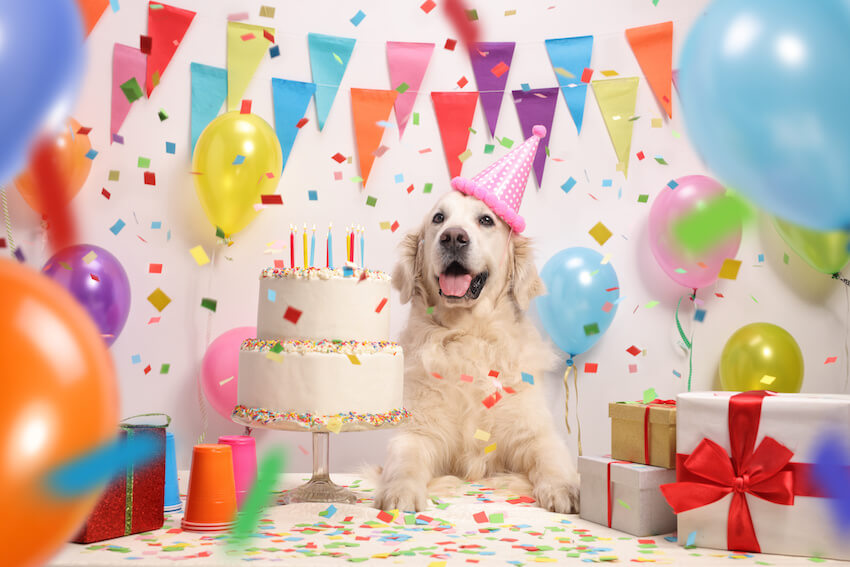 Now that you know how you're going to celebrate your beloved woof, it's time to start inviting guests. At Greenvelope, you'll find dozens of dog birthday invitations. From sentimental and sweet to doggone silly, there's something for every pooch. Here are some of our favorite dog birthday invitations.
1. Party Puppy Invitation
Invite all the hounds to your doggo's birthday party with this colorful pet party invitation. The card features a fluffy puppy in a polka dot box adorned with colorful balloons. It's also ideal for a kid's birthday party, bridal shower, and baby shower invite.
2. Birthday Pup Invitation
Invite the pack to sing happy birthday to your furry friend with this cute puppy birthday party invitation. It features two brown dogs surrounded by balloons and a matching colorful envelope. There's also a text box where you can fill in the party details including costume attire, the theme, and RSVP details.
3. Pawty Paw Prints Invitation
Invite all your furry friends to a puppy dog birthday party with this paw-filled dog birthday party invitation. The design features letter-pressed paw prints and comes in several colorways so you can choose the hue that best fits your dog-themed bash.
4. Let's Pawty Invitation
It doesn't get cuter than this dog birthday card and invite featuring a dachshund in a festive party hat. This whimsical dog birthday invitation is printable, so you can print one out and frame it as a memento from the special day.
5. Doggone Birthday Invitation
Invite guests to the best doggone party they've ever been to with this pooch-approved invite. It's ideal for dogs named after scientists and royal gentlemen as well as any smart canine. Customize the invitation template by changing the typography and color scheme to suit your celebration.
6. Modern Pet Portrait Announcement
For pet owners who just adopted a pup, this greeting card is perfect for announcing your new furry friend and inviting guests to a celebration. The card features a photo box where you can include a picture of your new best friend. The design is a modern and chic way to share the great news with your loved ones.
Have the Best Doggone Party Ever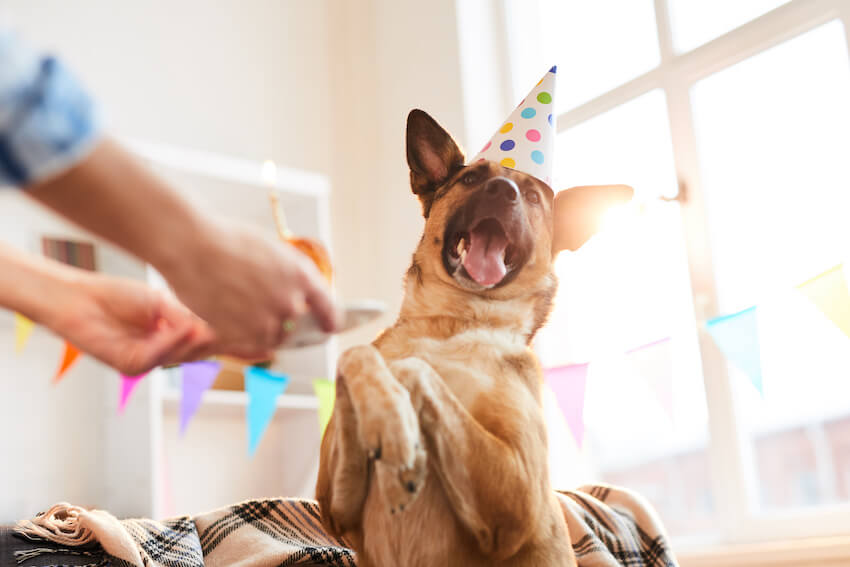 With these puppy party ideas and dog birthday invitations, you're sure to have the best paw-ty ever. From fun decor like party hats and collars to festive foods like pupcakes, your four-legged party animals will love the event just as much as their humans. Need more help planning the perfect party? Continue browsing our Stationer's blog, where you'll find everything from party themes to practical advice for pulling off any event.