May 19, 2022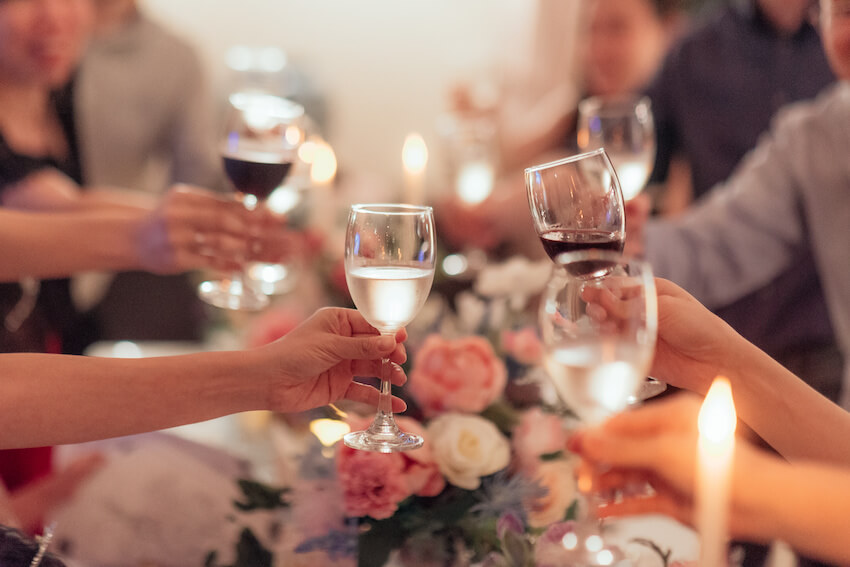 A rehearsal dinner is typically the last official gathering before your wedding day. After all of your efforts rehearsing the events of the big day, you get to sit down with your loved ones and enjoy a delicious meal. If you're wondering who to invite to the rehearsal dinner, you're not alone. Figuring out which guests to invite can be tricky when trying to abide by etiquette and also adhere to a budget.
Here, we'll highlight some considerations when creating your rehearsal dinner guest list and share what you need to know about who goes to the rehearsal dinner. We'll also share a variety of stunning rehearsal dinner invitations to excite your guests about the special event.

What Is a Rehearsal Dinner?
To understand who goes to the rehearsal dinner, it's useful to know what happens at the rehearsal dinner and what it's all about. A rehearsal dinner is a pre-wedding event that typically takes place after the wedding rehearsal. It's traditionally hosted and paid for by the groom's parents, but today, the party can be hosted by anyone close to the couple. 
A rehearsal dinner expresses appreciation for the parties who have helped plan the wedding. It's also a chance for close family members on both sides of the wedding party to meet, interact, and get to know one another. It kicks off the wedding weekend and helps to set the tone and mood for the big day. At the rehearsal dinner, the bride(s) and groom(s) may share toasts and thank individuals who have helped them plan the wedding.
Who Goes to the Rehearsal Dinner?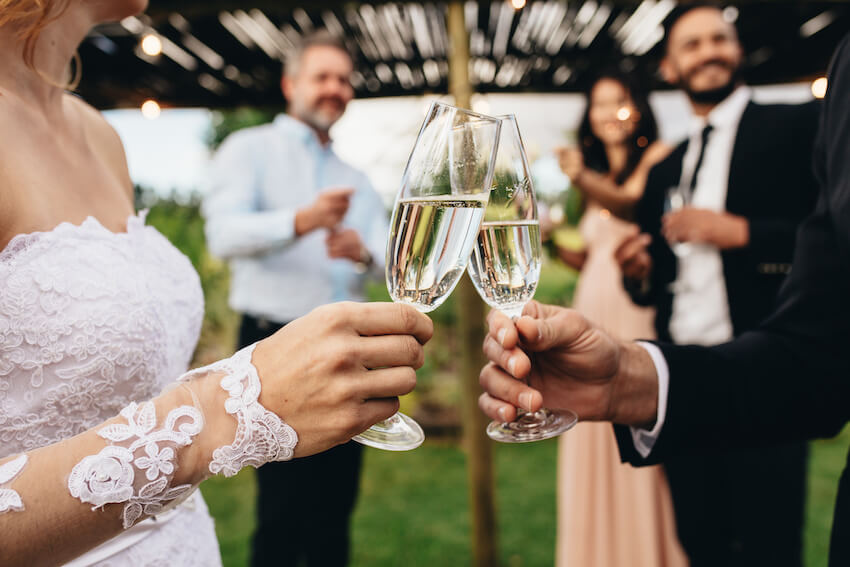 Deciding who goes to the rehearsal dinner requires you to consider a few key elements, including your budget, general wedding etiquette, and your wedding party and closest family members. 
People in Your Wedding
Begin by thinking about your wedding party. For obvious reasons, anyone who is in your wedding should be invited to the rehearsal dinner. This includes bridesmaids and the maid of honor as well as the groomsmen and best man. You should also invite the parents of the flower girl and ring bearers, even if they are not in the wedding themselves. 
It's customary to extend an invitation to the officiant and anyone else who may be reading something at your wedding ceremony. Don't forget to invite the wedding planner and any ushers. Traditional wedding etiquette also extends an invitation to the significant others or plus ones of those in your wedding party.
Immediate Family
Aside from those who are actually in the wedding, immediate family members are typically invited to the rehearsal dinner. This includes the parents of the couple, siblings, and any grandparents. While a wedding is the official joining of your families, the rehearsal dinner is a great place to start making memories and celebrating your love.
Close Friends and Extended Family
While most couples will invite the wedding party and closest relatives, some like it to include other guests. If you have a big enough budget, you can also invite extended family and other friends if you wish. This can include aunts, uncles, and cousins as well as some work colleagues or close friends. 
Out-of-Town Guests
In traditional wedding etiquette, guests who are coming in from out of town are usually invited to the rehearsal dinner. It's a token of appreciation as these guests typically spend more money, time, and effort in order to be present for your nuptials. If you have invited only a few out-of-towners for a wedding in your hometown, consider inviting them to the rehearsal dinner. 
If you're having a destination wedding, you can skip this advice. That's because almost everyone will be making the trip — thus making it pricey and difficult to include everyone. Instead, you can host a special welcoming cocktail hour or something similar to show your appreciation.
While rehearsal dinner etiquette provides specific guidelines, the choice is always yours to invite whoever you want to this special gathering. Use your own discretion if you want to include additional wedding guests.
What to Consider When Inviting Guests to the Rehearsal Dinner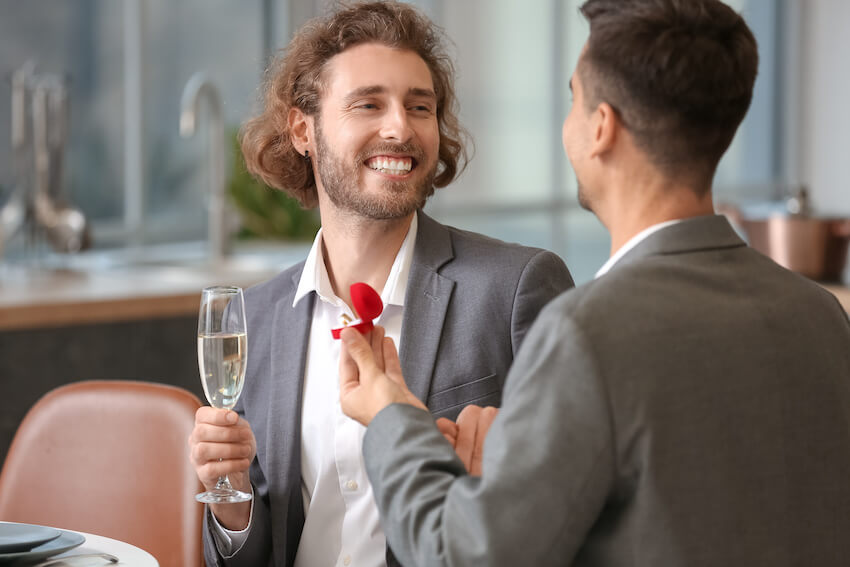 Figuring out who goes to the rehearsal dinner isn't just about following standard etiquette. There are a few other things you'll need to consider.
First, you should always keep your budget in mind to avoid spending more than you want to. Sit down with your spouse-to-be and make a wedding budget breakdown. This budget breakdown should allocate funds to different aspects of your wedding — the dress, the venue, and the rehearsal dinner. Having these numbers on hand can help you figure out how many people you can invite to the rehearsal dinner without going over budget.
Second, think about any venue limitations. If you've already chosen a rehearsal dinner venue, don't invite more guests than the venue can accommodate. Keep in mind that many venues charge per guest, so you'll want to make a rehearsal dinner guest list and stick to it to avoid going over budget or space limitations. 
If you have more people than you can accommodate, think about holding a smaller event for those individuals. For example, you can host a small brunch or a cocktail hour with a few close friends and extended family members who can't be included in the rehearsal dinner.
Rehearsal Dinner Invitations
Now that you know who goes to the rehearsal dinner, it's time to choose stunning designs for your invitation. Greenvelope offers thousands of designs including wedding invitations and rehearsal dinner invitations. All of our invites are digital, meaning you don't have to hassle with postage and you can keep track of all the guests who have RSVP'd in one easy-to-view dashboard. Each design is completely customizable so you can make it all your own — you can even upload your own design. Here are some of our favorite rehearsal dinner invitation designs for inspiration.
1. Paint Stroke Accents Invitation
Get guests excited about your wedding day with this artsy rehearsal dinner invitation. It features a minimalist text layout and eye-catching brushstrokes, making it ideal for a contemporary celebration.
2. Boho Beach Party Invitation
Hosting a beach wedding? Invite guests to a beach-themed rehearsal dinner with this coastal invite. It features a rattan table with coconuts, cake, and palm fronds on a perfect sandy shore. Use this design to invite guests to your wedding reception, rehearsal dinner, or even a bridal shower.
3. Rehearse Eat Drink Invitation
This simple invite is perfect for inviting guests to join you at the rehearsal dinner. It comes in wood grain, stone paper, and Kraft paper styles and you can customize the font to match your wedding stationery. Use it to invite guests to your rehearsal dinner and kick off the wedding weekend in style.
4. Blooming Plate Invitation
Invite guests to your wedding rehearsal dinner with this classic and chic invite. Featuring a marble background and a dinner plate full of blooming florals, it's ideal for spring weddings.
5. Watercolor Lights Invitation
Invite your rehearsal dinner guests with this whimsical watercolor invite. It comes in several colorways and you can choose the perfect palette for your wedding theme. The design is accented by sparkling string lights, making it perfect for beach and rustic weddings.
6. Starry Night Before Invitation
Invite guests to dinner the night before the wedding with this glamorous invitation. The design features twinkling stars accented in gold foil and a glitter envelope. It comes in several colorways and is perfect for celebrating a magical event.
Plan the Perfect Rehearsal Dinner
We think wedding planning should be fun. Whether you're sketching out the details for the wedding ceremony backdrop or figuring out who goes to the rehearsal dinner, it's a time for celebration and joy. If you need help planning the perfect rehearsal dinner, don't miss our practical advice on rehearsal dinner invite wording tips and fun event themes like rehearsal dinner ideas.