July 19, 2019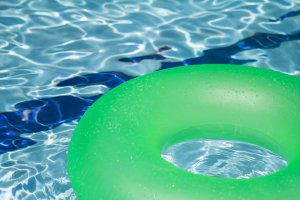 Summer is heating up, and you've decided to cool things off with a timeless classic: the pool party. But there's nothing old hat about sending splashy online pool party invitations.
Instead of a Facebook event that will get lost in the shuffle of dog photos and hashtags, a creative evite tells guests your event is special. Greenvelope offers an array of unique designs, created by independent artists, with styles to align with your party's theme or inspire a theme all on its own. To create the perfect summer party invitation, first finalize your guest list and determine the type of event you want to throw. This will set the tone for your recipients so they know what to expect and are enticed to come.
Create a Specialized Invitation for your Event
In order to create an invitation that has guests clamoring to join in, you need to be sure it is appropriate for your soiree. First thing's first: Is your party kid friendly or for adults only? If you're hosting a kid's birthday party or a poolside baby shower, you'll want to make it known that the event is for little ones. Browse through Greenvelope's pool party designs to choose one that is kid friendly, like the Polka Dot Inner Tube or Swim Goggles. Be sure to specify in your title that the event is to celebrate your child's birthday or to bring families together for a summer bash.
Likewise, if your event is adults only, you'll want to select a more sophisticated design, like Beach Ball Party, Splish Splash, or Palm Springs Pattern. You might consider using more formal language in this case as well. For example, you might write: "Cindy requests your presence for a summer soiree" on an invitation for an adult party. Meanwhile, a pool party birthday invitation for the little ones may say: "Celebrate Sasha's fifth birthday in the shallow end."
Important Information to Include
Once you've chosen your theme and have nailed down your invitation wording, don't forget to include the relevant information. Of course, there is the reason for the party (birthday party, 4th of July, engagement party, bridal shower, just because, etc.) plus all the expected details like the date, time, and address.
Don't forget other facts that may seem obvious. For example, is the pool a pretty backdrop or do you plan to have guests swim? Be sure to tell guests to bring their swimsuits for a swim party. For a cocktail party, is it BYOB or will there be an open bar? For a children's pool party birthday, you may want to mention if there will be a lifeguard on duty. Also note when the RSVP is due.
Select a Pool Party Invite That Matches Your Theme
There are a ton of party ideas to choose from, so be sure to choose your theme before selecting your invitation. Like the design style, choosing an invitation in line with your theme gives guests an idea of what to expect at your party.
Barbecue Theme
If you're having a cookout along with your swimming pool party, consider a BBQ theme. Start with one of Greenvelope's Barbecue Invitations and then follow through at your event with gingham tablecloths, red and yellow plastic condiment containers, and a cooler full of brews.
Luau Theme
At an ever-classic luau, guests can enjoy Hawaiian pizza, leis, hula skirts, and coconut beverages. Choose from an array of Hawaiian-themed invitations, like It's a Luau!, recognizable by the bright tropical colors, hibiscus flowers, and palm trees galore. Just don't forget the limbo pole!
Bohemian Theme
While a Luau or Mexican fiesta are always crowd pleasers, you might also consider a more sophisticated theme, like one of these Instagram-friendly ideas. Consider a boho tablescape complete with rugs and pillows to sit on, an ice cream party, and a pool full of floaties. The Mojave Textile and Boho Birthday invitations are perfect for a bohemian bash.
Or Create a Theme Based on an Invitation You Love
Can't decide on a theme? Put the horse before the cart. Choose from pool party invitations that speak to you and build your theme from there.
Peppy Pineapple Party and Cool Pineapple are perfect for a pineapple theme. If you're lucky enough to have a pool and water frontage, go for Beach Babe and make it a tropical beach party theme. Pick Let's Flamingle and go for a flamingo theme. Marvelous Mermaid and Mermaid Magic are perfect for the half-fish, half-human you're celebrating. Bonus points if you have enough mermaid tail swimmers to go around.
Greenvelope also has a ton of cute popsicle designs. Stock the pool with popsicle-shaped floats and serve up some icy treats when things get really hot.
Personal Touches That Take Your Invitation to the Next Level
Once you've outlined the type of event, chosen your theme, and settled on an invitation, it's time to customize. Select the Greenvelope invitation you'd like to use and click "Customize." Once you're in the customization interface, you'll be able to click into the text to add your personal details. You can also add and remove a text box and change the text color and font. You can even add images and videos. For a birthday pool party, you might want to include a photo of the guest of honor on the birthday party invitation.
After you've filled in your text and added personal touches, you can edit the envelope. This is the graphic that will open when guests receive your email announcement. Choose from an array of colors as well as materials, including felt, metallic, kraft, deckled, and vellum. You can also choose from several linings, which range from metallic hues to special patterns. Plus, there are basic patterns that can be selected in many different colors. Remember your theme as you design.
Then, there's the "address." Here, you can choose to add your guest's names, company names, or a standard greeting for everyone. This will auto-populate on the envelope after you fill in the guest list. Remember to be specific when you're adding guests' names so that it's clear who's invited. For a children's party, for example, are you inviting just the kids or are mom and dad welcome to stay? Likewise, if it's adults only, you'll want to be sure to invite "Jane and John Smith" and not "The Smith Family."
Don't forget a stamp! Choose from standard patterns or find a stamp that mirrors your invitation. You can also upload a custom stamp that is 140 pixels wide by 100 pixels tall. Want to get really fancy? Finish off with a wax seal. Again, remember the type of event you're throwing. For an upscale brunch, a wax seal sets the tone. Low-key first birthdays should probably skip this step.
Last, finish things off with your background. This is what your envelope and invitation will be positioned in front of. Pick from neutral woods, sandy backdrops, or a plain color or pattern. Or upload a custom image — like you doing your best dive. You're all ready to preview, send, and swim on.
Just Add Water
For summer pool party invitations that will have guests clamoring to join in, be consistent with the tone and theme of your event. Be clear about who is invited and the kind of party you're throwing. Make sure your invitation wording reflects how casual or formal the event will be. Then pick a theme and have fun with it.
If you're stuck for ideas, scroll through the many pool party invitations on Greenvelope to pick a theme that speaks to you. Customize your invitation so guests know they were thoughtfully invited. Don't forget to experiment with details like envelope color and background, and add personal touches like photo and video. Then all you need to do is finalize the guest list, hit send, and dive into summer.