February 28, 2021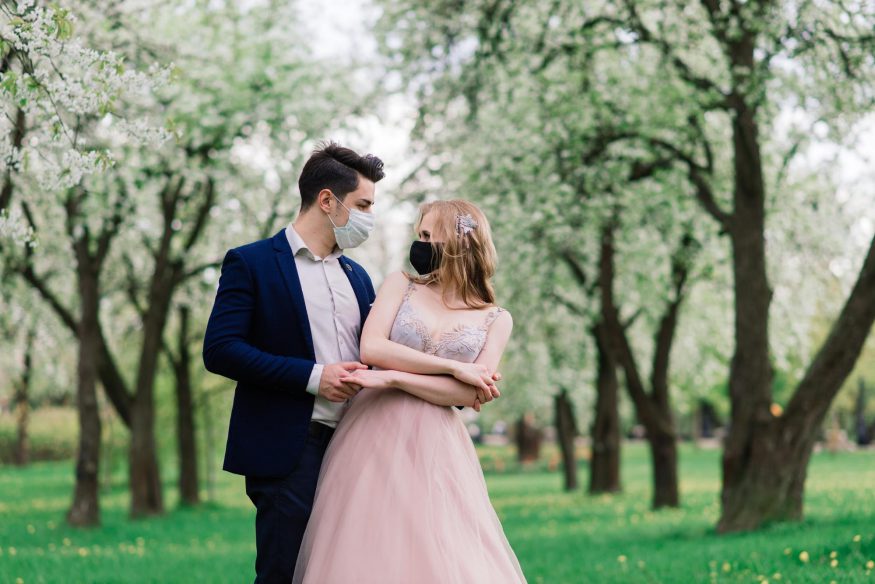 If there's one thing that a COVID wedding shows us, it's that no matter how unpredictable life can be, love shines through. With the right planning and adjustments, you can transform your special day into something truly magical. To help you out, we're sharing some of our top COVID wedding ideas and planning tips so you can have a perfect wedding day even in the midst of imperfect circumstances.
COVID Wedding Planning Tips
Planning a wedding during the coronavirus pandemic is definitely out of the ordinary. There's lots to consider — safety, seating, and catering are just a few areas that need extra thought. To help you figure things out, here are some of our best planning tips for COVID weddings.
Keep Your Invite List Small
In most cases, weddings are still permitted during the pandemic — but your guest list will have to be smaller than you might have originally considered. State laws vary, so check current guidance according to your state and reference this risk map to help you plan accordingly.
For some states, weddings and events are limited to 10 people in attendance while others have no limit. With health and safety in mind though, it's best to restrict your guest list to the people you absolutely want in attendance for an intimate wedding. Keep your wedding party small or consider not having any bridesmaids or groomsmen, and think about how many different vendors you will need to work with and how that might impact safety guidelines.
Send Digital Invitations
COVID has introduced us to the benefits of doing things online, and wedding invitations are no different. Sending online invitations to your guest list is safe, efficient, cost-effective, and eco-friendly. It's also incredibly easy to choose a design you love and fully personalize it with your own colors, patterns, textures, and wording for a bespoke feel at an affordable price.
Go digital for all of your wedding stationery and find a design that you can use for everything from save the dates and wedding invitations to thank you notes.
Prepare Your Guests
Every "I do" moment is different, and that's still true even in these unusual times. Give your guests all the information they need to help them feel comfortable and confident at your event.
Make sure you share the basic safety and hygiene rules with your guests so there's no confusion. Increase the signage at your venue to help them find the nearest sanitization point or restroom. Let people know whether they're expected to wear a mask, or how far apart they should stay from others.
Even with guidelines in place, at a celebration like a wedding it's tough for people to consciously observe these rules — it's tempting to hug someone you love at a moment like this. To help everyone stay comfortable, some couples hand out color-coded wristbands that show whether they're open to physical touch or not.
Greenvelope's digital wedding invitations allow you to create a details panel and share all of this useful information and more with your guests. You can direct them to a page where they can learn how your wedding will look and feel alongside transportation and location information.
Make Your Venue Feel Special
If you've booked a large and extravagant venue, it might suddenly feel way too big for your scaled back COVID wedding. If that's the case, look for creative ways to make the space feel more intimate.
You could center yourself in a grand room and section off areas using drapes or faux hedges for a romantic, rustic look. If the venue has smaller rooms available, swap to one of those and deck it out in gorgeous decor. If the weather's looking good, why not opt for an outdoor wedding?
Sometimes your feelings about your venue change, and that's OK. You might prefer to go in an entirely different direction and opt for a backyard wedding instead.
Be Safety Conscious
Make sure you stay up-to-date with current safety guidelines for events and gatherings. The guide covers safety tips for guests and for your wedding vendors on key areas like hand washing, social distancing, and ventilation.
On your wedding day, offer plenty of hand sanitizer stations or individual bottles for guests to use. You could also have custom face masks designed for your guests to use on the day. Give everyone lots of space to practice social distance. Move outdoors where you can, keep to small groups, and observe any requirements based on your state guidance.
Reduce Contact
You can throw an amazing celebration and be together while staying safe. That's why it's important to reduce contact where possible. Instead of hosting a buffet-style meal, consider a plated dinner served to your tables instead. Swap canapé trays and dessert stations for single-serve desserts and individual platters. Your wedding guests can enjoy the same delicious food with minimal contact.
If you're set on having a cash bar where guests buy their own drinks, make sure it's set up to minimize contact between the bartender and guests. Also, let guests know how you'll handle drinks ahead of time so they can plan accordingly.
Add Some Light-Hearted Posters
If you feel comfortable with it and your guests would too, add some fun signage around the venue that acknowledges the reality of the current situation but still maintains a positive attitude. Play on the idea of coming together but staying apart, or that you want to share the love but not the virus.
These COVID wedding ideas aren't for everyone, but if they are, these small touches of light-hearted humor can lift spirits and bring a smile to people's faces. Find or write your own quotes, then have them made up in a gorgeous font and display them as part of your wedding decor.
Another great way to add some light to the situation is to print a board or poster that displays all of your COVID wedding rules. Add some sweet illustrations or use a fun way to describe distance (like the length of an animal) to playfully share these all-important details.
Play Recorded Speeches
With restrictions in place, you might not be able to have everyone you want at your ceremony. Sometimes that includes people who would've given a speech or toast. Involve them in a sweet way by asking them to record a speech for you to play on the day.
This is a lovely COVID wedding idea that lets you involve someone special who can't be there for your nuptials. You can have fun picking out a wedding poem or speech together or ask them to surprise you instead.
Invest in the Details
Your COVID wedding won't look exactly like the one you'd always planned for, but use it as an opportunity to be creative and focus on the details to create an immersive experience.
Pick out a handful of ceremony or reception details that mean the most to you, and invest more of your budget, creativity, and time into them. You might decide to splurge on gorgeous fresh blooms and bouquets, or spend a little more than you had anticipated on your wedding dress.
You could also invest in creating a fun experience for your guests. Transform your wedding venue with a themed reception, or go all-out with personalization and spoil your guests with what feels like a truly bespoke VIP experience.
Alternative COVID Wedding Ideas
With ongoing uncertainty around COVID, you might decide a traditional wedding isn't what you want anymore. In that case, here are some lovely alternative COVID wedding ideas to consider. If you do decide to switch things up, send your guests a sweet and simple wedding update about your postponement or change of plans.
Virtual Wedding
Since you might not be able to get everyone you want to your wedding venue, invite them to attend from the comfort of their own home with a virtual wedding.
This is a practical way to involve all of your guests on your scheduled date instead of postponing your wedding date or opting for a more intimate ceremony. Invest in the right platform to livestream your wedding, or get the help of a professional team to share your ceremony with loved ones.
Micro Wedding
If your state guidelines require you to limit your guest list, consider hosting a micro wedding instead of your original ceremony.
This small wedding trend covers weddings of up to 50 people or so, and focuses on creating a fun experience for those you invite to spend the day with you. Micro weddings can feature any theme and work great for any budget too.
Minimony
Want to celebrate with a big to-do in the future but mark your original wedding date now? A popular choice for couples is to host a minimony on their planned wedding date.
A minimony is a mini wedding ceremony that takes place around the time you'd originally planned to get married. Some couples hold just the minimony then a casual party with family and friends afterward while others hold a "sequel wedding" — such as a big, traditional wedding reception — in the future.
If your date holds significance for you, this is a sweet way to honor it and still have the party you'd always dreamed of afterwards.
Elopement
The coronavirus pandemic might've changed your wedding plans entirely. If you're all about keeping things small now, an elopement might be a wonderful way to tie the knot.
Elopements are traditionally where the couple heads off for a wedding in secret. You might elope with your parents or close family there, or just you and your partner (plus your officiant). You can then send marriage announcements to everyone you know to let them know you're now newlyweds.
Transform Your Big Day With These COVID Wedding Ideas
In the midst of uncertain times, it's heartwarming to know that you can still turn your wedding day into something truly memorable and special. With these COVID wedding ideas, you can plan a celebration that's thoughtful, intimate, and perfectly you. Whether you opt for a smaller ceremony or take it virtual, don't lose sight of the most important part of all: your love for one another.