March 2, 2021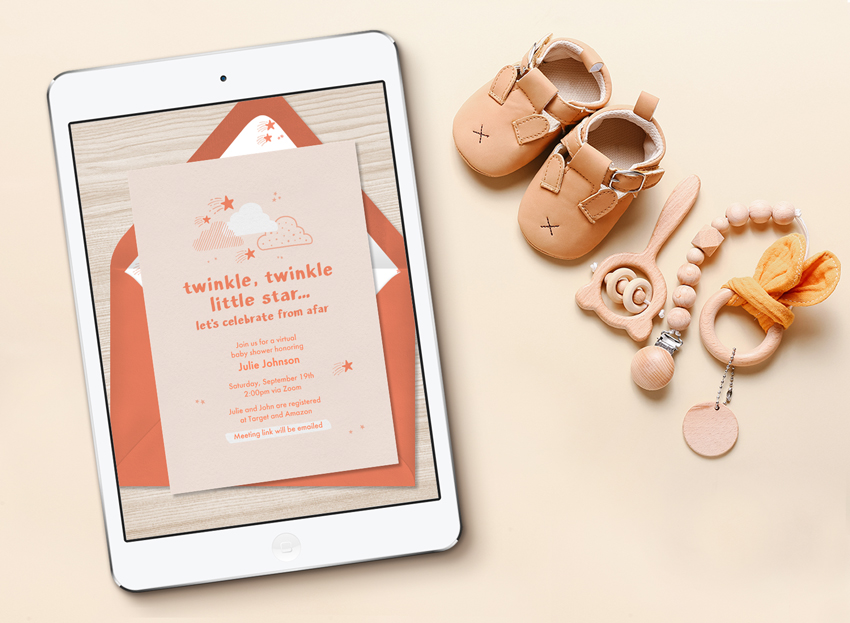 There's a bundle of joy on the way and it's time to celebrate! Whether you're throwing your own baby shower at home or hosting one virtually for your expectant loved one, the first step in planning the special day is making a guest list and sending out invites. 
Baby shower invites are more than just telling guests about a time and place, they also include details on what the parents need — like books, gift cards, and diapers — and sometimes they double as a gender reveal announcement. That means choosing your words wisely is even more important when crafting these invites.
If you're feeling stuck on what to say or a little overwhelmed planning the virtual big day, we're here to help. Use our virtual baby shower invitation wording tips, plus discover gorgeous invitation inspiration.

What To Include on a Virtual Baby Shower Invite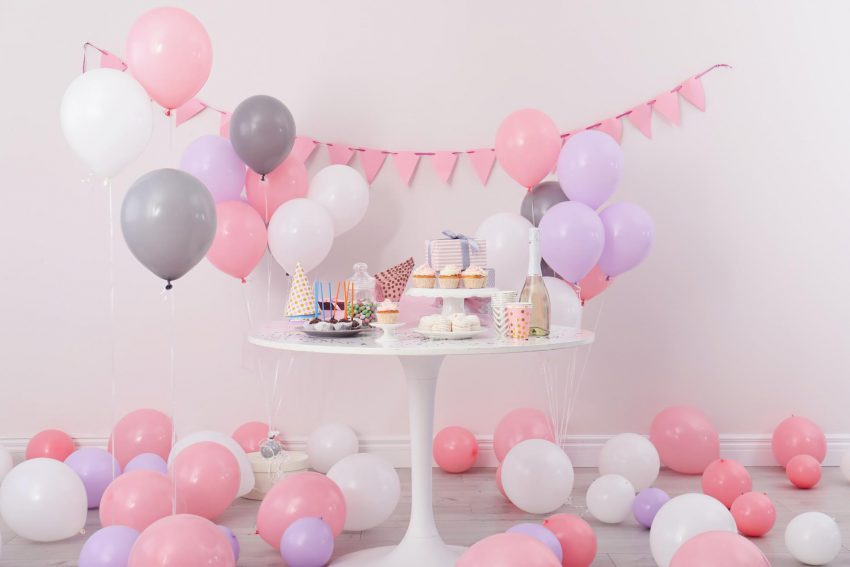 The main goal of a virtual baby shower invitation is to provide guests with information about the special day. This includes the classic tidbits like when you're hosting the shower and what technology guests need in order to participate. It can also include information on what gifts to send the new parents or the gender of the baby, if relevant.
Here's some information you should almost always include on a virtual baby shower invite:
Name of the parents-to-be

Name of the host (if it's not the parents)

Baby's name and gender (if the parents want to announce it)

Date and time of the shower

A link to the tech tool or meeting room you'll be using (Zoom, FaceTime, Skype, etc.)

RSVP date

Gift registry information
It's a good idea to send your baby shower invitations up to six weeks before the event. This gives guests enough time to mark their calendars and purchase gifts if needed. The RSVP date should be around one to two weeks before the virtual baby shower.
Virtual Baby Shower Invitation Wording and Design Inspiration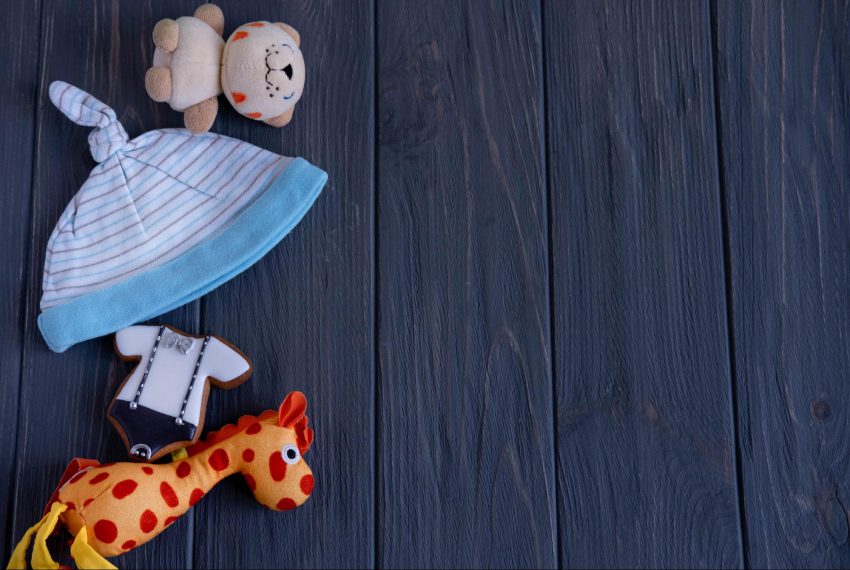 Just because you can't get everyone together in person doesn't mean you can't honor the special moment. If you're hosting a virtual baby shower, here are some wording ideas and invitation inspiration to do the moment justice.
While you may be having the party virtually this time, you can still use a lot of the fun sayings you've seen on traditional baby shower event invites. Just be clear that the event is virtual or remote as opposed to in-person.
When it comes to virtual baby shower invitation wording, it's all about being creative. There's no one right way to write an invite. You can make the wording as formal or friendly as you'd like. Baby shower invitations in particular are perfect for having fun and playing with language.
Not sure where to start? You can use the design of your invitation as inspiration. At Greenvelope, you'll find hundreds of baby shower invitations featuring everything from balloons bursting with joy to celebratory baby elephants and sweet storks. With these baby-inspired elements, you can craft cute phrases and fun sayings to invite guests to the special celebration. Below are some ideas to get you started.
Animal-Themed Invitation Wording
Many baby shower invites feature creatures and critters to celebrate the special occasion. These can give you tons of ideas when it comes to phrasing since you can play with words or characteristics of the animals to make fun sayings. Here are some ideas for wording virtual baby shower invites using animals.
Woodland Animals Invitation
Our Woodland Animals Invitation features hand-painted watercolor creatures from delicate does to fancy foxes and happy hedgehogs. Use playful and whimsical wording to impart a dreamy vibe for the upcoming baby shower. Something like "a new fairy is joining our forest" is sure to be a big hit. Add information about the virtual event and don't forget to include a link to the event meeting room.
Mama Elephant Invitation
Another sweet, dreamy invite is our Mama Elephant Invitation. The card features an artsy watercolor depiction of a mama and baby elephant. When it comes to wording, sayings such as "Come toot your trunk in celebration" or "The little peanut is almost here" are a great way to build on the aesthetic of elephant-themed invites for a virtual baby shower.
Nature-Inspired Invitation Wording
Other common motifs in baby shower invites are natural elements. Things like beachy scenes and citrus fruits can help get the creativity flowing when you're wording your invite. Not sure how? Check out the example below.
Little Cutie Invitation
There's nothing cheerier than this Little Cutie Invitation. Featuring fun fruits and blossoming florals, it's a great way to announce the bundle of joy without revealing the gender. It's perfect for a virtual brunch shower and you can even use it for a bridal shower event as well.
When writing the virtual baby shower invite, use phrases like "come celebrate the arrival of our little sunshine" or "life's never been sweeter" or "our family is getting even cuter." Make sure to add the date and time of the virtual event and information on how guests can join remotely.
For a fall baby shower, you could look for a card featuring another orange fruit — a pumpkin! Write down the date and time to "celebrate the arrival of our little pumpkin" and send the invites to close friends and family members.
Travel-Inspired Invite Wording
It's no secret little kids like moving toys. From hot rod race cars to tractors and bicycles, these motifs are a great way to get inspired when it comes to virtual baby shower invitation wording. These vehicles are also a great way to symbolize the virtual or remote nature of your shower.
Little Wagon Invitation
This Little Wagon Invitation is the perfect way to invite guests to a drive-by or walk-by shower. Turn it into a literal representation of the event and have guests fill a wagon with gifts like diapers and toys. They can swing by your house and drop off the goodies. 
Alternatively, you can use the invite to symbolize a digital celebration of the baby shower. Write something like "Our hearts are as full as this wagon in anticipation of our baby's arrival" or "Little tykes and trikes, join us for a virtual celebration of our baby boy!"
Shower By Mail Invitation
This Shower By Mail Invitation features a watercolor illustration of a mailbox and decorated gift boxes for the new baby. It's a lovely design that infuses joy into a remote or socially distanced celebration. Try phrasing such as "Out of sight, but not out of mind, it's baby celebration time!" or "Love knows no distance, join us for a remote celebration of our stork delivery."
All Aboard! Invitation
This All Aboard! Invitation will get guests on board for a virtual baby shower bash celebrating the little baby girl or boy. Add text to each carriage to announce the event time, baby registry info, and virtual login details guests should use. A fun phrase you could use is "Miles apart, but close at heart — join us for a celebration or our new conductor!"
Gender-Neutral Invite Wording
Hosting a virtual baby shower, but don't know the baby's gender or don't want to reveal it? Use a gender-neutral evite and virtual baby shower invitation wording to convey your happiness for the new little one.
Boho Baby Invitation
Our Boho Baby Invitation features a whimsical cot and nursery room decor. You can customize the color and font to suit your fancy and make it gender-neutral or incorporate small hints before your big reveal during the online baby shower. Write a cute saying like "in a few short weeks, we'll have someone new to snuggle" when sending out the invites.
Modern Nursery Invitation 
Our Modern Nursery Invitation is perfect for coed showers and remote baby showers where you aren't focusing on the gender of the sweet baby. It's also perfect for a book-themed virtual baby shower. Just ask guests to mail their favorite children's books and you can read from one or two during the virtual shower. For wording, try something like "Books give us someplace to go when we have to stay where we are, so we're inviting you to share your favorite stories with our new bundle of joy."
Virtual Doesn't Mean Alone: Celebrate With Loved Ones Safely
Whether you're hosting a long-distance baby shower because everyone lives far away or simply because you had to adjust to the social distancing rules of the coronavirus pandemic, you don't have to sacrifice the joy and elation of your little baby. You can host a Facebook event, drive-by shower, or virtual party that's just as memorable and special. Plus, you can still use crafty virtual baby shower invitation wording to make the event extra special.
At Greenvelope, you'll find not only baby shower invitations but everything else you need to celebrate the new arrival. From birth announcements and pregnancy announcements to baby shower thank you cards, we've got you covered when it comes to digital stationery. 
Need help planning the baby shower? Don't miss our Stationers blog for tips on everything from baby shower games and baby shower themes to general baby shower ideas and planning advice. You'll find advice for traditional in-person showers as well as creative ideas to make virtual events unforgettable.