October 10, 2019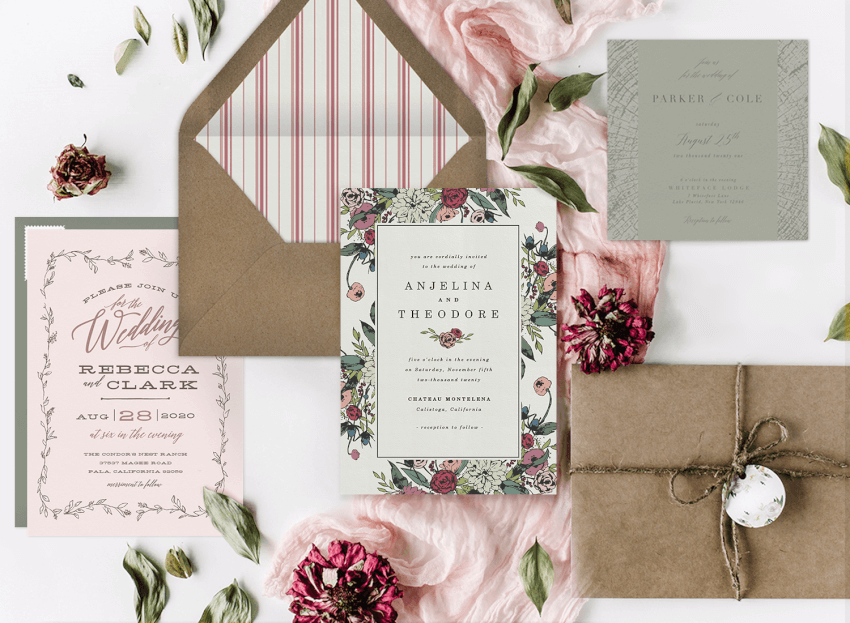 If your wedding vision includes burlap, mason jars, and string lights, you might be a boho bride. Whether you're saying "I do" in a barn deep in the woods or in a traditional venue decked with vintage treasures, there's a rustic invitation for your wedding theme. Beautiful rustic wedding invitations let your guests know they can expect to loosen their ties and maybe even go barefoot on the dance floor…dance field, that is. We've rounded up our favorites for every kind of shabby-chic celebration.

Vintage Rustic Wedding Invitations
If your dream tablescape includes antique candlesticks, mismatched china, and delicate lace tablecloths, set the tone with a vintage-style invitation. Think Victorian-inspired florals, rough edges, and subtly gilded accents.
1. Vintage Floral Frame Invitation
This timelessly elegant design was inspired by old world book covers. Set the mood for your classic romance with aged silver florals and sophisticated script. Customize the look with an array of metallics including rose gold, yellow gold, and copper.
2. Anemone Blossoms Invitation
This romantic floral wedding invitation features rough edging and deckled cardstock for a vintage aesthetic. A pen-and-ink illustration features delicate anemone blossoms in classic black and white, lovely blue, or rose hues. The bride and groom's names read in an antique script paired with old-style block type.
3. Yellowstone Invitation
An authentic map of Yellowstone National Park creates an Old World feel on this traveled invitation. Classic bold typography and a gold-foil pinstripe frame harken back to another era. A custom envelope liner features a vintage painted landscape from the park. The wedding invitation suite features a hand-drawn save-the-date and a full-bleed photo thank-you note.
4. Rustic Lace Invitation
This elegant rustic wedding invite is at once woodsy and antique. Delicate lace frames contemporary text for a contemporary/vintage mix. A wooden background is reminiscent of family heirloom furnishings. The photographic quality is so realistic you can practically feel the aged wood grains.
Forest-Themed Rustic Wedding Invitations
If your chosen venue looks like an enchanted forest, you'll need an equally woodsy wedding invitation. Our favorites have deep hues, leafy trees, and just a touch of sparkle. Create A Midsummer Night's Dream vibes and invite your guests to an au natural affair.
5. Mt. Rainier Invitation
Moody stretching trees create a layered background for gold foil script reading "meet us in the woods." Simple all-caps text features all your invitation wording while keeping the focus on the woodsy theme.
6. Tree of Life Invitation
An tone-one-tone neutral hue creates a letterpress texture on this understated invitation. An abundant tree is the perfect place to stage a wedding ceremony — and an invitation. Calligraphy script writes the couples' names and basic block text includes wedding details.
7. Enchanted Woods Invitation
This dreamy design is perfect for an evening wedding followed up dancing under the night sky. Slate and navy blue meet for a tone-on-tone palette highlighted by creeping vines and whimsical dots. Off-white text stands out against the watercolor-wash background.
8. Oak Leaf Motif Invitation
A bold oak leaf motif in autumnal hues is perfect for a fall wedding. If vibrantly colored, changing leaves will serve as decor on your big day, this laser-cut invitation is your perfect match. Textured cardstock creates a high-end look with modern stylized text.
9. Mount Rainier Invitation
Not to be confused with the previous "Mt. Rainier" invitation, this beautiful illustration was created with vintage postcards in mind. Moody colors and intricate shadowing create a powerful aesthetic for your al fresco affair. Hand-drawn script features the happy couple's names, and a mix of retro text hosts wedding details.
Country-Themed Rustic Wedding Invitations
Is your venue a barn or field? Will your bridesmaids wear cowboy boots? Does your bouquet feature wildflowers? If so, these shabby-chic invites are a perfect way to welcome guests to your wedding day. Think natural wood grain backgrounds and textural overlays offset by carefully designed type.
10. Rustic Evening Invitation
This rustic wedding invitation is perfect for a barn wedding. A bucolic door frame opens to quaint cafe lights and a mix of stylized text. The couple's names and wedding date take center stage against a dark background.
11. Rustic Woodgrain Invitation
Harken back to the Wild West with this wood wedding invitation. A mix of stylized fonts create rustic charm against the natural wood grain backdrop. Thoughtful design accents include a banner, dotted lines, and your wedding date in bold numerals.
12. Quintessential Sunflower Invitation
Nothing says country summer like sunflowers. This unique invitation features a hand-drawn illustration of a beautiful sunflower created in gold foil. Gold script and modern text offers a clean aesthetic against a stark white background.
13. Burlap and Lace Invitation
You can practically feel this textural burlap and lace wedding invitation. The sweet lace fabric overlay creates country style, and burlap is the perfect background for your wedding details. Classic white text includes a mix of playful script and block text.
Garden-Themed Rustic Wedding Invitations
For couples with natural style, a garden wedding is the way to go. Celebrate the height of spring flowers with plenty of greenery and bountiful bouquets. Whether your choice is a sculptural English garden or a field of sprawling wildflowers, natural blooms offer plenty of decor. Extend that vibe to your rustic wedding invitations with hand-drawn flowers and summery hues.
14. Rustic Bouquet Invitation
This hand-painted floral invitation is perfect for a spring wedding. Peachy hues and vibrant greenery feel like a perfect May day. Classic text and a hand-script accent is clustered below for all of your wedding details.
15. Vineyard Vows Invitation
What does your garden grow? If the answer is grapes, this vineyard invitation is just the ticket. Choose from classic plum or a moody blue-and-teal colorway. Hand-drawn grapes frame the couple's names in bold text. Below, there is plenty of room for all your wedding details and RSVP information.
16. Blue Ivy Invitation
Who says garden wedding invites need to be pink? This beautiful blue wedding invitation has a classic, preppy feel with a boho twist. Vibrant watercolor stems are met with whimsical dots to create a beautiful verdant frame. Inside, wedding details are listed in a mix of script and block text.
17. Radiant Sunflowers Invitation
You can practically feel the sunshine with this vibrant sunflower wedding invitation. A mix of yellow blooms and classic sunflowers offer a beautiful accent to classically styled text. The first names of the bride and groom are featured in a yellow script.
Say "I Do" With a Rustic Wedding Invitation
Whether your wedding is outdoors in a field of flowers or inside under dreamy strings of cafe lights, embrace your shabby-chic aesthetic with a rustic invitation. Country-style invitations lead to an affair full of lace, baby's breath, twine, and a whimsical chalkboard. Vintage-inspired designs lead to reclaimed decor and timeless style. Garden party invitations put the focus on the beautiful flowers guests can expect to see on your big day. However, no bloom can upstage the happy couple.