October 11, 2022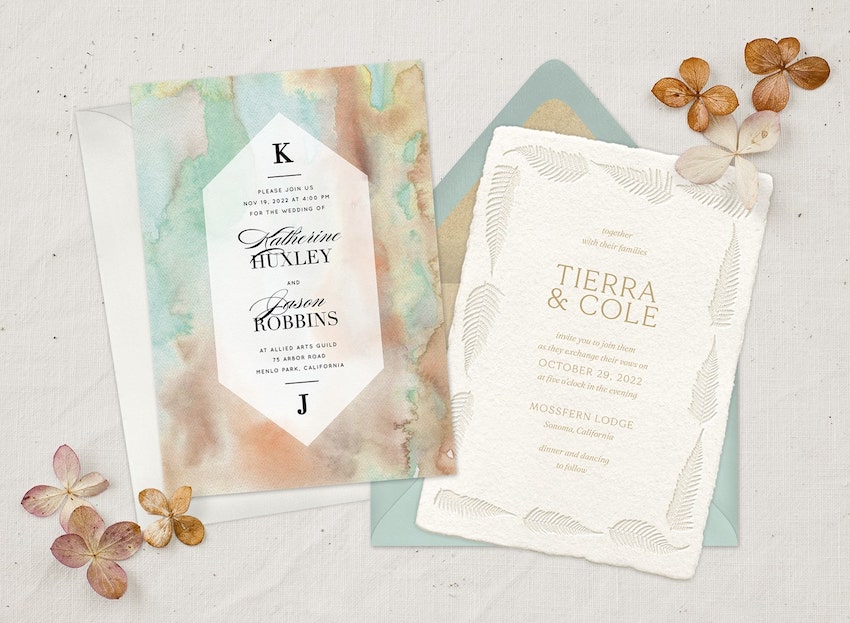 When planning your big day, it doesn't take long to realize that the list of wedding themes is endless. From gem-hued autumn weddings to all-black wedding themes, there's something for everyone. If you love a free-spirited aesthetic with natural and organic elements, a boho wedding could be the theme for you. Here, you'll find wedding planning ideas ranging from florals, attire, and decor to perfectly designed invitations.

6 Beautiful Boho Wedding Ideas
Boho style (short for bohemian style) is all about being artistic and blending elements from various cultures. Boho design incorporates organic elements like wood, gemstones, and natural linens and draws inspiration from earthy elements — like geodes and crystals — as well as celestial influences such as crescent moons and stars. Paisley patterns are blended with silk and chenille to create contrasting textures that are also hallmarks of this style.
There are numerous ways to incorporate bohemian style into your special day. Here are some of our favorite boho wedding ideas for you to consider.
1. Set the Scene With Boho Decor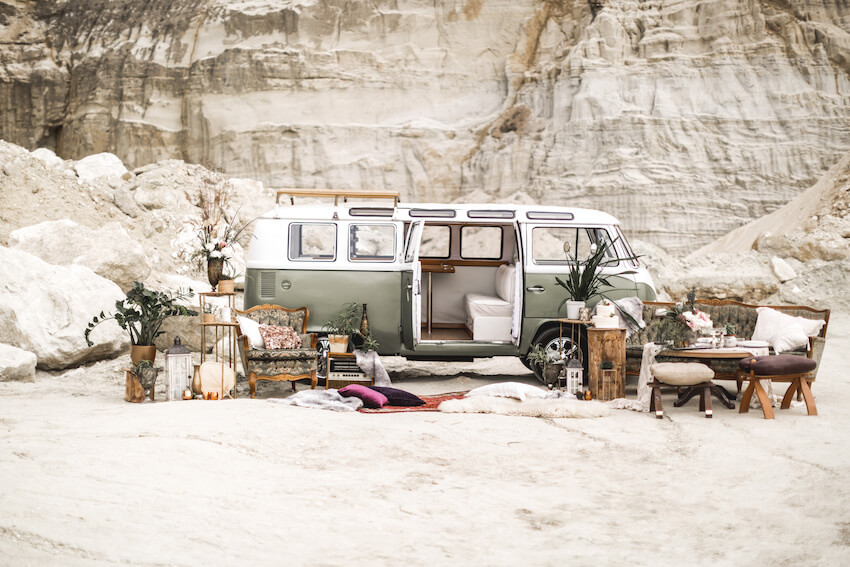 When designing your dreamy boho wedding, focus on earthy elements for your decor. Pampas grass adds romance and makes a big style statement, while macrame planters with lush plants lend a natural feel.
For your floral arrangements, consider a mix of colorful wildflowers and greenery instead of perfectly manicured bouquets and centerpieces for a more natural setting. Succulents can also add a nice touch to dessert weddings, plus they fit perfectly with other boho wedding decor ideas.
For place cards, you can use crystals or gems to create a boho aesthetic. Stars, moons, and celestial patterns are popular motifs, while cultural elements like dreamcatchers and wood carvings could make lovely additions.
For a boho chic wedding, incorporate metallic elements such as rose gold servingware or glam mirrored vases for your floral centerpieces. For a rustic wedding, consider rustic touches such as Mason jars, jute chargers, and burlap table runners.
2. Let Your Hair Down (or Put It Up) With a Boho Hairstyle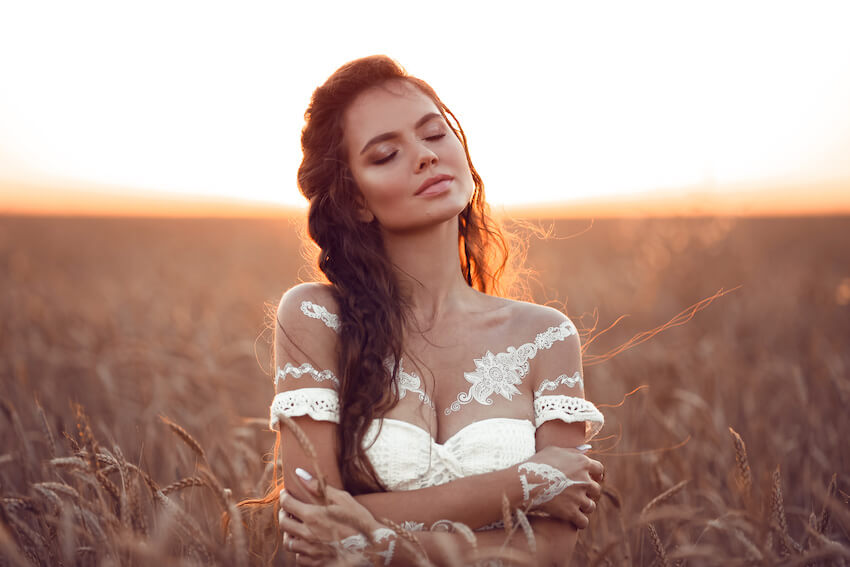 Bohemian design doesn't stop at decor for your wedding ceremony. You can choose from a variety of boho-inspired hairstyles for the bride and bridesmaids. 
Boho hair designs generally feature florals, especially elaborate flower crowns. You can make your own DIY flower crown or work with a florist to make a dreamy design. Braids — including fishtail, Dutch, and crown styles — are popular and create an ethereal vibe that's perfect for a boho event.
If you're having an outdoor wedding, mention this to your hairstylist. They can help you pick a boho hairstyle that can withstand wind and weather.
3. Don a Bohemian Wedding Dress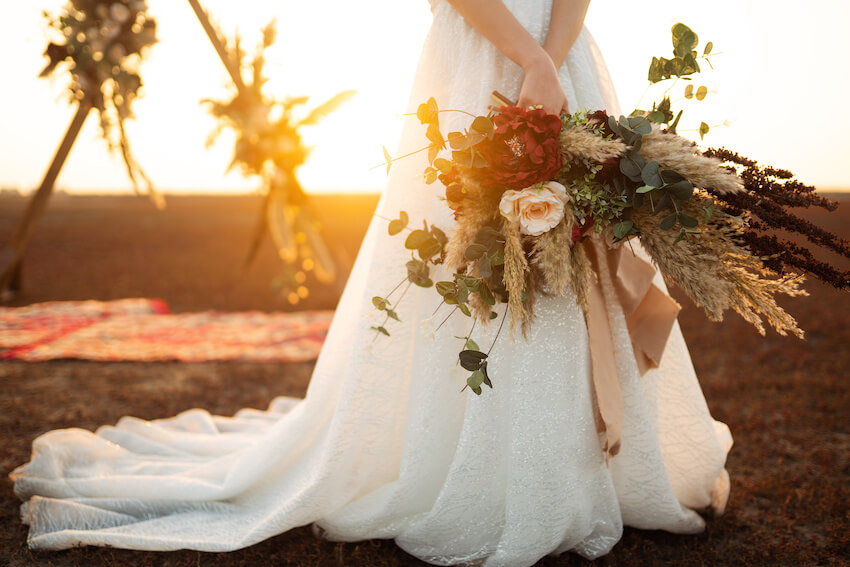 Boho wedding dresses tend to be minimalist, romantic, and whimsical. Bohemian wedding gowns often have delicate lace designs and dramatic sleeves. These dresses tend to offer a more casual fit, perfect for a free-spirited boho bride. You can also incorporate the style into your bridesmaid dresses. Look for a mix of neutral fabrics, soft floral prints, and lacy panels to suit the vibe. For a fun twist, you can pair a wedding dress with cowboy boots or vibrant jewelry.
4. Choose Comfy Seating (with Whimsical Touches)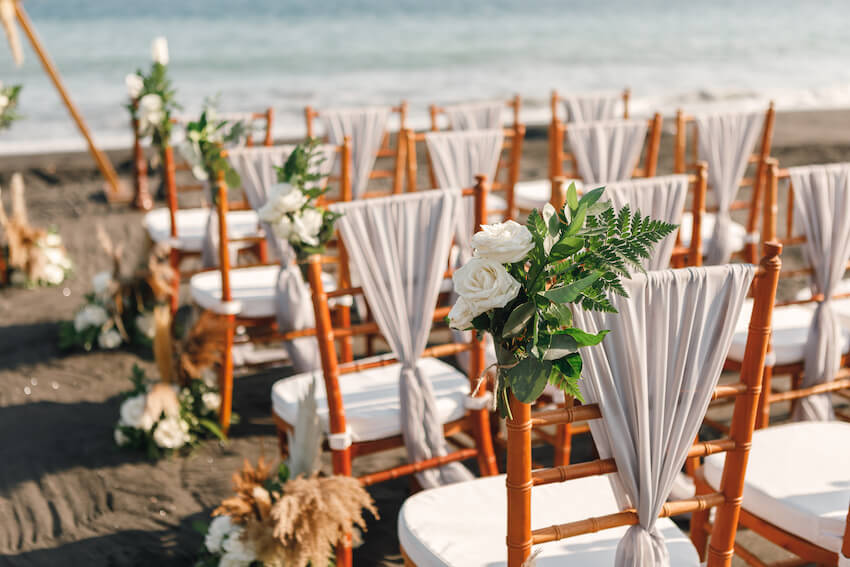 For a bohemian wedding, you can skip the hard acrylic chairs. Instead, opt for soft seating with whimsical touches. You can ask guests to sit on the floor on large, colorful cushions — just be considerate of any guests who might need more comfortable options. You can also consider burlap-covered hay bales or add floral elements to velvet chairs. Paisley rugs or an aisle runner can also build up the boho wedding theme.
5. Show Off Your Great Taste with a Bohemian Menu and Wedding Cake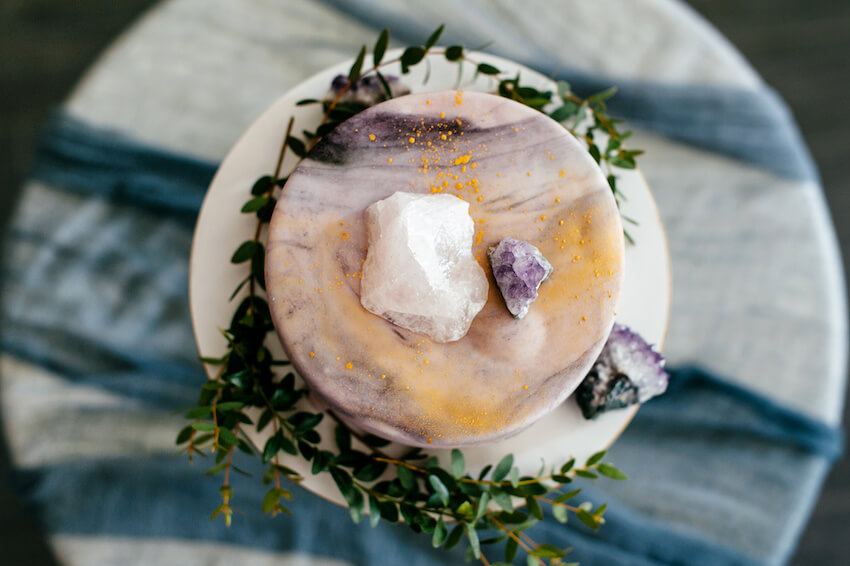 Tie the bohemian wedding theme together with foods from cultures across the world. Guests will remember your nuptials thanks to the opportunity to try unique foods. You can work with a catering company to design a custom menu or opt for a simple buffet featuring dishes from various countries. 
For a boho-inspired menu, serve items that are locally sourced from farms and ranches in the area. Bohemian design is famous for its artistry, so any artisanal foods or beautifully designed displays are right at home with this wedding theme.
After the wedding reception, have guests join you in indulging in a boho wedding cake. You can choose celestial designs or hand-designed cakes featuring geodes and gemstones. Alternatively, wedding cakes (or even cupcakes) adorned with fresh flowers also lend a bohemian look.
6. Say I Do With These Bohemian Venue Ideas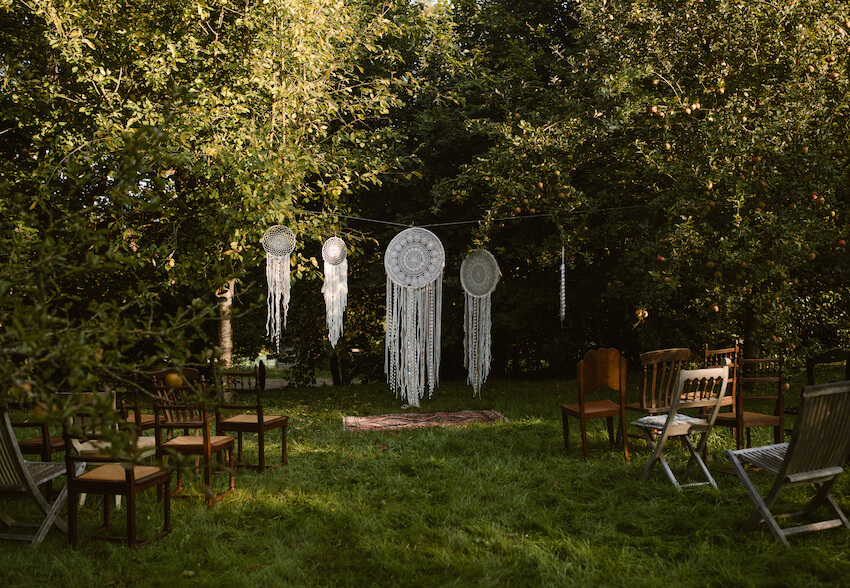 One of the best ways to set the mood for a bohemian wedding is to find the perfect venue. Many boho venues focus on the outdoors. If you don't want to have an outdoor ceremony due to weather concerns, you can find an ethereal and whimsical spot indoors to celebrate.
Start by deciding when you will have the wedding. For a fall wedding, you may want to look for a rustic venue like a barn, vineyard, or farm. For summer weddings or an elopement, the beach is the perfect place to plan your boho affair. Destinations like Sedona and Southwestern deserts are also great options for outdoor nuptials. 
For indoor weddings with a boho vibe, look at forest retreats, planetariums, or treetop resorts. These venues offer stunning nature viewing and make for the perfect background to natural boho decor. Greenhouses and conservatories are other alternatives if you want a natural indoor space that fits a relaxed and free-spirited vibe.
Get Inspired With These Boho Wedding Invitations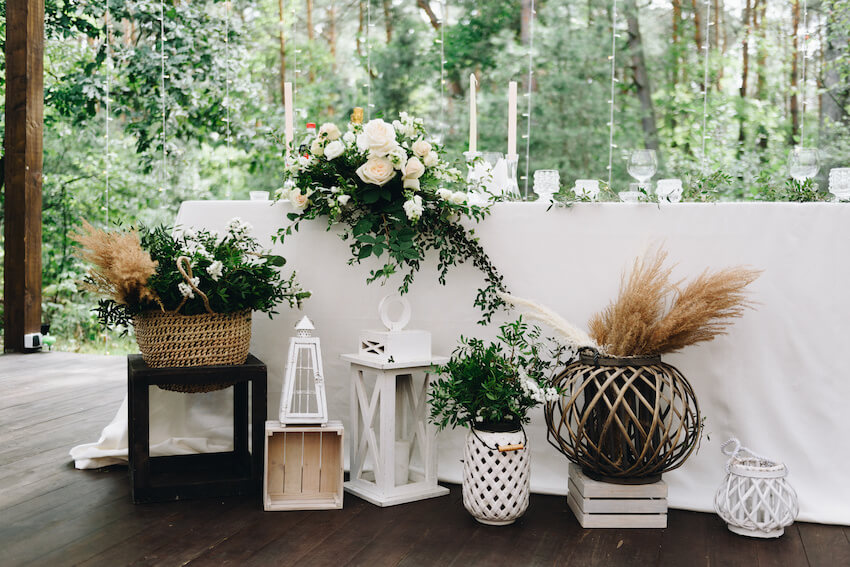 With these bohemian wedding ideas, you're sure to plan a dreamy and whimsical celebration. Next, you'll need boho invitations that match your wedding theme. Here are some of our favorite boho wedding invitations for the big day.
1. Boho Palm Leaves Invitation
This beautiful bohemian invite is perfect for destination weddings as well as local events where you want to transport guests to a bohemian-inspired paradise. The hand-illustrated palm leaves are eye-catching and the design comes in several colorways to match your event.
2. Boho Triangle Invitation
This modern boho wedding invite features floral elements for a romantic touch. The rose gold arch adds elegance and it can be customized to match your wedding colors. 
3. Southwestern Boho Invitation
This boho invite features hints of Southwestern flair. The typography is eclectic and contemporary and can be customized to meet your wedding style, whether it's formal or casual. You can customize the text and include details about your wedding dress code.
4. Graceful Geology Invitation
This sparkling boho design draws inspiration from glittering geodes and the smooth, stunning beauty of natural geologic elements. The soothing shapes and motifs make it ideal for bohemian weddings and events where nature takes center stage. 
5. Delicate Botanical Monogram Invitation
This elegant wedding invitation features deckled edge paper for a natural feel. It has delicate botanical elements for a boho vibe that sticks to the "less is more" ethos.
6. Gilded Full Moon Invitation
Say "I do" under a shimmering full moon with this romantic lunar invite. A simple yet stunning design, it's perfect for boho weddings as well as moonlit ceremonies on the seashore at a beach wedding.
7. Metallic Mandala Invitation
This gold foil invite features a hand-drawn mandala that sets a spiritual tone. Choose from a variety of color palettes or create your own unique colorway. You can also customize the invite by changing the typography and adding elements like a wax seal.
8. Boho Bouquet Invitation
True to bohemian style, this invite is full of beauty and romance. It features a stunning bouquet wreath with various florals and botanicals. Available in three colorways, it's easy to pair the invite with your boho-style wedding.
Use These Tips to Plan a Dreamy Boho Wedding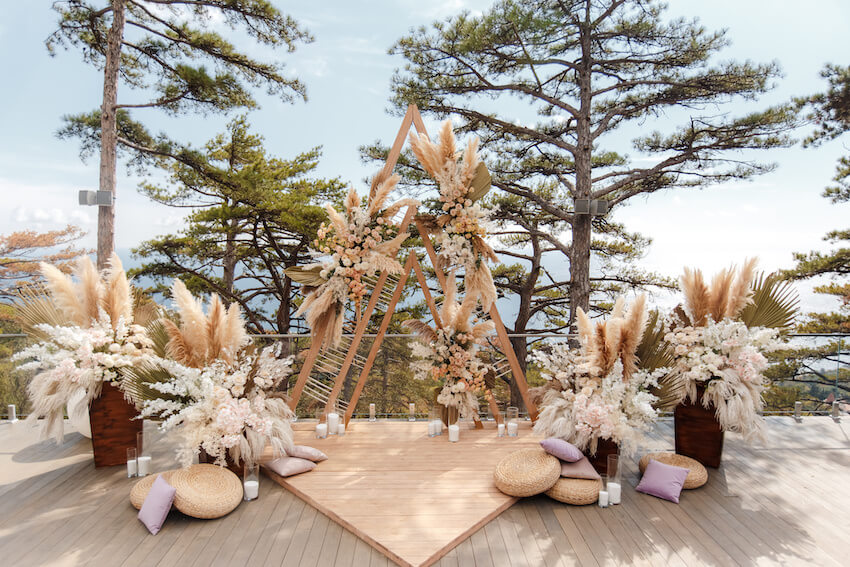 With romantic floral elements, natural decor, and eclectic dining options, it's no surprise that boho themes are among the most popular wedding trends. Use these design ideas to create the backdrop for a special day you'll always cherish.
Once you've nailed down some specifics, have fun creating the perfect wedding invitations. Greenvelope is where you'll find completely customizable designs — and you can even upload your own design for a truly unique stationery suite. 
Need more wedding ideas? Continue browsing our blog's wedding section, where you'll find practical wedding planning tips, including budget breakdowns as well as decor and theme ideas. You'll also find ideas for every bridal event, from bachelorette parties and bridal shower themes to engagement announcements and more.