October 12, 2022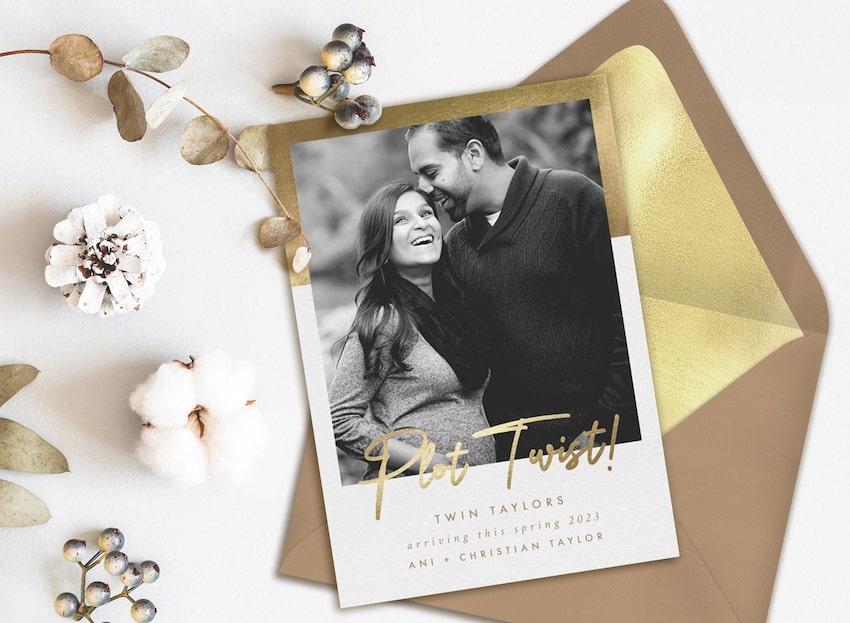 Sharing the news that you're expecting is one of life's most exciting moments. If you're expecting a new arrival in the final season of the year, let your loved ones know with a winter pregnancy announcement. 
To help you make the most of your baby reveal, we're sharing some of our favorite ideas for spreading the news in a way that fits the season and your own personal style. From digital pregnancy announcements to in-person events, we've got you covered. Plus, we'll share what to write inside a pregnancy announcement card with some of our favorite designs. 

Winter Pregnancy Announcement Ideas: 15 Ways to Share the News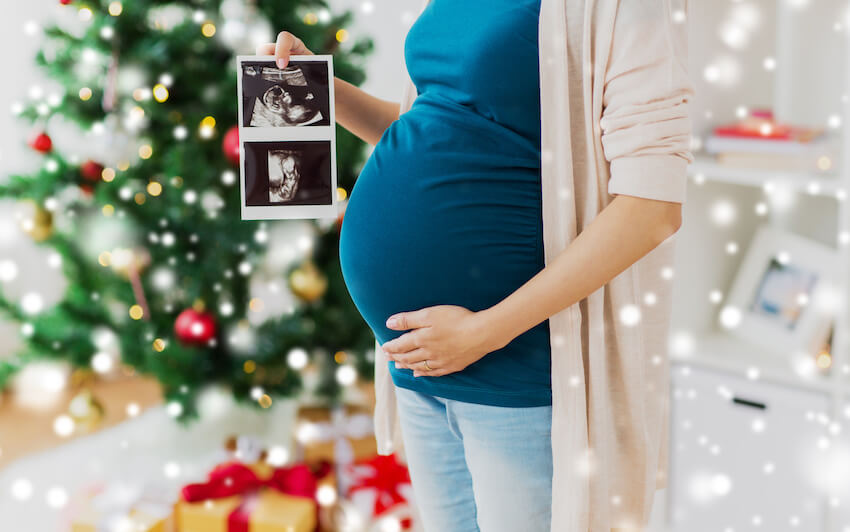 Before you send a winter-themed pregnancy announcement card to your loved ones, take inspiration from these ideas sprinkled with seasonal flair. We've also included some experiential options that you can do in person.
1. Read the Sign
A beautiful handwritten chalkboard sign or a more contemporary letterboard are popular choices for pregnancy announcement photo shoots. Consider fun phrasing like "Coming Soon" or "Baby, it's cold outside but our hearts are warm thanks to our upcoming arrival." You can match the winter theme by adding Christmas decorations or wintertime motifs like mittens and faux snow. 
2. Tiny Baby Boots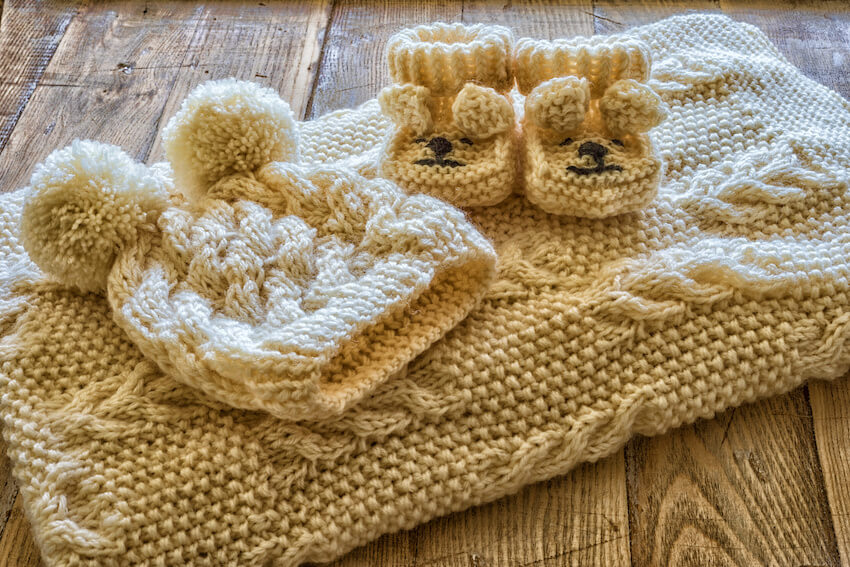 Using baby shoes to reveal a pregnancy isn't new, but you can put a seasonal twist on it by swapping tiny shoes for baby winter boots instead. You can also set the scene with a matching cozy scarf and blanket. This is a sweet way to let your loved ones know you're expecting over the holiday season or New Year period.
3. Wintry Forest Photo Shoot
It might be cold outside this time of year, but don't be afraid to head outdoors. Book a photo shoot somewhere scenic so you'll have a wintry image to use on your pregnancy announcement cards. Make it even more special by inviting your closest family members along on the photo shoot and surprise them with your big reveal. 
4. Ultrasound Photo Decoration
For a sweet Christmas pregnancy announcement idea, ask someone to make a holiday decoration or ornament that features an image from your sonogram. Take a few snaps and include one in your winter pregnancy announcement. 
5. Hibernation Celebration
Take inspiration from hibernating animals and stage a warm and cozy photo shoot indoors by the fire. This is a fun way to break the news that you're keeping something wonderful safe and cozy until after winter. 
6. Clothes on the Line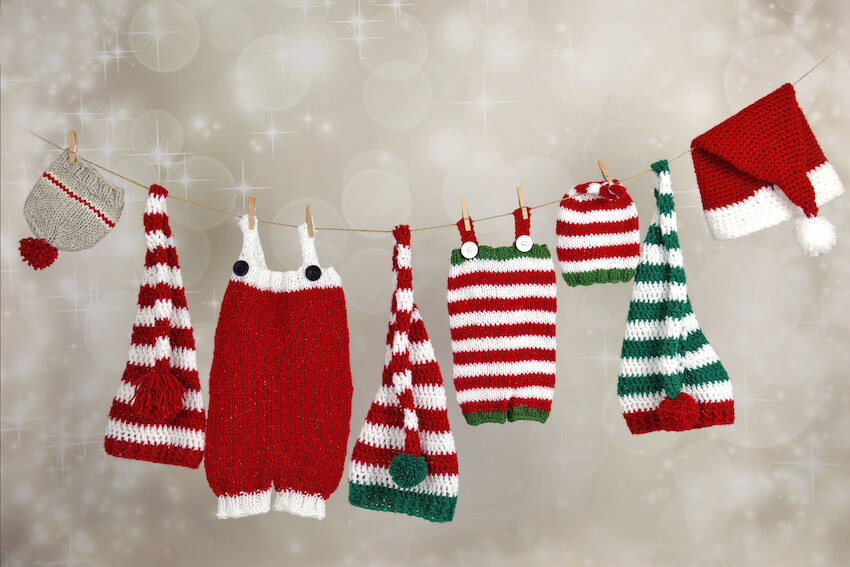 Share the news that you're expecting with a photo announcement featuring baby clothes hanging on a laundry line. This baby announcement idea is adorable all year long, but you can theme it for winter by choosing sweaters, hats, and onesies in festive colors. 
7. Mini Snowman
Grab some gloves and make a snowman for everyone in your immediate family, including a mini one for your soon-to-be arrival. Not only is this a memorable way to share the news with your loved ones, but it's also a fun activity for everyone to enjoy during the winter season. 
8. Baby Bump by the Tree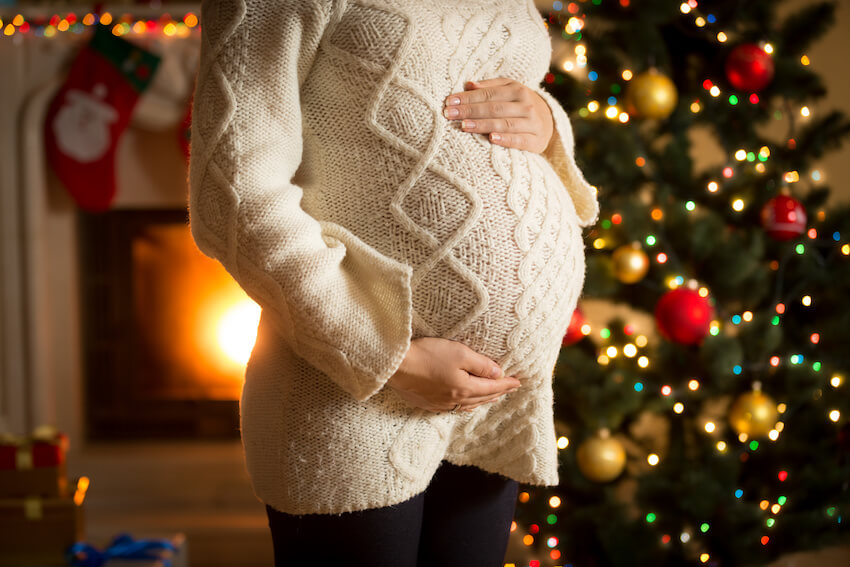 You don't have to leave home to stage a wonderful winter pregnancy announcement photo shoot. Get cozy by your Christmas tree and celebrate your news with a bump reveal or sign. If you don't celebrate Christmas, you can easily stage a photo shoot next to a lovely outdoor tree. 
9. "I Asked Santa For …"
Make a sign that says, "I asked Santa for …" and make it part of your pregnancy reveal. If someone's about to become a big brother or sister, this is the perfect way to get them involved and keep some of that Christmas magic. 
10. Mini S'mores
S'mores are the perfect companion to your winter baby announcement photo. Gather by the fire, make s'mores, then feature them in a photo announcement for a fun way to reveal the happy news. 
11. Family Photoshoot in the Snow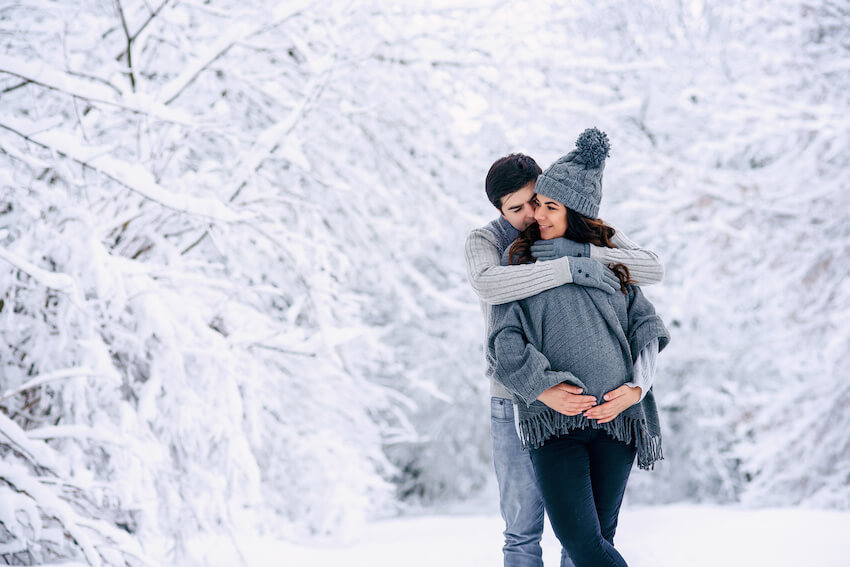 Head outside and capture some magical photos in the snow together, and let your photos do the talking. Reveal a baby bump, hold up a sign that says you're adopting, or wear a personalized T-shirt or sweater that shares the good news. 
12. Wintertime Onesie
Festive clothes are always sweet — especially so when they're tiny! Craft a quick message like "We're expecting" or "This little onesie is ready for our upcoming arrival" alongside a winter-inspired onesie featuring snowflakes, snowmen, or pine cones. 
13. Hang the Stockings
Hang your stockings by the fireplace as usual, but add an extra one (or more) for your soon-to-be new baby (or babies). Invite your loved ones over and see how long it takes for them to realize, or send them a photo to surprise them with the announcement. 
14. Winter Picnic
Picnics aren't just for summer. Plan a cozy winter picnic with a blanket, plenty of layers, and some delicious food and warm drinks. Snap some photos and use them in your pregnancy reveal card, or invite your close family members to the picnic and share the news in person. 
15. Unwrap the Sonogram
Let your loved ones know you're getting the best gift ever this year. Surprise them with a wrapped holiday or Christmas gift and ask them to unwrap it, revealing your sonogram photo.
What to Include in Your Winter Pregnancy Announcement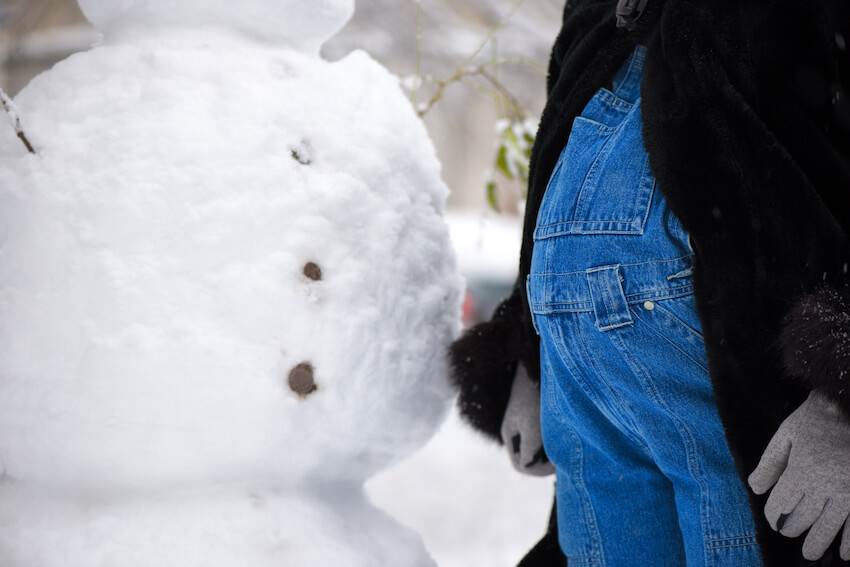 Looking for the right words to share your exciting news? Be sure to include these details in your winter pregnancy announcement card. 
What You're Celebrating
You're celebrating a pregnancy, but unless the photo makes it obvious, you'll want to be clear about this with your text or description. Share whether you're expecting one bundle of joy or multiples — after all, you (and your loved ones) may need to start planning a twin baby shower!
When the Baby Is Due
The first thing people are going to ask is when you're due. If you want to keep your exact due date a secret, that's perfectly fine. You can simply share the month when you expect your new bundle of joy. 
A Personal Note
This isn't a must-have, but it's a lovely way to express your joy. Add a line or two about how excited you are to meet your new baby, how much you've longed for them, or that you can't wait to introduce them to everyone once they arrive. 
Share the News with These Winter Pregnancy Announcement Cards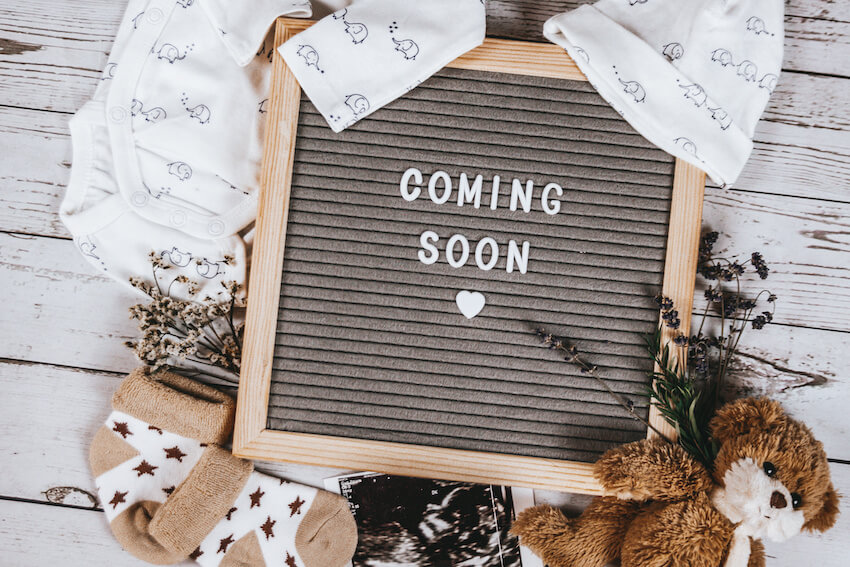 Digital pregnancy announcement cards are one of the easiest ways to share your exciting news. It's the perfect way to reach everyone in your circle, no matter where they are. 
Get inspiration for your own card with the help of our favorite winter pregnancy announcement cards below. Each one can be customized to suit your style — change the font, colors, and wording to create your personalized pregnancy announcement card. 
Plot Twist Pregnancy Announcement
This photo pregnancy announcement is sophisticated yet celebratory with its metallic accents. It's available in gorgeous color options, including this very festive-feeling gold version. 
Can Bearly Wait Pregnancy Announcement
For a playful tone and adorable illustration, this charming pregnancy announcement is a winner. You can keep the phrasing to include a gender reveal at the same time, or use the bear motif for a fun message like "In hibernation until next spring when our baby arrives!" 
We're Expecting Pregnancy Announcement
What's lovely about this pregnancy announcement is the calendar-style approach to revealing the due date. With glitzy festive color options and space for your announcement photo, it's ideal for a winter pregnancy announcement. 
Find the Perfect Winter Pregnancy Announcement Card
A moment as wonderful as this deserves a celebration. Use these themes and ideas to plan a magical moment — whether you share the news in person or with a thoughtful message across the distance.
Get the news to your loved ones fast with one of Greenvelope's digital pregnancy announcement cards. Find a design you love, customize it with your exciting news, and send it to your family members and closest friends in moments.