August 24, 2021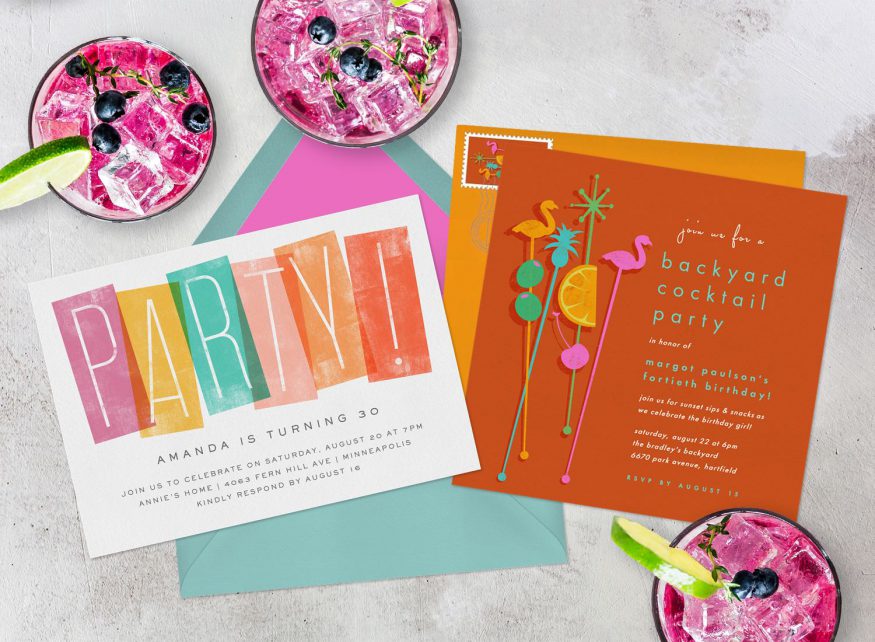 Planning someone's birthday party is an exciting chance to create a magical day when they're the center of attention and everyone's gathered round to celebrate them. 
But before that memorable moment happens, you first need to let people know there's a party happening. This mini guide to birthday invitations templates will help you do just that. You'll find tips on what to include in your party invites, great wording ideas, and take a look at some of our most loved birthday templates that you can customize. 

What to Include on Your Birthday Invitations Templates
There are some things you just can't do without when it comes to the perfect birthday party invitation. Here's what to feature on your birthday invitation card so guests have all the necessary details. 
Birthday Guest of Honor's Name
It might sound obvious, but make sure the birthday guest's name is big and bold somewhere on your party invitations. Feature the name center stage or in a beautiful font to make it pop.
Stick with whichever name the guest of honor uses with their loved ones. For most birthday party invitations, this will be their first name or a nickname. For more formal gatherings, you might add their surname too. 
Birthday Guest's Age
It's tough to keep track of everyone's birthdays and how old they are. Help your party guests avoid any awkward moments by sharing this detail. One caveat: Sometimes the guest of honor will want to announce their age — for example, if they're celebrating a milestone, such as a 21st birthday, 50th birthday, 60th birthday, 70th birthday, or beyond. Other times, that age creeping up is something they'd like to keep subtle or even joke about. Make sure to check with the guest of honor and design your invitation around their preference. 
Date and Time
For the birthday bash to be a success, everyone needs to know exactly when it's happening. Make sure you don't miss this must-have information on your birthday invitations templates. 
Include the date and time on your invites and keep it simple. Be sure to include "a.m." or "p.m." to avoid confusion over whether it's a morning or evening gathering. If you're hosting a virtual birthday party with guests in different time zones, be sure to specify that as well.
If you're writing a formal birthday party invitation, you might want to spell out everything from the day of the week to the year. See what works best with your party style and invite design. The great news is that you can try different looks for your email invitations before making your final decision.
Location
Feature the full address of your party venue, including the city or area and ZIP code. This is especially useful for out-of-town guests. Even if the party's happening at your home and your close friends know exactly where that is, it doesn't hurt to include these helpful details.
Extra Details
You've got almost all the basics covered, but there's one last thing we consider a must-have — telling your guests how they can RSVP. With online invitations, your guests can easily respond and you can seamlessly track RSVPs. If you're sending invites via text or postal mail, include a phone number people can text or an email address they can use. 
There are also other details you might want to include on your birthday party invitations. Listing the dress code could be important if it's anything other than a casual celebration. You might also want to include information about gifts — perhaps you want to request a charitable donation in lieu of gifts or the guest of honor has a gift registry. 
If it's a surprise party, make sure this is clear on your invites — along with any social media hashtags you'd like people to use during the event. It all depends on what kind of birthday bash you're throwing. 
Fun Birthday Invitation Wording Ideas
Looking for some great wording ideas for your birthday party invitation templates? Here are some sweet and simple birthday celebration messages that you can personalize to make them suit your event perfectly. You can also check out our guide to fun birthday party ideas to inspire your party theme and invitation message.
[Name] is turning [Age]!
Come and join us for a day filled
with fun and laughter in their honor
[Date and Time]
[Location]
RSVP via Greenvelope
—
We'd love you to join us for
[Name]'s
[Age] birthday party!
[Date and Time]
[Location]
Dinner will be served at [Time],
followed by cocktails and dancing
RSVP to [Email]
—-
Can you believe [Name] is [Age]?
We can't either!
It's time to celebrate the big moment
with a surprise party!
[Date and Time]
[Location]
Don't spill the beans! 
RSVP by [Date]
—
You're cordially invited to
[Name]'s
[Age] birthday party
Join us on [Date] at [Time]
for a [Theme] themed celebration
[Location]
RSVP via Greenvelope
—
The cat's out of the bag…
[Name] is turning [Age]!
Celebrate with us on
[Date] at [Time]
[Location]
Dress Code: [Dress Code]
RSVP by [Date]
Our Most-Loved Birthday Invitations Templates
Here are some of our most loved invitation designs for adult birthdays, children's birthdays, and quinceañeras. With each design, you can use Greenvelope's easy design tool to make changes to editable areas for a personalized look in moments. 
Adult Birthday Invitations
Who says adult birthday invitations can't be fun? Here are some of our favorite birthday invites, from gorgeous watercolor illustrations to bold, modern designs. 
Party Pattern Birthday Invitation
How exciting is this party pattern invitation? We love the striking color combinations and bold lines that transform what could be an ordinary birthday party invite into an explosion of fun. 
Celebration in Bloom Birthday Invitation
There's something so beautiful about this celebration in bloom invitation. The watercolor floral design makes it perfect for a whimsical garden party, or a sophisticated cocktail event to celebrate a big birthday. 
Party on Point Birthday Invitation
We love the vibrant hues of this party on point invitation — it's perfect for a summer birthday bash. Throw a fantastic fiesta or peppy pool party in your backyard with this bright, colorful birthday invitation template. 
Kids Birthday Invitations
We love going all out with kids' birthday invitations! There are so many fun designs — from under-the-sea designs perfect for a pool party to adorable pastel invites for your child's first birthday sleepover party.
Time to Pawty Birthday Invitation
This time to pawty invitation is perfect for party animals of all ages! It's the perfect party invite for a loved one who's totally obsessed with cats, or just wants something super sweet to tell their friends about their big day. 
Super Hero Pow Birthday Invitation
There's nothing better than being your very own superhero character, and this super hero pow invitation is perfect for little adventurers. Whether you're throwing a superhero-themed party or your birthday boy or birthday girl is the hero, this photo invite is a great way to set the tone for the event. 
Confetti-saurus Birthday Invitation 
This confetti-saurus party invite is perfect for a kids' party. Whether you're hosting a backyard party for someone turning 21 or a fully decked-out dino-themed party for a little one, this invitation is totally roar-some! 
Quinceañera Invitations
A quinceañera is a rite of passage for those turning 15. Tell your close friends and family members exactly where and when this special celebration is happening with these beautiful quinceañera party invites. 
For a Princess Quinceanera Invitation
We love the gorgeous watercolor background on this royal quinceañera invitation. The deep hues and gentle strokes, paired with the elegant script font, make this the perfect invite for a sophisticated fairytale quince. 
Quince Años Invitation
If you're looking for a striking modern quinceañera invitation, this quince años design is the way to go. The contemporary colors work beautifully with the hints of florals to create a look that's the perfect modern take on a quinceañera. 
Effervescent Quinceanera Invitation 
You can't go wrong with a photo invitation. This effervescent quinceañera invitation lets you share a beautiful snap of the guest of honor with plenty of space for all the event details underneath. 
Create the Best Birthday Party Invitations Ever
Celebrating a birthday party can be so much fun, especially when you have birthday invitations templates that help you arrange all the details easily and quickly. 
Whether you're planning a casual celebration or a formal get-together, you can make your party invites exciting and creative. At Greenvelope, we make it easy to include all the basics along with eye-catching designs you love. For more inspiration, don't miss the latest party planning guides on our Stationers blog.