March 8, 2021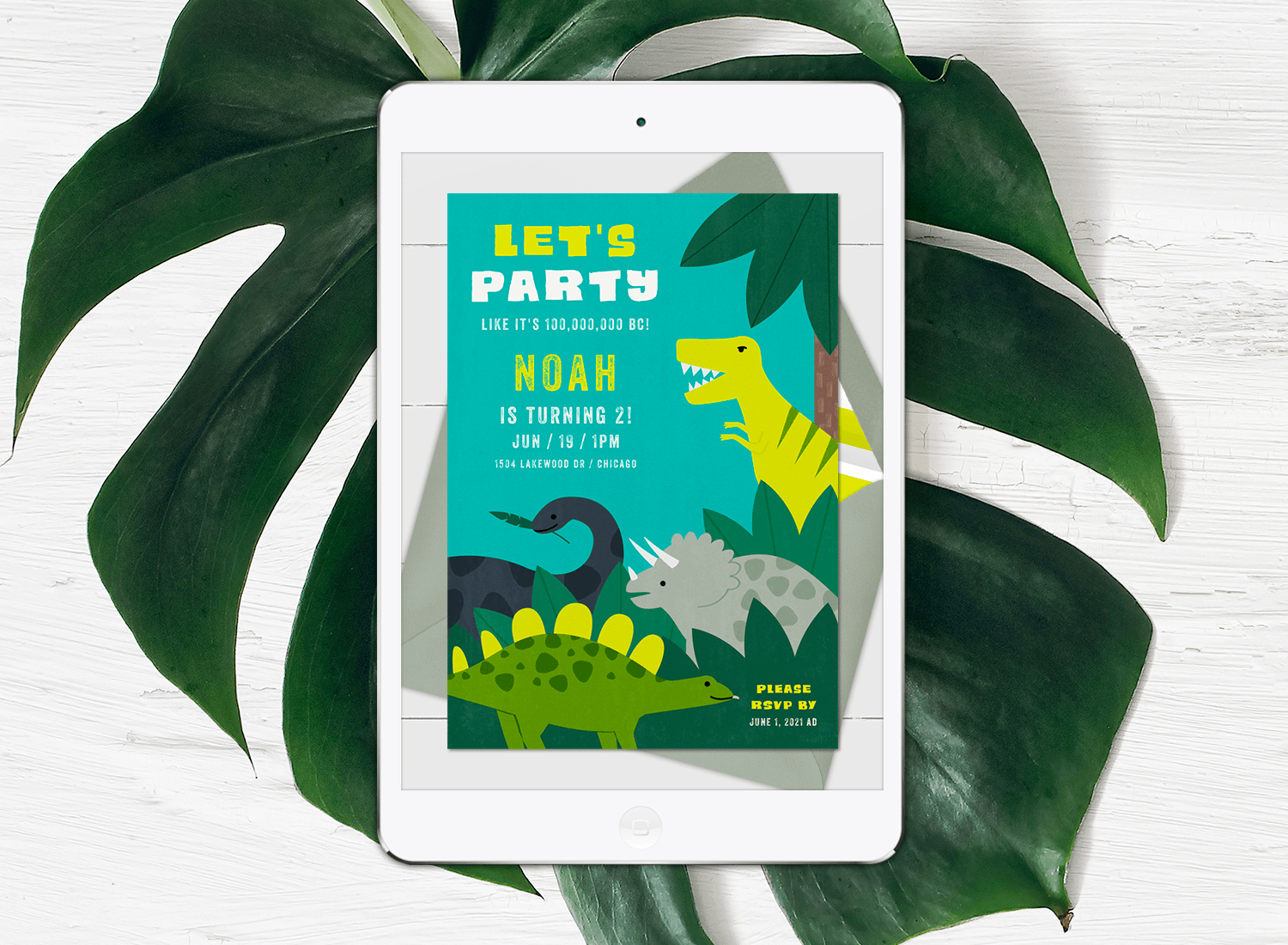 It's time to plan a fun dinosaur birthday party for someone special, but where do you start? Right here, that's where! To help you throw an amazing dinosaur-themed party, we've rounded up some of our best ideas and tips for decor, invites, food, activities, favors, and everything else you need for a dino-mite celebration. 

How to Throw An Exciting Dinosaur Birthday Party
Whether you want to have a larger-than-life celebration or something a little more modest, there are plenty of ways to have a dino-riffic soiree. Follow these steps to get your dinosaur birthday party off the ground. 
Choose a Theme
You're all settled on throwing a dinosaur birthday party, but there are so many directions you could take it. Do you want to go for a fun, brightly colored, cartoon-style theme? Or do you want something more historically accurate? Maybe you want to theme the party around the guest of honor's favorite dinosaur movie, like "Jurassic Park." 
Before you jump into planning, think about your overall party theme first. This way, you can make sure everything matches from your invites and tableware to party games and party favors. 
Think About Your Guests
Consider your kid's birthday party guests and how you can create a fun, age-appropriate experience for them. 
For younger party guests, consider food safety and which activities they can realistically engage in. Also, consider their attention span — it's likely to be a lot shorter than older kids. For older kids you can add in extra activities — like dinosaur-themed video games or more complicated yard games. 
Don't forget to think about the comfort of your adult guests too, if they'll be accompanying their children at the party. Plan food and drinks that everyone can enjoy, and create rest areas if necessary. 
Send Out Your Invitations
With a theme chosen, you can now spend some time picking out your dinosaur birthday party invitations. We love this adorable dinoriffic design, but Greenvelope has many other fantastic options to choose from. Find the perfect design, personalize it, and send out your party details to your guest list. 
Don't forget to include any key details in your invitations — like whether your little explorers will need sturdy footwear, or if they should pack swimwear for a dino-themed pool party. With our online invitations, there's plenty of space to share all this information in a special details panel. 
Plan Your Dinosaur Party Decorations
A dinosaur-themed birthday party gives you tons of freedom to express your creativity and go wild with the party decor. You could transform your party venue into a prehistoric jungle for your guests to explore, or create a futuristic environment where dinosaurs are brought back to life. 
Whatever you decide, you'll want to find fun party decor like backdrops, balloons, banners, lighting, and plenty of dino figurines and toys. Draw up a list of items you'll need and DIY or head to a birthday party supplies store.
Add In Some Fun Party Games
It's not a true dinosaur birthday party without some fun dinosaur games and activities. 
Put a fresh dino-themed twist on some old classics like musical chairs and pin the tail on the dino, or set up fun activities like dinosaur digs and crafting stations. Choose activities that create a truly immersive experience for your party guests. 
Our Favorite Dinosaur Birthday Party Ideas
To help inspire your dinosaur birthday party, here's a collection of our favorite party decor ideas, games, and tasty treats. 
Dino Shaped Balloons
Themed balloons are where it's at, and there's nothing more fun than giant, dinosaur-shaped balloons. Invest in a few of these to help style out your dessert table, or attach them to a balloon arch to wow and welcome party guests to your venue. 
Dinosaur Fossil Dig
This is a fun yet simple activity that is sure to entertain the kids. Set up sandpits and fill them with toy dinosaur bones and eggs for your party guests to dig up. If you have the budget, supply them with hard hats, magnifying glasses, mini shovels, and brushes so they can have fun pretending to dig up dinos. 
Mini Dinosaur Table Decorations
Who doesn't love a tiny dinosaur toy? These adorable figurines often come in multipacks and are super affordable, which makes them a great choice for adding interest and fun to your tables and centerpieces. Expect the kids to walk off with these irresistible tiny dinos, and encourage it by suggesting they "adopt" a dinosaur or two. 
Dinosaur Piñata
Gather your party guests around to watch in excitement as they take turns trying to bring down the dinosaur piñata. Fill your piñata with delicious candy, or take it a step further and throw in a mix of dino-shaped candy, chocolate eggs, and mini soft toy dinosaurs. 
Themed Cupcake Toppers
Add some extra interest to your dessert table by decorating homemade or store-bought cupcakes with themed toppers. This is a simple way to continue your dinosaur birthday party theme. You can even create these dinosaur cake toppers at home using this tutorial as a guide. 
Jungle Inspired Backdrop
Transport your guests to an entirely new world by transforming your space with a jungle-inspired backdrop. Hang up leaf print sheets around your party room or invest in a printed backdrop for your dining area to add some extra depth to your party theme. 
Scavenger Hunt
A scavenger hunt is a party classic and it works so well for a dinosaur birthday party. Equip your party guests with a hat and a scavenger hunt list, then send them on an adventure around your venue or backyard to find all the dinosaurs, dinosaur bones, eggs, and other treasures on your list. 
Dinosaur Egg Decorating
Encourage your party guests to get creative with this sweet, simple DIY activity. Give your guests a blank dinosaur egg and plenty of materials to decorate it with. Match this activity to the age of the kids — for instance, you might use a paper cutout for younger children, or a larger model egg for older kids. You could also try this activity with chocolate eggs (you can make them from a store-bought mold) and have guests decorate with icing, sprinkles, or candy. 
Giant Inflatable Dinosaurs
Amp up the excitement by bringing T-Rex and a few friends along to your dinosaur theme party. Rent or buy a handful of giant inflatable dinosaurs to keep your guests company as they party away. This is an easy way to amp up your party decor, especially for a pool party or backyard celebration. 
DIY Dinosaur Party Masks and Party Hats
This is another great crafting activity for kids of all ages. Encourage your petite paleontologists to make their very own dinosaur party masks and party hats. You can buy plain hats from craft stores or party supply stores, or supply the raw materials and let them get to work on their own creations.
Fossil Cookies
Add some themed treats to your dinosaur birthday party with these sweet and simple fossil cookies. If you're feeling brave, have your party guests get involved by making these fun dinosaur footprint fossil cookies at your party. They can then enjoy them together, fresh from the oven. 
Themed Coloring Pages
Set up a crafting corner with plenty of dinosaur-themed coloring pages for your younger party guests to enjoy. This is a fantastic way to create a chill-out space for them to relax and unwind between party games and activities. 
Dinosaur Bingo
Bingo is a classic party game that never goes out of style. Give the game a dinosaur-themed twist with these printable dinosaur bingo cards. Hand everyone a bingo card and see who can complete their card the fastest to be crowned the winner. They're also a fun way to test whether you know your triceratops from your diplodocus. 
Dinosaur Party Favors
When it's time to say goodbye to your party guests, send them on their way with plenty of treats in their goodie bags. Miniature toy dinosaurs, dino egg toys, chocolate or candy eggs, and themed stationery — like pencils and stickers — are all great options you can easily find at your local craft or dollar store. 
Plan a Dinosaur Birthday Party That's a Roaring Good Time
Treat your guests to a super egg-citing dinosaur birthday party that they'll remember for years to come. Whether you're planning your party for a toddler or teen, there's no denying the timeless appeal of a fun dinosaur birthday party. Find the perfect theme, send out your invites, and have fun planning all the decor, food, and party games. For more party planning ideas, don't miss our latest posts on the Stationers blog.