June 26, 2022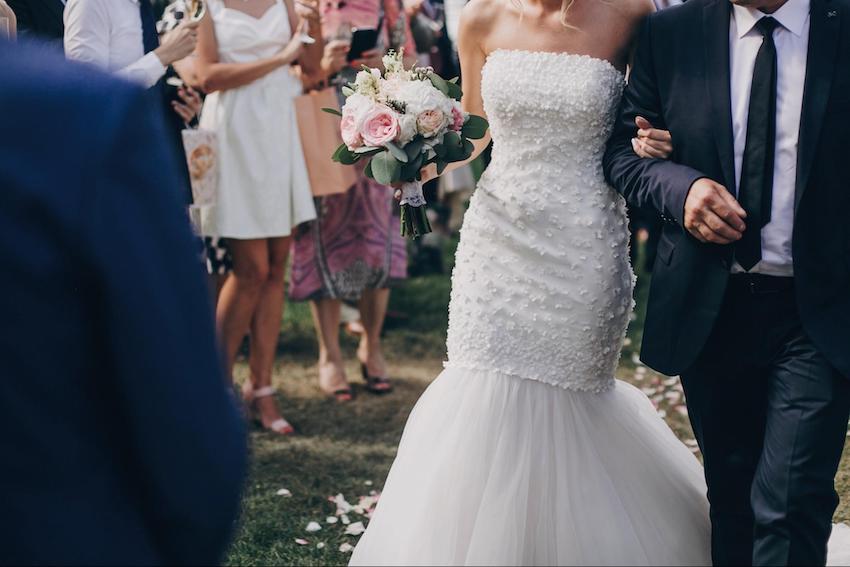 The details of a wedding are what make it memorable: that special shawl from your great-grandmother that you've chosen to wear down the aisle; the whimsical poem that encapsulates your personalities perfectly; or the color scheme inspired by the first bouquet of roses you received from your betrothed. All of these well-thought-out elements make your day more unforgettable — for you and for your guests. 
A surefire way to make your big day even more special is to pick the perfect song to walk down the aisle to. Not sure which one to choose? Whether you want something traditional or a song that's uncommon and all your own, you'll find a tune on this list of wedding songs to walk down the aisle to.

What to Consider When Choosing a Wedding Song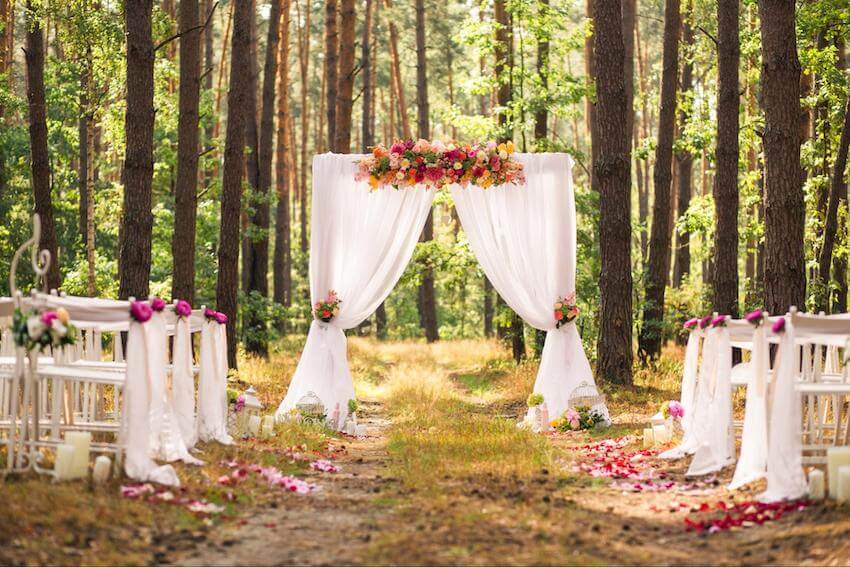 When choosing a wedding song, it's about more than picking out a favorite tune. From analyzing the lyrics to choosing someone special to perform, selecting the perfect song involves some thought. Here are a few things to consider when choosing songs to walk down the aisle to.
The Lyrics
Similar to wedding invitation wording, picking a song with the right words can help set the tone for the entire event. While many songs sound romantic, the lyrics can quickly change that. Make sure to listen to the song the whole way through — or at least the part you are planning on playing. That way, you can keep an ear out for any lyrics you don't like or any that don't reflect the tone of your celebration.
The Performers
If you're having a live band or a musician play the wedding song you'll walk down the aisle to, it's important to talk with them before settling on a final song choice. Discuss the pace and timing of the song to coordinate your grand entrance. You'll also want to go over style to ensure the band or musician plays the song to your liking. If you're playing a digital version of the song, talk to your venue about the AV system and decide beforehand how you'll handle tech to play the tune at the right time.
The Speed and Pace
It's natural to fall into a rhythm that matches the pace of a song. When walking down the aisle, you'll want to make sure the song you choose has a good pace. Anything that's too fast may make you race down the aisle while slower tunes can drag out the procession. Listen to several songs and pick a few of your favorites. Then, practice walking down the aisle with the song to get a feel for the pace.
45 Songs to Walk Down the Aisle To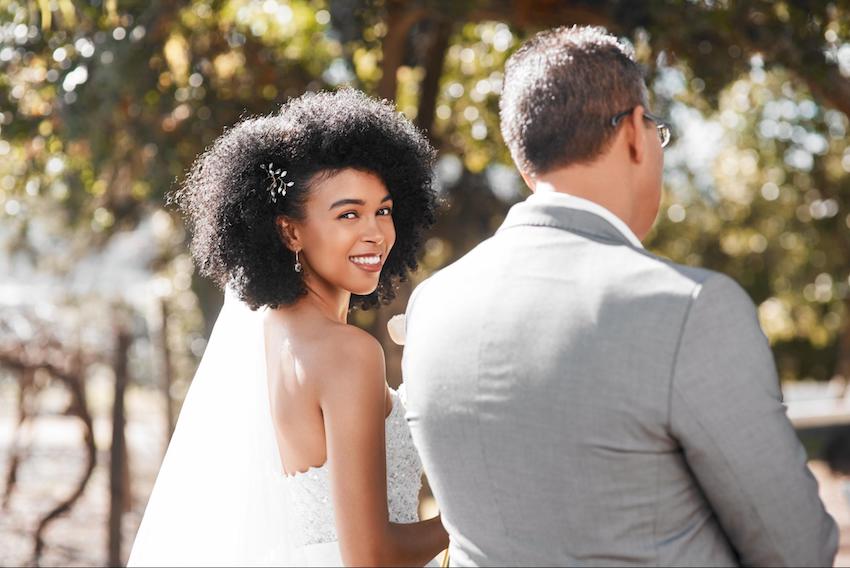 Here comes the bride! One of the most memorable wedding moments is when the bride walks down the aisle. Handpicking a song to walk down the aisle to will make it even more magical. From beautiful hymns to energetic chart-toppers, there's something for everyone. You can choose a processional song for a formal and traditional approach or select an upbeat tune for a wedding ceremony that's more lively. 
Here, we've gathered some of the best songs to walk down the aisle to. 
Traditional Songs
There are hundreds of traditional love songs, and several make the cut for the bride's entrance. If you're planning a traditional wedding day, a classical song is an ideal choice. Select the instrumental version or opt for a live rendition performed by a professional musician or singer. Here are some of our favorite traditional songs to walk down the aisle to:
"Canon in D Major" by Johann Pachelbel

"Ave Maria" by Franz Schubert

"Nella Fantasia" by Il Divo

"Bridal Chorus" by Wagner

"Air on the G String" by Johann Sebastian Bach
R&B Songs
R&B is all about soul, and so is love. Naturally, R&B songs are a great choice for weddings, whether as reception music or ballads to walk down the aisle to. Here are some of the top R&B songs for sailing down the aisle:
"Halo" by Beyonce

"Let's Stay Together" by Al Green

"If I Ain't Got You" by Alicia Keys

"Stand By Me" by Ben E. King

"Have You Ever" by Brandy

"Thinkin Bout You" by Frank Ocean

"Water Music Suite" (Air) by George Frideric Handel
Chart-Toppers
If you've attended weddings before, you've probably heard many of the tunes we've already mentioned. But if you're looking for something a bit more unique, look to chart-toppers. There are always romantic and sweet tunes on the charts that can be used as your wedding processional song. Here are some of the best chart-topping tunes to make your entrance memorable:
"At Last" by Etta James

"Somewhere Over the Rainbow" by Israel Kamakawiwo'ole

"What a Wonderful World" by Louis Armstrong

"La Vie en Rose" by Edith Piaf

"All of Me" by John Legend

"Can't Help Falling in Love" by Elvis Presley

"Hallelujah" by Pentatonix

"A Thousand Years" by Christina Perri

"Marry You" by Bruno Mars

"Thinking Out Loud" by Ed Sheeran

"Better Together" by Jack Johnson

"Marry Me" by Train

"How Sweet It Is" by James Taylor

"Lucky" by Jason Mraz featuring Colbie Caillat

"All the Way" by Frank Sinatra

"Perfect" by Ed Sheeran

"Your Song" by Elton John

"Here Comes the Sun" by The Beatles

"Just the Way You Are" by Bruno Mars

"Make You Feel My Love" by Adele

"Xo" by Beyonce

"Everything" by Michael Bublé

"Turning Page" by Sleeping At Last

"How Long Will I Love You" by Ellie Goulding

"I'm Yours" by Jason Mraz

"Kiss Me" by Vitamin String Quartet

"Somewhere Only We Know" by Lily Allen

"Sweet Disposition" by The Temper Trap
Country Songs
Are you having a rustic wedding? Country music is the perfect partner for couples who are getting married in barns, farmhouses, and rural locales. This type of wedding music is also ideal as a first dance song or wedding reception tunes. Whether you're a die-hard country music fan or looking for tunes to match your wedding theme, here are some of the best western songs to walk down the aisle to:
"Songbird" by Fleetwood Mac

"Lover" by Taylor Swift

"You're Still the One" by Shania Twain

"Background Music" by Maren Morris

"10,000 Hours" by Justin Bieber featuring Dan + Shay
Set the Stage for a Memorable Wedding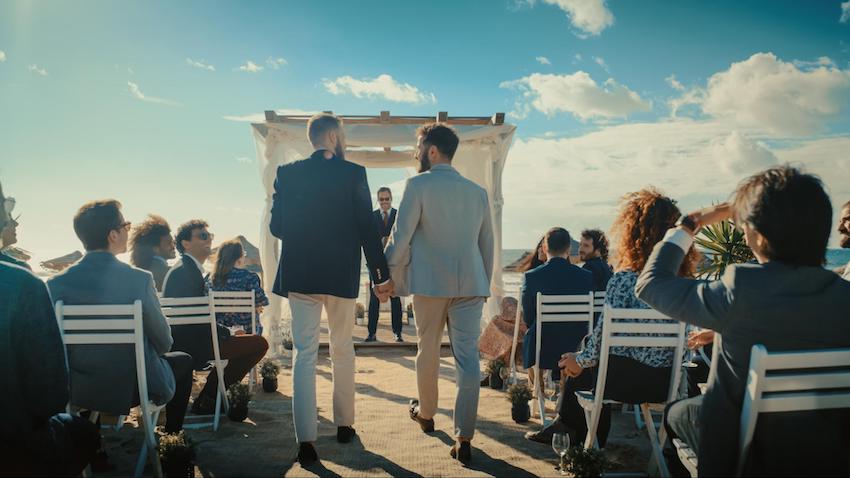 Whether you choose a classic wedding march song or a livelier wedding entrance song, picking the right tune can help set the stage for a memorable wedding. The song encompasses who you are as a couple and speaks to your one-of-a-kind love story. With so many options, there's a song for everyone.
Another way to personalize your wedding day? Send out gorgeous invitations that will have guests counting down the days in excitement. At Greenvelope, you'll find hundreds of wedding invitations and stationery for all your wedding needs. Customize each design to match your personality and wedding theme. Plus, you can add details like wax seals and music to make the invite even more magical.