September 17, 2019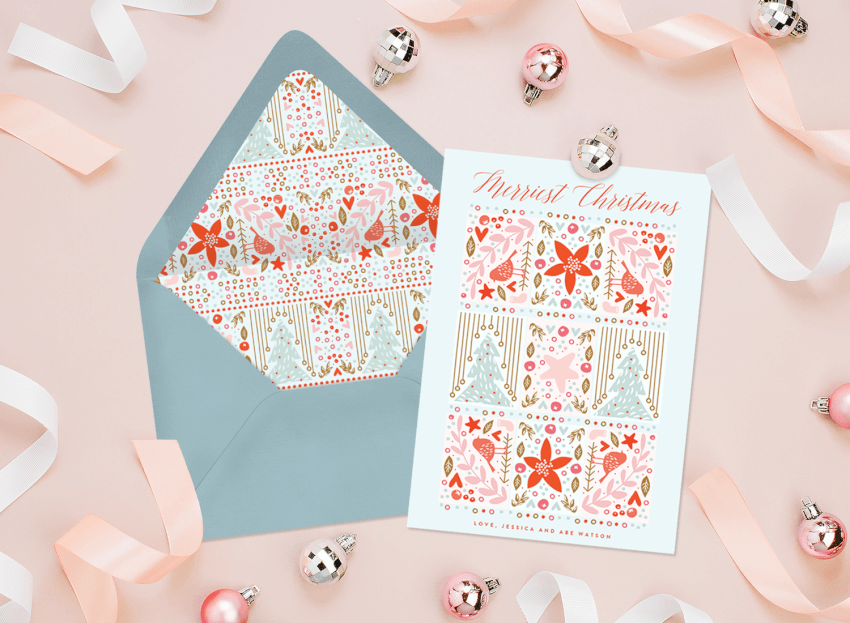 There is no month that comes more quickly than December.
When January hits our calendar, we're hit with plans — plans for trips, for goals, for milestones. We make lists of New Year's resolutions and dream of new jobs, vacations, or moving into our first place. And as the weather gets warmer then colder again, suddenly it's the twelfth month of the year and we're wondering where the last eleven went.
Hopefully, they went something like this: You made new friends, you closed a few business deals, you started a project you're proud of. You watched movies on your Friday nights in and tried new bars and restaurants on your nights out. You wrote emails and Instagram captions, screenshotted a few memes, and overall spent the year with the random, wonderful people in your life doing the most random, wonderful things.
It's fitting that we send cards at Christmastime — that time, of course, that just happens to fall at the end of the year. It's an opportunity to show gratitude toward those who spent the last year with us, acknowledging the highlights, opportunities, and favorite moments.
And if there's a particular memory that stands out, there's surely a unique card to match it. Below we're sharing twelve of the most unique holiday cards on Greenvelope, perfectly matched to the most cherished memories of your year.

12 Unique Christmas Cards to Send This Year
What was your biggest highlight of the year? The birth announcement of your first child? An engagement? And who will you celebrate the holidays with — family members, coworkers, or friends? No matter what you're celebrating or who you're celebrating with, these dozen cards help you say, "Happy holidays!" in your unique way.
1. Eye Chart Card
Looking for the perfect Christmas greeting? Then set your sights on this Eye Chart Card. Whether your loved one is in the medical field or not, this eye-catching card is one your friends will want to gaze at.
2. Vintage Typewriter Card
Did you or someone you love get a promotion this year? Did you finally find that job you've been hunting for? Try this nostalgic typewriter design, perfect to send as unique Christmas cards for your new colleagues. Let them know how much you're excited about this new endeavor, and wish them well in the year to come.
3. 12 Drinks of Christmas Card
Pour yourself a glass of spiced eggnog or apple cider because the halls are being decked with sips, pours, and shots. If your friends or family members enjoy the holiday libations with a toast (or two), you simply have to send them this snarky card. Customize it by including a holiday cocktail recipe for all to enjoy — at least those who are 21+.
4. It's a Major Award Card
Only a true movie buff will understand this seemingly bizarre holiday design. And while tis' the season to string popcorn around a Christmas tree rather than enjoy it in front of the screen, this funny Christmas card helps you celebrate with your fellow movie lovers. Send it out and see who instantly recognizes the prized "leg lamp" from the cherished holiday film.
5. Married Little Christmas
Did your family have a not-so-little-celebration this year? Throw one last toast to the happy couple by sending out this Married Little Christmas Card to your family and friends. It captures the happiest day of your year (and arguably, your lives).
6. Festive Feliz Navidad Card
If you're looking for a fun holiday greeting card to send out to your friends, you simply have to go with this Feliz Navidad card. Bright, colorful, and slightly retro — just like you and your squad — these unique Christmas cards will have everyone singing "Feliz Navidad" around the tree.
7. Cute Christmas Cookies Card
Do your season's greetings revolve around flour, butter, and sugar? If your twelve days of Christmas typically go hand-in-hand with a bakers dozen, this might be your holiday traditions reincarnated as a card. Personalize it with a quick note to friends (or maybe your family sugar cookie recipe) before sending it out.
8. The Big Year Card
What big things do you have in store for the New Year? Whether you're celebrating a wedding, baby shower, or bridal shower, give your friends and family a preview with The Big Year card. You'll build up the excitement — and frankly, start the celebrations a little early — for the best moments yet to happen.
9. Off the Charts Card
Did you land your dream client this year? Did said dream client require a team effort? Send your colleagues these unique Off the Charts holiday business card to celebrate your biggest office wins of the year — and of course, to set your goals high for next year.
10. Born on Christmas Card
Did your family get a little addition this year? Will you be handing out first birthday cards while celebrating the Christmas holiday? With the arrival of the latest family member, share your updated family photo with this photo holiday card. It's a way to share the good news and great joy at Christmastime. It'll always be cherished as a year to remember.
11. Dashing Greetings Card
Are you that one friend who's constantly breaking out in song? Do you fine tune your greetings with a light ho-he-hum? If your carols are being sung far before December hits, then your friends will know exactly who these unique Christmas cards arefrom — their favorite person who's always singing, "In a one horse open sleigh."
12. Make the Yuletide Gay Card
Who will you ring in the New Year with? Who do you plan to kiss under the mistletoe? Celebrate the holiday season by sending a card with a photo of you and the person you love most to everyone you care about. This Christmas photo card features a full-bleed photo and handmade calligraphy, for a dreamy effect.
Greenvelope Is Here to Celebrate Your Year's Unique Moments
It doesn't matter what you're celebrating this year or who you happen to be celebrating with — we have unique Christmas cards that captures it. Choose from dozens upon dozens of high-quality photo cards, note cards, and other Greenvelope holiday cards to represent your year's most magical moments.
We are firm in our belief that those magical moments should be celebrated with the ones you love most. And while we certainly can't bring your favorite people physically to you, we can bridge a connection in a slightly more digital form. Christmas cards are one of our favorite holiday traditions simply because it's one of the few times we slow down and look back, remembering the year's best moments and the people who made it so special.
So whether you celebrated a wedding or a first birthday, a baptism or bar mitzvah, a new job or a new home, we're here to celebrate it. And if you're looking forward to the next year and believe the best is yet to come, we're here with all the invitations, RSVPs, and save-the-dates to make sure all your loved ones will be there for it.