August 22, 2019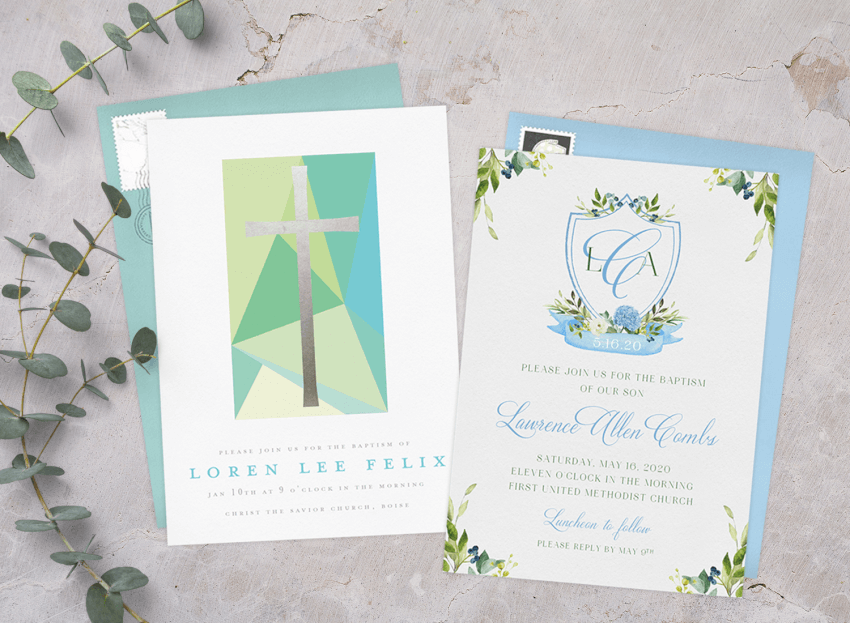 For practicing Christians, baptisms are a momentous occasion. Once you've decided you want to baptize your child, contact your church to get the ball rolling. They'll ask for details like the baby's name and date of birth, names of parents, and names of godparents or sponsors. When you've set a date, it's time to select baptism invitations.
While a friendly phone call may suffice, sending online invitations is a great way to emphasize the importance of this event for your family. Plus, you can provide all of the details guests need to know. Choose from an array of designs across current baptism invitation trends, like embellished scripts, letterpress, and die-cut edges.
Once you've chosen an invitation design, be sure to familiarize yourself with baptism and Christening etiquette. For example, if your church has a formal dress code, you may want to include this in the invitation. Be mindful of guests who have never been to your place of worship. They may have questions about customs to observe during the ceremony.
You'll also want to include basic details like the address of your church and service time. If you're hosting an after-party, include the time and location of this as well. If your church or venue needs a head count, be sure to include an RSVP date so you can get a final tally.
Now for the fun part! Select an invitation design that is in step with your family's style. If you're very religious, consider a cross motif. For those who prefer to emphasize family and community, consider a simple greenery invitation. You can also pick a gender-specific invitation that's reflective of your bouncing baby boy or girl. These 15 stylish designs are a great start to find what speaks to you.

Modern Baptism Invitations
Just because baptism is an ancient sacrament doesn't mean you can't embrace your contemporary style. After all, you're opting to use technology with an evite. These modern Christening invitations reflect current design trends like graphic mosaics and die-cut edges.
Communion Ribbon Invitation
This lavender floral design is perfect for a baby girl baptism or even a First Communion invitation. A graphic ribbon announces the happy occasion at the top, followed by your baby's name in a contemporary cursive. Underneath, there's plenty of room for all of your ceremony and party details in a stylish all-caps text.
Foil Cross Invitation
A mix of all-caps and script creates a trendy design paired with graphic stripes. A subtle gold foil cross nods to the occasion without overpowering the wording. The soft pink is perfect for your baby girl, or you can swap it out for pastel blue to create a boy baptism invitation.
Modern Mosaic Invitation
Modern meets traditional with this innovative design. Geometric shapes meet to form a contemporary mosaic pattern reminiscent of stained glass. A large gold foil cross is placed atop the pattern to complete the sanctuary aesthetic. Traditional serif fonts at the bottom round out the old-meets-new juxtaposition.
Vintage Baptism Invitations
On the other end of the spectrum, embrace vintage style with antique-inspired designs. Letterpress, lace, and deckled edges harken back to another era that reflects your family's timeless taste.
Border Cross Invitation
The detail on this letterpress-styled invitation will have your guests reaching out to touch the screen. Elegant, hand-flourished swirls surround a cross perfect for your religious invitations. In the center, stylized text offers ample space to include the ceremony and after-party information.
Deckled Edge Cross Invitation
Textured, deckled-edge paper creates an antique feel for this religious invitation suite. A gold foil cross and frame appear hand-applied. A mix of script and block text completes the vintage aesthetic.
Vintage Lace Corners Invitation
In centuries past, there was nothing more precious than lace. Bring that symbolism into the 21st-century with this vintage lace invitation. Choose from an array of pastel or textured card stock backgrounds to complete the look.
Cross Motif Invitations
The religious aspect is what separates baptism invitations from your typical birth announcement, birthday invitation, or baby shower invitation. Put that front and center with a cross baptism invitation. These thoughtful designs turn the motif into a work of art.
Beautiful Cross Invitation
A beautiful hand-drawn floral cross invites loved ones to witness your child's baptism. The watercolor cross is topped with sprawling ivy, accompanied by a mix of informal text and elegant script.
Cross Ribbon Invitation
For this hand-drawn invitation, everything is centered around the cross. Flowing ribbon swirls around to display the title of your religious milestone. The rest of your party details are included on the cross itself in a mix of stylized text.
Verdant Cross Invitation
A silver foil cross is surrounded by lush greenery on this rustic invitation. A mix of uppercase and lowercase text gives the design a casual feel. Complete the shabby-chic look with a recycled paper envelope.
Greenery Baptism Party Invitations
Laurel wreaths, flowing palms, and delicate floral arrangements are perfect for any religious event. You don't have to be as overt as a cross or rosary beads if that's not your style. These leafy greenery invitations are perfect for a spring baptism or to celebrate your baby's budding life by embracing a verdant design in the dead of winter.
Lovely Leafy Wreath Invitation
Watercolor brush strokes form a subtle wreath in this sweet floral invitation. The green artwork is set against your choice of green, taupe, blue, or pink backgrounds — each giving the design a completely different effect. Plus, the designer has a pretty punny name.
Monogram Crest Invitation
Roses, hydrangeas, and eucalyptus create a spring-like arrangement on this watercolor invitation. The florals surround a stately crest displaying your little one's monogram. A ribbon underneath reveals the date of your celebration, perfect as baby boy or girl baptism invitations.
Beautiful Baptism Invitation
Game changer: A greenery invitation doesn't have to be green. In the case of this ethereal invitation, a translucent wreath wraps your choice of background color: pink, mint, or lavender. The centerpiece is gold foil lettering that reads "baptism" in a stately script.
Photo Baptism Invitations
Many parents treat their new arrival to a sweet photo shoot. Share those budding smiles with your friends and family through a photo card. These flexible designs let you personalize the number of photos, so you can use one favorite or create a cute collage of the guest of honor.
Hand Lettered Baptism Invitation
Best for a single photo layout, hand-lettered text overlays your favorite shot of your baby boy or girl in this simple design. You'll want to select a relatively neutral photo so that the text is legible in the foreground.
Enlightened Announcement
A single photo or collage of the guest of honor sits atop a stained-glass inspired pattern on this enlightened invitation. In blue or pink, a simple cross is positioned above straightforward text with your event details.
Gift from the Lord Invitation
A passage from the Book of Psalms reads, "Children are a gift from the lord" on this religious invitation. Can you think of a better quote to accompany a photo of your little one? Contemporary styled text is positioned over a color-blocked bottom to include all of your invitation details.
Pick a Personal Baptism Invitation to Delight Your Loved Ones

Family and friends will be thrilled to see your baptism or Christening invitation in their inbox. Choose a design that speaks to you, and be sure to include clear directions about the time, place, and style of your event. Whether you feature a photo of your bundle of joy, select a religious design, or simply pick something pretty, guests will be excited to receive your invitation and honored to be a part of this special occasion.