August 8, 2019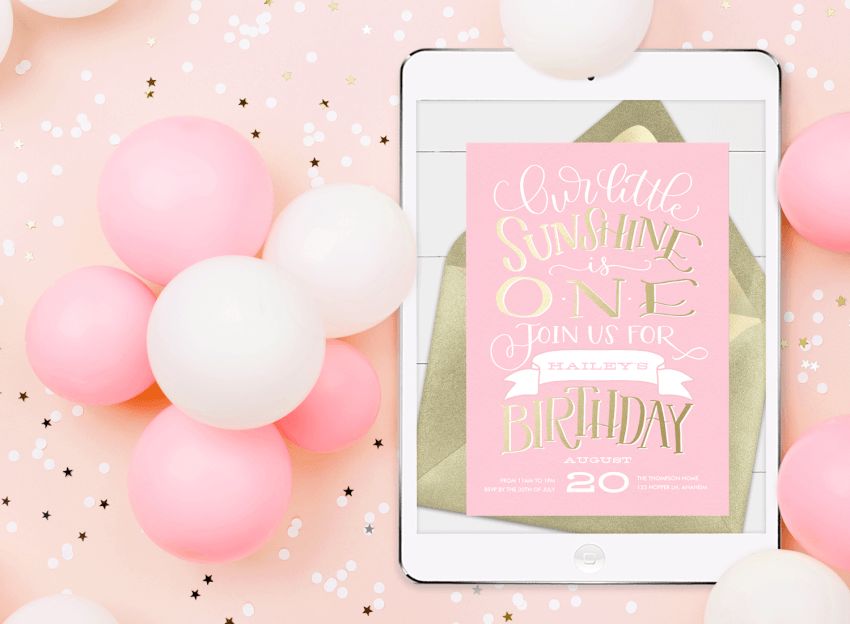 It seems like just yesterday you were sending the baby shower invitations and birth announcements. But believe it or not, a year has gone by and your little one is turning one! They may be small, but they've already developed a big personality. So honor your baby girl or baby boy with first birthday party invitations that match their developing character.
Host an animal-themed event for your barnyard-loving birthday boy. Or create an out-of-this world celebration for your future astronaut. Whatever you choose, the right invitation will place them center stage on the big day. We've rounded up 16 fun invitations for a cake-smash of a first birthday party.

Punny Invitations for Future Wordsmiths
Who doesn't love a good play on words? These punny invitations are pretty clever if we do say so ourselves. Email them to friends who you really click with.
Wild One
A safari-themed invitation is great for wild little ones. Leopard print surrounds playful "Wild One" type in a natural color palette. Dress the guest of honor in a cute animal costume and decorate with flora and fauna for an awww-inspiring bash.
Winter Onederland
Winter birthdays don't have to be a struggle. A light sprinkle, fun typography, and a sweet mitten illustration makes this first-birthday invitation a wintry delight. There's even room for your little one's birthday photo.
Let's Pawty Invitation
Does anything beat a pup in a party hat? Get ready to pawty with this adorable invitation, featuring a dachshund and sprinkle design. Maybe a bone-shaped cake for your dog-loving little one?
Out of This World Invitation
Your little one has the whole galaxy ahead of them, so how better to celebrate than with a space theme? This Out of This World invitation features hand-painted planets and splatter texture for an inter-galactic event. The birthday girl or boy will love the space theme, complete with aliens and futuristic foods.
Where the Wild Things Are
Celebrate the guest of honor with a menagerie of creatures. At the big one, kids are infatuated with animals. Pick their favorite — from a sweet giraffe to a friendly alligator — and build your party theme around it. There are a ton of animal-themed party ideas like a safari, circus, zoo, or jungle. Once you've settled on an idea you love, pick one of these First birthday party invites to communicate the theme.
Hey Party Animals Invitation
A simple cartoon meets realism with this balloon elephant invitation. Doesn't the "Party Animals" text look like it's being inflated? This sweet elephant can inspire anything from an African-themed safari to a day at the circus. Be sure to explain the theme in your invitation wording, so guests know if they should bring related gifts, like a book about safari animals.
Gouache Giraffe Invitation
If your little one is already standing tall, there's nothing cuter than this sweet giraffe. A mix of text styles accompanies the endearing illustration, perfect for a girl birthday or boy birthday party in your choice of green, yellow, or peach colorways.
Razzle-Dazzle Fish Invitation
Sweet and bright fish swim across this watercolor invitation. An under-the-sea theme is perfect for any kid who loves the water. This is the perfect theme for a baby's first birthday pool party. Fill a kiddie pool with floating fishies, and serve up snacks like Swedish Fish and Goldfish.
Party Gator Invitation
See you later, gator! This watercolor painting of a friendly alligator is accompanied by cute text for all of your party details, like place, time, and RSVP info. He's perfect for a safari- or reptile-themed party.
You're Number One
Sometimes, you don't need any more of a theme for your kid's first birthday party invites than the number itself. These sweet birthday invitations are all about the number one. Keep an eye out for any numerical kids birthday invites you may see — most are customizable. On party day, decorate with banners that say one, and take it a step further with a few foam fingers. After all, your baby only turns one once.
Whimsical Cake Invitation
Is the guest of honor ready to dig into their cake, face first? This layered cake is topped with the number one on a Victorian cake stand. Sweet treats surround, so guests can expect lots of goodies.
Our Little Sunshine Invitation
Unique hand lettering and gold-foil accents take center stage on this sweet sunshine-themed invitation. Stylized text is a focal point with a big white ribbon that puts your baby's name center stage.
Colorful Dots Invitation
Customize this simple and sweet invitation with a big one and enjoy the colorful confetti. If you want to use it again next year, you can customize this design for any age, and there are an array of color schemes available.
Photo Cards That Are All About Your Little One
We know you have a ton of photos of your little boy or girl from the last year. Whether you hired a professional photographer for a styled cake smash or have a favorite iPhone shot from your last vacation, it deserves to be front and center. These first birthday invitations are designed with your cute photos in mind. The challenge will be picking just one.
Double Bounce Photo Invitation
Rainbow bounce letters hop to it with this modern kid's birthday invitation. This theme is perfect if you'll be having a bounce castle or trampoline at the party — for the bigger kids of course. Your one-year-old will be bouncing around on their own, for sure.
Balloon Bunch Invitation
Show your little one's face on one of these happy balloons. Of course, you can customize the number in the top right to "1." Add all your necessary details and a shot of the guest of honor's sweet face. This invitation is great for any photo of your kiddo. Since it will be cropped in, it doesn't need to be very professional — all you need is a good smile to show off those few little teeth.
Triple Scoop Invitation
How sweet is this ice cream–themed invitation? An adorable polka-dot cone complements modern stylized text for a geometric effect. Perfect for a summer soiree or an ice cream social, include your little angel at the top in something candy-colored.
Party On! Invitation
This modern invitation design leaves lots of room for your kiddo's photo. Customize to edit the number in the bottom left to one (ages 1-9 are available), and fill in the rest of your party details.
Barnyard Party Invitation
Old McDonald was cute as can be! Perfect for your barnyard or country-themed party, hand-drawn farm details frame a photo insert on this charming invite. A photo from a visit to the petting zoo or pumpkin patch would be right at home here. Turns out, hay is for horses and for this adorable invitation.
Ring In Year One With Loads of Fun
Whatever party theme you choose, the important thing is that your precious babe is a whole year old. Pick an invitation that puts number one front and center, or opt for a photo card that shows the guest of honor's half-toothy smile. At one, your little boy or girl is already developing their own personality, so let that lead the way! If they love elephants, opt for a circus theme. If pink is their favorite color, pick a pink invitation and decorate with the color. Send those invites then watch them smash that cake.