September 19, 2019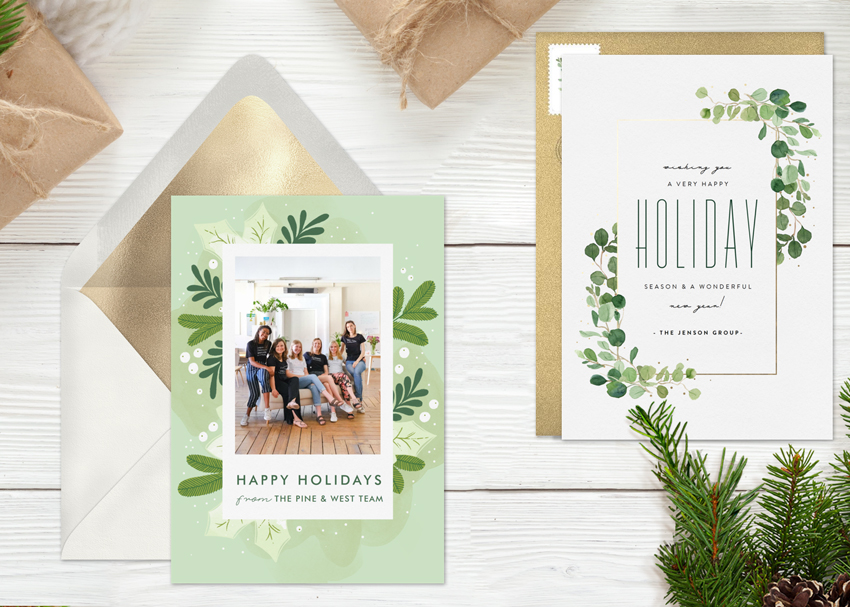 It's the most wonderful busy, hectic, and stressful time of the year. For business owners, Q4 can be a frenzied time as you try to tick all of those end-of-year boxes. Retailers, especially, feel the holiday crunch. But making time to send business holiday cards can pay dividends.
However, deciding what messaging and card design to send can be difficult. You need to keep in mind your overall branding while toeing the line between sounding friendly and professional. We've outlined all the ways online holiday greetings can boost your business and what to include on your corporate holiday cards.

Why You Should Send Business Holiday Cards
Corporate holiday cards are a great way to connect with clients and potential customers in a completely non-salesy way. They provide an opportunity to reach out "from all of us" and show clients the faces behind your operation. Accomplish this by choosing a photo card like this Joyful design or personalizing your greeting with a video. Or you can simply add a personal message from you and your managers.
Refresh Your Email List
A friendly holiday card offers the chance to message your bulk email list. With that, you can note your bounce rate and remove any non-valid email addresses. The benchmark for an acceptable bounce rate is less than 2%. If your holiday card has a bounce rate over 2%, you'll know to devote some attention to your list in the New Year.
Greeting cards are also a great way to revive inactive clients and attract new customers. Consumers are more likely to open a personalized holiday card than an outward sales pitch. You might consider including a "gift" with an exclusive offer or discount on their next purchase.
Say Thanks to Vendors and Employees
The holiday season is the perfect time to reflect on the past year and express gratitude to those who helped your business during that time. Add a personal message for vendors you had a close relationship with and employees who stood out. A business Christmas card is a great way to say thanks and include well wishes for the year ahead.
Reinforce Branding
Lastly, your corporate holiday card can reinforce your company's branding. Use personalization tools to add your logo and slogan while saying happy holidays. It's an inexpensive tool to round out all of your marketing efforts from the year.
How to Choose a Corporate Holiday Card Design
One way to choose a business holiday card is to opt for a design that's reflective of your trade, like this Happy Howlidays style for anyone who works with animals. Writers and marketers might like a vintage typewriter design, or there's the Off The Charts card for those in finance.
You don't have to be so literal, though, if it's not your preference. Small businesses might want to choose a holiday photo card that displays you and your team members. Whatever you choose, be sure to select a style that is on brand for your company. For example, a fashion boutique might select a design with contemporary fonts and an edgy aesthetic, but an accountant probably doesn't want to select a silly card like Happy Howlidays.
Be sure to customize your design to reflect your company branding. You might choose a color palette to match your logo, and include your watermark on the bottom right corner of the card. Beneath your greeting, add your business tagline or slogan.
Should You Choose a Religious Card?
You probably don't want to select a design that's very focused on the religious aspect of the holiday. But it is okay to choose a card for the holiday that you celebrate. Corporate holiday cards are a way to reach out on a personal level, after all. They allow your customers, vendors, and employees to get to know who you are.
For example, choose a Christmas card that expresses themes like peace and joy. We love this Hanukkah card that embodies the holiday with a menorah but sends universal wishes for love and light.
On the other hand, you might not want to choose a "Glory to God" religious Christmas card. Chances are your customers come from a mix of backgrounds and faiths, and you don't want to make anyone feel excluded. In your messaging, send wishes for a good holiday season and new year.
How to Craft Your Card's Messaging
Try not to get stuck writing the messaging for your corporate Christmas card or holiday greeting. Overall, it should be short, sweet, and simple. Don't overwhelm customers with a wall of text. You'll want your messaging to reflect your branding. Think about how you want your company to be perceived — fun and lighthearted or sophisticated and traditional? Regardless of your style, every business holiday card should include the following:
Company name
Company logo
Company slogan (if you have one)
What Your Holiday Business Card Should Say
Regardless of your branding style, a company holiday card should do a few things. It should send warm wishes in a welcoming, inclusive way. While you can choose a card that reflects the holiday you celebrate, keep the messaging secular. Messages like "Season's Greetings" are better than "Merry Christmas" or "Happy Hanukkah."
Your card should also express gratitude. Use your messaging as a way to thank customers and vendors for their support. Then be sure to keep it personal by filling in each person's name on your mailing list so they get an individual greeting. If your branding is very formal, you might say, "Dear Mr. Johnson." If your branding is more casual, use your customer's first name. Taking the time to fill in the names on your mailing list will help separate your card from everyday marketing.
On that note, make sure your card doesn't include a sales pitch. If you want to include a special offer, make sure it is more of a "gift" than the usual promotion. Make it stand out so your clients don't view your card as another push to buy.
10 Card Messaging Ideas to Inspire You
If you still feel stuck on the wording of your holiday greeting card, consider these ideas for inspiration. Copy and paste them as they are or put your own spin on one.
Holiday wishes from all of us at [company name].
Wishing you peace and joy this winter.
Best wishes from your friends at [company name].
Merry everything to our valued customers.
It's the most wonderful time of year to say thank you.
Season's greetings from all of us at [company name].
[Company name] would like to send good tidings for a season of happiness and cheer.
Wishing you happy holidays full of all the joys of the season and a healthy, prosperous new year.
Thank you for making 20xx our best year yet! Best wishes from [company name].
Happy holidays and thank you for being one of our favorites.
Good Cheer Meets Good Business
It's an exciting, yet, admittedly stressful time of year. Carve out the time to send business holiday cards amidst the shuffle. It's an affordable, effective way to reach out to your client base. Choose a card that reflects your company's branding and personality. Use the wording to send a message of gratitude and well wishes. Your customers, employees, and trusted vendors will take note.