September 12, 2019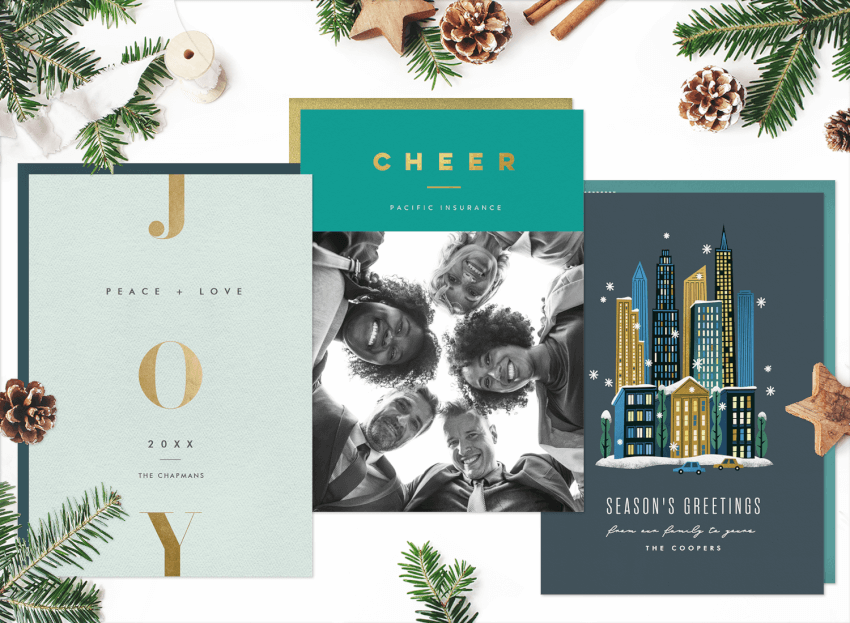 Soon, our bellies full of Thanksgiving pie, we'll be ready to put up the tree, watch holiday movies, and sip all the cocoa we own. While you're enjoying all that the season has to offer, take a moment to maximize your company's exposure. Business Christmas cards are a great way to spread cheer while connecting with clients and marketing your services.
Use corporate Christmas cards to greet customers and vendors with sincerity and without sounding like a sales pitch. You can do this while using holiday cards to reinforce branding by including your company name, logo, and slogan. It's a personal touch that reaches your email list, revives clients who have been inactive, and generates new customers.
Most importantly, it's a way to say thanks. Use your greeting card to communicate gratitude for all of the customers, vendors, and employees who have helped grow your business and improve your company culture this year.
Business Christmas cards don't have to be stuffy, and they can help your relationships. Consider these catchy designs to help your company start the New Year on the right foot.

Company-Themed Business Christmas Cards
A little self-promotion never hurts. Choose a holiday card that reflects your business to spread cheer and build your brand. These creative designs are geared toward business professionalism as well as cheer. Plus, they can be customized to reflect your business or include your company logo.
1. Off the Charts Card
All projections show business is on the up for the New Year in this playful spin on statistics. Text in a playful font reads, "Wishing you a holiday season that is off the charts!" above a colorful bar graph. This graphic take on typically boring charts is perfect for companies in the financial field. Remember, cards can also be customized with your company colors.
2. Office Trinkets Wreath Card
An assortment of graphic office supplies forms a festive wreath to send warm wishes. Stylized text reads, "From our office to yours," perfect for thanking vendors you've worked with all season long. The card is available in an array of colors, so you can choose a luxe black and gold foil or a wintry blue.
3. Vintage Typewriter Card
This vintage typewriter design delivers a personal message with a retro typeface. Across the bottom, keys read a simple, "Happy Holidays." This festive card is ideal for anyone in communications, like marketers, writers, or PR firms.
4. Eye Chart Card
Anyone in the optical medicine field should consider this clever eye chart card. Bold typography forms a graphic tree in the form of the Snellen eye chart that reads, "Season's Greetings." Set on a textured paper background, this digital card leaps off the screen. If any of your patients have trouble reading it, perhaps it's time they pay a visit.
5. Quick Review Card
Share your year-in-review with this graphic Quick Review card. Art deco block letters and flowing script combine to deliver your top numbers for the year. This example strikes a balance that can both highlight company accomplishments and bring a smile.
6. Office Supplies Card
Say "thank you" with this graphic card, where everyday office supplies combine to make a playful Christmas tree. Generic business needs — like a smartphone, pencil, and notebook — keep this design open to virtually any company, from a creative agency to a real estate firm.
Holiday Photo Cards: Send a Personal Hello
Holiday photo cards are a great way to show customers the faces behind your business. It's much easier to connect with a smiling associate than an anonymous email. Include your professional headshot or a quirky team photo on this business Christmas card to reveal who works hard behind the scenes.
7. Painted Perfection Card
A large photo area offers room for a shot of the whole team on this design. Textural brushstrokes form an artistic frame. In the center, include a photo of your employees. A white inset offers room for a short, simple greeting, where you can include your company name. Personalize it by uploading a photo of your company logo to drop in the bottom corner.
8. Diaphanous Card
A full-bleed photo maximizes scale on this ethereal holiday design. The diaphanous color overlay features a simple floral motif and a brief greeting. Since your greeting will overlay your photo, this is best for a group of one or two people. If the colors and background are simple, the script will stand out beautifully.
9. Merry Middle Card
Bold Hand lettering creates a unique cut-out effect on this creative holiday greeting. The design also makes a single photo stand out. A personal snapshot (like a group volunteer day) reads well with this whimsical layout. Or, you can use it to lighten up a professional headshot.
10. Merry All the Things Card
Let your team's personality take the spotlight with this minimal holiday card. Simple typography offsets a horizontal photo, arranged in an understated layout. This card is straight out of a magazine for your retail store, design firm, consulting company — you name it. Whatever your business is, it'll go well with "Merry All the Things."
Geographic Business Holiday Cards
Remind your customers of their local pride with a geographic corporate holiday card. If you're located in a bustling metropolis, communicate this with a cityscape design. Or choose something patriotic to announce new US headquarters. Finish your card with personalization tools that add your signature or logo.
11. United in Joy Card
A color-blocked map of the United States reads, "Wishing you a Happy Holiday Season" in this patriotic design. It's ideal for American companies, those selling products manufactured in the US, or services that span the country. Customize the year and add a short message from your business.
12. City Greetings Card
If you're based in a metropolitan environment, encourage customers to come visit with this festive cityscape. Choose from morning, dusk, and evening holiday scenes, and add a warm message from you and your business. This business Christmas card delivers coziness and cheer.
13. Downtown Cheer Card
City life moves fast. Take your customers back to simpler times with this nostalgic holiday scene. A sweet cityscape is dusted in snowflakes for wintry cheer, and there's room for a brief message from you. If you want to add a few more words on the back, this design gives you room on the flip-side.
Business Christmas Cards to Spread Cheer
Business cards don't need to be generic. Choose a high-quality card design that reflects your company spirit. This can be a playful graphic that relates to your field or a photo card with your team to say "Merry Christmas from all of us." Since your customers are likely of many different faiths, consider inclusive messages like "Season's Greetings," "It's the Happiest Time of Year," "Spread the Holiday Cheer," or "Merry and Bright."
Whatever you choose, include a personal message that communicates your gratitude to everyone who has supported your business this year. Then include your company name and slogan, and use personalization tools to add your logo or signature. And whatever you decide to do with your business Christmas card, remember to have a happy holiday.