December 5, 2021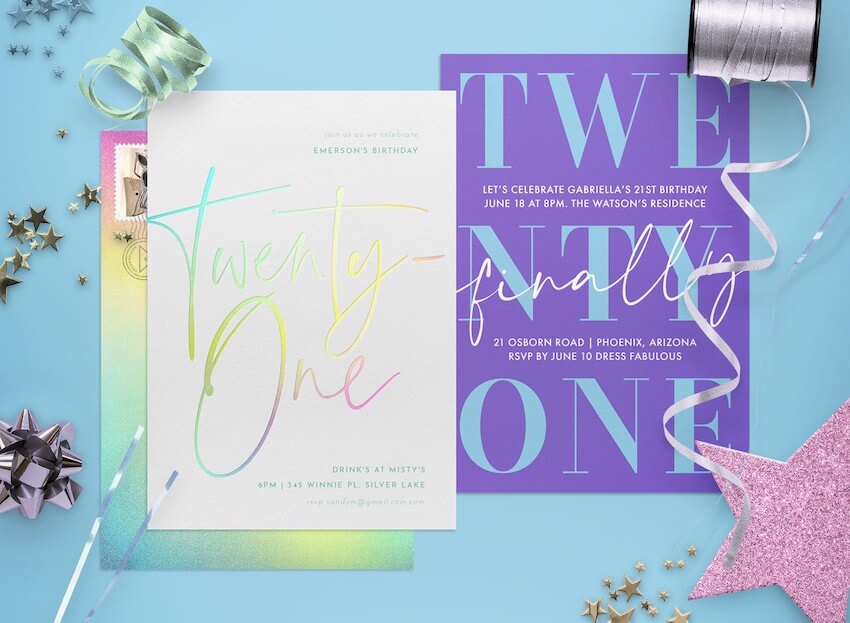 Turning 21 is such a big moment, so it makes sense to celebrate it in a big way. If you're ready to throw an epic 21st birthday party, we're here to help. Let's explore some of the best 21st birthday decorations, themes, invitations, and other ideas to celebrate a very happy birthday. 

How to Plan an Unforgettable 21st Birthday Party
Before you jump into choosing your party outfit or building a playlist, you first need to cover the basics. Here's how to set the stage for your milestone event.
Choose a Date and Time
If your birthday happens to fall on a weekday, you'll likely want to schedule your bash on a day when all your favorite people can join you to celebrate. 
Choose a weekend or a Friday evening, and keep your invitees' schedules in mind. The same applies to the time of day — consider how you want to celebrate and choose the best fit. For instance, keep it early for a relaxed brunch, or party late into the night with a fun tour of the city's best bars. 
Decide on a 21st Birthday Party Theme
Selecting a theme is one of the most exciting parts of party planning. It's your big day, so don't be afraid to choose exactly what you want. Go retro, vintage, sophisticated, boho, adventurous — the choice is yours! 
Maybe you want to fill the room with flower garlands, balloon bouquets, and pastel colors for a floral-inspired tea party. Or perhaps you're dreaming of a luxury spa day with rose gold confetti balloons and bottles of champagne. There's no limit to whatever birthday theme you want, so get creative (and take a look at our list below for inspiring ideas). 
Select Your Party Venue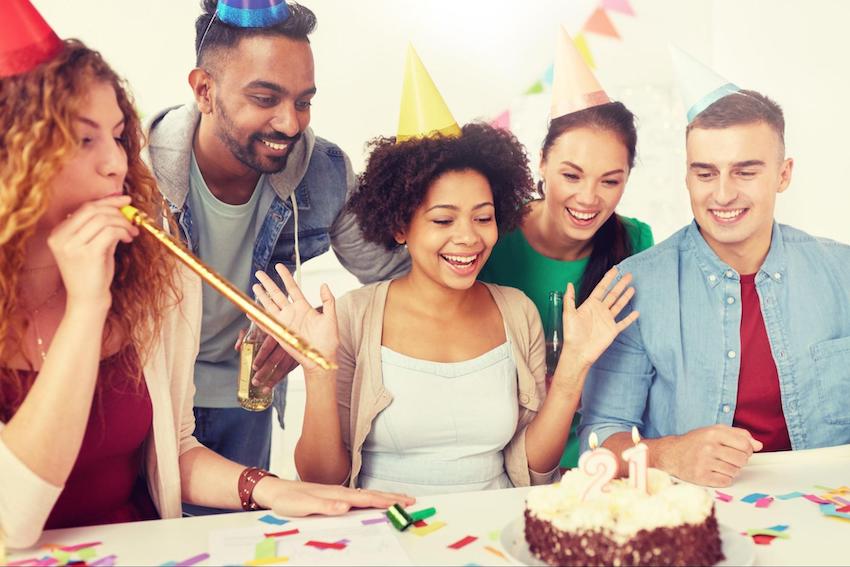 You don't need to spend a fortune to celebrate in style — you can have a simple get-together at home or host a spectacular backyard party. Consider your favorite restaurant or local lounge, or head to a gorgeous outdoor space for a casual picnic or cookout. For an over-the-top celebration, make a weekend of it and book a luxury getaway somewhere scenic for you and your best friends. 
Also, if you're not able to gather with all your loved ones in person, consider having a virtual birthday party. (You could do this in addition to an in-person celebration.) Remember: Being apart doesn't mean you can't have plenty of fun — as long as you know how to host a virtual event.
Plan Your 21st Birthday Party Decorations and Details
With your heart set on a theme and venue, it's time to start planning those fun little 21st birthday decorations that will bring your party to life. Make a list of all the 21st birthday party supplies you'll need and head to the store or order online. 
Turning 21 is a magical time, so feel free to keep that number prominent throughout your decor. Decorate the space with a 21st birthday banner, birthday balloons, table decorations, garlands, string lighting, and more. 
Consider smaller 21st birthday decoration elements too, like matching paper straws, party favor bags, napkins, and cupcake toppers. Don't forget to order number balloons in advance too — they make for a great photo backdrop or prop. 
Send Your 21st Birthday Party Invitations
Your 21st birthday party is all planned out, now it's time to let everyone know about it. Surprise your guests with an on-theme digital invitation that catches their attention and makes it ultra-easy to RSVP in a few clicks. 
With Greenvelope, you can customize your digital invitations to match your theme and event. Choose your color scheme, personalize the message, and consider making it a photo card by adding your own image. Have fun browsing our full collection of adult birthday invitations to find your ideal match. 
Set the Scene With These 21st Birthday Themes and Matching Invitation Ideas
There are countless options for celebrating your milestone birthday. Go on an adventure with friends, host a cozy evening in, or head to your favorite outdoor spot. To help you sort through all the options, here are some of our favorite themes and 21st birthday decorations.
1. Scenic Picnic
Enjoy some of nature's beauty with a delicious outdoor picnic with your closest friends. Pack up a basket of homemade treats or order delicacies from your favorite eatery — and don't forget to bring along a few 21st birthday decorations for your little shindig. Whether you head to the park, lake, beach, mountains, or a lovely urban garden, you're sure to create wonderful new memories. 
Matching Invite: Watermelon Whimsy
2. Virtual Game Night
Love playing games? Invite your favorite people across the distance with a virtual game night. Set up a happy birthday banner in the background, ask everyone to dress up based on the theme (perhaps your favorite game characters), and have fun no matter how many miles apart you might be. 
Matching Invite: Classic Game Night
3. Camping Weekend
Enjoy a weekend in the great outdoors with your favorite people to celebrate turning 21. Dig out your tent and light a fire, or opt for a luxury glamping experience instead. Stay up late talking, watching the stars, and toasting to an amazing year ahead. 
Matching Invite: Camping Weekend
4. Roller Disco
Go old school and host your very own roller disco to celebrate the big 2-1. Rent a hall or head to your local roller rink. If the venue doesn't offer decorations, ask if you can bring your own 21st birthday decorations like gold glitter party balloons and neon streamers. Invite everyone along to skate, dance, laugh, and enjoy all things retro. 
Matching Invite: Get Groovy
5. Casino Night
Celebrate your first birthday as a "proper adult" and head to a casino to play blackjack and slots with your friends. Or recreate the experience at home with a casino theme party. This is a winning idea for a happy 21st birthday. 
Matching Invite: Casino Night
6. City Tour
Explore a city you've always dreamed of visiting by booking a private tour for you and your besties. Get dressed up, put on a 21st birthday sash, and head through the city's local spots to sample delicious food and drink, see cultural sights, snap photos, and make memories together. 
Matching Invite: Modern Modcloth
7. Spa Night
Treat yourself and your BFFs to a spa night at home to celebrate your 21st birthday. Hire a beauty therapist or two for manicures, pedicures, and other mini treatments. Style the space with 21st birthday decorations like confetti balloons, foil banners, and a faux floral backdrop to create a relaxing, spa-like atmosphere. 
Matching Invite: Champagne Accent
8. Vineyard Tour and Wine Tasting
Head to a local vineyard (or two) and enjoy exploring the grounds and enjoying a wine tasting experience for you and your crew. Add in a delicious meal on the property or a stay overnight in a luxury cabin to make it extra special, and don't forget to buy a few wine bottles to bring home with you. 
Matching Invite: Wine Country
9. Karaoke Party
What better way to celebrate the big occasion than by singing your heart out? Set up a DIY karaoke bar at home with a karaoke machine, foil balloons, a disco ball, and a fun photo booth. If you don't have the setup at home, head to a local karaoke bar instead and book a private space so you and your friends can sing and dance to your heart's content. 
Matching Invite: Karaoke Night
10. Road Trip
Take in the sights of somewhere new with an epic road trip to celebrate your new life as a 21 year old. While you might only have a few travel partners, consider hosting a small gathering before your road trip so you can see more loved ones before your adventure begins.
Matching Invite: Retro Sunglasses
11. Private Dining Experience
Enjoy a high-end dining experience for a sophisticated way to mark turning 21. Book a private dining experience at your favorite local restaurant or at a luxury venue you've always wanted to try. Work with the chef on a personalized menu to make it extra special, and finish with a luxurious birthday cake for dessert. 
Matching Invite: Vineyard Classic
12. Escape Room
For a fun thrill it doesn't get better than an escape room. Choose a theme that's silly, scary, or downright strange. Research the best escape room venue near you and book it for you and your friends. Afterwards, head to a fun local bar or restaurant to discuss your escapade over delicious food and drink. 
Matching Invite: Escape Room
13. Afternoon Tea
Surprise your birthday party guests with your own take on an afternoon tea. What we love about this is you can get creative with your 21st birthday decorations and styling. Whether you go vintage or contemporary, you're sure to have a lovely time enjoying tea, finger sandwiches, and adorable cakes. Create a fun teahouse atmosphere at home with bunting, confetti, mismatched tableware, and a stylish centerpiece. 
Matching Invite: Dainty Doily
14. Movie Night
Take it back to the old days with a cozy movie night. Invite your closest friends over for a slumber party with PJs, popcorn, and your favorite movie on the TV. Keep it super simple or go all-out with a theme — like a scary horror movie experience, or a party all about your most-loved comedy. Toast happy birthday and continue the theme with a tasty cake, complete with a movie-themed cake topper. 
Matching Invite: Starlight Cinema
15. House Party
Get creative and plan exactly what you want with a classic house party. Gather everyone for a lively event with neon shot glasses, great music, and party games all night — or snuggle in with board games, chilled playlists, and a potluck dinner. Decorate with plenty of 21st birthday balloons (perfect for photos!) and consider focusing on a specific era, such as an 80s party or 90s retro party. 
Matching Invite: Dope Throwback
Make It Special With These 21st Birthday Decoration and Party Theme Ideas
You only turn 21 once, so make it count. Use this guide to plan an incredible birthday bash that's everything you could ever want. Find a theme or activity idea you love, go wild with 21st birthday decoration ideas, and choose the perfect 21st birthday party invitation to let everyone know where to join you. Happy birthday!