May 17, 2016
Today's post is brought to us by Brynn Renee of Dandy & Fine Parties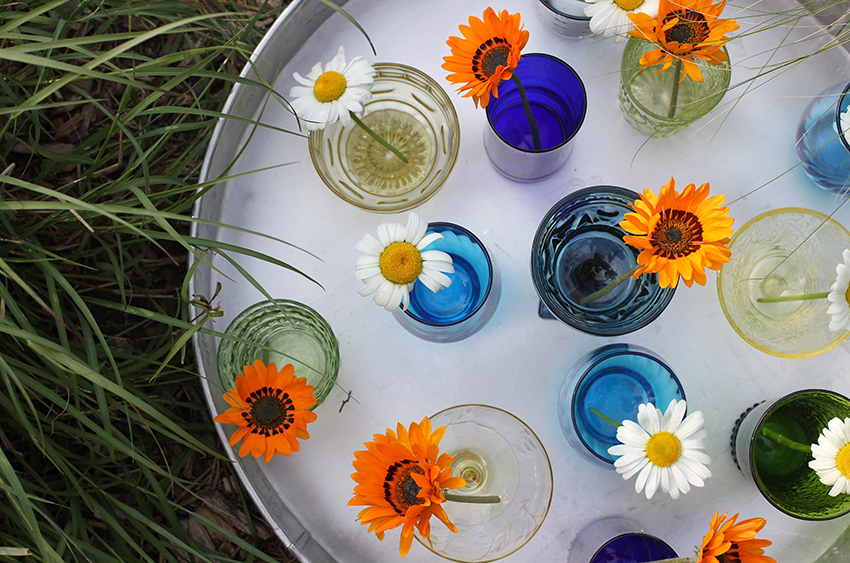 Summer is coming, summer is coming! Hooray! Summer is so symbolic, isn't it? There is such a nostalgia around it that spurs from childhood… Longer days, bicycle rides, pool parties, more sleepovers with your friends. One of my fondest childhood summer memories is of a party we threw for my friends in my backyard when I was in high school. My mom and I went all out! She sewed pillowcases for floor pillows and created a lounge on our upper deck area that was filled with lots of Moroccan style lanterns and tons of candles. It was my favorite area of the whole party! And may I remind you that this was WAY before boho chic was even a thing! Through the preparation and setup of the party, she taught me a lot about the importance of details and just how to create ambiance.
In that very spirit, let's talk about a handful of essentials you'll need for all of your outdoor entertaining this summer!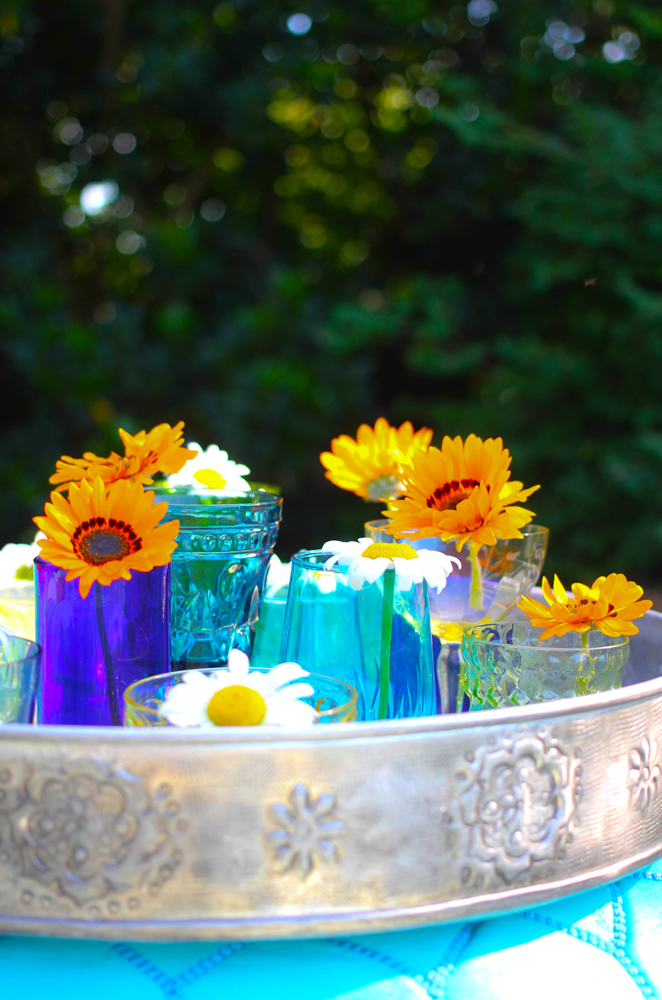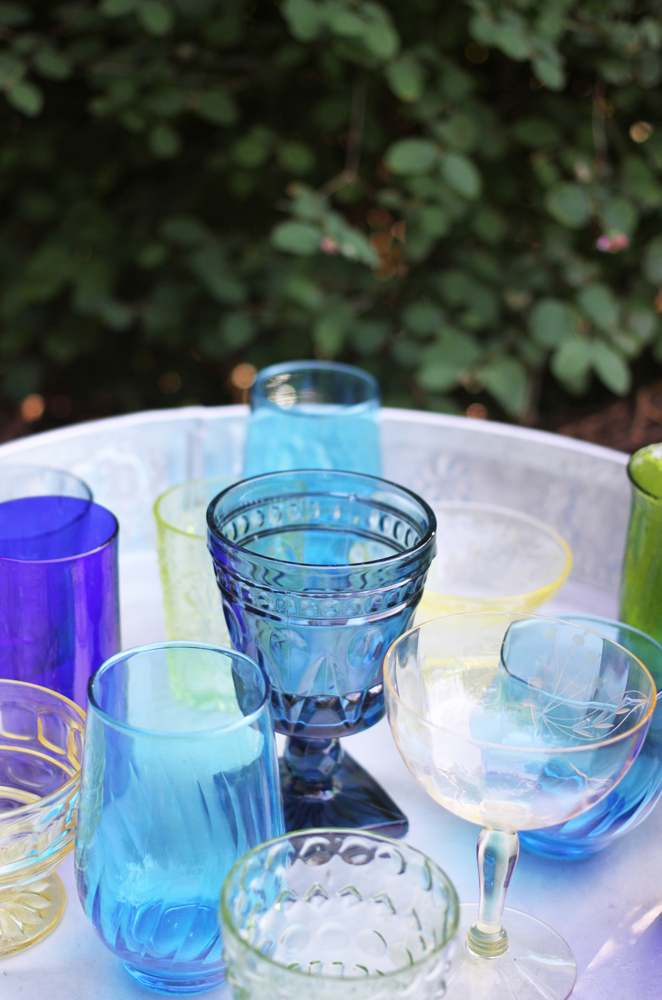 Classy Glassware
I've said it a million times and I'll continue to stand by it. Glassware adds such a level of detail and class that takes even the most casual event up at least ten notches. I personally really love the look and feel of glass and think that beverages taste better out of it. A pool party, however, is a good time for plastic! (protect those bare feet!) And acrylic options are looking so much better these days! Any which way you prefer, this is a key detail. So get colorful and festive with it! (AKA: ditch the red solo cups!)
My favorite glassware resources: Vintage/Thrift Stores  |  Anthropologie  |  TJ Maxx  |  Etsy  |  Local Boutiques that sell Roost home décor  |  Sometimes Bevmo has fun options, too!
PRO TIP: Pretty glassware deserves pretty accessories! Dress you next cocktails (or even glasses of water) up with flowers. Did you know that daisies are actually an edible flower? Not that you would eat this garnish…but it is a pretty, non-toxic option that looks super festive and will get your guests talking!

A Fabulous Pitcher
A beautiful vessel makes even water look delightfully inviting. This one is my newest go-to. It's pretty and affordable. Check, check! And is also available in the prettiest blush color.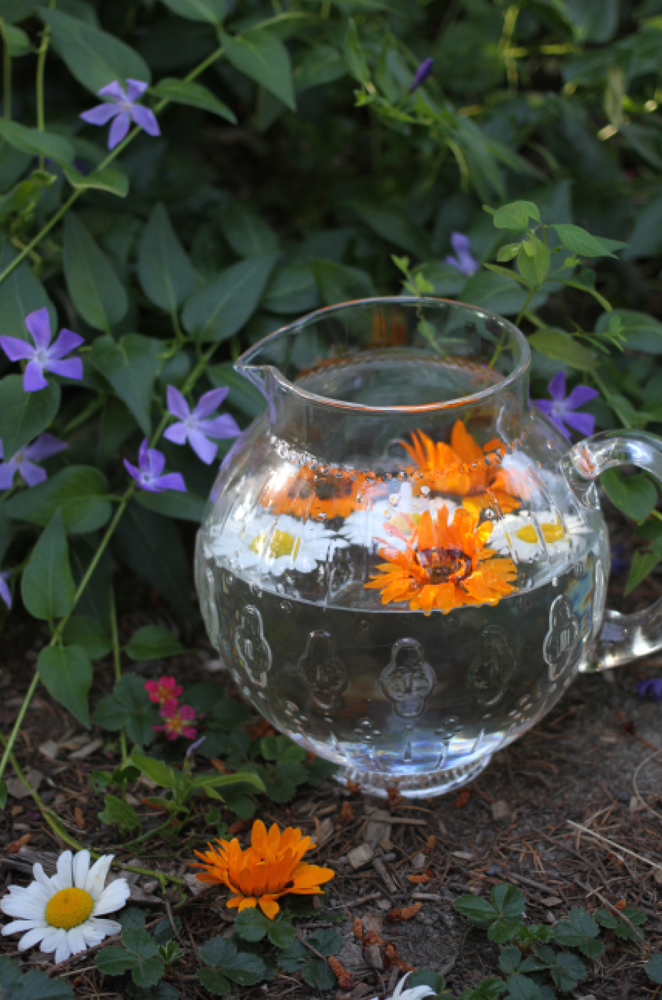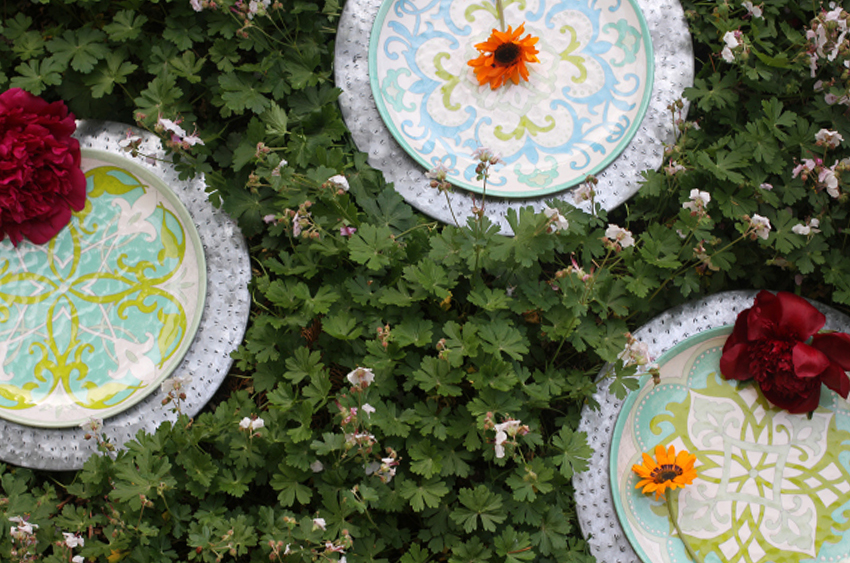 Pretty Place Settings
These melamine plates from World Market were just too pretty to resist and will be making many appearances at picnics and garden gatherings! You can get all of the mix & match pieces to go with the plates as well.
BONUS: Kick your place settings up a few notches on the style totem pole by using chargers like these super cool galvanized ones! A perfect outdoor style to add that extra level of detail. (found at TJ Maxx, similar available here)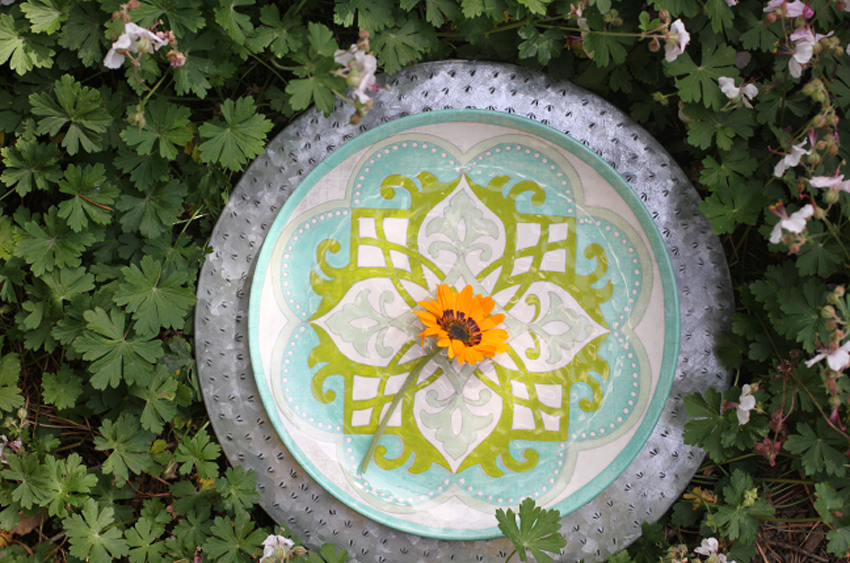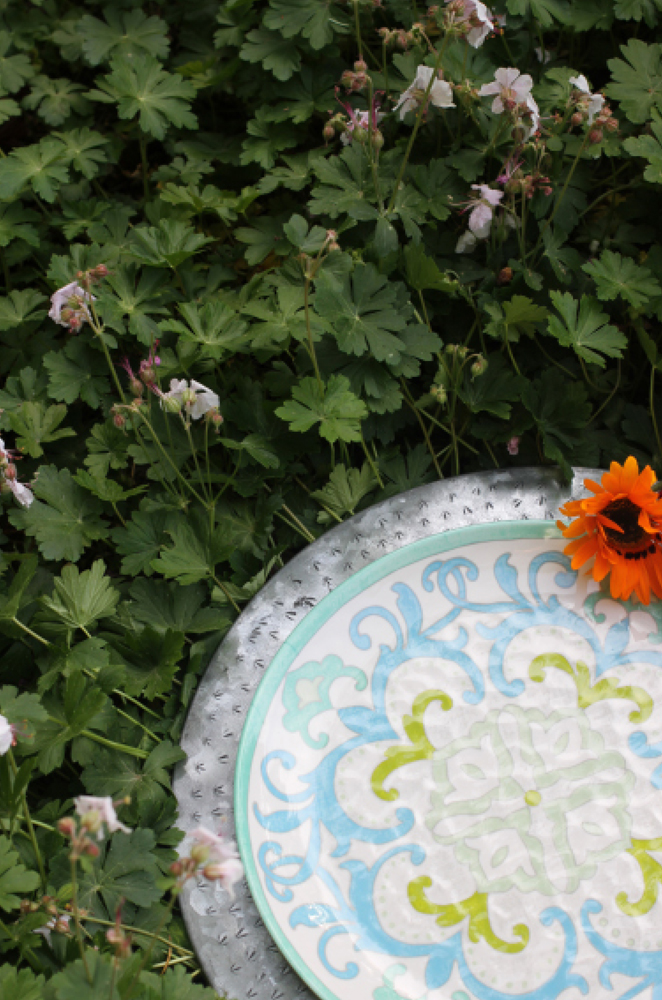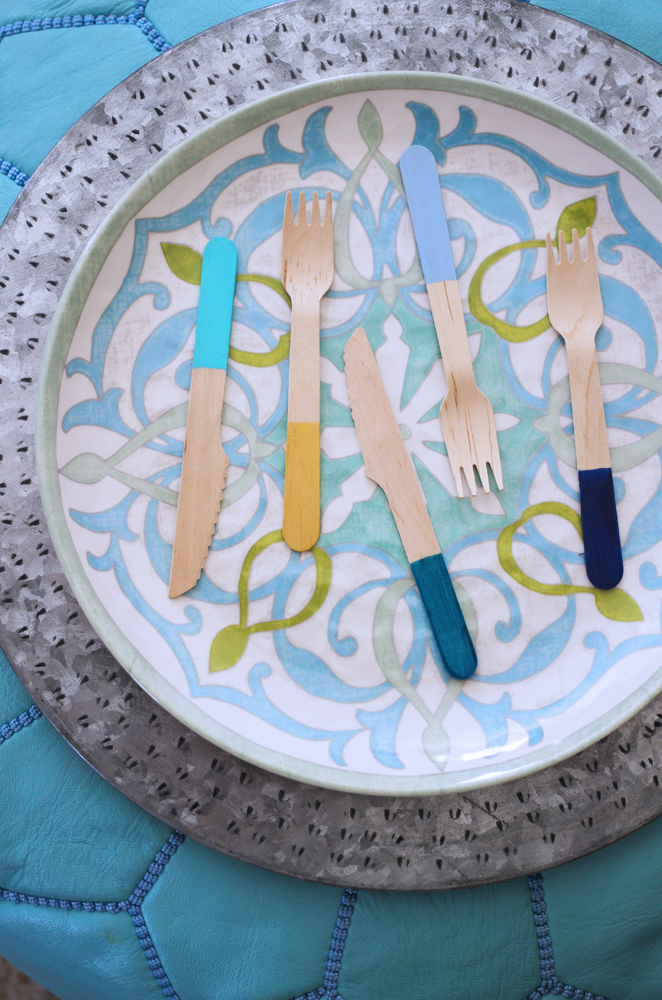 DIY: Dip-Dye Wooden Utensils
I just love these little wooden eating utensils. I admit that on the function level they are not my favorite, but they are just too cute and an outdoor party is the perfect excuse to bring them out! Oh, and you can also get fancier ones here. The best part, though, is that they are a blank canvas and so easy to make festive.
HOW-TO:
It's easy breezy! Simply tape off the utensil where you want your line to start. Then, dip utensil, up to the tape line, into paint of choice. You can also paint with a brush if you wish. To dry, hang on a "clothesline" – AKA string up some twine (preferably outside with newspaper or cardboard position underneath on the ground) and clip up with binder clips or clothespins – as shown.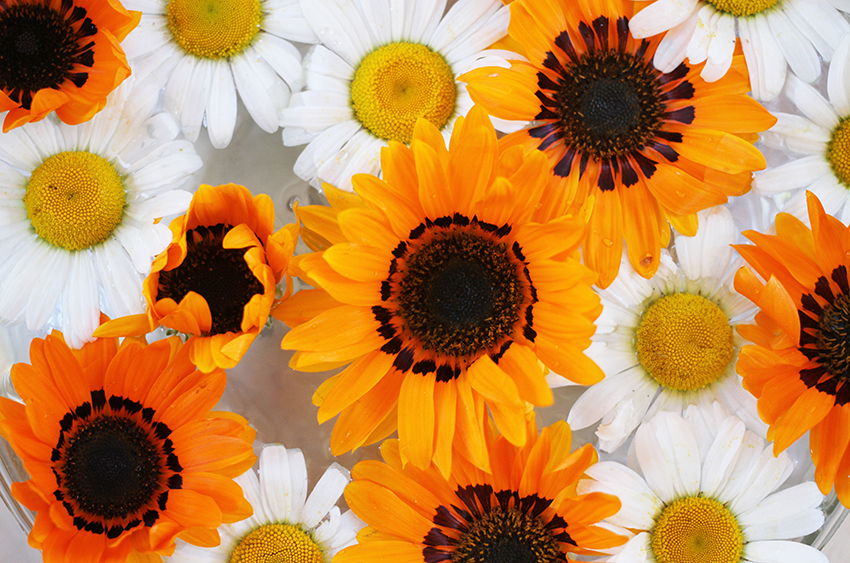 Happy entertaining, friends! Thank you so much to Greenvelope for having me over today!
XO Brynn Renné | Dandy & Fine Parties
Get started planning your summer parties by browsing our latest summer and seasonal invitation designs here.