May 2, 2022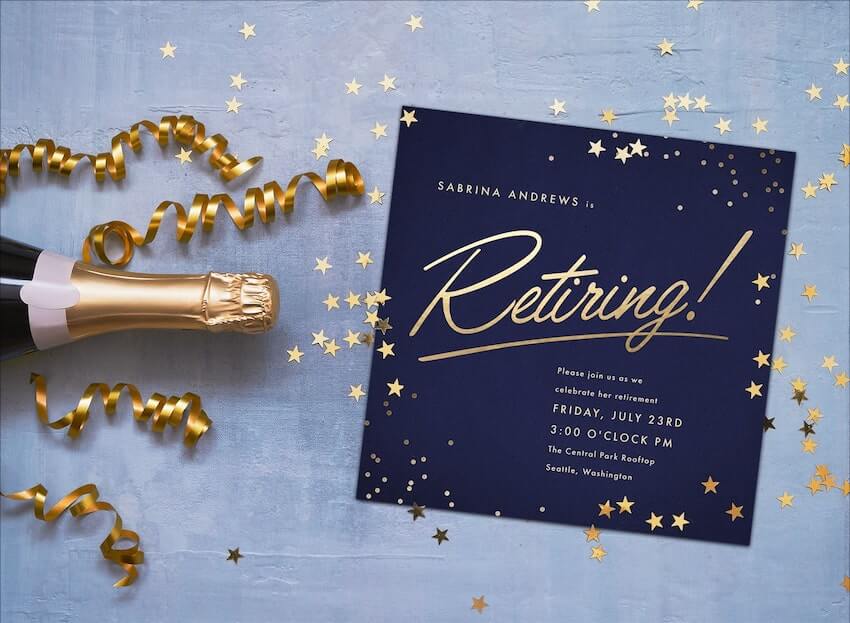 If someone special is approaching their retirement, ensure they leave in style with a fabulous retirement celebration. It's the perfect way to honor their achievements, celebrate them, and offer well wishes for the next stage of their life journey.
Whether you're planning an office party for a colleague or hosting a celebration for your best friend, here's how to give them the send-off they truly deserve. Enjoy these retirement party ideas to help you plan an unforgettable celebration. 

17 of Our Favorite Retirement Party Ideas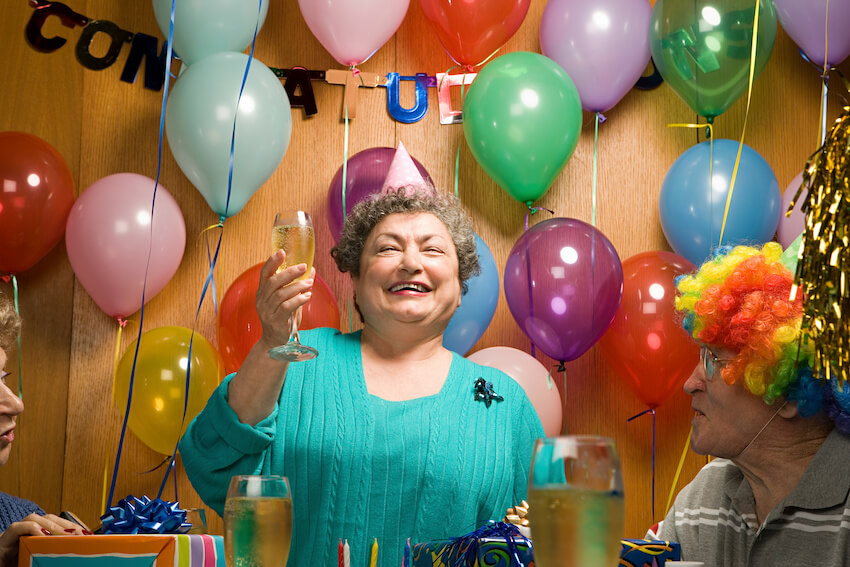 Before you can host the ultimate retirement party, you first need to plan all of the details. Think about the guest of honor and what the retiree loves, building a celebration around that. Consider all of the fun ways you can bring out their personality as you plan their party. 
Take a look at these retirement party themes, fun ideas for activities, and stunning invitations to help with your party planning mission. 
1. Host a Themed Retirement Party
A fun way to celebrate a retirement is with a themed event. Host a luau–themed party with palm trees, Hawaiian shirts, and a BBQ — or go for a retro theme with disco balls, bright clothing, and a groovy playlist. Take inspiration from the retiree's favorite hobby, decade, musician, or movies to pick the perfect theme. 
2. Play Karaoke
What better way to celebrate someone's last day of work than by belting out a few tunes on the karaoke machine. Put together a selection of classic songs and some of the retiree's favorites, and invite people up to sing their heart out solo, with a duet, or as a group. 
3. Set Up a Photo Booth
Set aside a photo booth area where people can gather together and snap photos to save some of these precious memories. Opt for either a vintage-style photo booth or a modern one where you can share photos straight to social media. Offer plenty of props so people can have a laugh while they pose. 
4. Host a Golf Tournament
If the retiree is a big golf fan, a personal golf tournament is a thoughtful way to send them off on their new adventure. Gather plenty of people for some friendly competition. Those who aren't participating can cheer the players on from the sidelines. Offer a prize for the winner, and a gift for the retiree too — if they don't manage to win. 
5. Curate a Decades-Themed Playlist
Music plays an important role at any celebration, and at a retirement party it can be an amazing way to add more nostalgia. Put together a playlist of songs filled with hits from various decades, and special songs contributed by the retiree and their loved ones. 
6. Share a Slideshow of Memories
A slideshow of memories is a wonderful visual reminder of everything that the retiree has achieved throughout their life so far. Ask people to contribute their favorite memory alongside photos and video clips that you can assemble together into a "Happy Retirement" slideshow. This is a sweet surprise to save for the end of your celebration, just before you raise your glass for a toast. 
7. Play Bingo
Sit everyone down together for a relaxed (or lively) game of bingo. Compete to win an amazing prize, all while you laugh and celebrate the guest of honor's journey to a workfree life. Enjoy this free printable bingo card game, or make your own with personalized squares focusing on the retiree. 
8. Host an Afternoon Tea
For something a little more reserved and elegant, host an afternoon tea party for the guest of honor. Invite their closest friends and family members and enjoy an afternoon of delicious cake, lovingly handmade sandwiches, and the best selection of teas you can find. 
9. Check Something Off Their Bucket List
Instead of hosting a traditional retirement party, you could instead look to check something off the retiree's bucket list. Group together to buy them an experience they've always dreamed of — like driving a racecar, or watching dolphins by the ocean — and pair it with an afterparty to honor their achievements. This is a lovely retirement gift idea that you can turn into a family and friends celebration, too. 
10. Host a Virtual Retirement Party
It's not always easy to gather everyone in the same place, and the retiree might have friends and co-workers around the world. If that's the case, host a virtual retirement party so everyone can get in on the fun. Throw a party on Zoom with colorful backgrounds, virtual games, and even a dance battle if you fancy it. 
11. Play a Personalized Trivia Game
You might think you know the retiree well, but do you know them the best? Set up a trivia game filled with questions about the guest of honor to see who truly knows them the most. Compete independently or as teams to win the coveted prize of being the retiree's biggest fan. 
12. Create a Wall of Achievement
Bring together numerous reminders of the achievements in your retiree's life and display them on a wall or board for everyone to admire. Include personal, work, and bucket list achievements and ask for contributions from the guest of honor's loved ones so you can cover everything. 
13. Serve a Stunning Retirement Cake
Celebratory cakes aren't just for birthdays or weddings — they're an ideal sweet treat for a retirement party too. If you're short on ideas, look at these retirement cake designs for inspiration. 
14. Try a Team-Building Experience
If you're bidding farewell to a co-worker, this is one retirement party idea you can use to get another team-building activity in before they go. Host a fun experience for the whole team — like a murder mystery experience or an escape room — and be together before the guest of honor clocks out for the last time. 
15. Plan a Fireworks Show
A fireworks show feels like a fitting end to the celebration of someone's work contributions. It's a big moment for them, and an exciting one, too. Plan a small firework celebration or head outside with sparklers to send some retirement wishes into the night sky. 
16. Share Well Wishes in a Guestbook
We're used to seeing a guestbook at weddings, but they're also a thoughtful touch for a retirement celebration. This retirement party idea not only gives people a way to honor the retiree, but it's a lasting keepsake for them filled with love and appreciation.
17. Provide Themed Party Favors 
For a fun retirement party idea, provide your guests with themed party favors. You could send guests home with a colorful mini alarm clock, or a bright tie that reminds you of one the guest of honor wore. A decorated cookie is another great option, or a pack of mints with "retire-mints" written on the label.
Celebrate Someone Special with These Retirement Party Invitations
This is one retirement party not to be missed, so choose a party invitation that sets the tone right from the start. Pick something with plenty of humor that reminds you of the guest of honor, or go for a more sophisticated and classic option to match a traditional get-together. 
Here are a handful of our favorite retirement party invites to inspire you. 
Farewell Amigo Retirement Party Invitation
The cute splash of watercolor on this farewell amigo invite makes it perfect for any retirement celebration. Opt for the gorgeous beachy color scheme or add your own touch, and use the space below to share your key event details with a modern flair. 
Circle Frame Retirement Party Invitation
We love that there's space on this circle frame invite for sharing a photo of the guest of honor. It's a sweet way to celebrate them before the party date even arrives. The classic design also works well for any type of celebration. 
Bid Adieu Retirement Party Invitation
There's something stunning about the floral illustration on this bid adieu invite. It's a lighter take on the traditional retirement party invite, and perfect for an afternoon tea or more relaxed celebration. 
Whichever retirement party invitation design you choose, it's easy to customize your design to create that personal feel with Greenvelope. Choose a digital invitation with the right theme, choose your colors and layout, and adjust the wording to match your fun retirement party details. 
Plan an Unforgettable Event with These Retirement Party Ideas
Mix these retirement party ideas with your insider knowledge of what the guest of honor loves best, and you have the recipe for the best retirement party. Choose a theme, plan some fun party games, and create a wonderful experience for the retiree and their guests. 
Once you lock down your party theme, start looking for an invitation that's just as grand. Browse our great retirement party invitations, find one that's a perfect match, and customize it with your event details. When ready, send them off and watch the RSVPs roll in as your guest list gets excited to celebrate the guest of honor's well-deserved retirement.